Do you love to eat the local food when you travel? I definitely do! I am pretty sure I genetically inherited this from my dad, who is also a big foodie. So when we travelled to Barcelona together recently we made it a point to eat as much authentic local food as possible. And we found a lot of great restaurants in Barcelona.

Going to Barcelona soon?
Well, here is my list of our favourite delicious places to eat and drink in Barcelona.
Places for Breakfast
1 – Breakfast Spanish style
There are little cafés, bars and bakeries all over the city where you can grab a coffee and a croissant or if you like savoury breakfast, a baguette with the famous Jamon Iberico. Most have a few seats inside or on the sidewalk, but it is also nice to take it to go and enjoy it at one of the many squares or parks and combine it with some people watching.
2 – Breakfast @ Federal
If you want to start the day with a big delicious breakfast, this is the place to go! They have everything from healthy muesli with fruit and yoghurt to yummy french toast with caramelized bananas to breakfast burgers. To accompany those you can choose from a nice selection of coffees and fresh juices.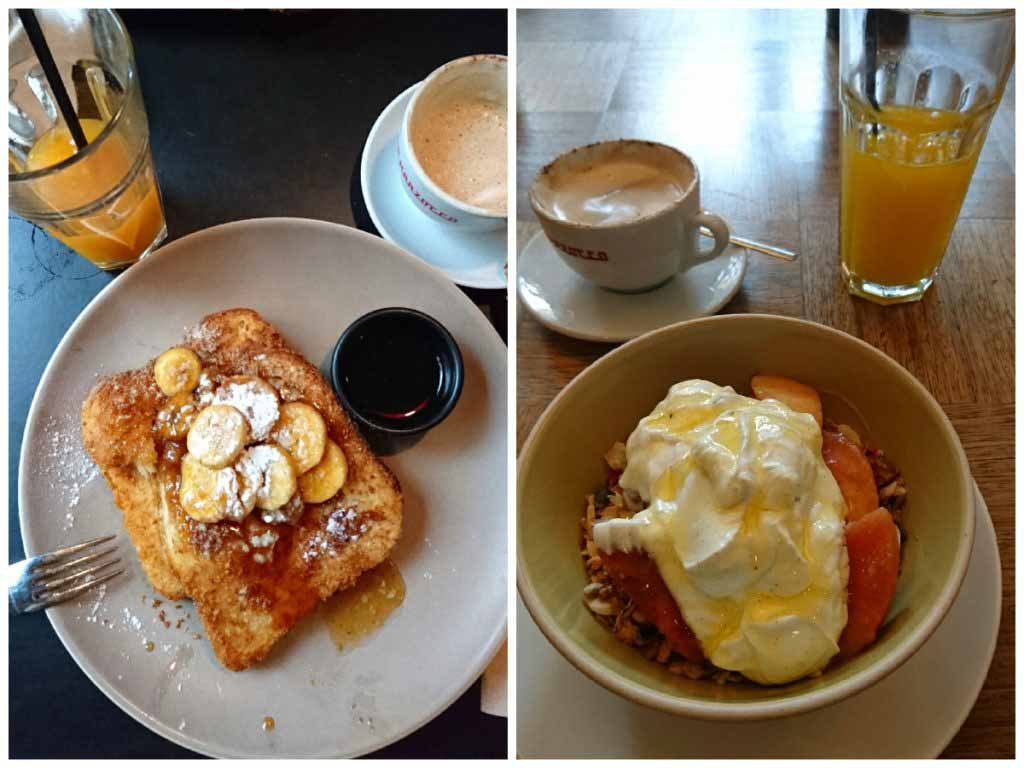 Where to have Lunch
3 – Boquadillos @ Placa de las Navas
If you are looking for a rather non-touristy place to eat I can really recommend De Pata Negra at Placa de las Navas, close to Montjuic and Placa Espanya. We had boquadillos (baguette sandwiches) and tapas and can really recommend both. Their Jamon Iberico melts on your tongue and the Gazpacho is amazing.
4 – Tapas close to the yacht harbour

A nice place, albeit a little touristy, is the Casa Pascual, located close to the yacht harbour, the aquarium and the south side of the old part of town. Great tapas and, considering the location, very reasonably priced.
5 – La Boqueria
One place you definitely should not miss is the Boqueria. Located next to Las Ramblas but a little hidden behind a row of houses lies a huge market hall stuffed with everything good that Spain has to offer. Huge Jamons, fish and seafood, fruit and juices as well as baked goods. You will find it impossible to choose!
6 – Singlot for Paella
Another absolutely non-touristic place between the Sagrada Familia and the Parc Güell is called Singlot. It doesn't look particularly inviting but it is definitely worth the visit. We went there to have Paella (yes, I know, Paella isn't Catalan) and we tried the seafood and the mixed version. The latter comes with seafood and chicken. Sooo good. And sooo much. While we were there the restaurant was frequented by loads of locals coming for the lunch menu or other dishes and everything looked great!
Great restaurants in Barcelona to have dinner at

7 – Pintxos and Tapas @ Carrer de Blai
On Carrer de Blai you will find bar next to bar serving pintxos and/or tapas and of course wine and beer. Be warned, it is nearly impossible to choose! As it is a well-known place it gets pretty busy early, so we ended up "choosing" our bar for having a free table outside. But, as far as I can tell, they all have great food, so it might not matter so much. Out of the ones we went to my favourite was La Tasqueta de Blai. Mostly because they actually had mini Crema Catalana next to the pintxos and that has to be the best dessert ever!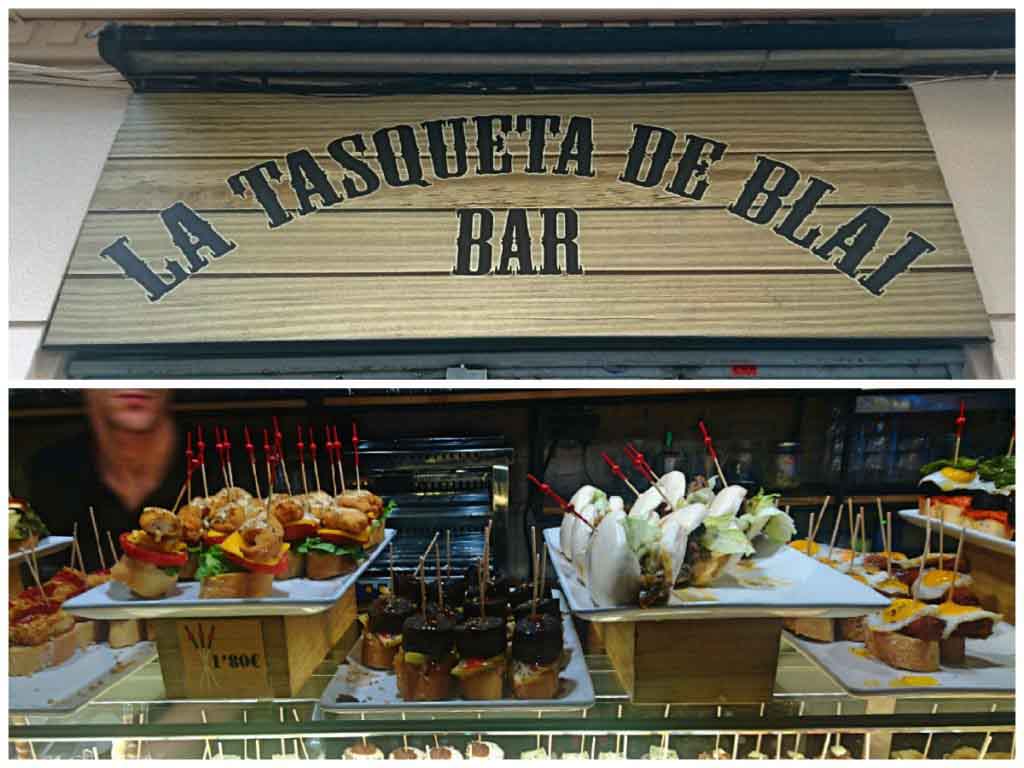 8 – Fancy Tapas & Wine @ Els Sortidors del Parlament
If you are looking for something a bit fancier and are willing to spend a little more money I can really recommend the Els Sortidors del Parlament. You find it just outside the old part of town on the west side. They have an amazing wine list and the tapas are delicious! I especially enjoyed the fish cakes and the patatas bravas.
Have you been to Barcelona? Please tell me about your favourite restaurants and bars in the comments!