Jordan, a dream come true for every hobby archaeologist, nature lover and diver. Almost everyone knows the UNESCO world heritage site of Petra and the Mars-like landscapes of Wadi Rum. But the country offers so much more than that.
Here you can find all my posts about sightseeing and things to know about country and culture to plan your own trip. With this travel guide to Jordan, you can easily go with just digital resources.
Click here to jump directly to the blog posts.
I spent a total of 3 weeks in Jordan. Preparing for this holiday I searched for blogs on what to do and where to go, and I was surprised to find that no one seems to stay longer than a week. So, it was really hard to figure out how to plan my itinerary, as there was no information on what to do in places for more than a day. To prevent you from running into the same issue, I have put together this ultimate travel guide to Jordan!
If you plan to only stay a week, check out my perfect one-week itinerary. For general tips on travelling to Jordan, like what to wear, how to get around etc. head over to this post.
Introduction to Jordan
Jordan is a small country in the Middle East, bordering Israel, Palestine, Syria, Iraq and Saudi Arabia. And even though it is surrounded by war, it is a very safe place to visit. It is a kingdom with a fairly young king who is loved by the people. Its official name is the Hashemite Kingdom of Jordan and it is a constitutional monarchy.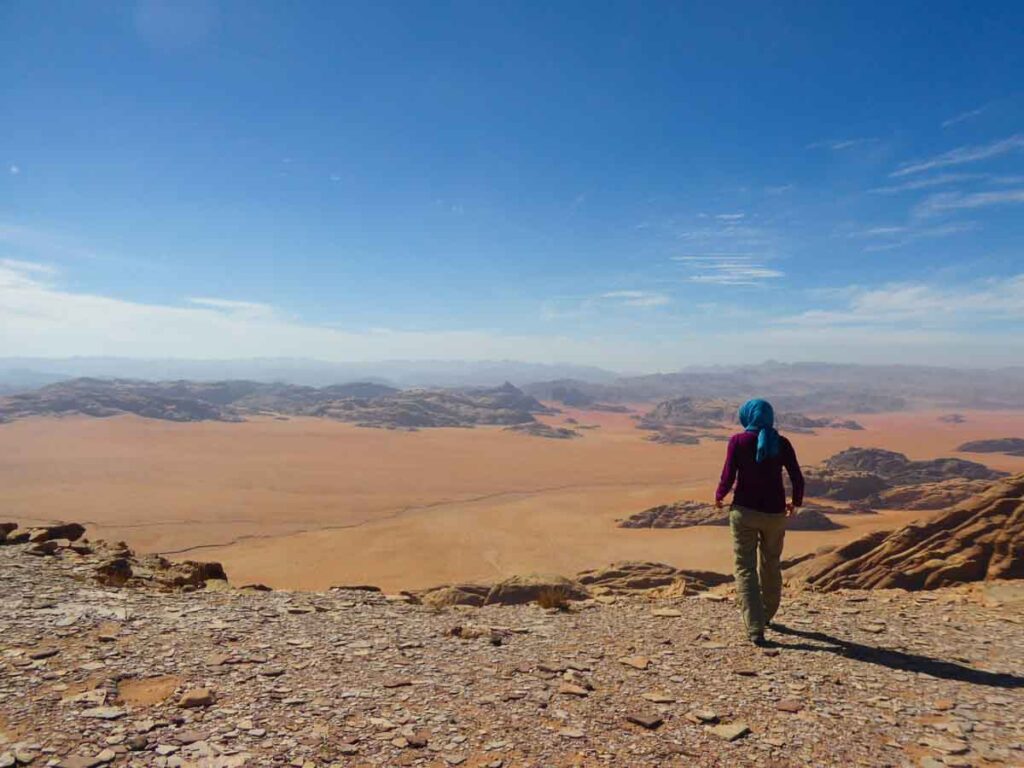 Geographically the country is split into 3 parts: The Jordan Valley in the west, the mountains in the centre and the desert in the east.
The vast majority of people in Jordan are Arabs and Muslims. With a population of around 10 Million people, they also host a total of around 3 Million refugees from different countries, mostly Syria and Iraq. This puts the economy and the local resources under a lot of pressure. Especially water is scarce and with this also locally grown produce.
| | | |
| --- | --- | --- |
| Population: | | ca. 10 Million |
| Capital City: | | Amman |
| Tourists in 2019 | | Ca. 4 Million |
| Highest mountain | | Jebel Umm ad Dami, 1.854 m |
| Language | | Arabic |
| Currency | | Jordanian Dinar |
| Coastline length | | 26 km |
Visiting Jordan
Jordan is an awesome country to visit. Lots of cultural heritage, interesting sights, outdoor adventures and amazing food options. And, it is small enough to see all the highlights easily in one week. At the same time, there is more to see and do than you can imagine.
The major tourist sites are of course Petra and Wadi Rum, Amman, Jerash and the Dead Sea. Underrated, but not less interesting places include Madaba, As Salt and the diving sites in Aqaba.
And of course, one of the main reasons to love this country is its people. The warmth and generosity I was welcomed with in Jordan is so typical for this region. Sadly, many of the surrounding countries are currently not as easily accessible as a tourist. So, make the most of your time in Jordan and meet some locals!
Getting to Jordan
Most European countries have connections to the airports in Amman and some also to Aqaba. Overland entrance is only possible from Israel, at the Yitzhak Rabin Terminal/Wadi Araba Crossing, the King Hussein Bridge and the Jordan River/Sheikh Hussein Crossing. For these you need to go with a tour or organize a taxi hand-over at the border.
Getting around in Jordan
If you are travelling alone, I would recommend hiring a driver or taking the public busses. If you are 2 or more people, rent a car and drive. Within Amman, you might want to take taxis though, as traffic is a bit crazy.
Staying in Jordan
There are of course many, many hotels and hostels for all budgets all over Jordan. The most unique experience you shouldn't miss, is staying in a camp in Wadi Rum for a few nights.
Weather in Jordan
The weather in Jordan is typically Mediterranean. Hot summers, mild winters and if it rains it pours. Don't underestimate the cold during the winter though, most houses don't have heating and even 10°C are cold if it's the same temperature inside.
The temperatures at the Dead Sea and in Aqaba are more moderate in winter, you can still lie by the pool in a bikini in November.
The best time to visit if you want to see the whole country is September/October and March-May. But if you just want to go diving and visit Petra and Wadi Rum October-March are probably the best.
Where to go in Jordan
Amman, Jordan's capital, has a lot to offer, from ancient Roman ruins to a modern museum, from local markets to awesome restaurants. Other destinations in the north are Umm Qais, Ajloun and Jerash, featuring Roman Ruins and Crusader Castles.
In the north-east you can find a few peculiar old buildings spread out through the rather boring desert, called the Desert Castles. They are worth a daytrip from Amman.
The west of Jordan is dominated by the Jordan Valley and the Dead Sea. Other highlights include Madaba, As Salt and Mt. Nebo, the site where Moses saw the Holy Land for the first time.
The south hosts the main tourist attractions of Petra and Wadi Rum as well as a short coastline with spectacular diving in the Red Sea.
Travel guide to Jordan
Sightseeing in Jordan
General information
Did my blog help you?
Maybe you want to thank me by inviting me for a coffee!
Please note that some of the links above are affiliate links and, at no additional cost to you, I earn a small commission if you make a purchase. That income goes to supporting this website and keeping it free for you and everyone else!