Morocco in summer is one thing above all – hot! In Marrakech and south of the Atlas Mountains, the temperature can and will exceed 40°C and it hardly cools down at night. Therefore, the usual travel routes, Marrakech, the desert, the Anti Atlas and Fes, are hardly suitable for a holiday in Morocco in summer.
It is best to stay on the coast in summer, or alternatively high in the mountains. But even there it can occasionally get over 30°C.
Check out this post on the weather in Morocco and the best time to travel.
What you should know, however, is that all of Morocco has school holidays in July and August. And everyone who can afford it goes to the coast. So, the beaches and hotels are full and not everyone feels comfortable in a bikini among the covered Moroccan women.
Most accommodation, and to some extent restaurants, are much more expensive in summer than the rest of the year.
For those who prefer a city tour to a beach holiday, the first route is perfect. Small, less touristy towns on the coast offer a lot of variety, the best climate and delicious food. This route can be easily travelled by public transport.
If you like to spend your days at the beach, swimming, surfing and eating fish, you should take a look at the second route below. For this, I recommend a rental car so that you are more flexible and don't waste your time waiting for taxis.
The perfect itinerary in northern Morocco in summer
Casablanca
I would choose Casablanca only as an arrival airport and then leave the city as soon as possible. If you are interested in Islam or Islamic architecture, you should take a tour of the Hassan II Mosque (see below).
Asilah
Assilah is a very cute and cosy little town on the Atlantic Ocean. Every year there is a festival here where artists paint interesting murals on the walls of the houses in the medina. This means you actually should come back every year to see the new artworks.
The medina is very small, mainly white and blue, and there are relatively few tourists here. Nevertheless, or perhaps because of this, it is well worth a visit.
Hotel Tip: Al Alba
Tangier
At the northern tip of Morocco, you can find the port city of Tangier. The medina is really pretty and colourful, the locals as nice as in any other Moroccan city and the hassle by shopkeepers less than in Marrakech and Fez.
It's also a really cool mix of international influences, mainly Spanish, with interesting architecture all over the city. There are so many things to do in Tangier. If you have the time, you should plan at least a few days to experience the city and its atmosphere.
You can find more details about Tangier here.
Hotel Tip: Mimi Calpe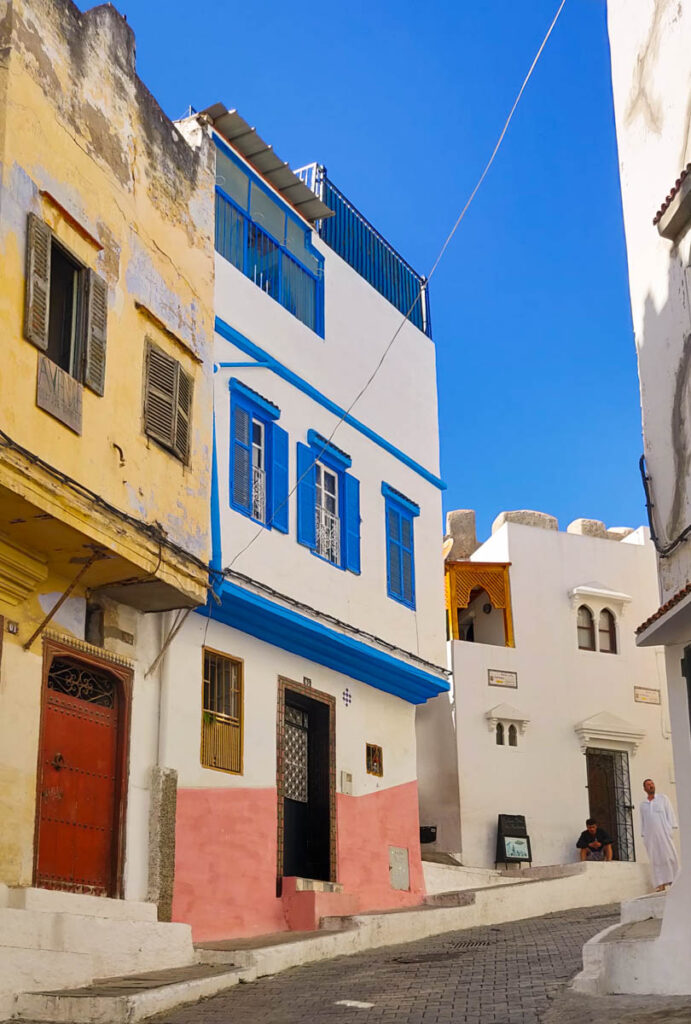 Tetouan
Tetouan is also located in the far north of Morocco, near the Mediterranean Sea. Tetouan's medina is one of the smallest in Morocco, but one of the best-preserved. It has whitewashed walls and is built on the side of a hill, making it very photogenic.
The entire medina is still surrounded by a large wall and you can only enter it through one of the seven city gates. Parts of the medina are covered with green wooden roofs, which provide necessary shade in summer.
The medina borders the Spanish Quarter, which is also white, but much newer and with the typical Spanish balconies. It is this contrast that makes Tetouan one of my favourite cities in Morocco.
Hotel Tip: Riad Didiss
Chefchaouen
The interesting part of Chefchaouen is the blue medina. It's really hard to highlight individual "sights" as almost every corner is photogenic. So, you should just walk around, get lost and take as many photos as your heart desires. As the medina is really small, don't worry, you will always find your way back. More info on Chefchaouen here.
Hotel Tip: Riad Cherifa
Rabat
Rabat is the modern capital of Morocco, which also has a very beautiful medina. I find the old part of Rabat more interesting and worth seeing than the Ville Nouvelle, but that may not be the case for everyone. You can find many hip cafés and international restaurants here, or eat with the locals at street stalls in the medina. For detailed sightseeing tips, see this article.
Hotel Tip: Riad Kelaa 2
By the Sea in Morocco – the Ultimate Morocco Beach Holiday
While many people from Europe fly to Agadir and go on an all-inclusive holiday in one of the huge hotels, I recommend an alternative. The best way to do this is with a rental car, the routes are easy to drive. Alternatively, you can try a bus, but that will probably be a bit inconvenient.
We'll start in Casablanca, but you can of course also fly into Marrakech and start from there with a rental car.
Casablanca
I think the only thing worth seeing in Casablanca is the Hassan II Mosque. You should really visit it before you go on your adventure.
It is the only active mosque open to non-Muslims in my current home country, Morocco. It is impressive in many ways because it is located on the coast, almost in the Atlantic Ocean.
The beautifully decorated ceiling is attached to a movable roof so that, weather permitting, prayers are held under the blue sky.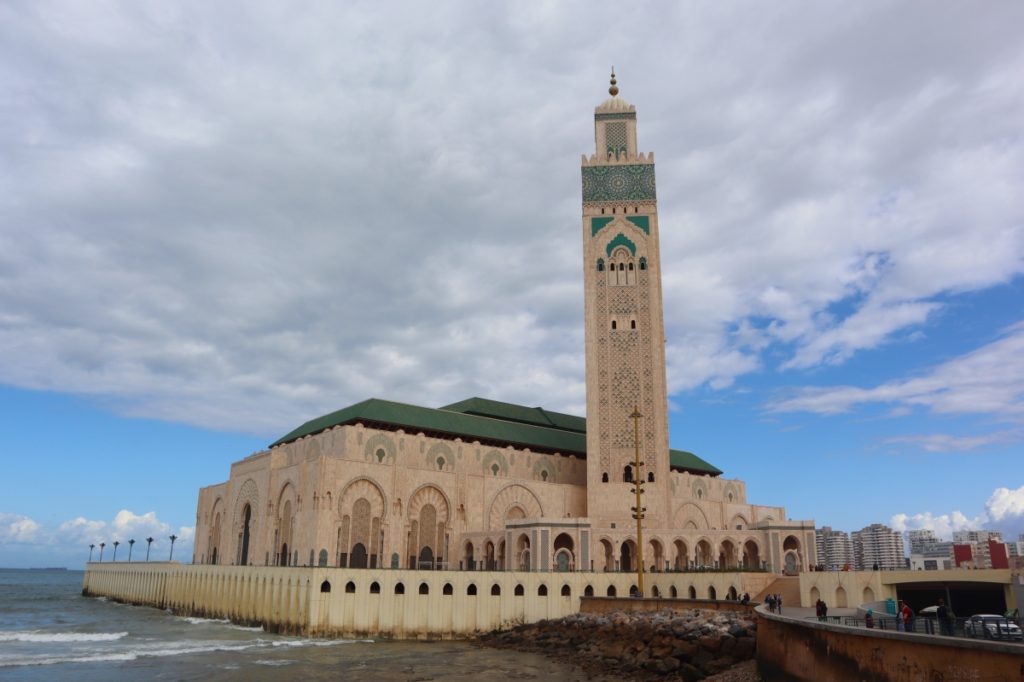 The courtyard is surrounded by long arcades that provide some shade. There are a total of 41 fountains, all decorated in the traditional Zellige (mosaic) style. There are also several gates into the mosque, which are closed most of the time but are of impressive size.
Fans of the film Casablanca may like to stop at Rick's Café for lunch or dinner (depending on the time of arrival in Casablanca). It should be noted, however, that the film was not shot in Morocco and the café is a replica from the movie.
Hotel Tip: Barcelo Anfa Casablanca
Essaouira
Essaouira is by far my favourite city in Morocco. I've been there 4 times, almost a month in total. And I just don't get bored there. Most people only visit Essaouira as a day trip from Marrakech, but that doesn't do the city justice.
The medina is beautiful, full of little shops selling handicrafts, nice restaurants and cafés. Here you can stroll and shop undisturbed, the vendors leave you alone as much as you could wish for.
Just outside the city walls begins the beach, which invites you to sunbathe, go horseback riding, swimming and (kite-)surfing.
I would recommend at least 2-3 days in Essaouira, as there is really a lot to see here. You can read more about it here.
Hotel Tip: Suite Azur
Insider tip: If you are travelling with a rental car, you can actually find a guarded car park everywhere. You usually pay a few DH, sometimes 10DH if you stay overnight. The men who guard the car parks usually wear orange vests and are easy to recognise. They also help with difficult parking, as sometimes people park bumper to bumper to make maximum use of the available space.
Tafedna
If you are looking for a secluded and picturesque beach, you should make a stop in Tafedna. This small village is right by the sea and has a very nice beach that is practically empty during the week. When we were there, you could rent an umbrella for the day for 20 DH and there are some small shops and restaurants.
The beach is great for swimming and bathing, but there is no entertainment other than watching the small fishing boats bring in their catch in the afternoon. Also, there were no lifeguards, so you should be an experienced swimmer.
There are a couple of hotels/guesthouses just above the beach if you fancy staying here.
Hotel Tip: Sweet Dome Tafedna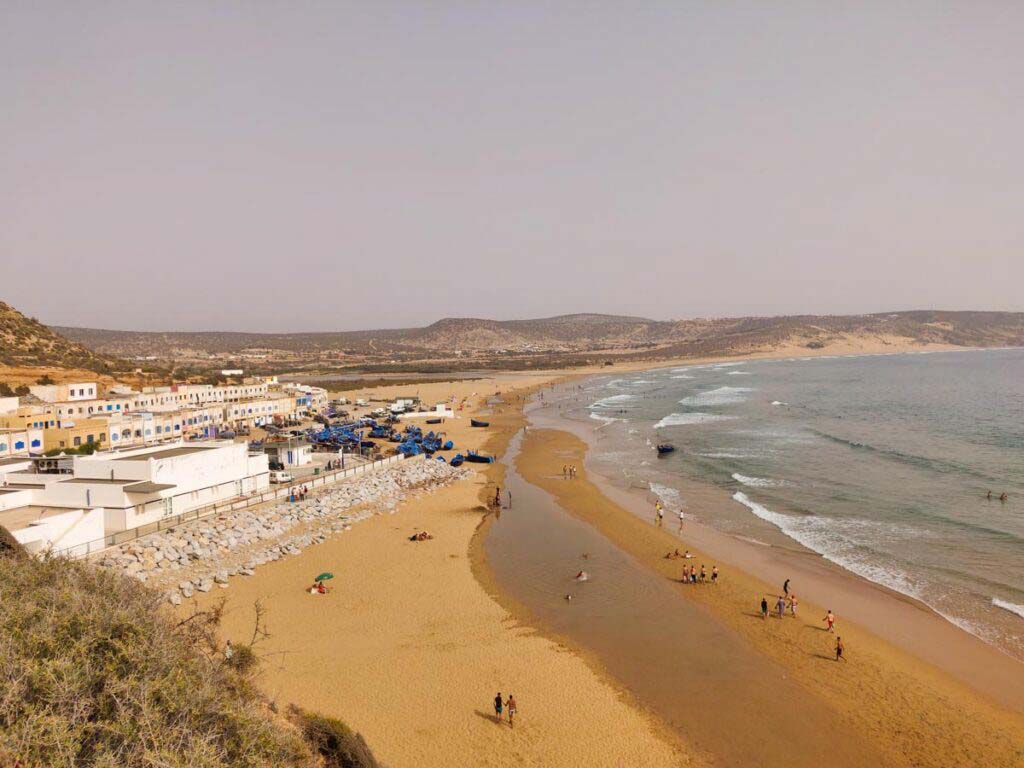 Taghazout/Tamraght
Personally, I'm not a fan of Taghazout and Tamraght, but many people I know love it. It has been very gentrified lately, there are lots of new houses and hip restaurants. Taghazout is one of the best surf spots in Morocco, so I'll list it here. There are lots of surf schools, most of which also have accommodation attached.
Hotel Tip: Riad Dar Haven
Paradise Valley
Paradise Valley is often offered as a day trip from Agadir. However, you can also drive there on your own with a rental car, and the detour is very scenically worthwhile. The valley, which has water most of the year, reminds me so much of the wadis in Oman. You can go swimming and there are a few small restaurants serving tagines and tea.
I would skip Agadir as there is a lot of mass tourism and the town is not really worth visiting. However, if you want to stock up at the supermarket, you should do it here.
Legzira beach
Legzira was famous for its Elephant Rock, an arch made of the red rock typical of the region. Unfortunately, it collapsed a few years ago. But there are many more rock arches at the beach, they are just not as impressive. It still is one of the best free things to do in Morocco though.
The small bay has a few hotels and appartments overlooking the Atlantic. Note that you have to park your car above the village and carry your luggage down the stairs.
The beach is long, wide at low tide and reddish in colour. In summer, many locals from the surrounding towns and villages come to Legzira, so it can get crowded during the day. But if you stay in the "village", you can secure the best spots and have the beach largely to yourself in the mornings and evenings.
Hotel Tip: Beach Club Legzira
Tiznit
If you are looking for a bit of urban life for a change, you can take a trip to Tiznit. The town is surrounded by a completely preserved city wall. However, Tiznit as a whole is rather young and was only founded around 1880. There is not much to see, but the medina has a relaxed charm and Tiznit is famous for its silver workmanship. So, if you're looking for a unique piece of jewellery, this is the place to go.
Hotel tip: Riad Janoub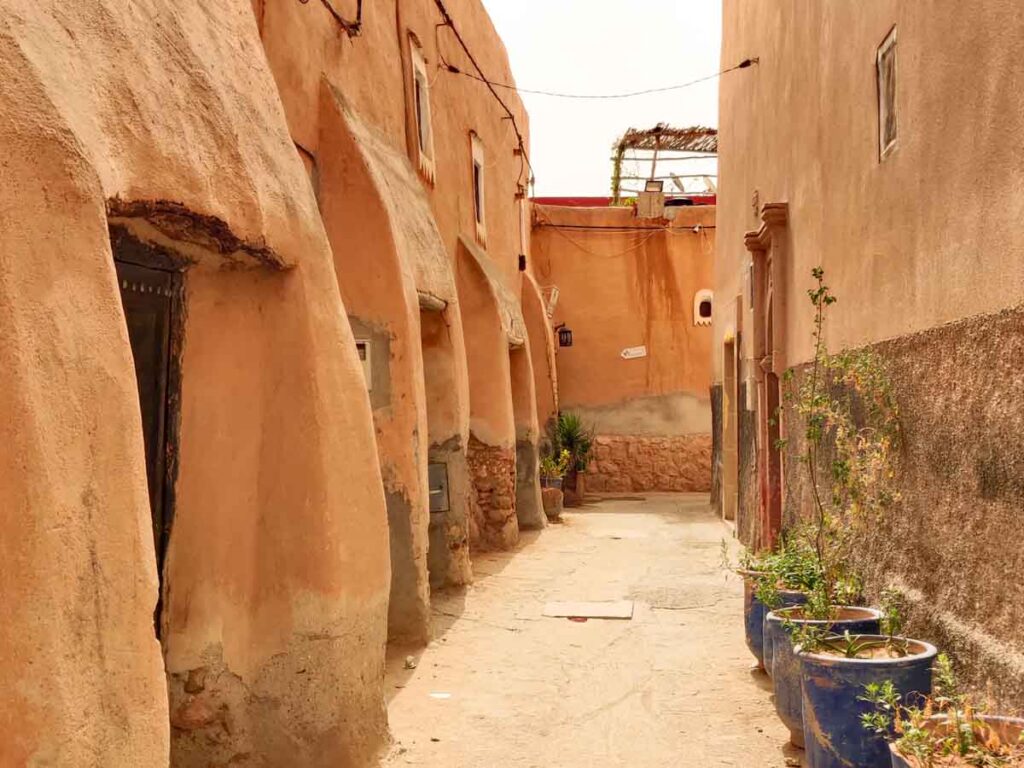 Sidi Ifni
Sidi Ifni is located directly by the sea and was founded by the Spanish in the 1930s. That's why the centre is in pretty Art-Deco-style, but unfortunately has become a little run-down over time. There is a nice fish market with some restaurants where you can have the fish you just bought grilled.
The harbour is unfortunately not accessible to tourists, but as far as I can tell, you're not really missing out.
There are plenty of secluded beaches around the town, and the temperatures are very pleasant even in summer, thanks to coastal fog.
Hotel Tip: Janna d'Ifni
If you don't want to drive back the same way, you should go via Taroudannt and Marrakech. Even though it can get very hot on the route, it is worth stopping in Taroudannt and driving over the Tizi n'Test Pass.
Taroudannt
Taroudannt is often, and not without reason, called Little Marrakech. The town is much smaller and surrounded by a very impressive, intact city wall. Walking around here, you can imagine very well what Marrakech must have been like before the big tourist crowds.
A visit to the souks should definitely be on the agenda, you won't be harassed here and can look for a few authentic souvenirs in peace and quiet.
Hotel Tip: Dar Tourkia
Tinmel Mosque
Shortly after the pass, in the village of Tinmel, you can visit a very old mosque that is no longer in use. It dates from the same period as the Koutoubia Mosque in Marrakech and was also built by the Almohads. There are many indications that the founder of the Almohads found his last resting place here.
The mosque has since been partially restored and is also open to non-Muslims.
Terres d'Amanar
Shortly before Tahannaout, you can visit a zipline park. A route with 2 suspension bridges and 4 ziplines crosses the canyons, which are worth seeing, and provides a good adrenaline rush. There is a climbing park for children and you can also book horse rides or mountain bikes by the hour.
Marrakech
Whether you really want to stay in Marrakech in the summer is up to you. But at least as a departure point it is a good choice. You can also go to a luxury hotel with a pool area in the Palmereie and relax for a few more days. If you want to visit the city despite the heat, you can read my recommendations for sightseeing here.
Hotel Tip: Riad Jnan el Cadi
Please note that some of the links above are affiliate links and, at no additional cost to you, I earn a small commission if you make a purchase. That income goes to supporting this website and keeping it free for you and everyone else!
You prefer to let others do the planning? I offer itinerary planning for your trip to Morocco! You can check out the details here.