Do you travel for food? I certainly do! Moroccan food is full of flavour, fresh ingredients and love. Whether you are planning a trip to Morocco or are just looking for inspiration, here is a list of 25 things to eat in Morocco!
From the most famous Moroccan food to more unknown dishes, I will tell you about all of them. Let me know which ones are your favourites!
Traditional Moroccan food
Tajine
The most unique Moroccan dish is Tajine and at the same time it is the most varied. Tajine is the name of the ceramic dish the food is slowly cooked in as well as it's many edible variations. My personal favourites are Lemon chicken tajine and Kofta tajine (meatballs in tomato sauce). If you stay in Morocco for a week, you can eat tajine every day without eating the same thing twice. You can find Tajines in every Moroccan restaurant and most places offer vegetarian options.
Traditionally it is eaten together, straight out of the dish with bread serving as your spoon. You mash the veggies and soak up the sauce from the bottom of the plate and scoop up some food with a piece of bread. You only eat from the triangle in front of you and the meat is eaten last. In most families the mom splits the meat into portions so that everyone gets the same amount.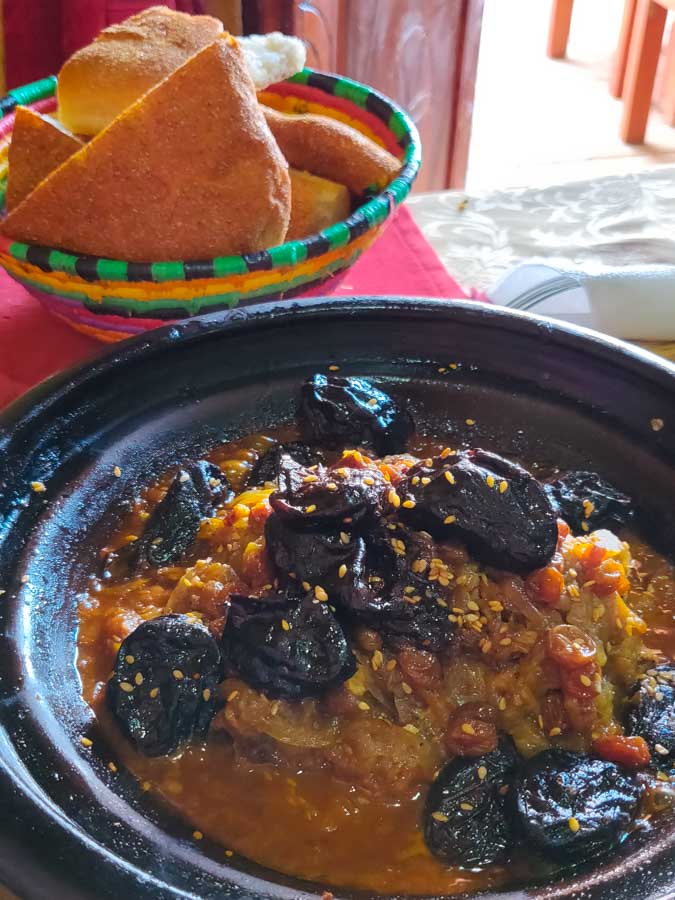 A standard tajine size feeds at least 3-4 people, but the touristy restaurants have smaller sizes. And as most tourists don't eat tajine with bread as the locals do, it might just be enough for one person.
Couscous
If it's Friday, try to get some couscous, the traditional lunch after the Friday prayer. It is normally cooked and served with meat, but you might find a few places offering vegetarian versions. I've eaten couscous in many different families by now, and none two are the same. Every family, or even every woman has her own way of preparing the sauce, meat and vegetables that accompany this dish.
As with most dishes in Morocco, everyone eats from the same plate. Most families eat couscous with spoons these days, which is much easier than eating it with your hands.
The "normal" Friday couscous is usually prepared with many vegetables, zucchini, aubergines, carrots and other roots, depending on the season. The meat varies from chicken or turkey to beef or goat.
Contrary to the way couscous is prepared in most western countries, in Morocco it is steamed over the pot with the meat and veggies. They are slowly cooking in the broth later used as sauce. You have to stir the couscous and mix it with oil every 15-20 minutes and it takes a total of about 2-3 hours to finish.
There are some special couscous dishes mostly reserved for celebrations, my favourite is with chicken, carrots, chickpeas and raisins.
Local Moroccan specialties
Tanjia
A local Marrakech dish is tanjia, pieces of meat slow cooked in a clay pot with lots of spices. The meat melts on your tongue and the spice mix is very unique. It is also traditionally eaten with bread. Apparently in the past this dish was cooked over night in the fires of the Hammams in Marrakech. Not sure, if this still happens today.
If you want a good local, but not fancy restaurant, check out the restaurants in Rue Bani Marine just off Jemaa al Fna in Marrakech.
Fresh fish by the sea
If you are close to the ocean, you should eat fish! Anything but sardines seems to be brought in on very small boats, so it is fairly sustainable.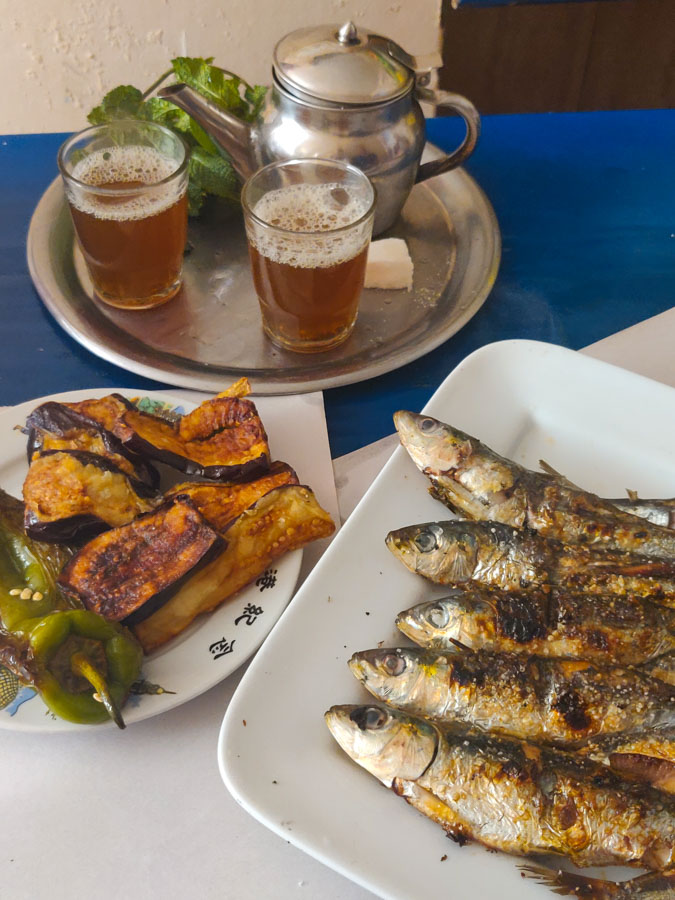 You can get the fish grilled or fried in most restaurants in the seaside towns, and the smaller the restaurant, the better the price. I would recommend picking your own fish at the fish market and then finding a restaurant to have it prepared.
Here you can read about my favourite restaurant in Essaouira for this.
The fish market in Essaouira also has fresh oysters, for around 5-10 DH each.
Did my blog help you?
Maybe you want to thank me by inviting me for a coffee!
Typical Moroccan breakfast
Berber Omelette
You can find this on many breakfast menus. Berber omelette is normally a base of fried tomatoes with garlic and olive oil. It can either be topped or scrambled with an egg or two and you eat it with bread. A lot of people add some cream cheese or black olives.
Bissara
Bissara is a soup made from fava beans and is mostly eaten for breakfast. It is prepared with cumin and lots of olive oil and a great choice if you like savoury breakfasts.
Msemen
For breakfast, or as an afternoon snack, you should try msemen, also called Moroccan crepes. I like it best with fig jam, but it is also nice with honey. Some places offer them filled with veggies and eggs as a savoury version.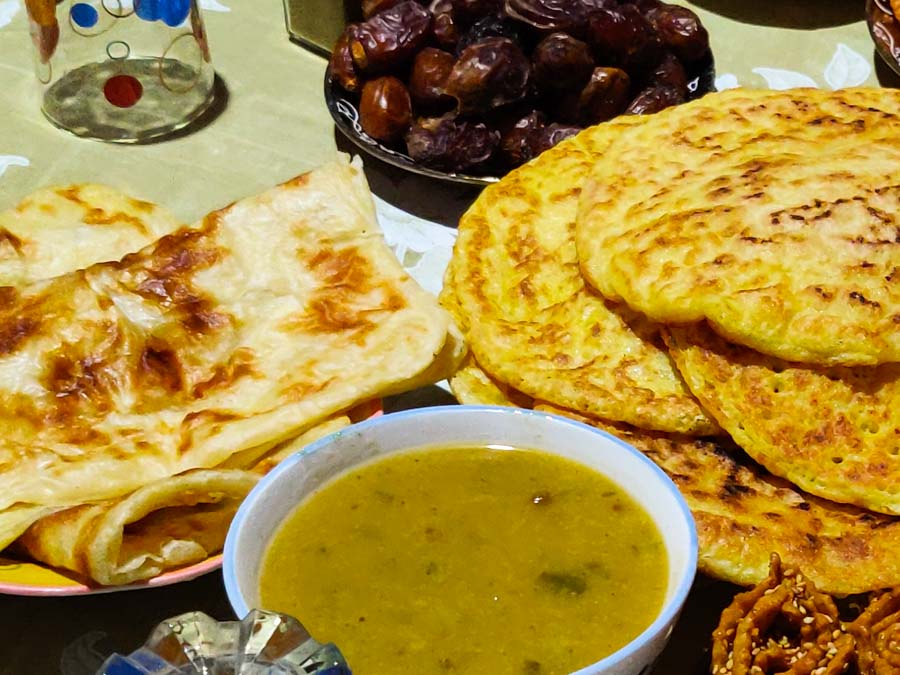 Amlou
Amlou, the Moroccan Nutella, is a mix of ground almonds, honey and Argan oil. It is just the best with fresh warm bread for breakfast. If you want to bring some home, you can often find it in cooperatives, where the women sell their handmade version. It is best to get it in a place where they mix it fresh for you, as you can decide how sweet you want it to be.
Other typical Moroccan food
Harira
Harira is a typical Ramadan soup, but you can find it year round in small kitchens in the evenings. Try to find a place where it is homemade, as it is one of the few things available in huge buckets from the shops.
It has a tomato base and normally contains lentils, chickpeas and sometimes rice or pasta too. If you are hungry, ask for an egg or two and some bread to add up to a full meal.
Berber pizza
This is a local dish from the desert around Merzouga, you can find the best restaurants in Rissani and Khamlia. Basically, Berber pizza is fresh flat bread filled with some meat, onions and vegetables. Some places also mix pieces of animal fat or boiled eggs into the filling.
Bastilla/Pastilla
This is another dish I haven't tried, it is just not my thing. Bastilla is a pastry filled with either chicken or dove and flavoured with cinnamon and powder sugar. A lot of people really like it, so if this sounds like your thing, go ahead and try!
Moroccan street food and snacks
Brochette
Brochette are basically kebabs, meat grilled on a stick. You can get them with turkey, chicken, beef, kofta (minced meat), and sometimes liver, heart or kidneys. The locals eat them with a spicy sauce, harissa, and bread. For tourists they are mostly served with fries.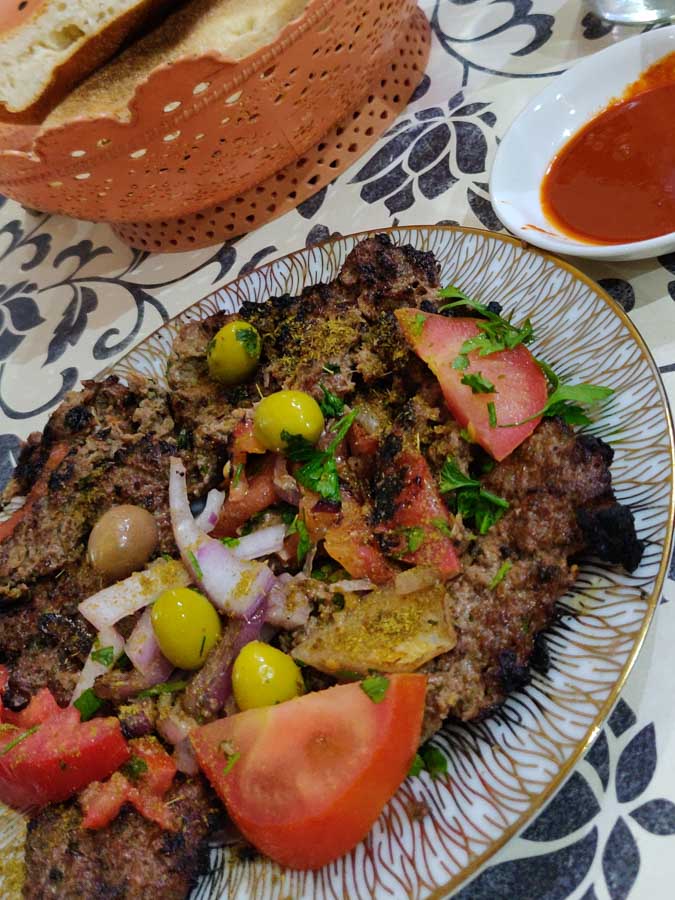 Snail soup
This might be a seasonal thing, but at least in the winter months, you can find little stalls selling snails in many cities. Just follow your nose.
You can use a toothpick to pick out the snails from the broth and eat them. The locals swear by drinking the broth as well, apparently it is very healthy. I haven't tried…
Briouat
Briouats are mostly sold as street food in the bigger cities. There are sweet and savoury ones. You can find them filled with vermicelli noodles and either veggies and chicken. Or the sweet version with almonds and honey. They make a great snack in between sight-seeing, as they will give you lots of energy.
Khubez
Khubez is the standard bread available at every corner in Morocco. There are lots of other breads available too, so you should shop around and try the others for a snack during the day also.
If you are hungry but don't want to sit down in a restaurant, check out the little corner shops (hanout). A lot of them offer sandwiches, half a khubez filled with egg, cream cheese and some sort of sausage for very little money.
Harsha
If you are gluten intolerant, Harsha is a great bread alternative. It is made from corn (or maize) and is very yummy. You can get it plain or filled with cream cheese or chocolate spread in most places. It is best when it's still warm.
Chebakia and other cookies
Don't miss out on the cookies sold in patisseries all over the country. The most famous ones are probably the "horns of the gazelle" and chebakia, the traditional Ramadan cookies. But there are many more, and I can never choose, so I oftem take one of every kind.
Sfinge
This is another street food snacks that I recommend you try. It reminds me of the German Schmalzgebäck, and I always call myself lucky when I find one. You can get them with sugar or plain and they make you much fuller than you expect.
Vegetarian Moroccan food
Be aware, some places don't count chicken as meat and will serve it in a vegetarian tajine!
Moroccan salad
The typical Moroccan salad is a mix of tomatoes, cucumber and onions. Some places add green peppers into the mix. And if you are lucky, they will top it with some boiled eggs and/or tuna. The dressing is usually just olive oil and lemon juice.
Cooked salad (or salade variée)
This is a funny dish. Most places serve a scoop of plain rice surrounded by scoops of cooked vegetables (potatoes, carrots, beetroot) and fresh vegetables (peppers, tomatoes). Sometimes it is topped with tuna and boiled eggs.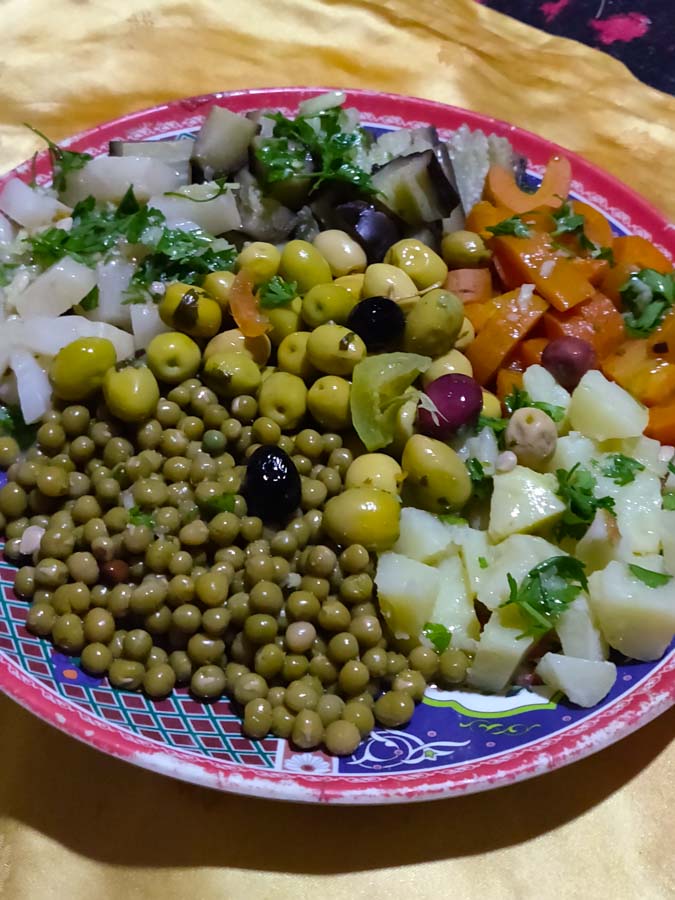 Zaalouk
The Moroccans call this a salad, but really it is a veggie (side) dish. Aubergines, peppers and tomatoes, grilled and then mixed together with herbs and olive oil. If you eat it with lots of bread it will be a full meal, but it is also great accompanying a tajine or brochettes.
Orange with cinnamon
This is probably the closest thing to a traditional Moroccan dessert found in restaurants. In the Berber language dessert is the word for fruit, and that is what they eat after lunch or dinner. There will be apples, pomegranates or grapes, depending on the season. In winter also mandarins and oranges. Adding cinnamon to sliced oranges is a fancy way of presenting this in restaurants.
Olives
If you like olives, you will love Morocco! There are so many great olives everywhere, spicy or plain, green, black and pink. Just find the local souk and buy some samples. My favourites are the pink ones with lemon. The black ones are best with berber omelette for breakfast.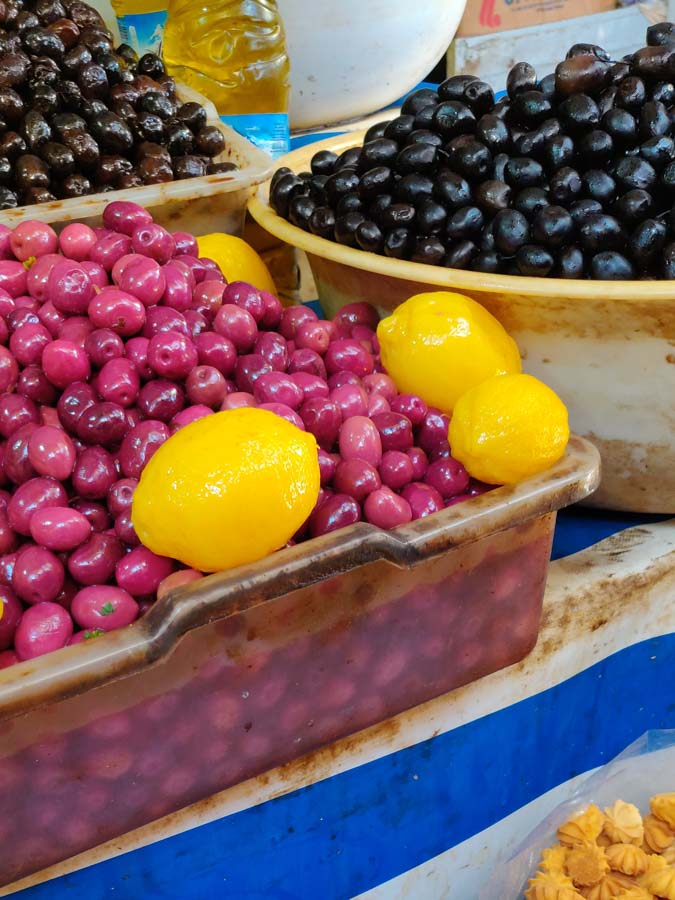 Dates
Many countries claim to have the best dates, and Morocco certainly has a claim to that throne. The best ones come from the Ouad Ziz and the Ouad Draa and the season starts in the late summer. But of course you can find them in the shops year round and they are great with traditional mint tea!
What to drink with your food?
Mint tea
You will not get around the traditional Moroccan mint tea when you're here. It is served everywhere. Moroccan tea has a green tea base, and fresh mint and lots of sugar are added. It can be very strong, so if you are sensitive, don't drink it late in the day.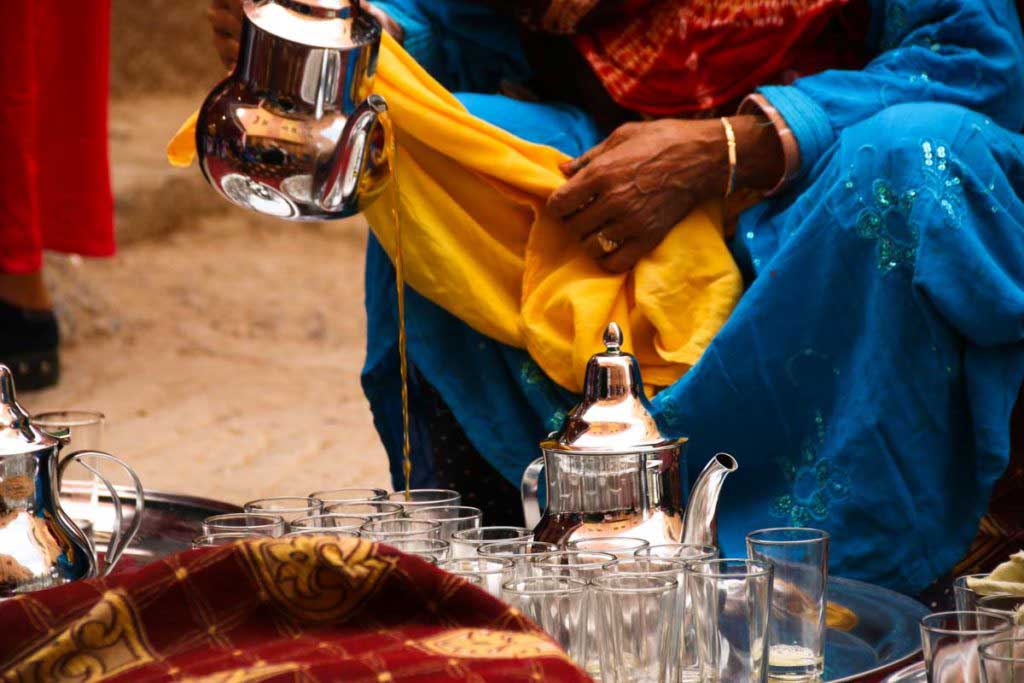 Fresh orange juice
Most places also serve fresh orange juice. Although, for the last few months (late summer of 2020) here in Merzouga it isn't on the menu, as the prices for oranges apparently went way up. I hope this changes when the new oranges hit the souks.
Avocado juice
This sounds weird, but it is sooo good! It is less juice, more milkshake and you should definitely try it. Most restaurants and cafés serve it fairly plain, just milk, avocado and sugar. At home we substitute sugar for raisins or dates and add almonds or cashew nuts.
Pomegranate juice
This is sadly a seasonal thing, but one you should try if you have the chance. There are little carts in the bigger cities selling this deliciousness. The bright red juice is sweet and a bit bitter at the same time and a great refreshment on warmer days.
Sugar cane juice
Sugar cane juice is probably one of the healthier options, despite the name. It is full of minerals and good for your digestion. Also, it is very yummy and rather cheap. You can find little carts selling this and in some cities, there are also little shops.
Moroccan food tour
If you would like to book a food tour in Marrakech, check out my friend Amanda's company: https://marrakechfoodtours.com/
They include some more obscure places in their tours and customers are always happy! Also, they have been on Netflix with Somebody feed Phil, in case you'd like a sneak peak of the tour.
Please note that some of the links above are affiliate links and, at no additional cost to you, I earn a small commission if you make a purchase. That income goes to supporting this website and keeping it free for you and everyone else!