There are myriads of tours to the Sahara Desert in Morocco. And as it is a fascinating place, you should definitely go and see it. But, how to find the right tour for you?
Here are some things to consider.
First of all, most tours advertised as a 3-day tour in the Sahara (sometimes even called 3-day desert safari), are 3-day tours alright, but you spend only around 12-14 hours of this in the desert, most of those sleeping. You arrive just before sunset (in winter sometimes even too late for that) and you leave right after breakfast.
If that is what you are looking for, no worries, just book one of those tours. But, if you really want to experience the desert, you need to look for something else.
To find the right kind of tour for you, let's go through some questions you might ask yourself.
Should you bookyour Sahara tour from your home country or once you are in Morocco?
Well, this mostly depends on your level of flexibility and comfort with having nothing planned. Both is possible.
For the standard tours, most likely, you will pay more if you book long in advance and from home. You will find better prices the closer to the desert you get.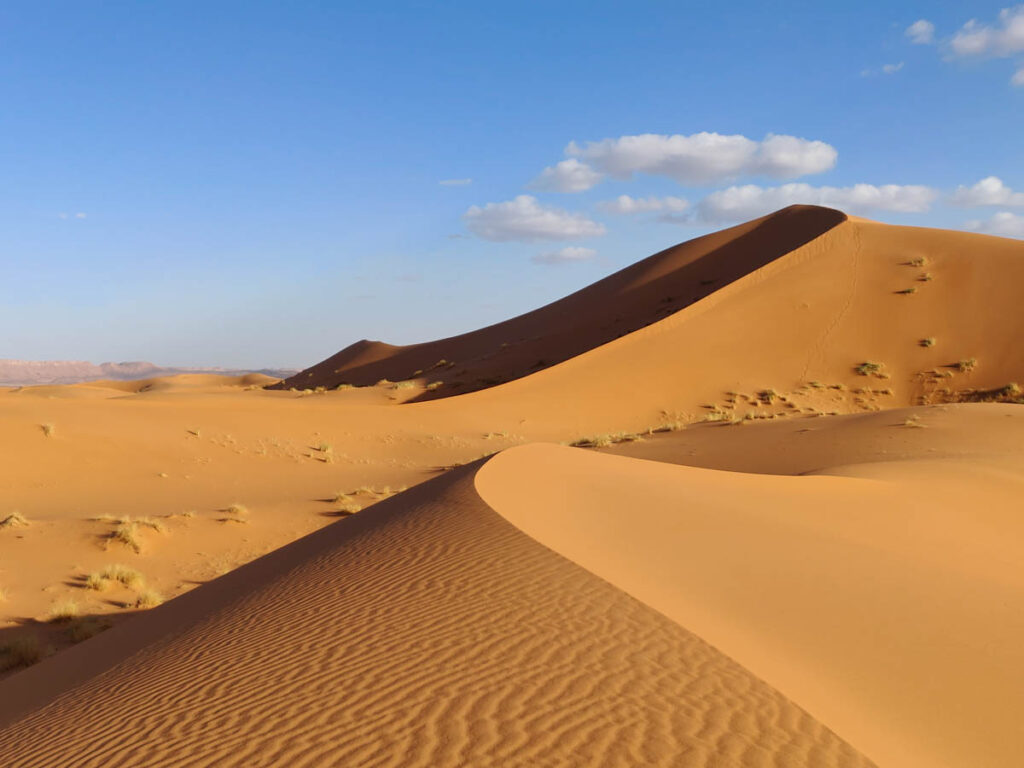 Also consider, a lot of companies offering this either don't have a website or don't show up on google. Once you are in Marrakech, you can compare offers for the tours departing there.
However, for more specialised tours, e.g. multi-day desert hikes, it is rather the other way round. You should book early because there are some logistics to plan. We can organise such a tour within 2 days, but it will be more expensive rather than cheaper.
Should you book a roundtrip from Marrakech or go by public transport/rental car and only book the camel and camp there?
Again, that depends on you and your style of travel, both is possible. Things to consider here: Trips from Marrakech (or Fes) almost all follow a fixed itinerary. And as mentioned before, you will not really spend any time in the desert. But, if you are short on time, this might be your best option.
But it is definitely no problem to just take the bus to Merzouga and then book a camp once you've arrived. The camp will also organise a guide with a camel to take you safely through the dunes.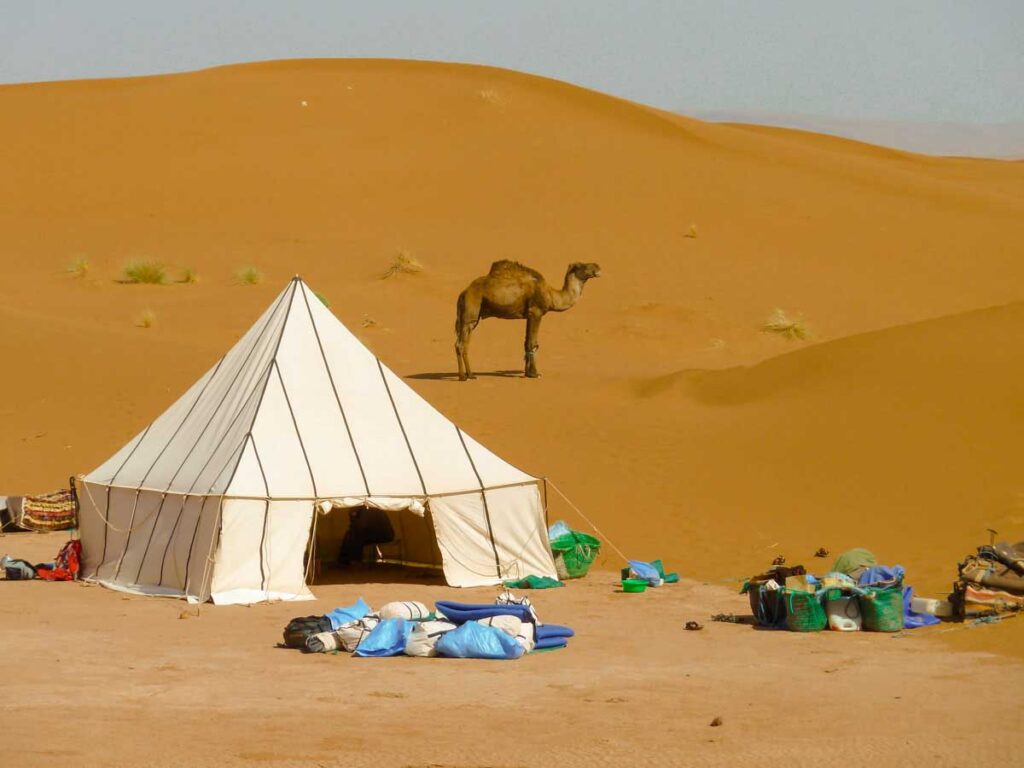 Should you book a private Sahara tour or go with a group?
This is mostly a budget question. If you have the money, I definitely recommend a private tour. This gives you flexibility in the itinerary, more stops and better food options along the way.
But, if you travel alone and you want to be around more people, then a group trip is probably a better fit for you. Most group tours from the big cities are rather big groups though. Like 20-30 people. So, you will not experience the quiet of the desert and also not make any real connections with the locals.
What does the typical itinerary look like?
Most 3-day desert trips include:
Pick up in Marrakech (or Fes)
Visit of Ait Ben Haddou
1 night in the Dades Gorge
Visit of the Dades Gorge
Sunset camel ride to the camp
1 night in the camp
Transfer back to the city
What other options are there?
Some companies offer a 4-day itinerary, but mostly they don't include more time in the desert. Instead, they add more sightseeing on the way back to the city.
So, if you really want to spend time in the desert, meet some locals and experience the culture and hospitality of the Amazigh (Berber) people, you will have to book a different tour. This could either be a private trip, or a group tour with a specialised agency.
Some places offer horse riding trips in the Moroccan Sahara. Others hiking or trekking with camels.
My partner and I are running a desert hiking company with different tours and a couple of times a year we do offer group trips that you can book as individuals. On these trips we trek with our camels for 5-15 days through the remote parts of the Moroccan Sahara. You get to see places most people only dream of. It really is an adventure of a lifetime!
How much should it cost?
Remember, you get what you pay for! The cheaper the tour, the more shopping stops will be included. The driver makes commission on anything you buy, so he will really try! Also, the groups will be big, the tour very standardised and rather anonymous.
On Getyourguide and the likes you can find tours that start at 80€ per person. But to make that a profitable adventure, the agency will cut corners wherever they can. Definitely make sure to read a lot of reviews on tripadvisor, getyourguide or wherever you want to book. And pay attention to what is not said as well.
I recommend spending a bit more and go for a smaller group experience or your own private tour. Good private tours start at around 450€ per person (based on at least 3 people) for a simple 3-day itinerary and can go up to twice or more, if you want more luxury or activities included.
Longer hiking trips are of course more expensive. You can check out our tours and prices on Berber Adventure Tours.
Where does the money go?
This is something that you should always consider, when booking any travel. Where does your money go? If you stay in big chain hotels, book with international travel agencies, etc., then your money will not end up in the country you are visiting. You are basically exploiting the locals, enjoying their hospitality, but really supporting western companies.
So, check who runs the agency offering this. What is their policy regarding this?
While I am German, the money I make with my business stays here in Morocco, because I live here and spend my money here. We also hire many locals, if possible here from Merzouga. And we pay them above average.
Some bigger companies who do this well are Intrepid Travel and G adventures.
So, if you have made up your mind about the kind of trip you want, check out these tours:
3-day group trips:
3 days Marrakech
3 days Marrakech to Fes
3-day private trips:
BAT are happy to customize a 3-day trip for you
Multi-day desert hiking trips:
Please note that some of the links above are affiliate links and, at no additional cost to you, I earn a small commission if you make a purchase. That income goes to supporting this website and keeping it free for you and everyone else!