I've been living here in Nuremberg for the last 3 and a half years and I must say, it is a really lovely city. It has some quaint old architecture, nice nightlife and pretty good cultural offerings. Also, good coffee and food! It feels like the food and drinks szene is everchanging with new bars and restaurants popping up everywhere. So if you are looking for tips on eating out, you found the right place!
My current favorites for coffee and cake in the old part of town are Di Simo and Die Maulbeere.
Di Simo is a typical italian bar where you can have your morning coffee, panini and a glass of wine for lunch, coffee and cake in the afternoon or drinks like Prosecco or Aperol Spritz in the evening. The bar is located on the little river island Trödelinsel and in summer most people take their drinks outsite onto the bridge across the river with a view of the beautiful old houses along side it. If you get there fairly early in the afternoon you have a choice of yummy cakes with your cappucino, latte or espresso. They make their coffee from their own roast Bergbrand which is one of the best you can find in Nuremberg. If you like it, you can buy beans right there in the bar. My parents like it so much, I now have to bring a packet everytime I go home.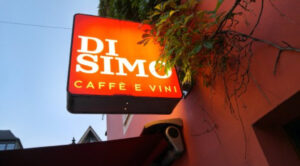 My old favourite La Violetta sadly closed last year, but the owners opened their new café Die Maulbeere just a few steps away from the Hauptmarkt, home to the world famous Christkindles Market every December. The café is very small, so you have to be lucky to get a seat, but their homemade cakes are, in my opinion, the best you can get around here.
If you don't mind leaving the old part of town for your coffee, the area Gostenhof is full of little cafés, bars and restaurants. One of my favourites is Salon Regina on Fürther Straße. The downside is, it is right on a busy road, so not a very quiet place, but they have great coffee and cakes and also all kinds of snacks.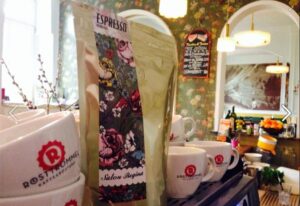 Even though I really enjoy cooking, I also love going out for dinner and Nuremberg offers all the variation one could ask for. I know, I should probably write about restaurants with local franconian cuisine, as people expect to read this in a post about Nuremberg, but I couldn't tell you anything about it, as I don't ever eat it myself (just not a big fan of pork, and they are really into pork around here…).
The best Mexican food you can find here (or probably in Germany all together) is offered at Crazy Nate's West Coast Mexican. Nate and his crew opened this restaurant in January 2016 and even though it isn't conveniently located inside the city walls, it is definitely worth the (short) trip there. The food is delicious, always freshly made with local and regional meats and veggies, no additives or preservatives, and vegetatian and vegan options are available. If you are in town on a Tuesday, make sure not to miss the taco tuesday, where the street style tacos are 1 € each, all evening long. My personal favourites are the crazy style beef tacos, the Nachos with chicken and, of course, the classic Margarita.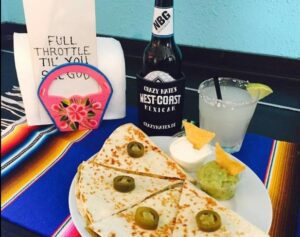 For something less spicy try CoDung, a vietnamese restaurant that also serves sushi and probably has the best value for money out of all the sushi bars in Nuremberg. In summer try to get a table on the terrace, not quite roof-top but nice for sitting outside non the less.
Another favorite, that I should frequent way more often, is Der Andalusische Hund, an authentic tapas bar in Johannis, a 15 min walk or short tram ride outside the inner city. They have a long counter with bar stools to sit at as well as a couple of tables, on weekends make sure to make a reservation. You can see some of the varying food in a glass vitrine at one end of the counter, but they also have some options on the menu, my favorites are the dates in bacon. Their wine menu is a very nice selection of whites and reds and I never know what to choose, as they are all great.
On burger restaurants I could probably write a full page alone, there are so many options, some old, some new… My favourites at the moment are Kuhmuhne and Hempel's, both of who deliver via Foodora, so are a nice options for rainy weather. They both shop their ingredients locally and everything from bun to patty is fresh and hand made. Kuhmuhne has awesome sweet potato fries, I could just eat those and be happy all evening!
For desert or a cool and sweet snack in summer I recommend Die kleine Eismanufaktur, where you can find hand crafted ice cream made out of organic dairy products. Their selection is very interesting, you can find basil ice, or salted caramel and lots of other interesting choices. They are fairly pricey, but in my opinion way worth it.
What is your favourite food? And what type of cafés do you enjoy?