Ready for a vacation
After 3 weeks of non-stop travel for work, I was ready for a holiday. For some reason though, I felt no motivation (again) to book something. I had handed in 2 weeks holidays from Saturday on. But due to an upcoming project, I thought it better to leave early and go only for 10 days.
At first, I thought I would just go on a super last minute trip to some island in Greece or Spain. But after checking out the offers I felt it just wasn't the right thing for me. Those all-inclusive hotels with 3 pools, just thinking of the type of people I would have to be around… Not what I had in mind.
So I reconsidered my options. I wanted to do some hiking but also relaxing and maybe a bit of city/culture and beach. So basically everything!
In the end, I decided to rent a car and drive to northern Italy. I rented two AirBnB's, one near Bolzano in the mountains and one further south near Vicenza. From there it is only an hours drive to Lake Garda, Verona and Venice. So plenty of options for any type of weather.
Hiking in Eppan, South Tyrol
The first days I spent just south of Bolzano, going hiking in Eppan most days and also paragliding from Mount Seceda.
My Airbnb was outside a little village, basically in the middle of nowhere. Vineyards surround it, as far as the eye can see.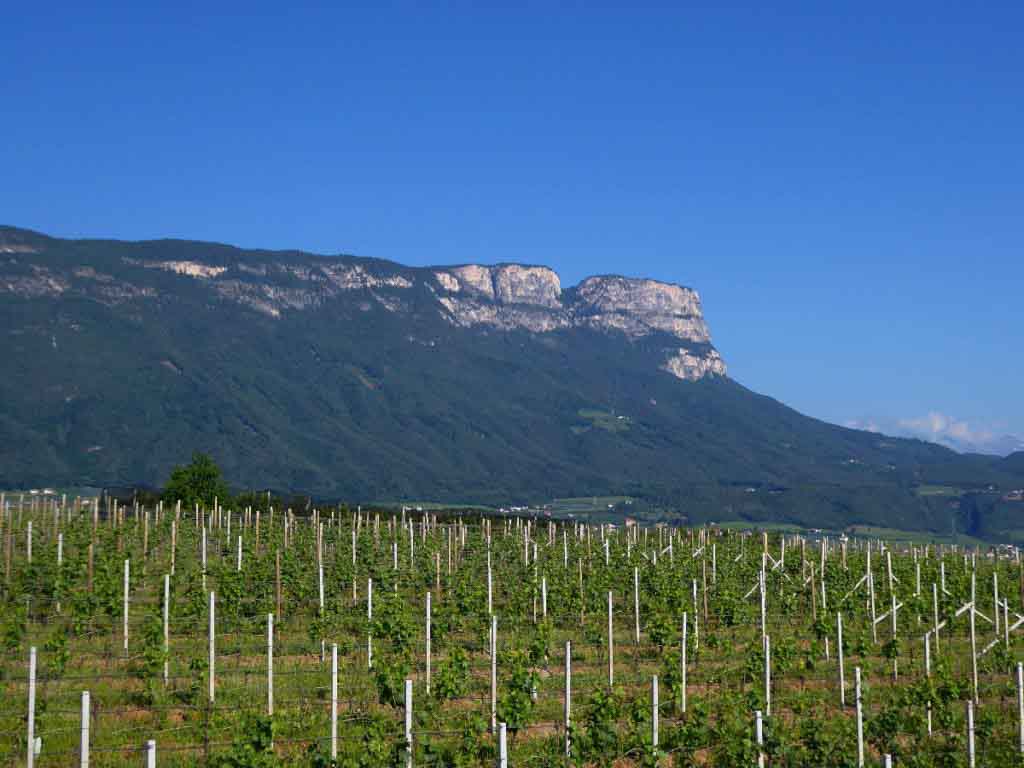 Hiking and swimming on day 1

On day one I went for a hike up the hill behind the house. There is a nice 12 km tour hiking up to a lookout where someone piled up rocks in weird formations. From there you can walk down towards the Monticolo lakes. And with the temperatures being above 30 °C I was really happy to jump in and go for a swim.
Castles and culture on day 2
On my second day, I did the 3 castle hike, visiting Korb castle, Boymont castle and Hocheppan castle. I decided to do the tour backwards, just because I like to do things differently. Good decision, but I will come to that later.
Korb castle is a pricey hotel and restaurant and I only used their car park. From there I walked up, first through the vineyards, later in the woods. As the temperatures were again very high I was glad to be in the shade.
When I reached Boymont castle I was surprised by the good state, it did look pretty run down from the valley. The staff at the local beer garden told me to go up the tower for a view of the surroundings. And they were right, the view was amazing. Although, due to the high temperatures and high humidity the far off mountain tops disappeared in a haze. I guess you can't have it all.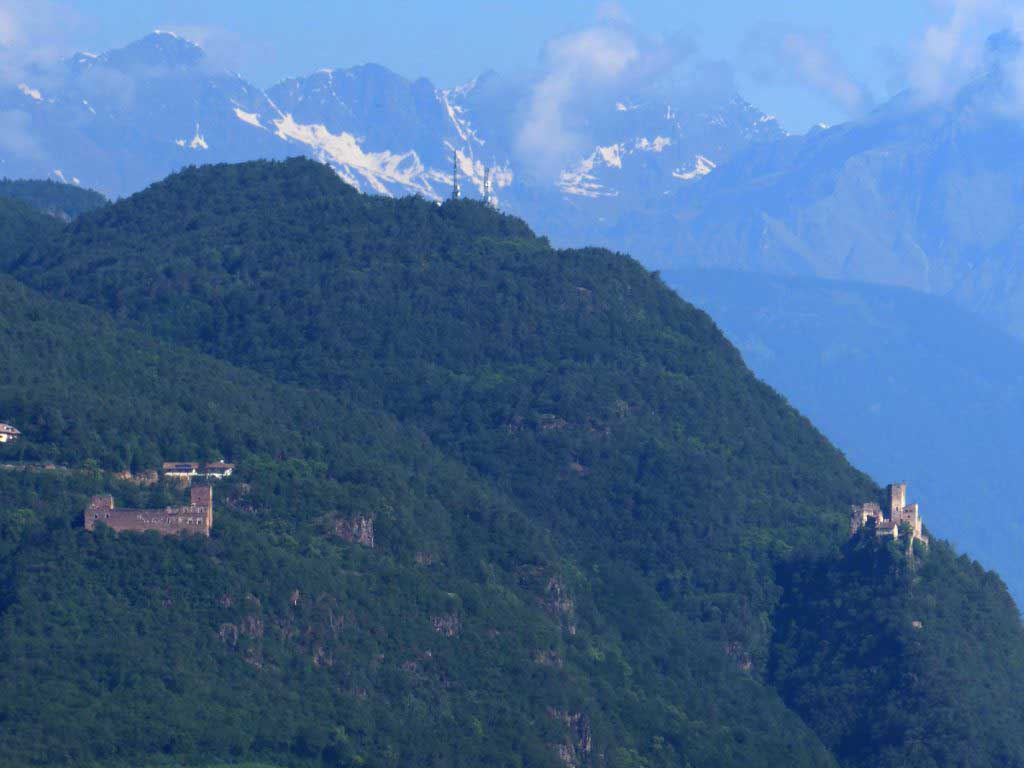 Sadly they don't sell ice cream at the beer garden and it was too early for lunch. So I kept walking towards Hocheppan castle. I seemed to be the only person going that direction with lots of people coming the other way. Some seemed very ill equipped for the type of hike, wearing fancy sandals. And the terrain was pretty challenging with loose rocks and steep bits. The steepest bit down in my direction was long stairs down the mountain side.
At the bottom was a fresh water spring with ice cold water. Nice any by this point very welcome refreshment. After this I had only the last steep ascend to Hocheppan castle to conquer. Here I had my lunch and a drink and then went on a tour of the castle and the little chapel. It dates back to the middle ages and has some Byzantine influence. For example, the castle's keep is pentagonal. This is hardly found anywhere in this region from that period. But the founder of the castle, supposedly a crusader, brought home some ideas.
The little chapel holds one of the best-preserved frescos in Tyrol, it shows the story of Jesus, from birth to resurrection. The colours of this are amazing considering its age. It reminded me a little of the paintings of the Egyptian tombs in the Valley of the Kings, which are of course much older.
Weather change
When we got back out of the chapel, the sky had suddenly darkened and it looked like it would be pouring rain in a few minutes. So I got my ice cream to go and literally ran down the mountain.
I got to the first car park and there was a couple I had talked to on the hike just getting in their car. So I asked for a lift to the car park where I had left my car. How lucky, because when we got there and I got in my car the rain started coming down in huge drops. Good timing.
Since it was still fairly early in the day I decided to go for a little drive and see what I would find. When I drove through Kaltern, there was a flea market on the main street. Of course, I parked the car and went exploring. The town is very pretty and the locals were chatty as they were trying to sell various new and old items to the tourists. And guess who I met? Yes, the nice couple from before who had given me a lift to my car. Small world…
Paragliding and natural wonders on day 3 and 4

On day 3 I took a day trip and went paragliding, you can read all about that adventure here.
On my last day in Bolzano, my AirBnB host and her daughter joined me for my hike to the Ice holes of Appiano. This is a very fascinating natural phenomenon. The mountain is very porous and warm air gets sucked into the holes on the top. It then travels down the little "tubes" inside the mountain and cools down. By the time if exits the rocks it is around 5°C cold.
This allows for very different flora, comparable to what you would find above 1200 meters, at only 500 meters above sea level.
Because there is a little ditch, the cold air gathers, blocked by warmer, lighter air. The temperature difference is very impressive, and on a hot day, very welcome. I don't know why, but I always find those types of things really interesting. Natural wonders or whatever you want to call them.
It's quite a pleasant hike from St. Michaels, passing first the Gleif church and then Moos castle before walking down to the holes in the woods. On the way, we found cherry trees and lots of beautiful roses along the roads.
And to top this day off, my AirBnB hosts invited me to one of their favourite restaurants in Kaltern for pizza for dinner. I must say, this was a really good first half of a holiday. I enjoyed going hiking in Eppan very much!
If you want to know what I've been up to for the rest of the holiday, head over to part 2.