Feeling spontaneous
I made the spur of the moment decision on Saturday morning to go paragliding. I had been followed on Instagram by an account that offers paragliding in Val Gardena, South Tyrol and of course I had followed them back. So I have seen all those spectacular photos they posted over the last few months. And when I decided to come to the area for my holiday, I thought I might give it a try.
Of course, I was also looking for the "something new to do" in June and this would be perfect!
In the morning after breakfast, I tried to call them, but no one answered. Worrying that the weather might change and I should talk to them rather soon I sent a facebook message. This was luckily answered only a few minutes later. Saying I could go at 2 pm. It is about an hours drive from where I am staying so I had plenty of time. I left right away anyways, as you never know what's going to happen.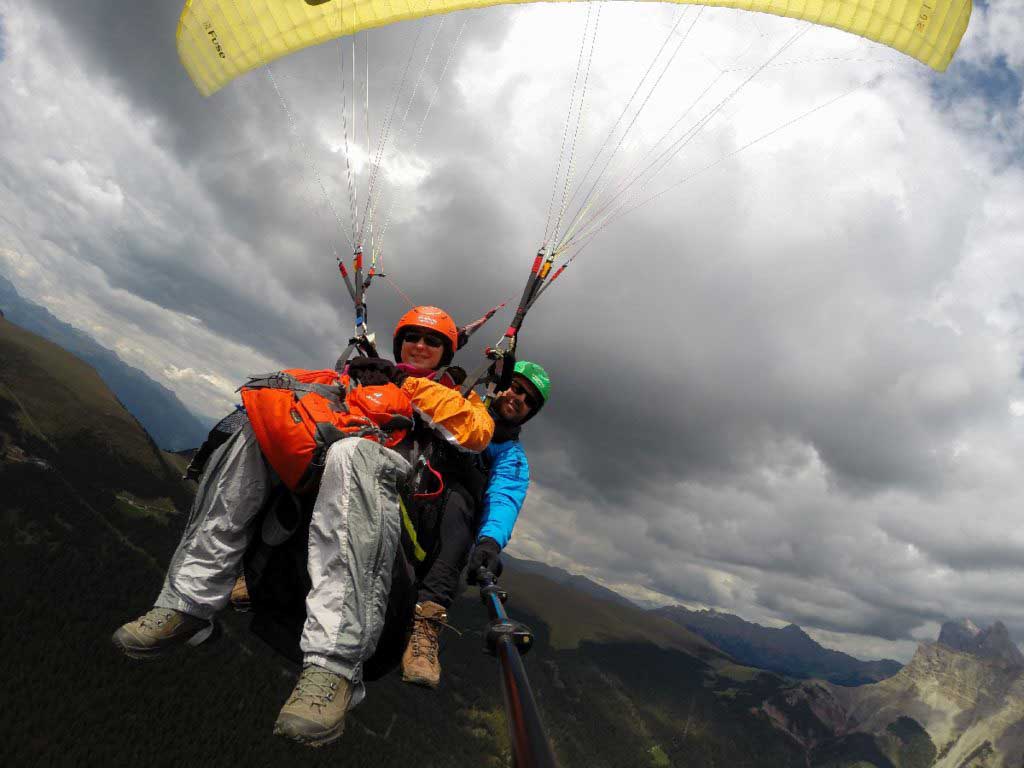 Will this really happen?

The closer I got, the more clouds showed up and I started to worry that maybe by the time I got there we couldn't go after all. So as soon as I arrived at the Seceda lift station I called again, saying I was already here and worried about the weather.
The guy said, he will come over now (which was about 30 min before the agreed time) and he will have a look at the conditions again.
10 minutes later, Kilian, from Paragliding Tandem Gardena, was standing in front of me with the hugest backpack I have ever seen. It holds the paraglider, the harnesses, 2 overalls and 2 helmets.
He had another look at the weather reports in his phone and decided that for now, it is safe enough to go up. If the conditions change by the time we get there we will reevaluate. And if it looks really bad, we might have to go down again by lift.
Yes, I was lucky!

Turns out my timing was lucky, as the lifts have only been running for a couple of weeks. Turns out I was lucky again, as the weather stayed stable with clouds but only very slow wind. According to Kilian perfect conditions for gliding. If it is nice and sunny the thermals can be really strong, making things a bit more challenging for the stomach. I guess you can compare it with turbulences in an aeroplane. Strong and fast ups and downs.
And even though my stomach is pretty easy going when sailing, I wasn't quite sure how much I would enjoy the flight that way. So I was happy with calm conditions. You can choose between different glides, just straight down to the valley or catching some thermals and gaining some height before gliding slowly down, or actually going for a long distance flight. The good thing is, you can decide once you're in the air and know how much you like it (or not).
Flying with someone famous

On the way up Kilian tells me a little about himself, turns out he is the current world record holder for tandem paragliding with 219 km in 9 hours. He just accomplished this recently, beating his own previous world record. Also, he grew up in this area and has been paragliding for more than 30 years. So I guess, this is as good as it gets for a paragliding pilot! Definitely made me feel safe!
The Seceda lift station on the top is at 2453 meters above sea level. From there we walked a little downwards to a spot where you can prepare and start into today's wind direction. Kilian set everything up while I was busy taking photos of the impressive panorama.
I had actually been fairly close by this mountain a few years ago when I went on a short hiking holiday with a friend. We weren't so lucky with the weather back then. We only went up to the Alpe di Suisi once and hiked up to the Plattkofel mountain. From where I was today I had the perfect view of the Alpe de Siusi and the surrounding mountains. It was nice to recognise a few landmarks.
Once everything was set up, Kilian strapped me into my harness and gave me a few instructions as to what to do when we take off. Basically, it is "run as fast as you can towards the ledge"!! Sounds great right? I decided not to think about it too much and just do it.
And off we go

So off we went. And it was not as scary as I thought it would be. The glider lifted me up before I reached the edge, so I didn't feel as if I had to jump down.
It was so exciting to closely fly by the mountain side and see the different layers of rock. I also held a look out for marmots as we had seen some from the lift, but no luck.
We circled a few rounds and Kilian asked if I was up for the thermal glide as conditions would be perfect for this. And of course, I was. It is marginally more expensive, but once in a lifetime right? So we went up to 2.710 meters according to my app. The views were fantastic, even though it was cloudy and we could see a bit of rain close by. Those mountains have such a variety of forms, I find it very surprising to see so many different shapes in such a small area.
After a while, the rain we had seen earlier seemed to be coming closer. So we stopped circling up and went out over the valley. I can't tell you how amazing that view was! I even relaxed enough to let go of the ropes and stretch out my arms like a bird. It was so awesome!

Of course, it's over way too soon

On the way down Kilian pointed out the meadow that we would land on later. It looked so tiny! He also offered to drop me off over the pool of the poshest hotel in town, but I gladly declined.
So we went around over the valley a little longer and then, sadly, it was time to land. This was really easy, I just had to lift up my legs at 90 degrees, stretching them out in front of me. Kilian did the rest. And then we sat in the grass with the glider collapsing in front of us.
What an experience! Of course not quite the adrenaline rush of skydiving, but a close second! Definitely doing this again, if I come across it in the future.
To read about the rest of my holiday, head over to the posts about my hiking adventures in South Tyrol and discovering Vicenza and Verona.

Some photos by Kilian Insam @paragliding gardenafly