Marrakech is without a doubt the cultural and touristic centre of Morocco. Most people either love it or hate it, and some, like me, have a hate/love relationship with this city. I want you to end up loving it, so to make your visit as easy and enjoyable as possible, I put together this guide of the best places to visit Marrakech.
Most people think of Marrakech when thinking of Morocco and the city does represent a lot of what Morocco has to offer. So, you should definitely spend some time here during your trip. Ideally, you have 2 or 3 days to really explore all the different areas and visit the most impressive sights. But even in just one day, you can get a good impression of the beauty of Marrakech.
I will show you the free things to do in Marrakech, the best sightseeing and also give you recommendations on what to prioritize for a one-day itinerary and a 3-day itinerary, depending on your length of stay.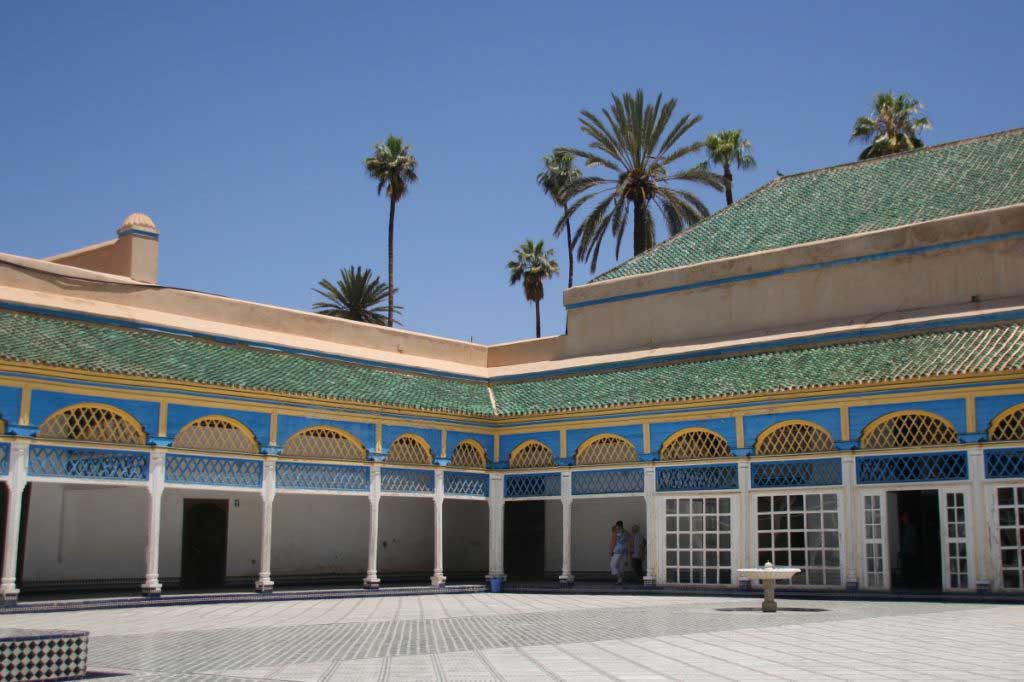 Introduction to Marrakech
The city is almost 1000 years old, starting of as a trade centre for people from both sides of the Atlas Mountains. Soon it became the country's capital, but this status only lasted 50 years at the time. Marrakech saw its best times, again as capital of Morocco, around 1600, when most of the beautiful palaces were built under the Saadi rule.
The French started to modernise the city in the early 20th century when they colonised Morocco. Gueliz, or the Ville Nouvelle, dates back to this time.
So, when walking through the city you can go from imagining yourself in the Middle Ages in the medina to a modern city with shiny shopping centres within half an hour.
Free things to do in Marrakech
Whether you are on a budget or not, a few of the things not to be missed in Marrakech are completely free.
Get lost in the medina
A good starting point to discovering Marrakech and getting a feeling for the city is getting lost in the medina. With its red and orange walls, every alley looks just like the next, and most people need years to be able to navigate it without a map. So I promise you, you will get lost! Just make sure you download the maps.me app to your phone before you go so you don't have to rely on strangers to find your way back (see scams below).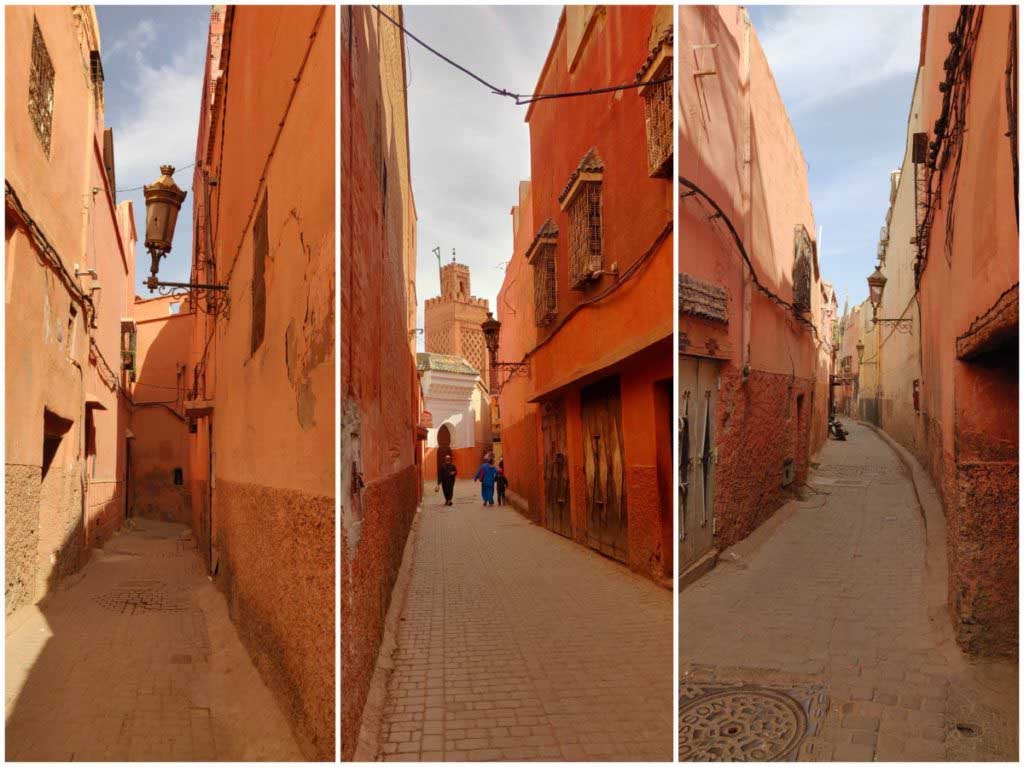 The fun part about this is, you will find a lot of hidden treasures, small shops selling lamps or woodworks, little cafés perfect for a stop and some people watching and maybe an interesting conversation with a local.
If you are scared to go on your own, check out this tour of the medina.
The Medina of Marrakech is also listed as a UNESCO world heritage site.
Try out your haggling skills in the Souk
The souk in Marrakech is huge, actually there are multiple souks specialized on different things. Don't be afraid and just head straight in. Look around for whatever you are interested in, and once you found it, ask for the price. But, don't be too eager, otherwise it will be much harder to get a good discount.
If you don't want to buy anything, never ask for a price, just look and keep saying no, thank you (la shoukran). Check my post on typical Moroccan souvenirs for more information on shopping in Morocco.
You can also book a tour to discover the more hidden parts of the souks.
Admire the Koutoubia Mosque
As is the case with most mosques around the world, non-muslims are not allowed to enter. So you have to content yourself with the beautiful exterior and the surrounding park.
The Koutoubia mosque was the first Friday mosque of Marrakech, granting the city its status as an independent city back in the 12th century. These days it is still considered one of the biggest mosques in the world, fitting around 25.000 people.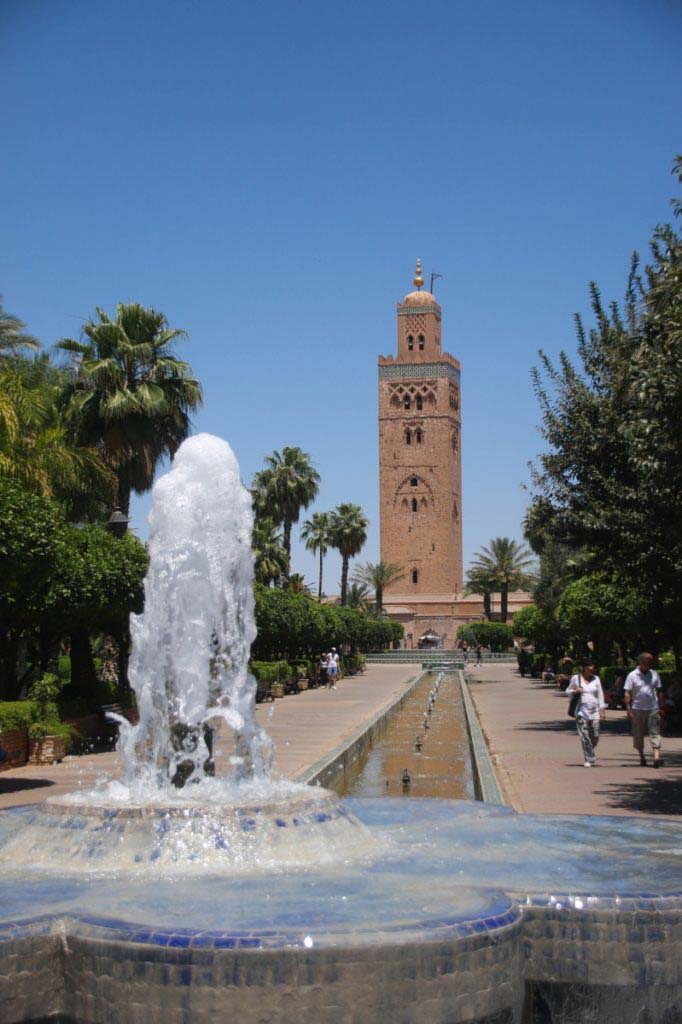 The 70 m high minaret is visible from almost 30 km away, making it the most important landmark of Marrakech. It is not overly decorated, as to not distract from the general architecture of the building. Nonetheless, it was copied a few times, e.g. in the Hassan tower in Rabat.
Mellah
The Mellah in Marrakech used to be the biggest Jewish quarter in all of Morocco. Founded in the 16th century, it used to be a big and rich area. These days, not much of this is left. Also, nowadays it's mostly Muslims living here. What sets the Mellah apart from the medina is the architecture. You find windows and balconies opening to the streets, while in the medina all houses are surrounded by solid walls and windows open to the inner courtyards. Check out the synagogue, which is still in use and the cemetery.
Window shop in Gueliz
If you need a break from the noise and smelly motorbikes in the medina, head into Gueliz for a few hours of window shopping. You will mostly find European brands here, but there are a few boutiques selling modern Moroccan styles or fusion couture.
Also, if you are a bit tired of the typical Moroccan food, here you will find all kinds of international restaurants for a change for the taste buds.
Watch the sun set over Jemaa al fna
One of the main attractions and most fun experiences in Marrakech is spending the evening in Jemaa al fna, the main square. I recommend heading up to one of the rooftop terraces to watch the sunset while sipping on an orange juice or a traditional mint tea. Later you can walk around the square and watch the storytellers or listen to some traditional music. Try to find the thickest circle of people for the most animated storytelling. Even though they speak one of the local Berber languages, it is really cool to watch.
The best sightseeing in Marrakech
And then there are of course some places that will charge you an entrance fee, mostly 70 MAD (~7€) for foreign nationals and 10 MAD for Moroccans. In my opinion, it is well worth paying, as you will get interesting insights into the history of Marrakech and I can only imagine how much the upkeeping of those buildings and gardens costs.
El Badi Palace
Even though there are only ruins left of the El Badi Palace, it is well worth a visit. The whole complex is huge, so even though there are not many details to look at, you will need some time to visit. There used to be 360 rooms surrounding the immense central courtyard, which featured a giant pool (these days only filled with water on special occasions). Make sure to climb up to the second floor at some point to have a view of the Atlas Mountains, if the air is clear enough. Also, there are countless storks nesting at the top of the surrounding walls.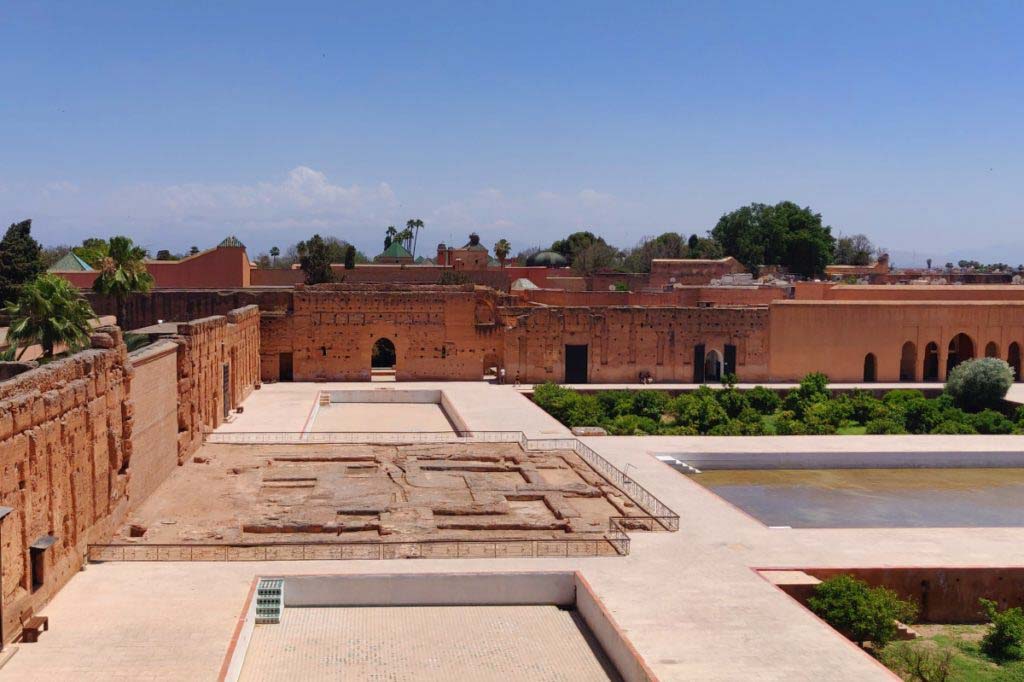 Bahia Palace
The Bahia Palace is probably the prettiest building in all of Morocco. If you are a fan of mosaics, gorgeous windows and beautiful doorways you just have to come here. It was built in the 1890ies and legend says it was used for the ruler of Marrakech, his family and dozens of concubines. You can visit the courtyards and many rooms, but part of the building is occasionally used as accommodation for important visitors and are closed to the public.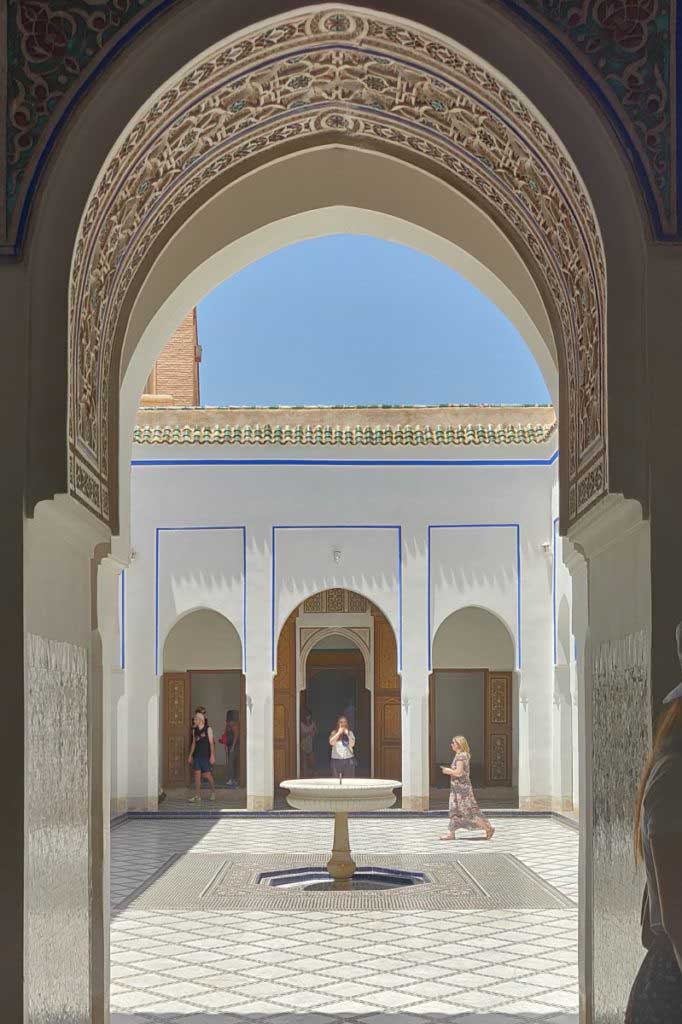 Jewish cemetery
The Jewish cemetery is easily reachable via the Mellah. It is probably the least beautiful cemetery I've been to, as the graves are all concrete blocks with no green in sight. But it is an interesting experience and worth the small fee. There is information on the history on display.
Saadian Tombs
The Saadian tombs date back to the 16th century and are the necropolis of the former sultan of Marrakech, Ahmad al Mansour, who built the El Badi Palace. He and his family are buried in two mausoleums that are wonderfully decorated with mosaics, columns and cedar doors. Long hidden behind the walls of the Kasbah mosque, they are amazingly well preserved. Another reason to visit is the surrounding garden with hundreds of orange trees, best visited in spring when they are blooming, and their smell sweetens in the air.
Le Jardin Secret
Of course, there are more famous gardens in Marrakech, the Jardin Majorelle and the Mamounia gardens, but they are very overcrowded. So I recommend visiting Le Jardin Secret in the medina. It is a beautiful little garden in the courtyard of an old Riad. One part is a traditional Islamic garden with geometrical design, the other is a more "chaotic" exotic garden with plants from all over the world. Another reason to visit is to learn about the unique way they get their water.
The Medersa is the third building from the Saadian times in Marrakech. It has recently been renovated and is now more than ever a must-visit. It is intricately decorated, the walls covered in mosaics, stucco and wood carvings. It used to be the biggest Koran school in Northern Africa and was in use from the mid 16th century until 1960.
Did my blog help you?
Maybe you want to thank me by inviting me for a coffee!
Is it safe to wander around Marrakech on your own?
I guess no one can know for sure, but I never had any real problems. Mostly it is just guys cat-calling or trying to scam you into paying more than you should. So, it depends mostly on your personality if you feel threatened or annoyed I think. But to prepare you a little bit of what might come, here are the most common scams you might encounter in Marrakech (or other Moroccan cities).
If you prefer to book a tour of Marrakech, check out these examples:
Scams in the Medina
It seems to be a popular pastime of the locals to point you in the wrong direction when you are lost already, just to make you pay them to help you back on your route after running around like crazy. This is especially true in the area around the tanneries, where they will also promise you a free tour only to make you pay once that is finished and you are trying to find your way back. So make sure you always know where you are, e.g. with the free maps.me app. And, if you're planning on also visiting Fez, skip the tanneries here in Marrakech, they do not compare and are not really worth the visit.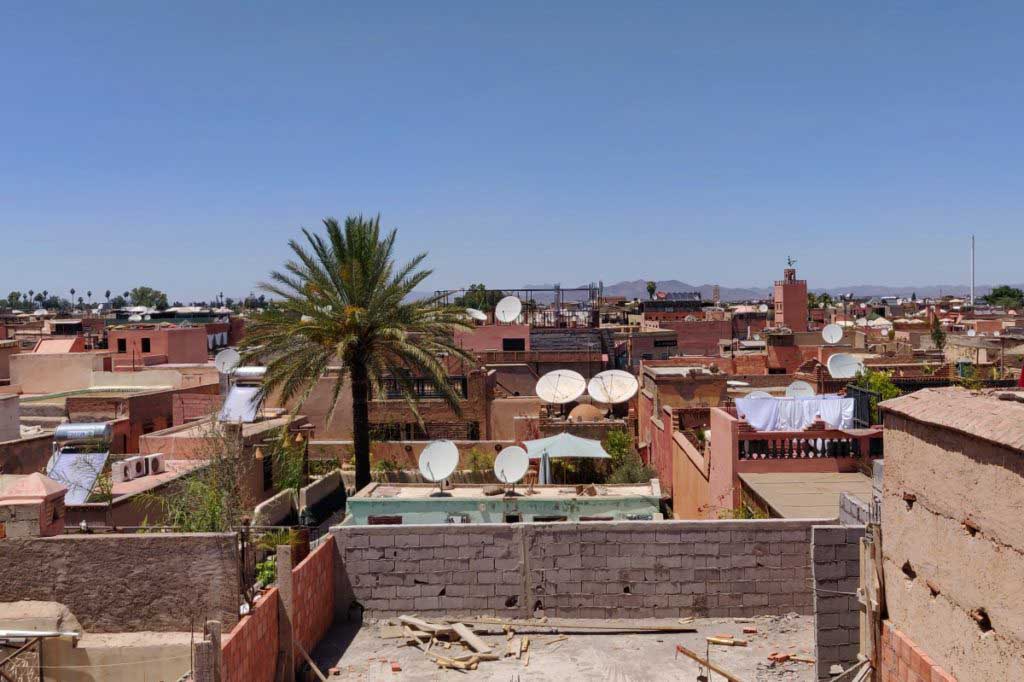 Scams on Jemaa al fna
Please do not take any photos with the monkeys or snakes, as they should be in nature and not held captive under these circumstances.
Also, be aware of the women trying to put henna on your hands before you even notice. They will expect to get paid, and the henna they use might be a fake version possibly causing severe skin reactions. And of course, as in any crowded place, beware of pickpockets!
Itineraries for your visit to Marrakech
As promised I will give you a recommendation on the perfect itinerary for your Marrakech visit. The one-day itinerary is filled with my personal favourites, if you have more time check out the 3-day itinerary below.
One day itinerary
If you only have one day in Marrakech I recommend the following:
Bahia palace
Medersa ben Youssef
Le Jardin Secret
Walk through the medina and souk
Spend the evening at Jemaa el Fna
3 day itinerary for Marrakech
If you have 3 days in Marrakech I suggest the following:
Day 1:
Bahia Palace
Mellah
Jewish cemetery
Saadian tombs
El Baadi Palace
Day 2:
Walk through the medina and souk
Medersa ben Youssef
Le Jardin Secret
Jemaa el fna in the evening
Day 3:
Gueliz
Jardin Majorelle
Koutoubia mosque
How to get to Marrakech
If you're coming from outside the country, you will probably arrive by plane. There are many connections out of Europe with direct flights from Lufthansa, KLM, Air France and Ryanair, just to name a few.
If you are already in Morocco, the most comfortable way is via train from the northern cities or via bus from the south. Check the ONCF website for connections and my post about public transport in Morocco for tips.
You prefer to let others do the planning? I offer itinerary planning for your trip to Morocco! You can check out the details here.
Please note that some of the links above are affiliate links and, at no additional cost to you, I earn a small commission if you make a purchase. That income goes to supporting this website and keeping it free for you and everyone else!