Most people have never heard of Bahrain, let alone considered going there for a holiday. But there is a surprising number of cool things to do in Manama, Bahrain.
My first encounter with Bahrain was a stop-over in the Manama airport in 2003 on my way to Zanzibar (that flight had lots of stops, don't judge, we were poor students). And last year, when I was searching for flights to Oman, I found a nice offer with Gulf Air that included a free stop-over in Bahrain for up to 4 days on my route from Morocco.
So, after a little research, I decided to go for it and spend 3 full days in Bahrain on my way back, making it my only new country in 2020.
A short history of Bahrain
Bahrain's history goes back until the Bronze age, there are signs of settlements from 3000 BC. The Dilmun kingdom left behind many burial mounds on the main island of Bahrain, these days listed as a UNESCO world heritage site. The Dilmun ruled in the area until ca. 800 BC and then were overturned by the Persian Empire.
It was one of the earliest places to adopt Islam and was ruled by the Arabs until the 16th century. Following this the Portuguese took over, followed again by the Persians. From the late 1800s it was a protectorate of the British until independence in 1971.
Bahrain used to be famous for the best quality pearls worldwide with a huge workforce attached to it, until the Japanese started farming pearls and destroying the prices. Luckily for the country, this happened at the same time as they found the first oil on the island. Now, they rely more on banking and tourism, as the oil business becomes more and more unsustainable.
And some general information
Where is Bahrain located, you wonder? It is one of those small Middle Eastern countries, that are hard to see on a map. It is located on the eastern side of the Arabian peninsula, just north-west of Qatar. Since 1986 it has been connected to Saudi Arabia via the King-Fahad-Causeway bridge.
Bahrain used to consist of 33 islands, but in recent history, land claiming operations have increased this number to over 80. Over 90% of the land consists of desert, less than 3% can be used for agriculture. There are frequent dust and sand storm and the coast has a lot of problems with oil spills and other damage from refineries and tankers.
Manama, the capital of Bahrain, is located in the north-east of the main island while the airport is on the island of Muharraq to the east.
The weather is as expected in the areas, summers are very hot and dry, winters are mild with average temperatures in Bahrain between 20-25°C and the occasional rainfall. I went in late January and it was perfect!
So, with all this history, of course there is some nice sightseeing in Bahrain, the only "problem" is, half of it is not in walking distance from the old centre of Manama and you will need some form of transport.
I used Uber a lot and it saved me so much money in comparison with regular taxis or a rental car!
Things to see in Bahrain
Get lost in the Manama Souk
Visiting the souk is one of the Must-Do's of any Middle Eastern city, so it is definitely on the list of things to do in Manama. Head to the Bab al Bahrain, the entrance to the market area. Behind the rather unimpressive gate you can find souvenir shops, restaurants and many, many alleys to get yourself lost in. Just go for it, the locals are so nice and helpful, they will point you in the right direction back out of the maze.
Shop in the Gold souk
The gold souk is just off the road that runs through the Bab al Bahrain. Head straight for 2 or 3 blocks and look for it to your left. One of the best things to buy in Bahrain is actually gold jewellery and pearls, and this is the place to look for them. And even if you're not interested in shopping, it is well worth a look around.
Visit the Al Fateh Mosque
One of the best places to visit in Bahrain is definitely the Al Fateh Mosque. It is the main mosque of Bahrain and they offer free tours in many languages.
The mosque, including the courtyard, offers space for around 7000 worshippers. It is named after the founder of Bahrain and hosts the national library.
You can find more about this and other mosques as well as more general information about visiting a mosque as a non-Muslim here.
Learn something at the Bahrain National Museum
This is a very modern museum with cool architecture and some local art on display in the garden surrounding it. Inside, there are a total of 9 galleries, featuring art, history, customs and traditions as well as some temporary exhibitions with changing content.
You can learn much about the history from the Bronze age until recently as well as about the unique Bahraini culture. With many life-size displays, this is a great place to visit in Bahrain with family, I am sure kids will love it.
Watch the sunset at the Bahrain Fort
This was my favourite part of the sightseeing in Bahrain. The Qal'at al-Bahrain, as the fort is called, is a relict from the Portuguese occupation of Bahrain in the 16th century. You can find a museum next to it displaying many artifacts found on site.
The site is well preserved and partly reconstructed and offers a nice view into the past. It is listed as one of 3 UNESCO world heritage sites in Bahrain since 2005.
The fort itself is surrounded by much older structures, dating back to the Dilmun kingdom, that are being excavated by archaeologists since the 50ies.
Watching the sunset from here or staying late for the lightshow is one of the romantic things to do in Bahrain at night.
Count the camels at the Royal Camel Farm
One of the most fun places to visit in Bahrain with family is the Royal Camel Farm. But I also enjoyed my solo visit. There are supposedly more than one thousand camels here. They are bred mainly out of tradition, not for racing or meat consumption. Before cars became a thing, camels were used for everything around here, e.g. transport of people and goods.
You can watch them being fed or walking around in the "training carousel". There are always plenty of baby camels around, and let me tell you: baby camels are the cutest!!
Entrance is free and the farm is open from 8-5 every day.
Get a glimpse of family life in old Bahrain at Al Jasra house
This is one of the lesser-known tourist attractions in Bahrain and a bit of a drive from Manama centre.
It is a typical house from the early 20th century, built from locally available materials. The walls are made from coral stone, clay and lime and are supported by palm tree trunks. Ceilings and roofs are made with materials from palms, bamboo and mangroves. It is very unremarkable from the outside, but inside you find beautiful decorations and a variety of everyday household items. The courtyard, and apparently also the roof, is covered in little white sea shells, used to keep it cool as they reflect most of the sunlight.
While architecturally the house is pretty standard, it is very special as the father of the current monarch was born here.
Buy a souvenir at the Al Jasra crafts training centre
While you are in the area, head to the Al Jasra crafts training centre just down the road. You can find small workshops for all kinds of traditional crafts, from weaving baskets, to building model ships.
You can watch the artisans do their work and of course buy a piece or two directly from them.
Since the camel farm and Al Jasra are in the same general area, it makes sense to combine the visit.
Disclaimer: the following things I've researched, but haven't actually gone, due to time constraints.
Get wet and go pearl diving
There are a few companies that offer diving trips to the Oyster fields where the pearls of Bahrain were historically harvested. You can dive for oysters and if you are lucky, find some pearls.
Tree of life
In the middle of the desert, there is a tree. It's been there for a long time and no one knows how it gets enough water to survive. They call it the Tree Of Life. It is surrounded by oil fields and there is nothing else to do in the area. So if you get bored, or really, really like trees, go check it out.
Dilmun grave sites
The oldest attraction in Bahrain and another UNESCO site, you can visit these burial mounds in a few places on the main island. I would suggest learning about them in the National Museum first, otherwise they might leave you a bit underwhelmed.
I am sure, after all this sightseeing you will be hungry. So here are some nice places to eat in Bahrain.
Restaurants in Bahrain
There are of course a lot of traditional restaurants everywhere in Manama, but since I had just spent 3 weeks in Oman, I was a bit fed up with the local style cuisine. So, I ended up in more international places. But I had a few recommendations from a local British expat I had met through a facebook group. So, I will list her recommendations here.
Emmawash is a traditional Bahraini restaurant with 2 locations. One fairly central, the other just past Al Jasra. They seem to be very popular for the traditional breakfast.
Haji's Traditional Café is very close to the Bab al Bahrain and offers lots of meat dishes as well as a nice breakfast spread. I think for the traditional food, you want to be in a group and share a few dishes.
I went to a Thai place twice, close to the Bab al Bahrain, called Honey Thai. You can find it in google. Really nice food and good prices.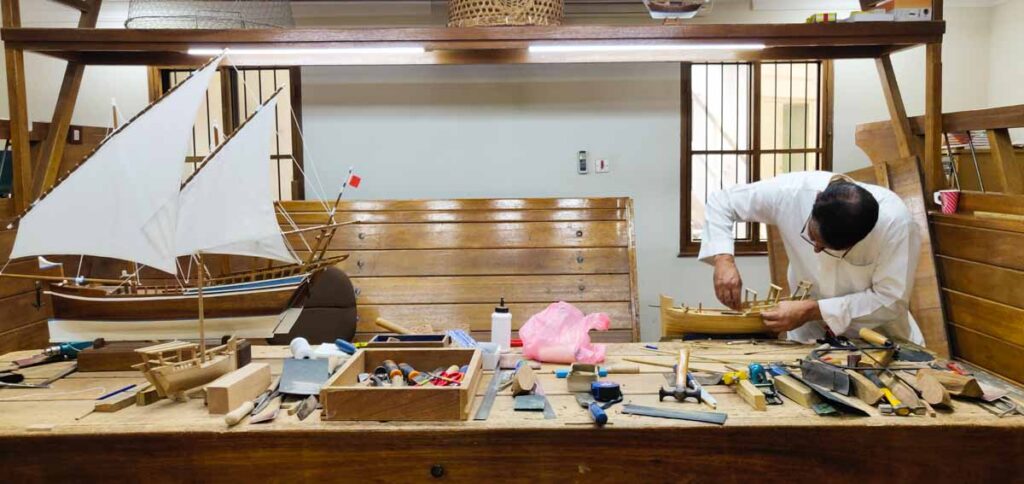 Nightlife and alcohol in Bahrain
A lot of hotels don't serve alcohol, but don't worry, there are plenty of places that do.
For dinner, and if you are interested in alcohol with your food, the area around Adliya and Block 338 has a ton of restaurants, many international ones. I went to Attic, a Greek place, with my British expat friend. And I must say, the food was superb!
The whole area is full of restaurants and bars and a very vibrant nightlife.
Hotels in Bahrain
Bahrain is generally not a budget location, if you find a place to stay for less than 60€ with a decent review profile count yourself lucky. Also, the nice ones are usually located in places that make it impossible to walk anywhere, so be prepared to uber a lot.
From my research and my friends recommendation, I would check out one of these hotels, depending on your budget:
Budget
Medium
Luxury
Four Seasons Hotel Bahrain Bay
Please note that some of the links above are affiliate links and, at no additional cost to you, I earn a small commission if you make a purchase. That income goes to supporting this website and keeping it free for you and everyone else!