Have you ever visited a mosque? It is a very special experience and one you can only have in a few places around the world if you are not a Muslim. Contrary to churches, mosques are generally only open to people of Islamic faith.
The first mosque I ever visited was the Mosque of Muhammed Ali in Cairo on a trip to Egypt in 2011. Since then I've visited more beautiful mosques around the world, and they are all beautiful, but also very different from each other.
What you should know before visiting
Can non-Muslims enter mosques
Mostly that's a no. Most mosques around the world are only open to Muslims. But a lot of countries have one exception, and I have visited a few of those. You can find them below.
How to behave in a mosque
Well, in general, you should behave like you would in any other religious building too. When you enter a mosque show respect, walk slowly, talk quietly. You are allowed to take photos of the buildings inside and out, but you should not take pictures of people who are praying. And also, never take photos of Muslim women without their consent, especially in more conservative countries/areas.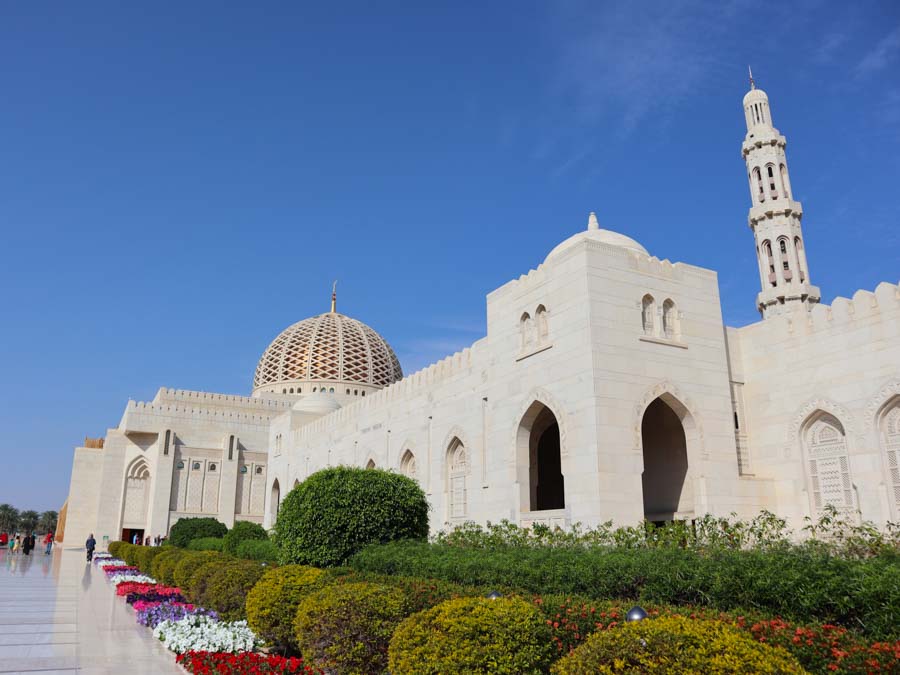 I find that I always need more time than I thought when I visit a mosque. They are so calming, I want to spend some time and sit and reflect.
Dress code – What to wear to a mosque
This differs, some mosques make you put on a robe, especially if you are a woman, in some places it is enough to be dressed decently. So please wear long sleeves and long pants/skirt and as a woman bring a scarf to cover your hair. And be aware, you will have to take off your shoes. There are most likely some shelves next to the doors, where you can put them.
General layout/architecture
All the mosques that I have visited had the same common layout: a main prayer hall, a women's prayer hall, surrounding grounds, at least one minaret.
The main prayer always hall has a small niche pointing to the location of Mecca, called the Mihrab. This is the direction the worshippers face when they pray. This way, all Muslims pray in (very big) circles around the Kaaba, as instructed by Mohammed.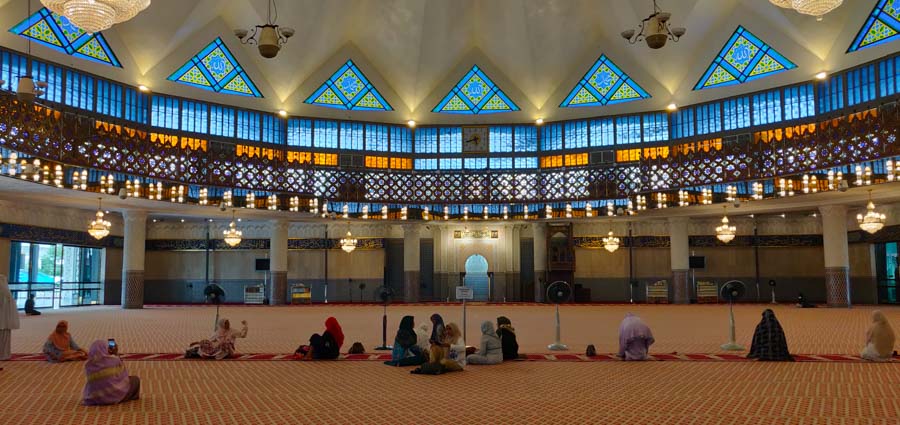 In some regions the main prayer hall has a dome in the centre of the ceiling and minaret numbers vary widely. In most of Morocco for example they only have one, in Turkey you can find up to six.
The most beautiful mosques in the world you can visit as a non-Muslim
Sultan Qaboos Grand Mosque in Muscat, Oman
The Sultan Qaboos Grand Mosque in Muscat is my favourite mosque. It is kept in light colours and is surrounded by beautiful grounds and gardens. When I first visited a few years ago, I was so impressed by the size, the beautiful gardens with Frangipani trees and the peace and quiet it exudes. I wanted to spend hours just walking around or sitting somewhere watching time pass by.
The main prayer hall can host up to 6500 worshippers. It has one of the most intricate prayer carpets I've seen, and it's the second biggest one-piece carpet in the world (used to be the biggest, but Abu Dhabi now has a bigger one). The carpet was handmade in Iran and it took more than 2 years to finish.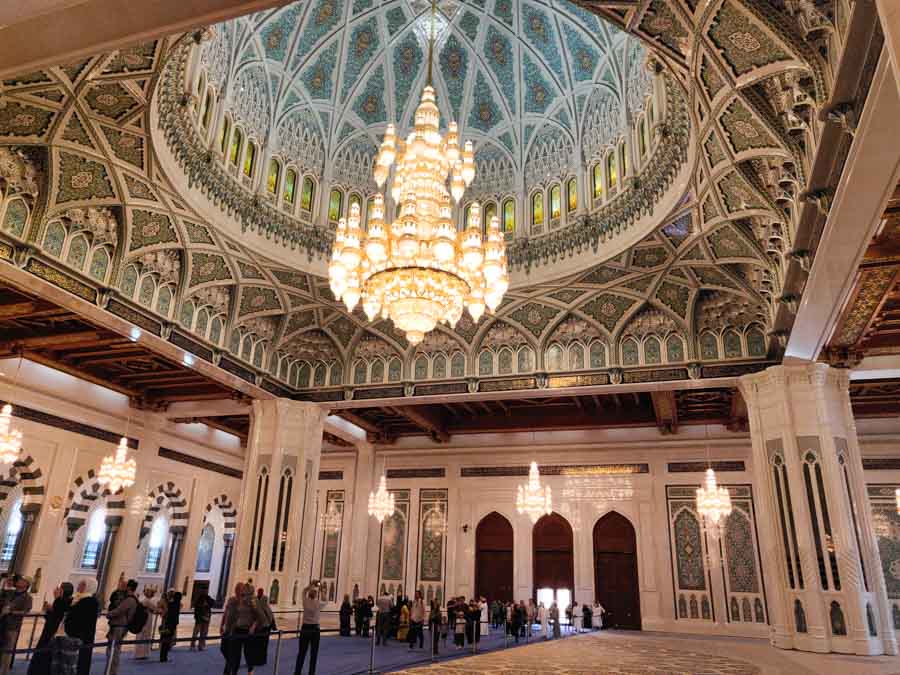 The huge chandelier is made with Swarovski crystals and is so big it has a hidden staircase inside for cleaning and maintenance. It weighs around 8 tons, scary thought when you stand under it.
All the buildings are made from sandstone from India. The dome is 50 m high and the main minaret 90 m.
My favourite part is the mosaics gallery that surrounds the mosque. The long arcades on the north and south side host niches with mosaics in different styles from all Islamic countries. They are very beautiful, and it is interesting to see the differences in Islamic art in the different regions.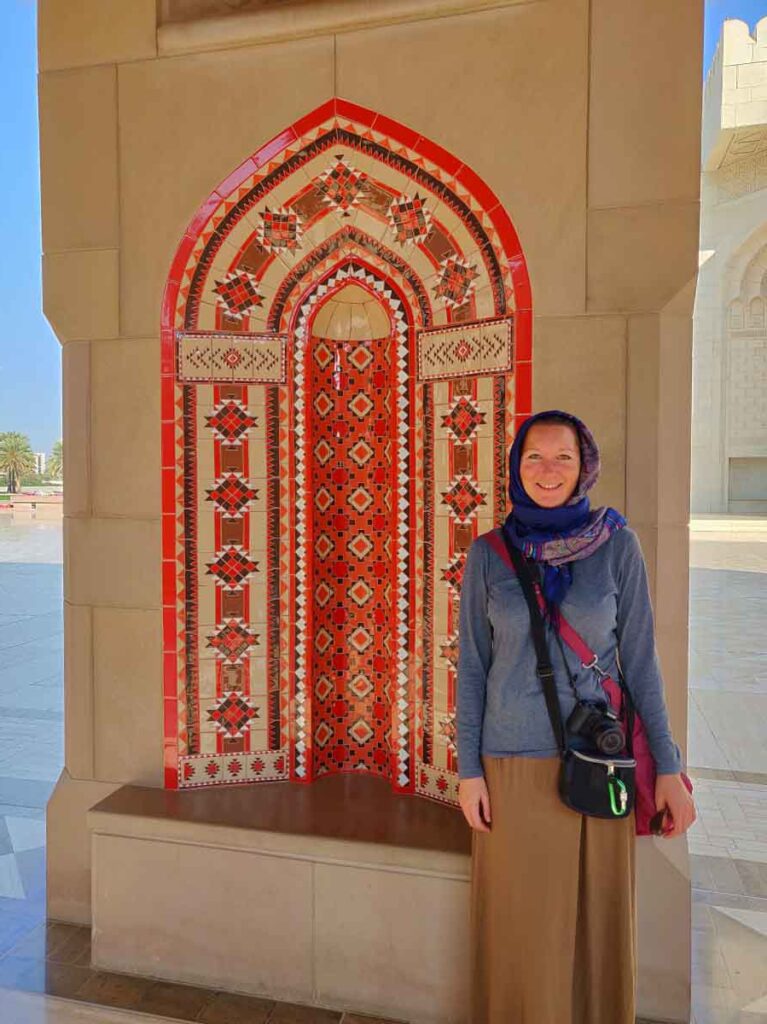 It is open to visitors every morning from 8:30 – 11, except Fridays, and you should come early, as it gets crowded and you probably want to spend around 1.5-2 hours here. Apparently, you can visit more mosques in Oman as a non-Muslim, like the Grand Mosque in Sohar (see below), which is on my list for my next visit in Oman.
Read this post for more things to do in Muscat!
Tour Tip: Check this half day tour for a guided visit of the mosque and Muttrah.
Mosque of Muhammad Ali in Kairo, Egypt
The mosque of Muhammad Ali in Cairo is also called the Alabaster Mosque. It stands on the citadel and is visible from most places in Cairo if the smog is not limiting visibility too much. The inside walls are covered in alabaster, hence the name.
This was the first mosque I ever visited. I remember it being rather dark inside and I was impressed by the big carpet and the chandelier. I was in Egypt with my parents and the mosque visit was part of a 2 day stay in Cairo. We had a guide and I'm sure he told us many things about mosques and the Quran, but I don't remember much of it. Over the years though, after a few tours in other mosques as well, I learnt a lot about Islam and mosques in general.
Tour Tip: Check out this tour including a visit to the Muhammad Ali Mosque.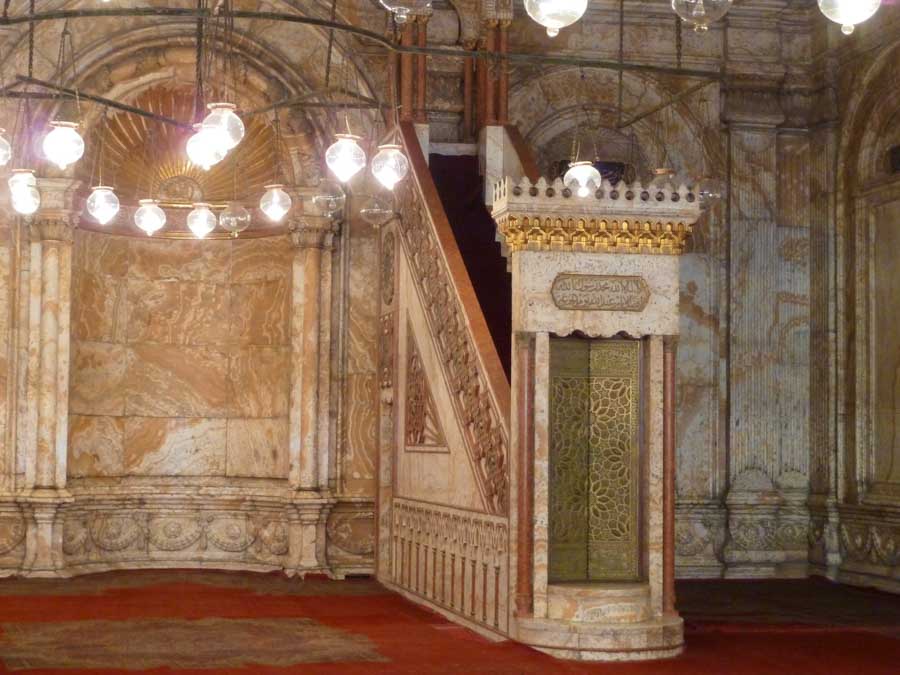 Sheikh Zayed Grand Mosque in Abu Dhabi, UAE
The Sheikh Zayed Grand Mosque is arguably the most beautiful mosque in the world. Especially from the outside it is pretty spectacular with its many domed roofs. It became instafamous and is now probably one of the most famous mosques in the world.
It is probably the most "international" of the mosques featured here. The Sheikh wanted the mosque to unite the cultural diversity of the Islamic world and include historic and modern architecture and art. So you find elements from all over the world here. The marble alone comes from North Macedonia, Italy, India and China. The carpet is from Iran and the chandelier from Germany.
The Sheikh Zayed Grand Mosque is the biggest mosque in the UAE, with room for 41.000 worshippers. It is pretty new, finished in 2007. You can take a free tour with access to some otherwise closed off areas, which offers great photography opportunities.
Tour Tip: Check out this tour of the mosque and the Abu Dhabi Louvre.
Hassan II Mosque in Casablanca, Morocco
This is the only active mosque open to non-Muslims in my current home country of Morocco. It is impressive in many ways, as it sits there on the coast, almost in the Atlantic Ocean.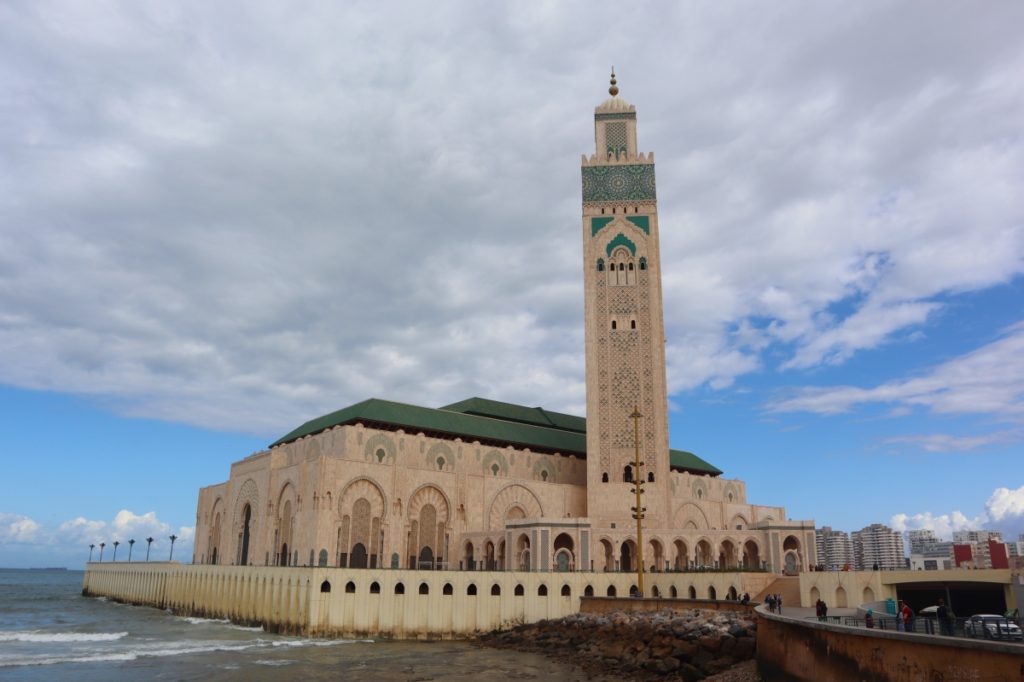 It was built with the intention to connect sky, earth and ocean though the building. The minaret, 210 m high, touches the sky while the foundations are half anchored in the earth and half in the ocean, with the waves rolling in below the building.
Until 2019 it was the biggest and tallest mosque in Africa, now there is one in Algeria that is bigger, with a taller minaret as well.
The layout is rather unusual, as it is longer than it is wide. The women's prayer rooms are on a mezzanine floor on the city side of the building. The beautifully decorated ceiling is attached to a movable roof, so if the weather permits, prayers are held under the blue sky. Contrary to many rumours (even featured in some guidebooks), there is no glass floor with views of the ocean below.
The Hassan II mosque was designed by a French architect but was built almost exclusively with Moroccan materials. The only foreign parts are a couple of white marble columns by the Mihrab and the chandeliers from Murano in Italy.
There are huge washrooms in a lower level with many fountains for worshippers to wash before prayer. There is also a hammam that is open to the public, accessible from the courtyard.
The courtyard is surrounded by long arcades, offering some shade. You can find a total of 41 fountains, all decorated in traditional zellige (mosaic) style. There are also multiple gates into the mosque, closed most of the time, but are rather impressive in size.
There are multiple tours in different languages every day except Friday, with a fee of 120 DH for non-Moroccans, which are definitely worth the time and money!
Al Fateh Grand Mosque in Manama, Bahrain
The Al Fateh Grand Mosque in Bahrain is small compared to some of the others on this list, but it still stuck out to me. The reason for this was their excellent tour explaining so much about mosques and Islam in general. And even though I have attended a few tours and read about Islam, I still learned a few new things. They claim they were the first ones to offer tours, no idea if this is true or not. So for this reason alone, it should be on your list of things to do in Bahrain.
The mosque, including the courtyard, offers space for around 7000 worshippers. It is named after the founder of Bahrain and hosts the national library.
The Al Fateh Grand Mosque is built with marble from Italy, teak wood for the doors from India and the chandeliers were made in Austria. The dome is completely made from fibreglass and is the biggest fibreglass dome in the world.
The calligraphy surrounding the Mihrab almost looks like Mayan hieroglyphs or just some random patterns. But apparently it is a very old Bahraini style of calligraphy.
You can visit from 9-5, tours are available in many languages and can start at any time. Women visitors need to put on a cloak.
Putra Mosque in Putrajaya, Kuala Lumpur, Malaysia
This must be one of the most unique mosques in the world. With its pink colour and the mix of Asian, Persian and Middle Eastern elements it definitely sticks out.
You can find this interesting mosque in the outskirts of Kuala Lumpur, in Putrajaya, picturesquely located right on the manmade lake that dominates this area.
The Putra mosque is named after first prime minister of Malaysia, Putra al Haj, who declined the honour of having a mosque in Kuala Lumpur named after him (see below). Here he couldn't disagree, as he had passed away 9 years before the completion of this mosque.
Its minaret is the 4th highest in the world and the prayer hall and courtyard can fit 15.000 people. The impressive dome measures 36 m in diameter and reaches 76 m in height.
Entrance is free, but long sleeves and trousers/skirt as well as headscarves are required to enter. They also provide robes (in pink) with hoods, so you don't have to worry about dressing in long clothes in the heat and humidity of KL.
Tour Tip: Check out this full day tour of KL, Putrajaya and the Batu Caves.
Masjid Negara Malaysia in Kuala Lumpur, Malaysia
From the outside this mosque doesn't look very impressive or pretty, but the inside more than makes up for this first impression. When it was built in the early 60's, the design stood for modernism and represented the future of the newly independent country. It was supposed to be named after the first prime minister (see above), but he instead suggested calling it the National Mosque.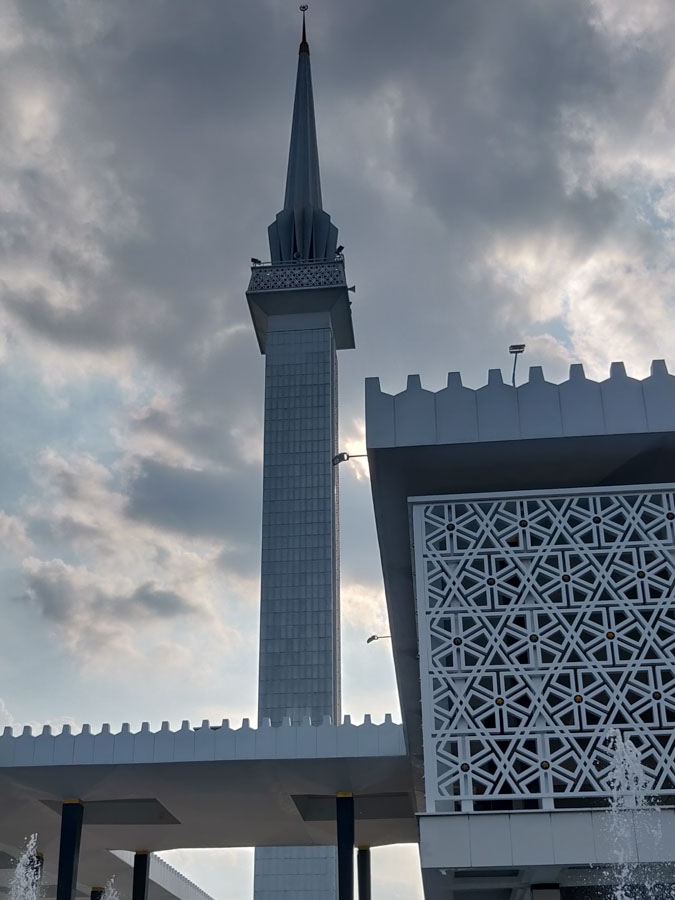 The most unique features of the National Mosque of Malaysia are the prayer hall roof and the minaret which are shaped after an umbrella, open for the roof, closed for the minaret. Apparently, this is a symbol for the tropical weather here that often requires carrying an umbrella.
The Masjid Negara Malaysia can fit 15.000 worshippers in the prayer hall and roofed courtyard. The latter is very pretty, with lots of white and gold columns, and surrounded by a screen with interesting patterns. You can find many fountains and reflection pools around the main building.
It is conveniently located next to the main train station of KL and on the other side it connects to a metro station via an underground passage.
You can visit outside of prayer times and they provide cloaks to cover up.
Did my blog help you?
Maybe you want to thank me by inviting me for a coffee!
Some other mosques you can visit as a non-Muslim, but I haven't:
Sultan Qaboos Grand Mosque in Sohar, Oman
Text and Photos by Ali from OmanTripper
The Sultan Qaboos Mosque in Sohar is a royal mosque in the city of Sohar, in the Al Batinah region. The mosque is built following the Persian and Central Asian architectural styles with a touch of Omani architecture styles. The massive mosque has a large garden, three main entrances, four minarets, and a large blue main dome. The mosque also uniquely integrates wood in its design in a way not common among Omani royal mosques.
Looking at the Sultan Qaboos Mosque in Sohar at first glance, a visitor may be forgiven to think they might have been transferred to the Grand Mosque in Isfahan or one of the beautiful mosques in Samarkand, such is the great workmanship spent on the dome and façade. The Sultan Qaboos Mosque in Sohar was inaugurated in October 2016, and is open for non-Muslims to visit free of charge from 8am to 11am Saturday to Thursday.
King Abdallah I Mosque (Blue Mosque) in Amman, Jordan
Text by Maartje from The Orange Backpack
The King Abdullah Mosque is the main mosque of Amman. It is one of the biggest mosques in the region with space for about 10.000 guests indoors and outdoors.
The mosque isn't that old, as it was only completed in 1989 as a tribute to the late King Abdullah. Part of its design is a very distinctive blue dome. The gold-with-blue ceiling is beautiful from inside as well and much of the mosque is decorated with colorful mosaics, Islamic inscriptions and artworks.
There's a small museum in the mosque, mostly dedicated to King Abdullah but it houses historic pottery and such as well.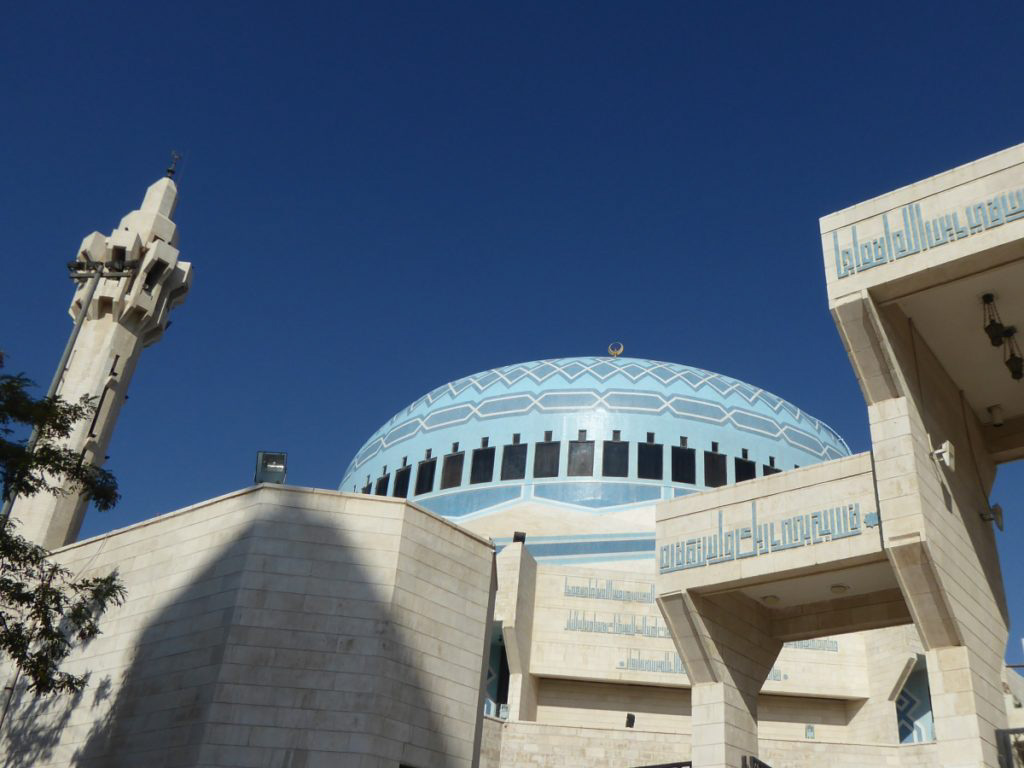 It's one of the must-visits in the capital of Jordan, as it's the only mosque in the city open to all visitors, not just Muslims. You can, of course, only visit the mosque outside prayer times. Make sure to respect the local traditions: women are expected to cover their hair, arms and legs and to wear full-length skirts or dresses, even when wearing pants or jeans. You are required to take off your shoes as well. But you can borrow them for your visit at the dedicated tourist entrance.
For more sightseeing tips around Jordan click over to this post.
You might also be interested in these posts:
Please note that some of the links above are affiliate links and, at no additional cost to you, I earn a small commission if you make a purchase. That income goes to supporting this website and keeping it free for you and everyone else!