Morocco, a mix of 1001 nights and Africa. A dream come true for many travellers. From Marrakech to Merzouga, here you can find anything you need to plan your holiday in Morocco.
Sightseeing guides, day trips and itineraries, sorted by regions, to make your planning easy and convenient.
Click here, to jump directly to the blog posts.
Introduction to Morocco
Morocco is a wonderful country, in the literal sense of the word! It feels like time travelling into the world of 1001 nights.
The cities are colourful and noisy, the mountains steep and the desert is empty and still full of magical experiences.
If you've never been to Morocco before, here are some facts:
| | | |
| --- | --- | --- |
| Population | | ca. 35 Million |
| Capital City | | Rabat |
| Biggest city | | Casablanca |
| Tourists in 2018 | | 12.3 Million |
| Biggest mountain | | Mt. Toukbal, 4167 m |
| Languages | | Darija, Berber, French |
| Currency | | Moroccan Dirham |
| Coastline lenght | | 2945 km |
The majority of Morocco's population is of Berber background, with a minority of Arabs mostly inhabiting the cities. So, in the countryside most people grow up speaking Berber and learn Arabic as a foreign language when they start school. Until very recently, Berber was not taught in school, so only the very young kids know how to read and write this language. French is also taught in school and the most widely spread European language.
Visiting Morocco
Morocco is one of those few countries offering everything from beaches to mountains and deserts. So, you can go surfing, mountain trekking and camel riding all within a few days.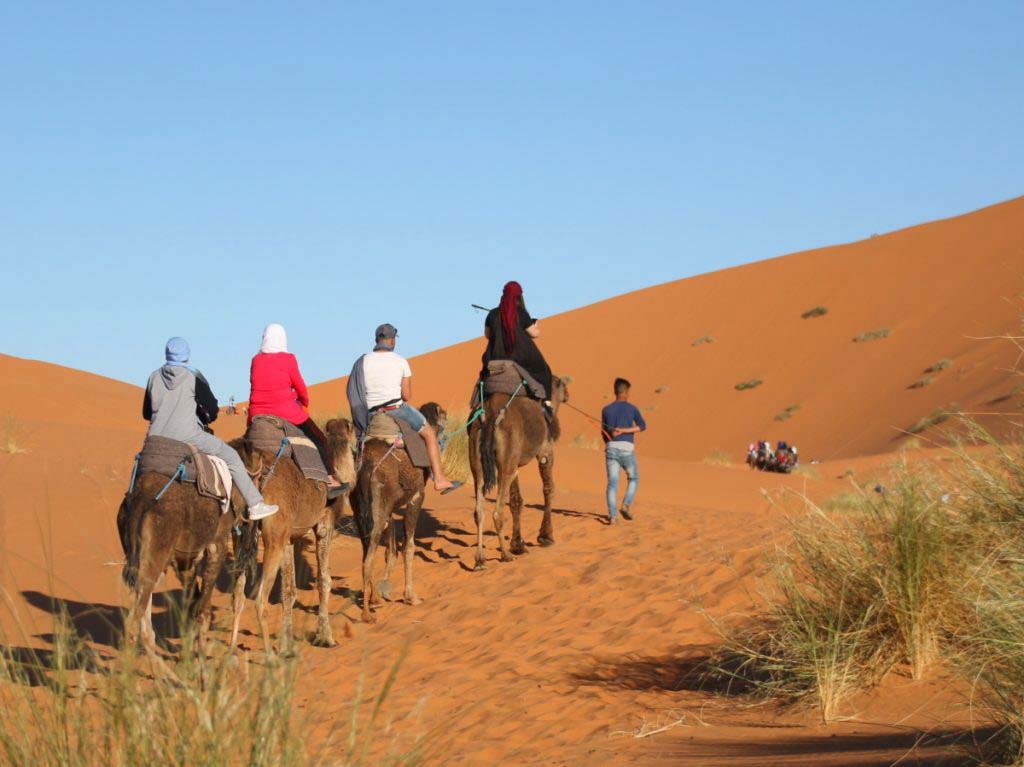 The major cities in terms of tourism are Marrakech and Fes, Tangier, Agadir and Rabat. Chefchaouen has become "insta-famous" and is also visited by lots of tourists now, as well as Essaouira, which appeared in Game of Thrones.
You should plan a trip to Morocco!
Want to know why? There are of course many reasons to visit Morocco, the most important ones in my opinion are
the people
nature
the architecture and cities
the food
the souvenirs
The hospitality of the people is outstanding and will make you feel welcome as soon as you hit Moroccan ground.
And, due to it's location so close to Europe, it is very easy and convenient to visit Morocco.
You prefer to let others do the planning? I offer itinerary planning for your trip to Morocco! You can check out the details here.
Getting to Morocco
There are of course many ways to get to Morocco. You can fly into Casablanca, Marrakech or Fes as well as some smaller airports from most European countries. If you want to bring your own car or camper, you can take a ferry from several cities in Spain, Italy or France.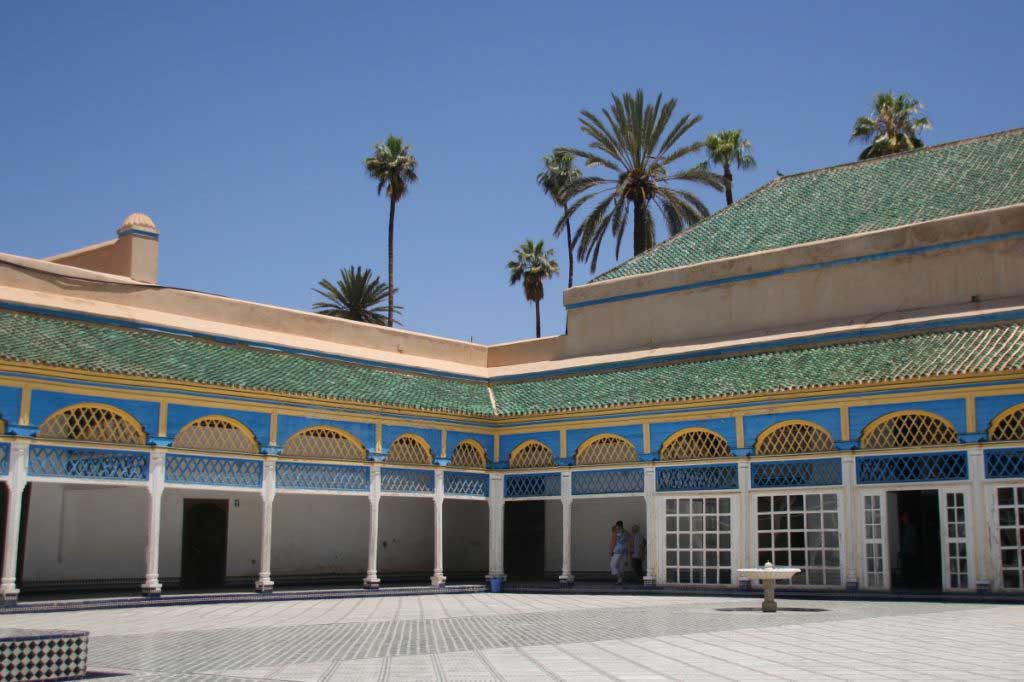 Getting around Morocco
Getting around in Morocco is really easy. There is a great bus system that connects to shared taxies in more remote areas. North of the Atlas Mountains you can also take the train.
I wrote an in-depth post on public transport in Morocco to help you with this.
Alternatively, you can rent a car and drive around Morocco on your own or hire a driver.
Staying in Morocco
One of the very unique experiences you can only have in Morocco, is staying in a traditional Riad. You can find them in the medinas of the bigger cities. They used to be big family houses with traditional layout. The ground floor has a big courtyard surrounded by the kitchen and a few sitting rooms. The upper floors house the bedrooms.
Most Riads showcase beautiful traditional Moroccan designs in the tilework, the wooden furniture and decorations. You might be able to enjoy dinner here too, your best chance for a real home cooked meal.
Weather in Morocco
The weather in Morocco is great most of the year. But it also varies widely throughout the country.
The big cities, like Marrakech and Fes have comfortable temperatures from October to March, making this the best time to travel. Summers get very hot, but are very dry. So it is a different experience than the tropics.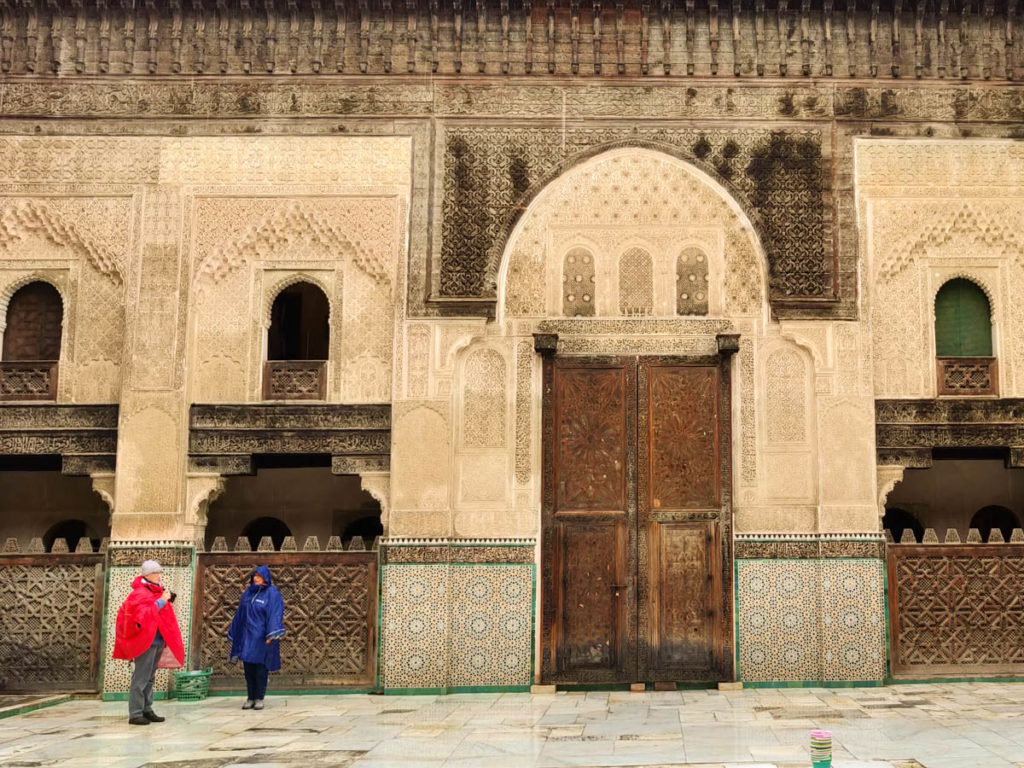 The desert is always dry if you catch a rainstorm here call yourself lucky! The temperatures vary from fairly cold in winter to scorching hot in summer.
In the Atlas Mountains, winters see snow most years and in the summer temperatures can reach above 30°C in the valleys.
The Atlantic coast has spring weather all year round. Even in July you might need a jacket in the evenings. It is also constantly windy here, perfect conditions for surfing and kite surfing.
The different areas of Morocco
To make your research a little bit easier, you can find all my posts about Morocco below, sorted by region and topic. If you have questions about a topic I haven't written about yet, feel free to email me or message on facebook or instagram!
Marrakech and High Atlas
Everyone has heard of Marrakech, the tourist capital of Morocco. But this region has more to offer than the city. The High Atlas is full of small villages, some so hidden and remote, the people there have never seen foreigners. You can find beautiful waterfalls in small and big canyons, there is zip-lining and hiking.
Fes, Middle Atlas and the North
Fes is the cultural capital of Morocco with a lot of history on offer. It is a good base for a few trips in the area, Meknes, Volubilis or the Middle Atlas Mountains.
The coast
There is coastline on the Mediterranean as well as the Atlantic, the latter offering perfect conditions for surfing and kite surfing. You will find everything from cute little fishing villages to industrial port cities. The constant spring like temperatures make the coast and ideal year-round destination.
Desert and Anti-Atlas
Of course, one the place that attracts most people apart from the big cities, is the Sahara Desert. The big Ergs, the famous dune fields, are accessible from either Merzouga or M'Hamid. Most people only visit these rather small areas of the desert, but there is much more to see. From stony flats to dry riverbeds and rather harsh, rocky mountains, you can find a lot of variety in the Moroccan Sahara.
Itineraries
General information
You prefer to let others do the planning? I offer itinerary planning for your trip to Morocco! You can check out the details here.
Did my blog help you?
Maybe you want to thank me by inviting me for a coffee!
Please note that some of the links above are affiliate links and, at no additional cost to you, I earn a small commission if you make a purchase. That income goes to supporting this website and keeping it free for you and everyone else!