Most tourists who come to Merzouga want to stay in a camp. However, I think spending one, or even several, nights in one of the hotels in Merzouga is worthwhile if you have a bit more time.
For activities and excursions in and around Merzouga click here, for general information about the desert in Morocco here and for the best stops on the way from Marrakech to Merzouga here.
I frequently get asked where to stay in Merzouga. So I finally put together this post of my favourite hotels in Merzouga. There are of course plenty of hotels to choose from. Which one I would recommend depends, among other things, on how big your budget is and whether you are travelling with a car. Many hotels are located quite a way outside of town and are rather impractical without your own transport.
Since I live here, I haven't stayed in any of the hotels myself. But I have had friends, family or clients stay and have only received good feedback. And, I have also visited them and taken photos.
If you book through one of the links below, I get part of the commission from booking without any additional cost to you. This way I can continue to offer you free information on this blog.
Hotels in Merzouga for every budget
Luxury Hotels in Merzouga
Desert Villa
If you want to stay relatively central in Merzouga, the nicest hotel is the Desert Villa. There are 10 rooms, a mix of double and twin rooms. The hotel only opened in February 2022 and has a rather modern design compared to the other accommodation in Merzouga.
You can read my comprehensive review here.
There is a lot of attention to detail in the Desert Villa, from the hand-carved doors to the painted wooden ceiling and the individually coloured rooms.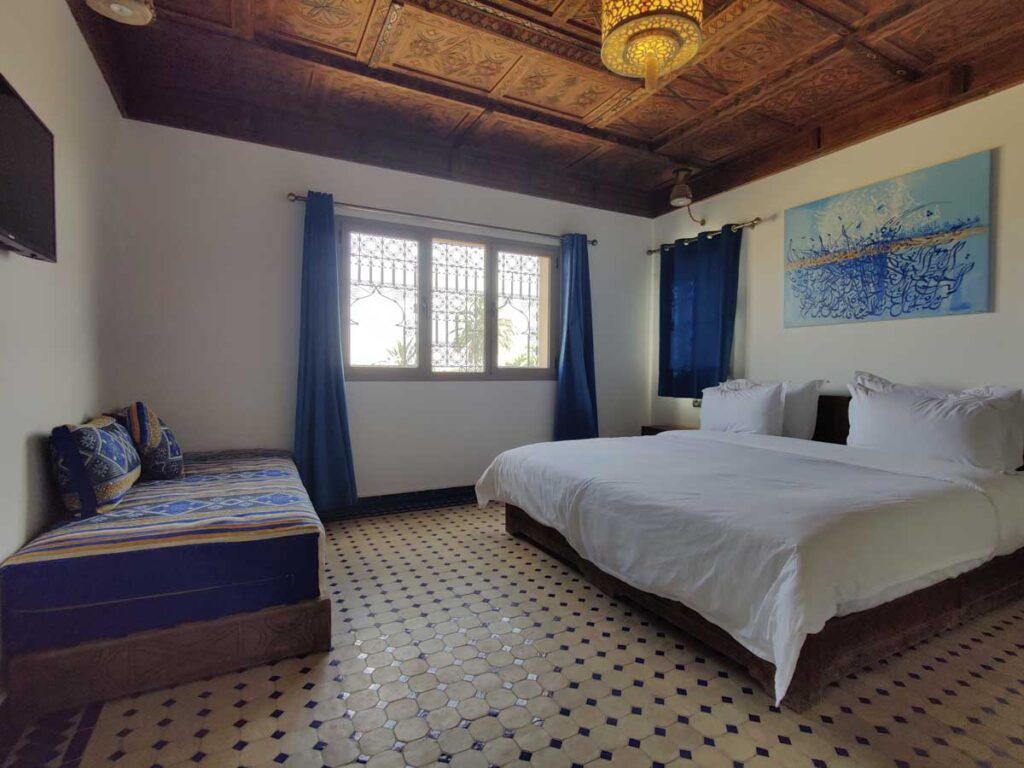 The roof terrace offers a view over the whole of Merzouga and, of course, the dunes. The pool is sheltered behind the building and the large lounge is a good place to meet the other guests.
Breakfast is included and the (non-classical Moroccan) dinner can be booked as well.
The highlight of the Desert Villa, however, is not the hotel itself but the staff, especially the owner Youssef. He personally welcomes the guests, takes care of all wishes, and tirelessly answers all questions. I have received feedback from several solo travellers that Youssef was very successful in making them feel welcome and not alone.
Riad Serai
Arguably the most luxurious hotel in the region is Riad Serai. Also only opened in 2022, it offers plenty of luxury. However, it is not located in Merzouga, but just before Hassilabied, directly below the dunes.
The rooms are located around the large, bright courtyard. There are many small seating areas that invite you to linger. The rooms themselves are all individually designed and spacious.
There is a large restaurant and several lounges, which are of course also air-conditioned in the heat.
The highlight here is definitely the pool area. There are plenty of places to sit and lie down, all very lovingly designed and planted with as much greenery as the desert here allows.
Riad Serai is not on booking, you have to book directly. If you like, I can take care of this for you, just send me an email!
Mid-range hotels in Merzouga
Les Roches
Les Roches is located directly on the dunes at the outskirts of Merzouga. This hotel is built in the traditional desert style, the rooms are all arranged around an open courtyard where meals are also served.
The rooms are simple but very nicely decorated. There is air conditioning and traditionally tiled bathrooms. Again, breakfast is usually included, and dinner is served on request.
There is a nice pool with seating and loungers behind the building.
Les Roche is very popular with campers as they have a relatively large parking area behind the hotel.
Haven La Chance
Haven La Chance is particularly popular with caravan campers. There is a large and very green parking area facing the road. If you are "only" travelling with a normal car, you will also find nice, simple rooms in the main building.
There are also large, but rather dark lounge areas and the restaurant.
If it's not too hot, I would recommend taking your meals by the pool. It is very green there and you have a view of the dunes behind the garden.
The hotel is not in Merzouga though, but just before Hassilabied on the edge of the dunes.
Budget Hotels in Merzouga
Hostel Merzouga Tifinagh
Hostel is a bit misleading here as there are no dorms. But the price is probably closest to hostel standard. Merzouga Tifinagh Hostel has 4 rooms with either double or twin beds, each with its own bathroom. There are also apartments, which are ideal if you are travelling in a larger group.
The furnishings are simple, but everything is clean and tidy.
The hostel is located a few hundred metres from the village towards Merzouga's largest dune. There is a green courtyard, a large lounge and a kitchen that can be used. Breakfast is usually included.
Maison Tamaright
The Maison Tamaright is a small guesthouse near the hostel (see above). There are 4 rooms with different numbers of beds, each with its own bathroom, only one has air conditioning though. The furnishings are simple, the rooms are relatively large and everything is very clean. However, the bathrooms could all do with a fresh coat of paint.
On the weekends, it is occasionally very noisy here in the evenings, as one of the nearby larger hotels likes to hold parties for Moroccan tourists. Loud (and, in my opinion, rather annoying) music is playing until after midnight.
Other, rather inexpensive, hotels that I can recommend:
Please note that some of the links above are affiliate links and, at no additional cost to you, I earn a small commission if you make a purchase. That income goes to supporting this website and keeping it free for you and everyone else!
You prefer to let others do the planning? I offer itinerary planning for your trip to Morocco! You can check out the details here.
Did my blog help you?
Maybe you want to thank me by inviting me for a coffee!