The majority of Moroccan travellers plan to visit the Sahara, the largest hot desert in the world. And nowhere is the desert more accessible than here in Morocco. But most of the desert in Morocco is different from what you might imagine. The big, orange sand dunes make up only a small percentage of the Sahara.
Once you have crossed the Atlas from Marrakech, you reach Ouarzazate, the gateway to the Sahara. It is hot, dry and dusty. The houses are coloured to match the surroundings, beige or brown, and traditionally built of clay.
To reach the dune fields of Erg Chebbi or Erg Chigaga from here, you still have to travel for several hours, through gravel deserts, along the oases of Ouad Draa or Ouad Gheris and Ouad Ziz.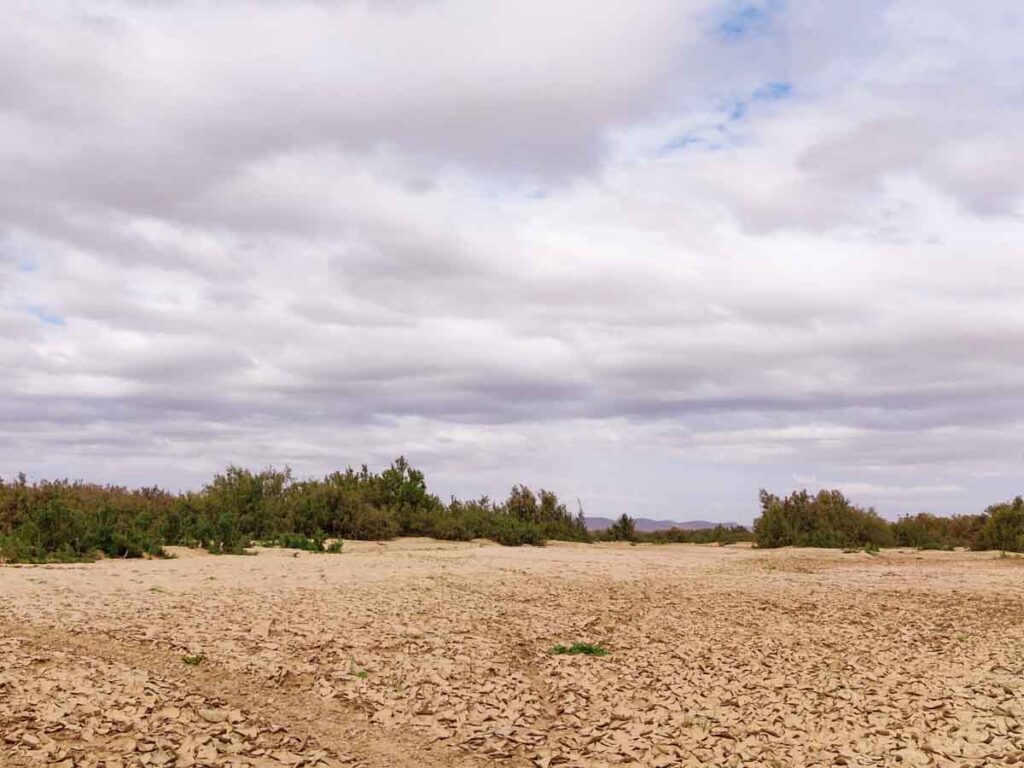 And even though this may sound boring, I love these drives through the desert to Merzouga or M'Hamid. There is something very meditative about it, nothing distracts you, you can let your eyes wander endlessly. And then, at some point, you see the yellow-orange dunes on the horizon, and you have arrived, in the dream that is the Sahara.
In this post you can find more information about interesting stops on the way to the desert.
What is a desert?
Deserts are defined by their low rainfall (less than 250 mm per year). There are cold deserts (Antarctica and Arctic) and hot deserts, e.g. the Sahara or the Arabian Desert.
Due to climate change and human influences (e.g. overgrazing), deserts are growing and displacing animals and people from neighbouring regions. Inhabiting the deserts is made difficult additionally by the borders drawn in the last century. The nomads can no longer follow the rainfall and thus the food without restrictions.
What does the desert look like in Morocco?
A large part of Morocco is desert, especially south of the Atlas Mountains. The only desert in the north is the Agafay Desert near Marrakech. Here you won't find sand dunes, but a stone and gravel desert. But you can also ride a camel here.
There are two large and several small dune fields in Morocco, the so-called Ergs. Here, desert dreams are fulfilled, sand to the horizon, dromedaries, tents and at night the endless starry sky and a campfire.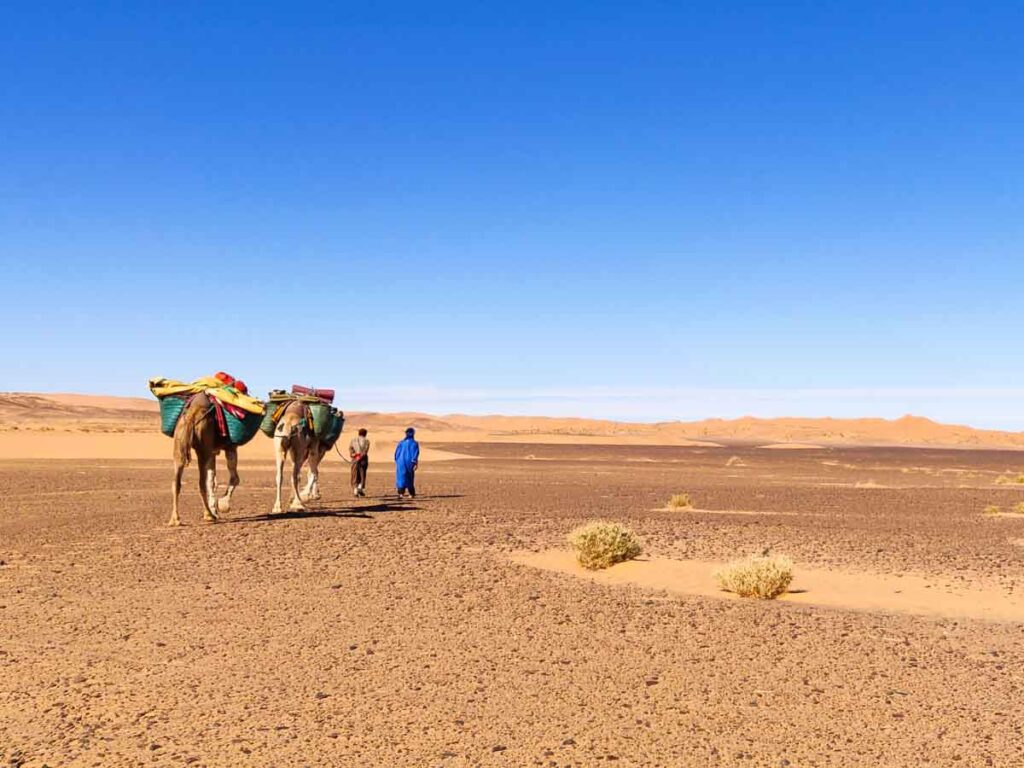 Even though you get the feeling that the wind is constantly changing the shape of the dunes, they are surprisingly stable. The major changes, and especially the damage, are caused by the many tourists these days. Especially quads and four-wheel-drive vehicles destroy the dunes and the little life in them.
Erg Chebbi
The better known Erg is Erg Chebbi near Merzouga. Here you can drive right up to the dunes, there are lots of hotels and desert camps and it is particularly crowded at weekends when many Moroccan tourists also flock to Merzouga.
Read more about Merzouga and the surrounding area here and hotels in Merzouga here.
Erg Chigaga
The second big Erg is the Erg Chigaga near M'Hamid. M'Hamid is a very sleepy little place from where you can get to the big dunes either by 4×4 car or a hike of several days. This makes it much quieter and perhaps a little wilder than Erg Chebbi. But it also means you need to bring significantly more time along.
The rest of the desert in Morocco consists of rugged mountains and plains, most of which are littered with stones. Depending on the region and the soil conditions, these stones have different sizes and colours. South of Merzouga there is an area where the stones are greenish, from a distance you think grass or moss is growing there.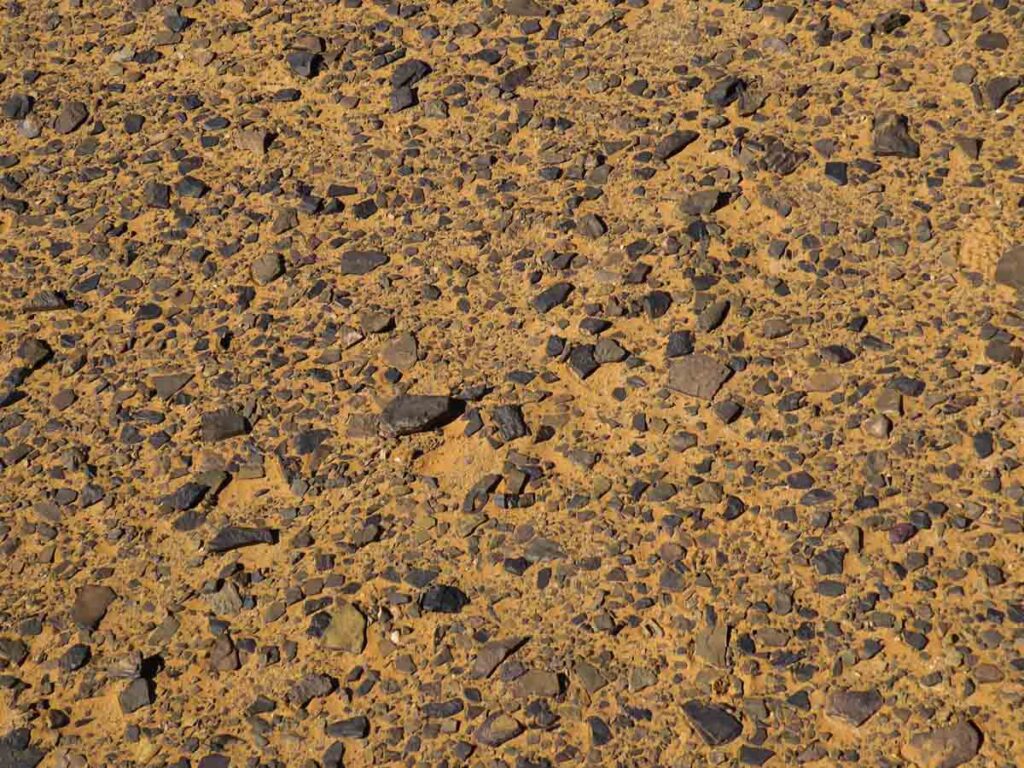 In the gravel deserts (Reg), you can get around quite well, both by car and on foot with a camel. In the hammadas, however, with the larger stones, it is very difficult, and you have to follow the old caravan roads.
These desert types are the result of the wind blowing away the smaller particles over time, leaving only the pebbles and chunks of stone.
A very special experience in the desert is getting caught in a sandstorm. These sometimes pass over you within half an hour, but sometimes they last for several days. Sometimes you can hardly see your hand in front of your eyes, sometimes your view is just a bit yellowed and the biggest problem is the sand in your hair. During violent storms, you should take cover and not try to go any further, as it is very easy to get lost. Occasionally the storms also bring rain, which can also be dangerous at times, as the water does not sink well and, as surface water, quickly becomes raging torrents.
Therefore, it is important to travel with experienced desert guides and not to try it on your own.
Plants in the deserts of Morocco
Even though it rains very rarely, and one always imagines the desert to be completely lifeless, on closer inspection there are quite a lot of plants here.
In the oases, which usually follow the course of a river that carries water at least temporarily, you will find date palms and fruit trees. These are cultivated, of course, and are not necessarily native here. Lots of vegetables are also cultivated, but mainly during the winter.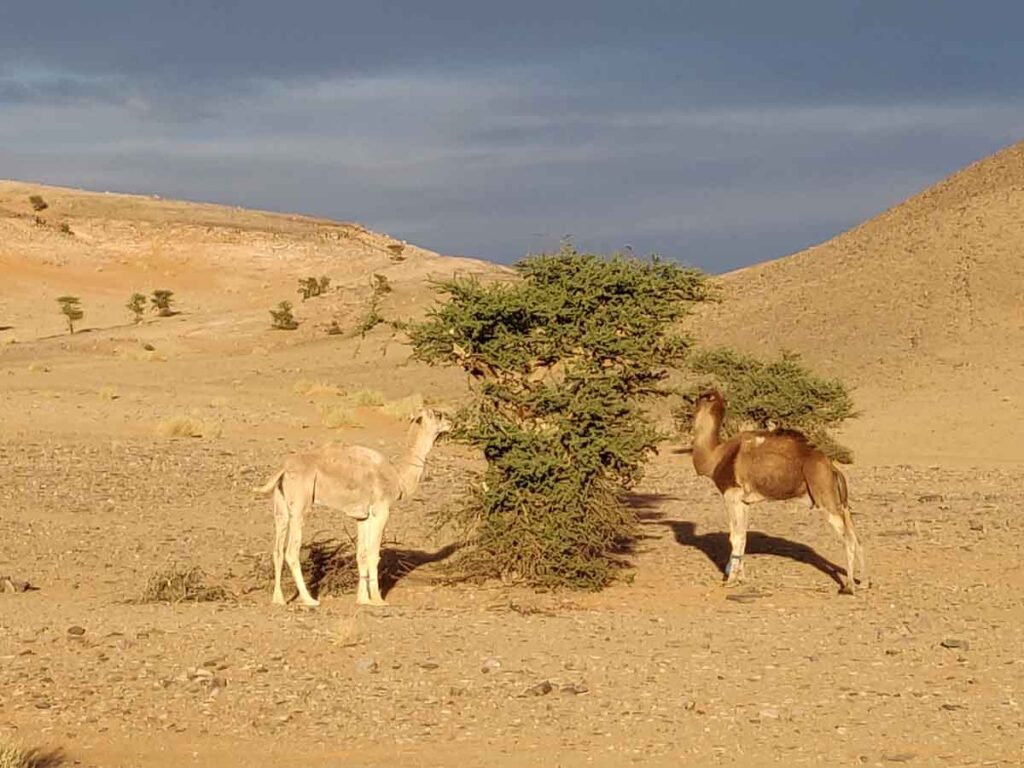 Otherwise, there are areas with many acacia trees, which are especially popular with the dromedaries and goats. And sometimes you can find wild camomile and an arugula-like plant that is eaten in soups.
An interesting tree is the tamarisk, which can reach groundwater with its roots up to 35m deep, and also does well with a high salt content. In spring, stems with yellow flowers that seem to grow directly out of the sand are often found in the immediate vicinity of the tamarisk. This is the yellow cistanche, a parasite that benefits from the water supply of the tamarisk.
I don't know the names of most of the other plants that grow away from the oases, but here are a few photos.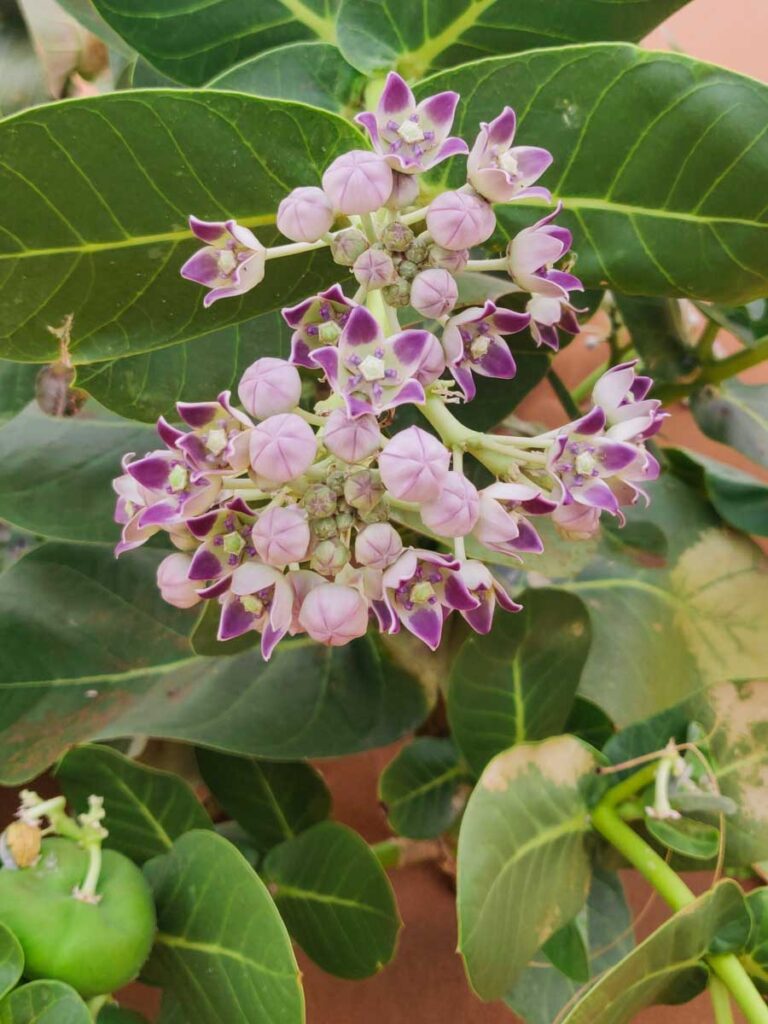 Animals in Morocco's deserts
There are also surprisingly many animals in Morocco's desert. Of course, the first things that come to mind are camels, snakes and scorpions. But the fauna is much more diverse than you might think.
Unfortunately, of many animals you only see footprints, either because they are nocturnal, or very shy, or even very rare.
The most common are large, black beetles. They are everywhere and leave their funny traces in the sand. Around the hills with desert grass, you can also often find small lizards and gerbils and jaculus, or at least their tracks. Interestingly, there are also hedgehogs here, but rather near the oases.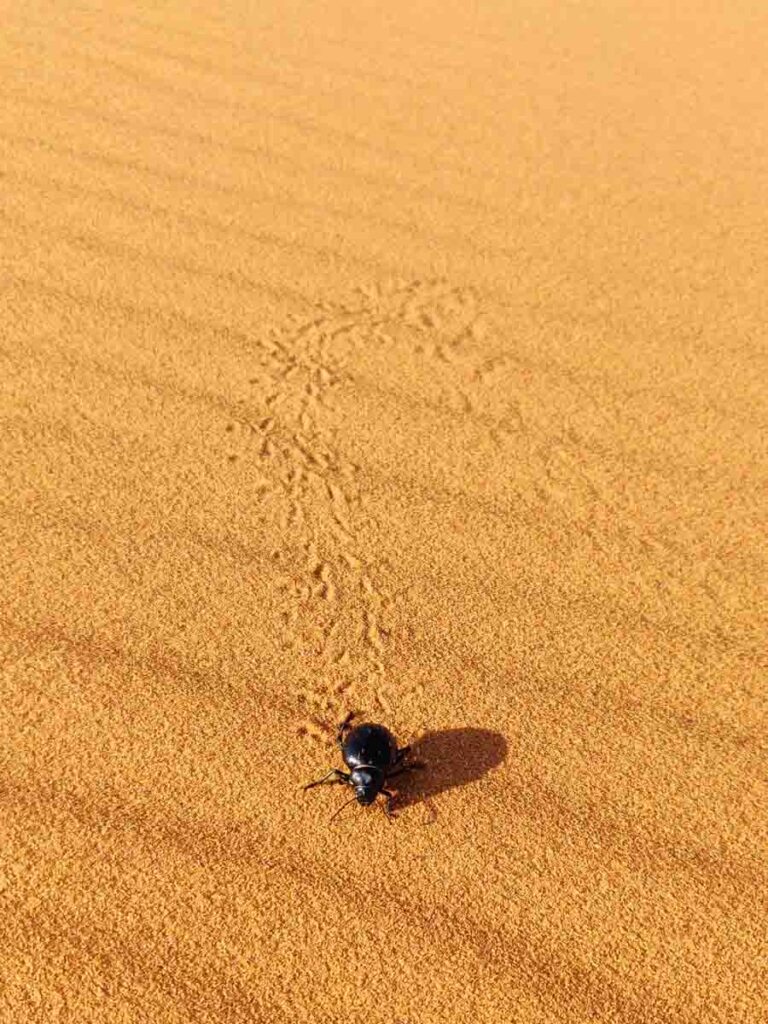 Snakes and scorpions are super rare to see. This is partly because they are mainly active in summer when it is simply too hot for us humans. On the other hand, these animals are very shy and react to the ground vibrations caused by our footsteps by fleeing.
In all my time here, I have seen one snake and two scorpions. And none of them tried to attack me.
During one of our desert hikes, we saw silver ants for the first time. They shimmer silver in the sunlight and can withstand extremely high temperatures for a short time.
And of course, flies and even some birds follow you into the remotest corners.
My favourite animal here in the desert of Morocco is the fennec, the desert fox. But I only saw a couple once in the dunes on my first hike. Unfortunately, near Merzouga, the babies are sometimes caught by the children and shown to the tourists for them to take photos and pay money. One should definitely refrain from doing this in order not to support this practice. Foxes belong in nature!
Dromedaries and goats are mainly found as livestock of the few remaining nomads.
Did my blog help you?
Maybe you want to thank me by inviting me for a coffee!
Places and towns in the desert in Morocco
Ouarzazate
Ouarzazate is rather uninteresting as a town. But it is home to the largest film studios in the world. And these make the place perfect for a stopover on the way south, be it to Zagora or Merzouga.
Also worth a visit is the Kasbah Taouirt on the outskirts of the city.
Zagora
Zagora is a typical oasis town, dusty, sprawling and rather boring for tourists. It is great for a stopover for lunch and shopping. Tours to Erg Chigaga are better booked in M'Hamid than here.
M'Hamid
M'Hamid is the second gateway to the Sahara dunes after Merzouga. However, it is comparatively sleepy, there are a few auberges and small restaurants, but otherwise it is very quiet. Except when the Festival International des Nomades takes place in March. Then it's all the rage here for a few days.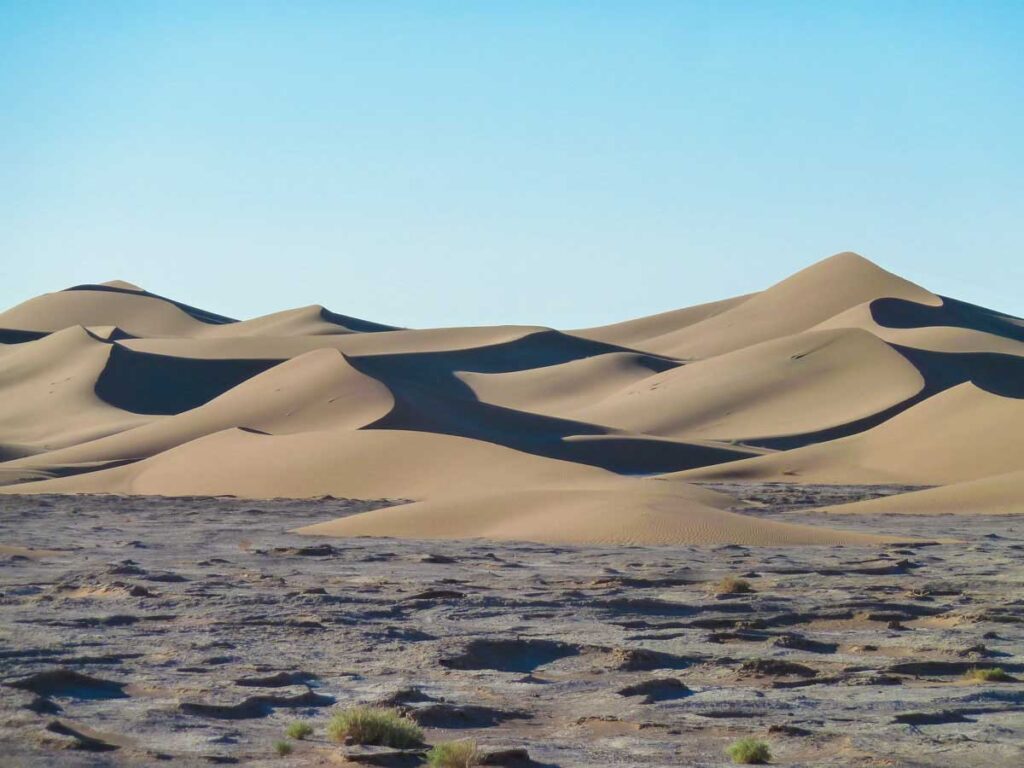 If you want to visit the large sand dunes here, you should definitely book a tour to Erg Chigaga, the dunes closer by are not nearly as impressive.
Skoura
Skoura is probably the most beautiful of the small oasis towns along the Road of 1000 Kasbahs. Very green with great palm groves and well-preserved kasbahs, some of which you can stay in overnight.
Nkob
Nkob is a sleepy village in the foothills of the Saghro Mountains, which is a good starting point for hikes to Jebel Saghro. Despite its altitude of up to 2700m, the Saghro has extremely low rainfall and is a typical desert mountain range.
Errachidia
Errachidia is a military and university town and therefore attracts many young families. There is not much here in terms of tourism, but the market offers a lot more than is available in Rissani, for example. In addition, there is the only larger supermarket of the entire region.
Also, this is the closest airport to Erg Chebbi and worth looking into as flights are cheap and the bus takes forever.
Erfoud
Erfoud is famous for its date festival, which takes place here every year in October. Nearby Ouad Ziz is the largest date-growing area in Morocco and here you can get the best dates at good prices. The small souk is also worth a visit.
There are also many large hotels, some of them internationally run, which mainly accommodate the large tour groups. If you stay here, you only see the dunes for a camel ride at sunset. And the money goes to Spanish or French investors and does not stay in the country.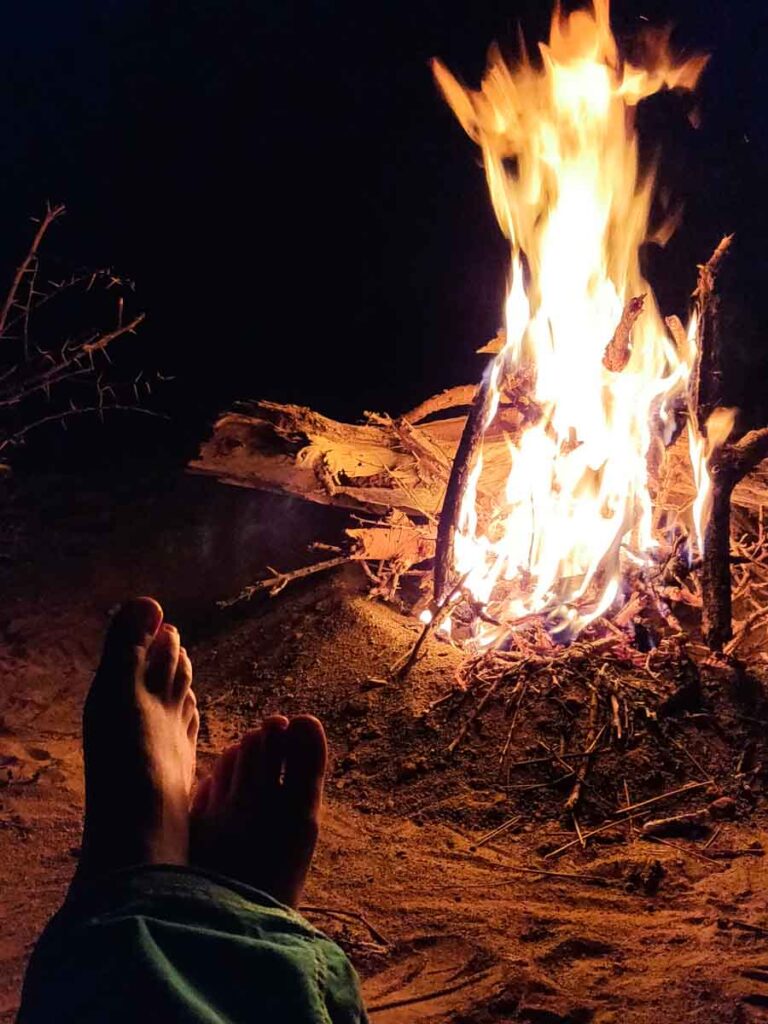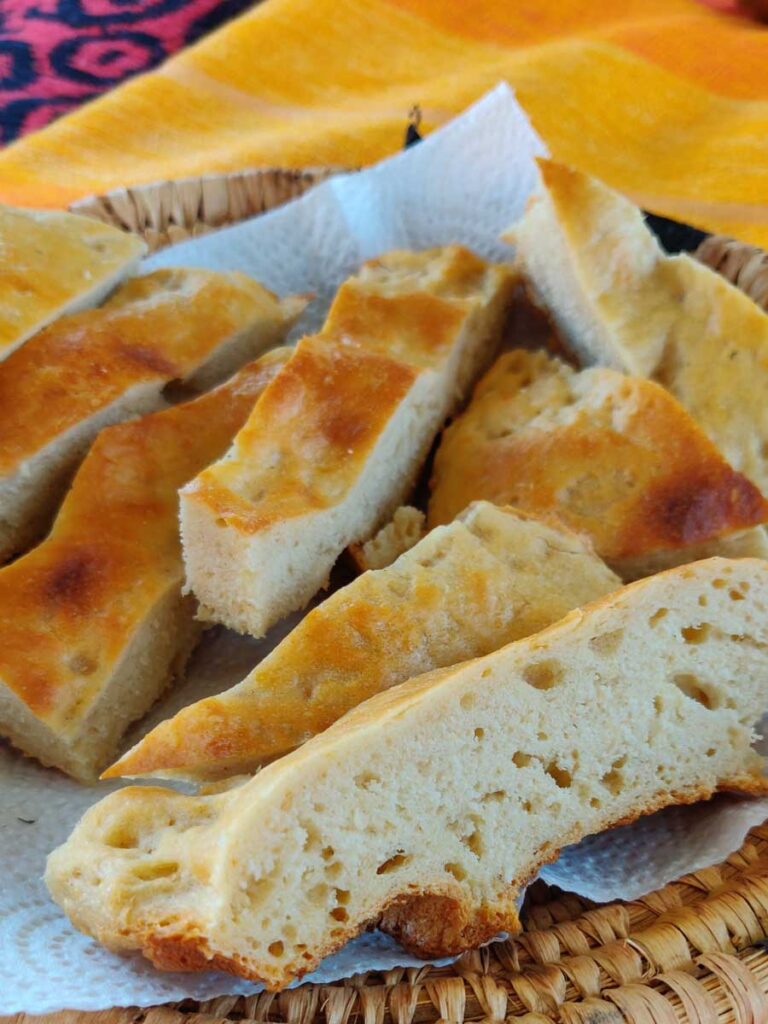 Rissani
On the way to Merzouga, you will inevitably pass Rissani. Sunday is the big market day there and the town is full of people coming from the surrounding villages, riding donkeys or driving horse carts. You can buy everything, from fruit and vegetables to donkeys and sheep. It's really fun to watch the colourful hustle and bustle.
Merzouga
Merzouga is basically two small towns separated by a ouad. One half is a purely residential area. The other half has a main street with many restaurants, cafés, hotels and souvenir shops. If you come to Merzouga on your own, you can book all the excursions you want on the spot.
Just don't let yourself be talked into it by the first "faux guide" waiting for you on the street. They always work for certain hotels and get a good commission there.
For my hotel recommendations check out this post.
Khamlia
Khamlia is a small artists' village a few kilometres south of Merzouga. Here you can find the famous Berber pizza in every restaurant, a small art gallery and a Gnawa music centre. My favourite restaurant is Café Nora, from whose terrace you have a great view of the dunes.
What to wear in the desert
This question comes up again and again. And the answer depends very much on the time of year you plan to travel to the Moroccan desert. In general, you should cover up completely. This makes sense both because of the strong sunlight and for cultural reasons.
In winter, I like to wear merino wool shirts with different arm lengths so that I can quickly put something on or take something off depending on the temperature. Long trousers protect the legs from sunburn and chafing when camel riding. And be sure to bring headgear, you can also buy a turban locally. And, no matter what the temperature is by day, expect it to get very cold at night and bring a few warm layers for the campfire.
And loose layers are also beneficial in summer, as they actually keep the heat off the body better. But in general, I would advise against visiting the desert in summer. With temperatures above 45 degrees, simply nothing is fun anymore. But if it can't be avoided, I always put a wet scarf over my head and arms, the evaporative cooling is super pleasant.
In addition, you should pack sunscreen and sunglasses. You can actually get sunburn on the cornea of your eyes, which can be very uncomfortable.
As for shoes, preferences vary. I usually hike in hiking boots. But since I've been living here, I've also been walking in sandals with socks from time to time, which is more comfortable overall because they're much lighter. But not everyone likes this.
What you shouldn't wear are sneakers made of mesh, because the sand gets into all the layers and you can throw them away afterwards.
Desert camps in Morocco
Of course, the best way to experience the desert is to spend a few days and nights here. Or at least one. An evening around the campfire with music followed by stargazing and the odd shooting star. And then a night in the tent in a silence you're not used to at home.
There are camps for every budget, from cheap (but authentic) camel hair tents with shared bathrooms to luxury tents with air conditioning and showers (which has nothing to do with nomadic life in the desert). And of course, everything in between.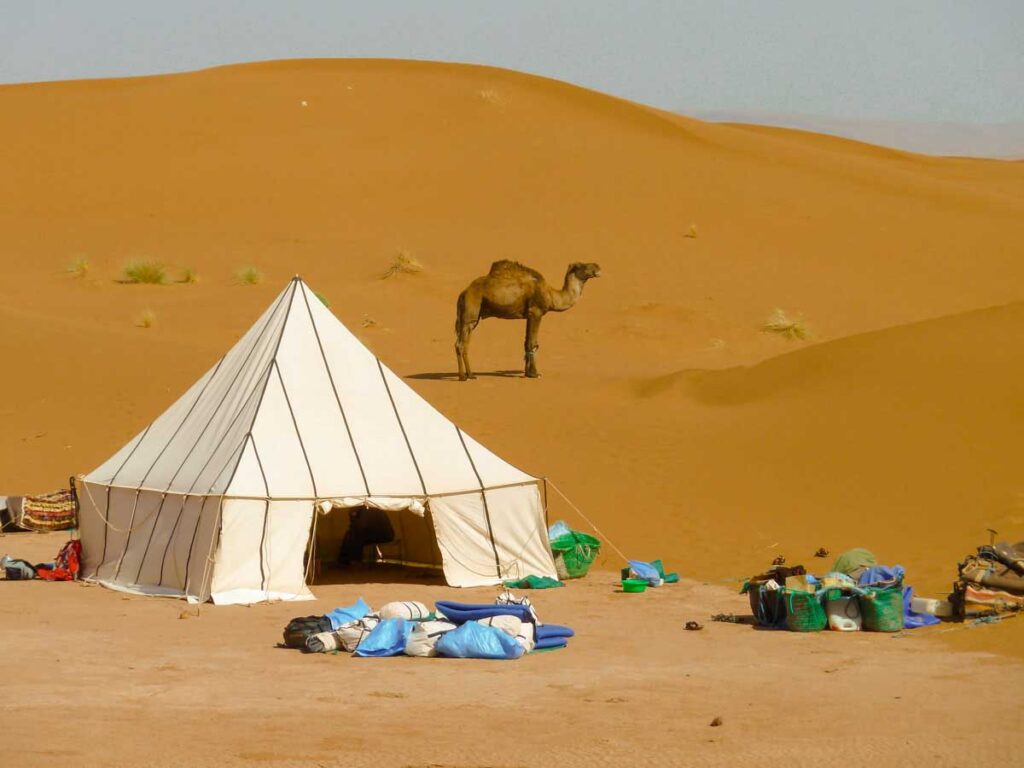 And you can also just wild camp in the dunes with a guide, a dromedary and a few tents. At least you can be sure not to be disturbed by the light and music of the other camps.
Merzouga / Erg Chebbi
I can really recommend these camps:
For budget options you can best send me an email or Facebook message. Then we can see who has tents available in that period. And if you want to go wild camping, I can organise that for you too.
But you can also just check here what is available in the period you want:
M'Hamid / Erg Chigaga
As I have only been in this area with a tour, I can't really comment on any of the camps. But you can find a selection here:
The best desert tour in Morocco
To find the best desert tour in the Sahara in Morocco, you first have to think about what exactly you have in mind. Most of the tours you find only include an evening with an overnight stay in the desert. In other words, just over 12 hours in total.
Even if it says 3-day tour. You sit on the bus most of the time, have an overnight stay halfway there and the way back takes a good 10-12 hours.
And to be honest, that doesn't do justice to the beauty of the Sahara here in Morocco.
Desert hiking tours in Morocco
My first desert hiking tour was 9 days, which might be a bit too much for most people to start with. But I loved it. In October 2019 we hiked in a small group for 5 days in the desert, in a super beautiful, varied section between Zagora and Merzouga. You can see the photos from this tour in my Instagram Story Highlights.
The great thing about longer hikes in the Sahara is that you can really switch off. No internet, no phone, the endless expanse and unfamiliar silence. And you immerse yourself in this ancient culture of nomadism. You get into this rhythm of getting up, walking, taking a break, eating, walking on, eating, sleeping. Fresh bread baked in the sand, tea with every meal and in between, washing when you find a well. Reduction to the essential things.
If this appeals to you, if you are looking for a little adventure and would like to go long-distance hiking in the desert with a small group, then take a look at the tours here.
Private hiking trips from Merzouga, 3 days, 5 days, 8 days or 10 days
Group desert hiking trips from Marrakech or Merzouga
11 days private group hiking trip from Zagora
And long-distance hikes between Zagora and Merzouga, fully customizable, from 5 to 21 days
Short stop desert tours in Morocco
If you don't have much time and can only make a short stop in the Sahara, then maybe these tours are for you:
3 days from Marrakech to Erg Chebbi
3 days from Marrakech to Erg Chigaga
Longer tours including a stop in the desert in Morocco
15 day trip with a night in Erg Chigaga, Ait Ben Haddou and the Anti-Atlas with G Adventures
9 days family trip with NatGeo and G Adventures inlcuding a stop in Merzouga
You prefer to let others do the planning? I offer itinerary planning for your trip to Morocco! You can check out the details here.
Please note that some of the links above are affiliate links and, at no additional cost to you, I earn a small commission if you make a purchase. That income goes to supporting this website and keeping it free for you and everyone else!