One thing I couldn't travel without anymore is my phone. It holds all the important information and makes my life so much easier. I have quite a few apps on it exclusively for travelling and I am sharing them with you here.
They are all tested by me for years, some I'm using almost daily when I'm on the road, some only rarely. But they are valuable nonetheless.
The best travel apps to get around
Maps.me
This is the most used app on my travels and I highly recommend it! It is free to download the app and you can then download the data for the country you go to. You can use it fully offline, which is great for areas with no reception and also saves you roaming data.
During my research for a place I already put markers in the map for the places I want to visit. And of course, I complete this during the trip. These markers stay on your phone, even if you later delete the country maps (they do take up space in the phone). And you can export/import them easily when you switch phones.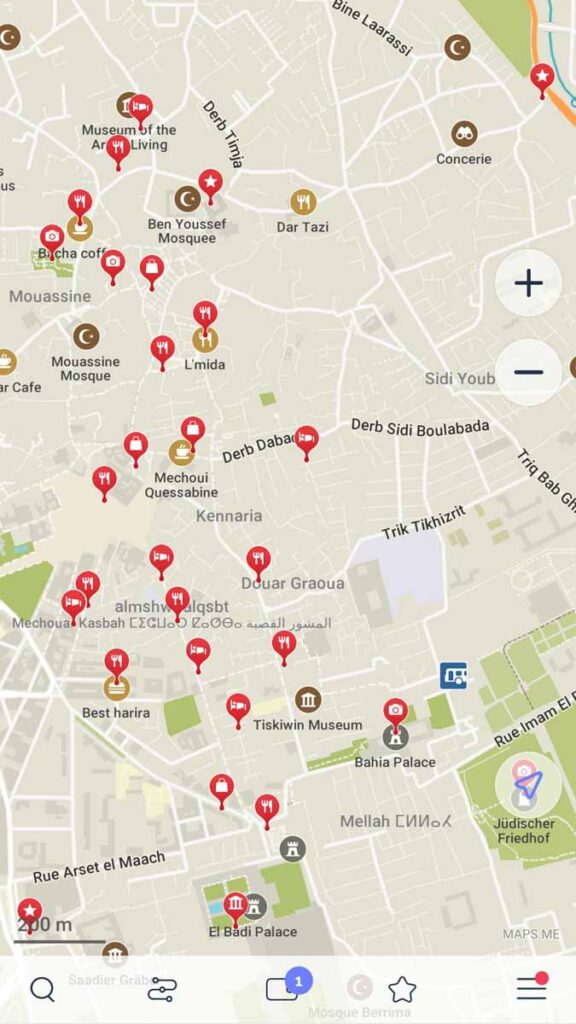 You can also send them via Whatsapp etc to share your favourite places with your friends. For some sights you can find a lot of information in the app, mostly from Wikipedia. This makes it really easy to research or find info on the spot.
The best part is though, the maps are much more detailed and precise than Google maps. I can't count the times roads on google didn't even exist in reality or were much smaller or bigger than displayed. Maps.me has never been wrong so far and I use it in the medinas in Morocco to never get lost.
Rome2Rio
Rome2Rio is a very handy app for figuring out your public transport options. They list trains, busses and even ferries and figure out the best connections for you. But be aware, just because there is nothing in the app, it doesn't mean there are no options. For Albania for example the app was pretty empty, but there were plenty of busses going all over the country.
Flixbus
One of the cheapest and best-connected bus lines in Europe is Flixbus. Their app makes booking and managing trips very easy. Your ticket is in the app, it shows you where the bus currently is while you are waiting. And it sends a message when there are major delays.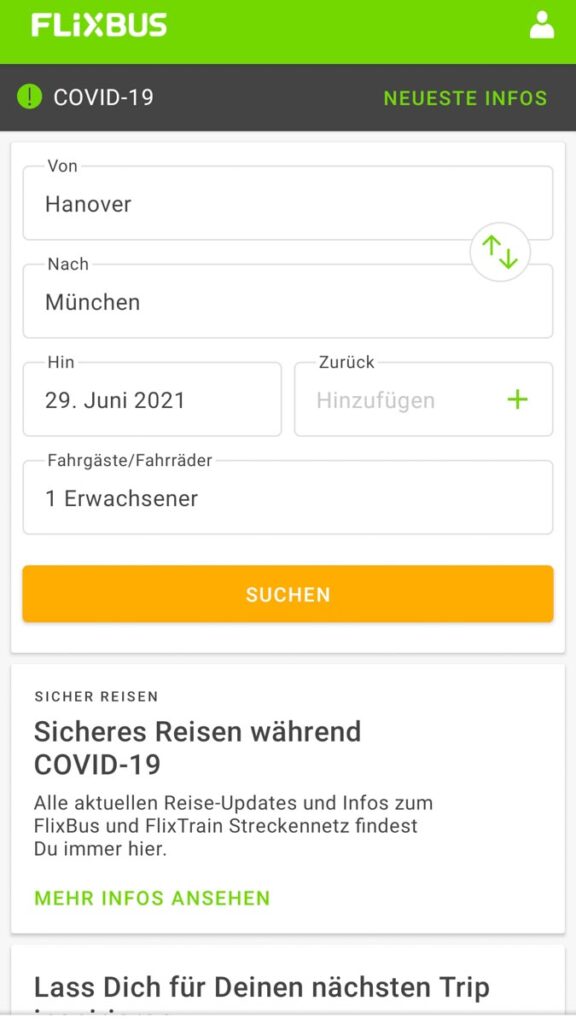 Uber, Grab, Careem
Depending on the country you are going to you will have to check which one of the transport apps work. But it is usually a great way to save money. Plus, it is considered safer than taxis in a lot of countries, because there is a digital record of the trip and you can share the information about your trip live with your friends.
I used Uber a lot in Bahrain and Australia and Grab in Asia.
The best travel apps for booking and managing flights
Skyscanner
Skyscanner is my favourite app to find flights. You can search for specific dates or the whole month or year to find the cheapest times. Or you can just put in your departure airport and check for possible destinations. These options are great if you are flexible with your holidays.
You can search for one-way, return and multi-city flights, which I love because they are normally significantly cheaper than 3 one-way flights.
The results usually include third-party sites and also the airline's own price. And I think you can sign up for an email service for the price of a particular connection you have your eyes on. But I've never used that service.
Lufthansa, KLM, Ryanair
I like to have the app of the airline I'm flying with on my phone. I use it to book my flight, manage my booking, save my boarding pass on it and get updates on delays. The airlines I use frequently stay on my phone, others I delete after the trip.
Flight radar 24
This one is mostly for fun and entertainment but comes in handy every now and then. When my friend was coming to visit, her flight from Casablanca was delayed. She sent me a message to let me know, as I was supposed to pick her up from the airport in Errachidia. I checked on google, it said the flight left on time.
I checked with the Casa airport departures online, also said everything is on time. Only FlightRadar24 said, it hadn't left Casablanca yet. It was an hour late departing, which at midnight was a bit annoying waiting at a small-town airport with no coffee shops etc. But this way, at least I knew and could see her coming closer.
The best travel apps for all things money
Splitwise
I was introduced to Splitwise by a colleague on a work trip to India. Basically, this app lets you track what you and your friends spend and shows you what you each owe to the others at any time. Much easier than splitting the bill right there and then, and also easier than figuring out what you owe each other after the trip.
It is easy to use, you can choose if what you paid was split evenly between all or just some and many other options. I have used it on multiple trips and it made my life a lot easier.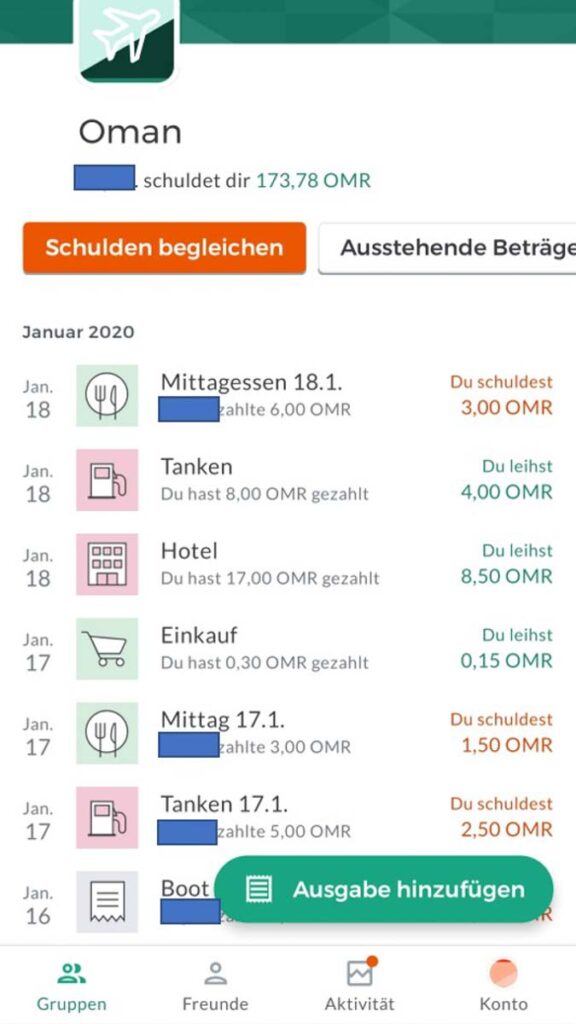 Conversion calculator, e.g. XE Currency Exchange
I use a German app for my money conversion calculator, but there are many others as well. It is so useful to find out the current rate before exchanging money or to estimate how much to get from the ATM at the airport in a new country.
Living long-term in Morocco, I also use it to track the exchange rate and go to the ATM when it's cheap.
Azimo
I started using Azimo in Germany, when I needed to find a cheap way to pay my Arabic teacher in Jordan. But I've since used it in other countries as well, and it is a safe and fast way to transfer money and at the same time much cheaper than e.g. Western Union.
For example, when we booked a weekend trip in Kerala, India, I transferred the money via Azimo to the company's account. Or when my Indian colleague brought me a new phone from India, I send him the money upfront. And when we extended the rental car here in Morocco, I could easily send the money right then.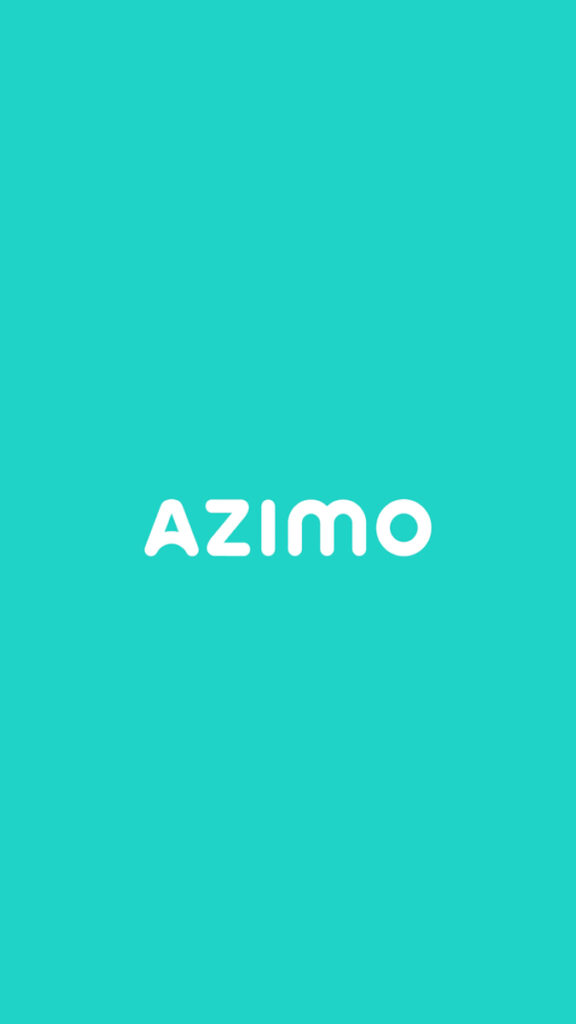 Depending on the country, Azimo lets you transfer money to bank accounts or cash points for 2.99€ per transaction. So you can use it to send money to people who don't have a bank account, or even to yourself in case you lose your credit card. All you need to pick up the money is your passport.
In some countries there is a limit on the amount you can transfer, in Morocco for example up to 700€ (same for how much you can get at the ATM per day). The only downside is that of course the exchange rate is not quite as good as getting money from the ATM.
If you want to try it out, you can use my referral code and get 5€ off your first transaction.
The best travel apps for accomodation
To book accommodation on the road I use Booking.com, Hostelworld and AirBnB, depending on the style of accommodation I am looking for. The best feature is that you have all the information available all the time. No need for print outs or an internet connection.
Booking
Booking has a huge selections of hotels, and some hostels and guesthouses too. You can filter by price, rating, or location on a map.
Hostelworld
Hostelworld has similar features but is limited to hostels. I've used it loads on my trip through Italy and the Balkans in 2019.
AirBnB
If you prefer to book an apartment or just a room in someone's house, AirBnB is your best bet. I use it if I want to stay with locals and benefit from some insider tips on things to do and places to eat.
Miscellaneous travel apps
Dictionary app, e.g. Leo (German app)
Find a good dictionary app for the country you are going to. I mostly use Leo, a German app, but I'm sure there are others for English as the base language.
Leo has a dictionary for German to English, French, Spanish, Italian, Chinese, Russian, Portuguese and Polish and English to Spanish.
I prefer not to use translation apps that "speak", as it gets in the way of a real conversation, even if that happens with hand and feet only. If I need to, I show pictures of the things I'm looking for.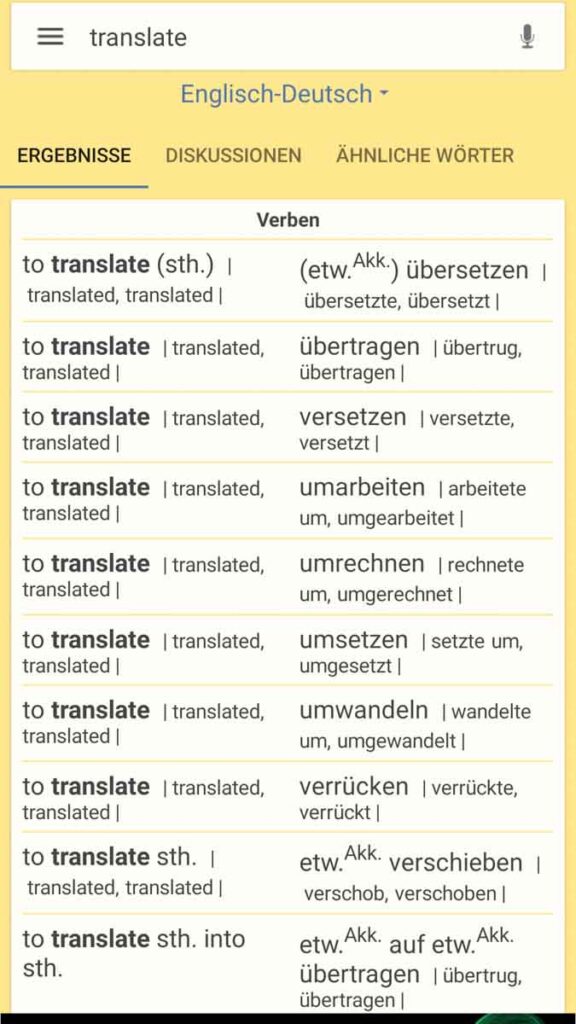 Camera apps like EOS remote and GoPro
To make it easier to take "selfies" while travelling, I have apps for all my different cameras. They allow me to see the picture I'm taking and push the release button. You can even use the timer so you don't have to hold the phone in your hands in the picture.
Compass Galaxy
This one is an app for the outdoorsy people! It turns your phone into a compass, which might turn out handy when visibility is low and you are lost in the outdoors.
---
So, I hope this helps you to prepare your phone for your next trip! Let me know in the comments if you have any additional great travel apps!
Also check out these posts for your travel planning: