Jordan, and especially Amman, is a great place for food lovers! Everything is fresh, tasty and most even good looking. I was really looking forward to eating as much local food as possible in my 3 weeks. And because I tried so many great restaurants in Amman, here come, in no particular order, my top five restaurants. And as a bonus, I throw in two bars for drinks afterwards. I hope this helps you figure out where to eat in Amman.
For sightseeing tips in Amman, day trips from Amman and sightseeing tips in Jordan, read these posts.
Restaurants in Amman:
Al Quds Falafel on Rainbow street
The Al Quds Falafel sells one thing, and one thing only. Falafel wraps, freshly made right in front of your eyes. They are sooo good and cost less than 0.50 Euro per piece. Granted, you will need to eat more than one to be full. But still, hard to beat the price even if you end up eating 2 or 3 of them. They have photos on the wall of the King and his family eating there. (Although this is a recurrent theme, seems like the Royal Family are foodies, just like me, and you?)
Shams el Balad Café on Jabal Amman
You are vegetarian and wondering where to eat in Amman? I have just the place for you. The Shams el Balad Café is a vegetarian, organic restaurant with some really fancy choices. It is especially awesome for lunch with their little garden providing some shade. But you should also have a look inside as the interior is very stylish and cosy.
I had Baba Ganoush, freshly made with plenty of pomegranate seeds for extra taste. And half a flatbread with a cream cheese spread, grilled zucchini, roasted chickpeas and fresh thyme. So good! And there is so much more I would have loved to try, but portions are generous and there was no way I could eat anymore.
Beware though, on top of being organic, they are also alcohol-free, smoke-free and use filtered water, no plastic bottles. Which I personally find awesome!!
Hasheem in Downtown
Hasheem is an institution. It looks totally unspectacular, plastic furniture, plastic table covers. But don't let this scare you off, it is definitely one of the best restaurants in Amman. Tons of locals eat there, and they are happy to share their table with you if it is busy. Hasheem's doesn't have a menu, you should just order everything. Which would be Falafel, Hummus, Foosh (no idea how to spell this!) and Fat'ha (again, no idea about the spelling). Foosh is a bean-based dish which is eaten like hummus with your flatbread. Fat'ha is eaten with a spoon, and please don't ask me what is in it (it is veggie, that's for sure). But please try it, I looooved it so much I actually went there twice.
You will be given bread and some tomatoes and onions as well as hot sauce as sides. And they serve tea and some soft drinks. I went with a friend and we paid less than 8 Euro for everything including tea. So this is pretty budget friendly as well.
Again, inside they have photos of the Royal Family eating there, and they are said to be regulars.
The one downside is, you will never be able to eat hummus anywhere else without being a little disappointed. So, my life will never be the same again…
Al Quds, also called Jerusalem Restaurant
The Jordanian national dish is called mansaf. And the best place to try is Al Quds restaurant in downtown Amman. My Jordanian Couchsurfing friend said it was the best mansaf he has ever eaten, and he should know!
Mansaf consists of rice, a piece of lamb, and a special sauce. The sauce is made from goat's milk yoghurt that is first dried out and then soaked in water to liquify again. It has a special taste that I actually quite enjoyed but I could imagine not everyone likes. There are also almonds, raisins and green chilis thrown into the mix.
Traditionally it is eaten from a huge plate, everyone helping themselves directly from there with their hands. In the restaurant, you get your own plate of course and cutlery. Although I wish I'd had a chance to experience the traditional way of eating this in a Jordanian family.
Habiba in Downtown
After having mansaf it is a tradition to go eat knefe. Which is pretty much torture, because you're already full and will get a dessert that carries more calories than the huge plate of mansaf did. Knefe is made from a soft cheese (similar to Mozarella in taste and feel), covered in sugary syrup and topped with sugar crust and pistachios.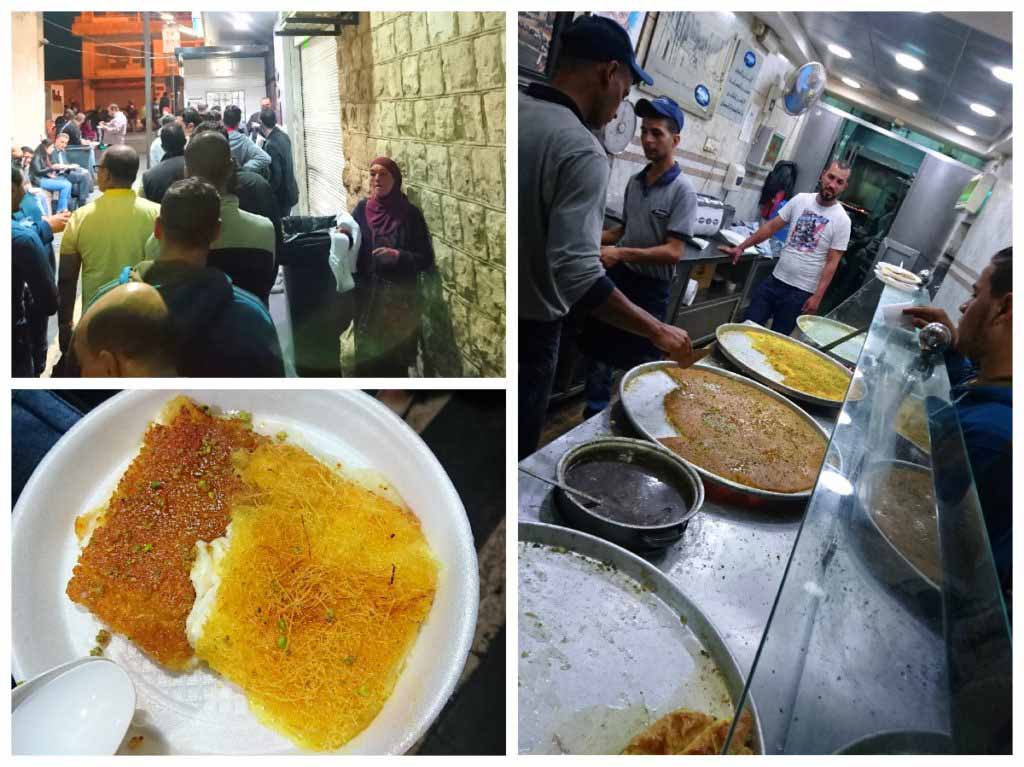 So you can imagine how you'd feel about eating a full portion of it. The best knefe shop is fairly easy to spot if you know what you're looking for. In the evening it has a queue from the entrance to the main street and around the corner! And there are lots of people standing and sitting around eating from plastic plates, chatting away.
But don't let that stop you from going, they are very efficient and you won't wait more than a few minutes.
Pricewise as far as I remember, a portion is less than a Euro, so definitely worth the money.
Did my blog help you?
Maybe you want to thank me by inviting me for a coffee!
Bars in Amman:
Rooftop bar @ Pasha hotel
The Pasha Hotel is located almost opposite the Roman Theatre, and from their rooftop bar, you have a great view, especially at night (for a peak have a look at the picture at the top of the post). They are also one of the few places in Amman that serve alcohol. They always have some pets walking around on the roof, rabbits, some tortoises and possibly a cat or two.
Prices are reasonably cheap and if you are hungry, they serve the food from the downstairs restaurant in the bar as well. The restaurant is for some reason called Pizza Roma Café. Very misleading as they serve very good, fresh local food. I can recommend the Baba Ganoush and the Muttabal.
Books@Cafe on Jebel Amman
The Books@Cafe is an interesting mix of bookstore downstairs and bar and restaurant upstairs. I can't comment on the food they have as I only went for drinks at karaoke night. But that was actually fun! They have nice cocktails, a little on the pricey side, beer and wine. You can also smoke shisha. If you have a chance to go there for the karaoke party, I can only recommend it. It was really interesting to listen to the mix of modern western music as well as modern and classic Arabic music.
So I hope this helps you when choosing in which great restaurant in Amman to eat on your next trip there. I definitely can't wait to go back… oh, that hummus!!!
If you are looking for more general tips on travelling in Jordan click here, and for the perfect one-week itinerary read on here.
Please note that some of the links above are affiliate links and, at no additional cost to you, I earn a small commission if you make a purchase. That income goes to supporting this website and keeping it free for you and everyone else!