You are planning to spend one week in Jordan?
So you want to go to Jordan but only have limited time? Don't worry! The country is so small you can still see so many beautiful places within a week. To help you pick the best things to see and do I wrote up this guide on how to spend one week in Jordan just for you!
I actually stayed 3 weeks and went to so many places around Jordan and did so many things, I will tell you about my absolute highlights, which will make for an awesome one week trip.
First of all, do yourself a favour and buy a Jordan Pass online. It saves you money and makes things easier, starting at immigration (visa fee included in the pass). For more things that will make your travels easier, check out my post on tips for travelling to Jordan.
Day 1
After arriving at the airport in Amman, depending on the time of day I recommend staying in Amman downtown. Let me tell you why. Downtown has all the nice restaurants, coffee and tea houses you could ask for to spend a nice evening in town. It is very easy to just walk around and explore. I stayed at Pasha Hotel, which has an awesome rooftop terrace with views of the Roman Theatre, great for a drink after sunset. For more restaurant recommendations in Amman check this post.

Day 2
The morning of day 2 you should use for some sightseeing in Amman, walk up to the citadel to get an overview of the city and visit the Archaeological Museum up there. They have the apparently oldest human statues on display there and lots of everyday items and jewellery dating back to the bronze age.
From there, walk down to the Roman Theatre and imagine yourself being transferred to the old times. Sitting there in the ranks, watching a play performed with the temple up on the citadel in the background.
Afterwards, walk through the local food market, the souq Al-Balad behind the Husseini mosque. If you want to buy some fruit or dates or nuts for your trip, here is the place. You will get very good value for money.
For the afternoon I recommend hiring a driver and going to Jerash, try to be there for sunset, it is so beautiful! Jerash was a big Roman city before it was destroyed in an earthquake in 749 AD. Compared to the ruins in Rome it feels much more complete and you can really imagine life in a city like this. Make sure you have at least 2 hours to walk around and enjoy everything, more if you want to take lots of photos. For inspiration check out my post with photos that will make you want to visit Jerash.
Day 3
Again I would recommend a driver (or hiring a car) and going to the Dead Sea before driving on to Petra to spend the night.
At the Dead Sea you might want to buy a day pass to one of the fancy hotels, so you can use their beach and towels, the pool and maybe even the restaurants. In my opinion, it is not worth staying more than a few hours, but if you like beach holidays you might want to stay for a night.
I would then drive on to Petra to stay the night and get up early to avoid the crowds. If you are looking for a rather cheap but clean option with a great restaurant, I recommend the Candles Hotel. I stayed here for 4 nights and really enjoyed my time. The staff are great and the food is fresh and plenty!
Day 4
Of course Petra is a busy place, being one of the new wonders of the world. Make sure to get up early, the buses start pouring in around 8 am, so make sure to get in before this. The ticket office opens at 6 am, but if you have the Jordan Pass you can walk straight down to the entrance.
I found the maps that show the time needed to cover distances completely wrong, they by far over-estimate the times. But, it was winter and I am a fairly fit person. So if you don't mind a proper hike, and you have one day only, I recommend the following. Take your time walking through the Siq to the Treasury, it should not take more than 30 minutes, including lots of photos.
If the place in front of the Treasury is fairly empty, use the time to take photos, otherwise, do that on the way back. It seems most tourists leave before 3 pm.
Around 5 min after passing the Treasury there is a stairway to the left, marked with High Place of Sacrifice and Wadi Farasa. It is quite a steep hike up, but the stairs and path are in fairly good shape and easy to find. At the top, there are a couple of small cafés where you can get tea or a cold soft drink. Make sure not to miss the viewpoint into the valley (marked with a flag).
I went up with a couple of girls I had met at the start of the stairs and it took us less than 45 min to get to the top (So about 1 hour 15 min from entering at the visitor centre). The way down is on the other side, a nice curvy path with lots of little things to discover. Make sure to look up every now and then and not only focus on your next step. Otherwise, you will miss some great views!
It took us maybe another 45 min to get to the main road by the Qasr al bint. From there you can follow the signs to Ad Deir, the Monastery. This trail is made up mostly of stairs, more than 800 they say. But, talking to the other girls I didn't even notice. We arrived at the Monastery at 12 pm, so pretty much exactly 4 hours after entering the area. Across from the huge and very impressive tomb, there is a nice little café, a good place for a lemon-mint juice or a glass of tea. If you are hungry, they also serve nice "sandwiches", basically wraps with either hummus, soft cheese or other options. Prices are fair for the location.
Take a nice long break, maybe walk up to the "best view" points. Some of them actually look out to the other side where the mountains drop off dramatically. You can see all the way to Wadi Araba, the "continuation" of the Jordan valley down to the Red Sea.
On your way back, stick to the main road, have a look at the Great Temple and the Royal Tombs. They look best in the late afternoon sun anyways. If you have any energy left, climb up the short way for a close look at the Silk Tomb, the colours of the rock are amazing!
For alternative hikes check out my detailed post about hiking in Petra.
Day 5
Get up early and make your way to Wadi Rum (either by bus at 6 am or with a driver). Pre-book a camp for a night and the Jeep tour they offer. They will pick you up at the Roadhouse (which is also where the bus stops), and if you have a Jordan pass it is pretty straightforward from here. If you don't, you need to get back to the visitor centre to purchase a ticket to enter the area (or have your driver stop there on the way).
The Jeep Tour goes to all the sights, like a house where Lawrence of Arabia stayed at for a while. Or a cool rock bridge you can climb, if your legs are willing after all the stairs in Petra (mine weren't!). In my tour, lunch was included and freshly prepared in the shade with awesome views over the desert.
You will arrive at your camp with time to freshen up and/or explore a bit before sunset. Out of my 4 nights, 2 sunsets were spectacular, one rather boring and one didn't happen due to thick cloud cover. Make sure to get out after dinner and take a good look at the milky way. If you're lucky you will also catch some shooting stars.
I stayed at Khaled's Camp and can only recommend it! Great staff, good food and, maybe most important, great views for sunset and sunrise.
You can find more information about Wadi Rum in this post.
Day 6
If you are a little adventurous, book a camel ride back to the car park (around 2 hours). Just make sure to pre-arrange your driver to pick you up there.
Ask him to stop at Shobak and Kerak castle. The latter is one of the largest Crusader Castles in the Middle East. The entry fee is also included in the Jordan Pass. It is one of the bigger castles you can visit.
From there take the Kings Highway all the way to Madaba. This a nice little town pretty much halfway between the Dead Sea and the Airport.
Day 7
Madaba is famous for its mosaics, there are plenty of them on display in the Archaeological Park and some churches. The most famous one shows a map of the Middle East from Lebanon to the Nile delta and from the Mediterranean Sea to the eastern desert.
If you are interested in Christian history at all it might be nice to take a trip to Mount Nebo. The drive is maybe 20 min long. It is said that this is the place where Moses first saw the Holy Land. He is also buried there. The church there also has big mosaics and the view over the Jordan Valley is amazing! There is also a weird little museum close by with dioramas of everyday life in Jordan. It's only 1 or 2 JD and pretty funny to look at.
For your last night, I recommend having dinner at Haret Jdoudna in Madaba. It is a traditional Jordanian restaurant with awesome food. A bit pricey, but who knows, maybe you have to get rid of your last cash anyway (I sure did…).
The taxi ride from Madaba to the Airport is about 30 min and should cost around 12 JD. The hotels in Madaba are happy to book this for you.
So, I hope this helps you plan how to spend one week in Jordan. If you have any questions about this one-week itinerary, feel free to leave a comment, send an email or contact me on Facebook or Instagram!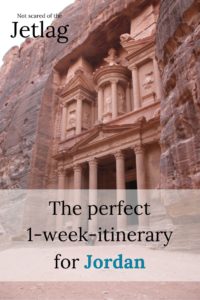 PS, this trip was not sponsored, I didn't receive any free stuff, all opinions are my own.
Please note that some of the links above are affiliate links and, at no additional cost to you, I earn a small commission if you make a purchase. That income goes to supporting this website and keeping it free for you and everyone else!