Is Jordan on your bucket list?
It sure was on mine, for about 30 years! My dad has this book about the wonders of the world and Petra is one of the featured places. So since I was 5 years old and looking at this book frequently, I have wanted to go. For some reason though, I kept putting it off, next year, next year, I am sure you know how that goes.
So finally, this year I made plans to go to Jordan. To make sure I got the most out of it, I decided to travel alone, so I could do exactly what I wanted. And as a lucky German, with 30 days off per year, I figured I would go for 3 weeks.
So I really experienced the country and the culture, met lots of people and learned much about travelling there. I have put together this post with all my tips for travelling Jordan. I compiled all the useful information I could think of, for you to prepare for your trip. I hope it will answer all your questions, but if not, feel free to leave a comment, send an email or contact me on facebook. If you are looking for sightseeing tips, head over to my post on the 23 best places to visit in Jordan.

Here is the list of questions that I will answer with the best travel tips for travelling Jordan I can give you:
How long should you visit Jordan?
In the months before I went, people kept saying things like "3 weeks? Are you crazy? The country is tiny, you will get bored" or "One week is plenty to see all there is". But I don't believe in seeing a whole country in one week (except maybe Luxemburg or Singapore), and I wanted to really experience the culture and not have to rush.
But I understand not everyone has the freedom to travel for 3 weeks, so you can find a one-week itinerary with all the highlights here.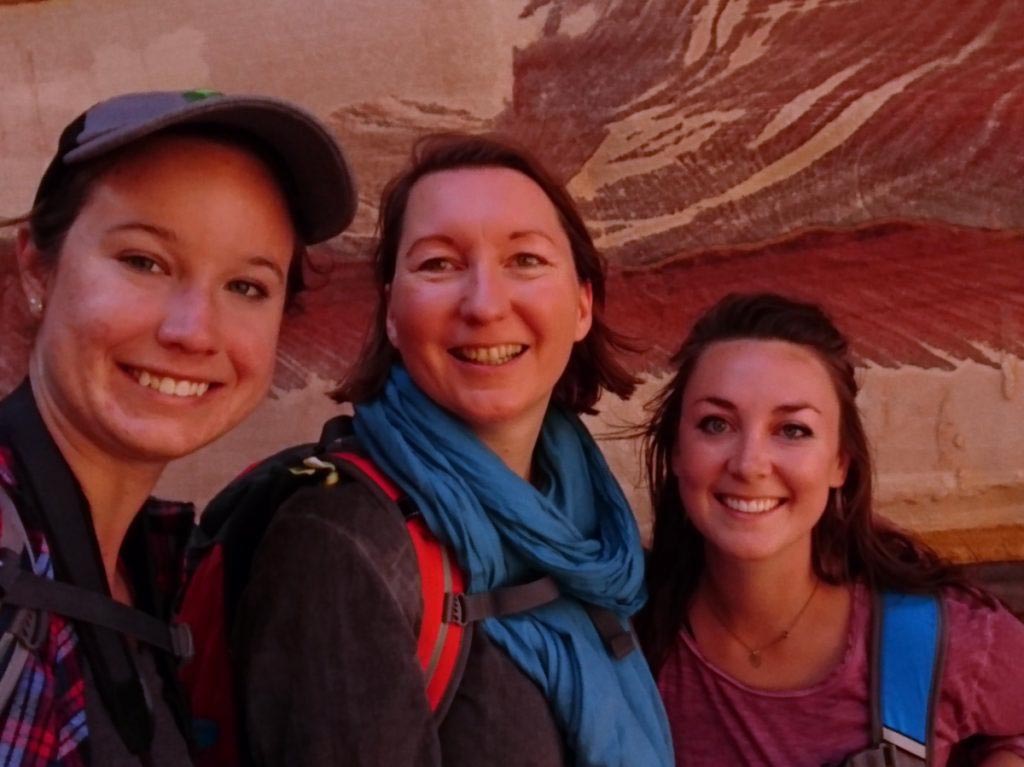 Is Jordan safe?
Well, I have felt safe, but of course, I had done my research and here and there spent more money to go the safer route.
In Amman, it is pretty easy to just walk around and discover the city. I had met up with a couchsurfer for dinner 3 nights and it was no problem to walk back to the hotel in Downtown even at 11 pm by myself.
I also went to Petra and Wadi Rum by myself and never felt scared. But, to be honest, in Petra I always tried to hike with other people. I guess that is a general rule I have since I broke my ankle once on an easy hike in Malaysia. Always try to find people for hiking, especially in difficult terrain.
The fact that Jordan shares borders with Syria, Iraq and Saudi Arabia should not scare you off. The people of Jordan are so nice and hospitable, I often felt like they felt personally responsible for my safety.
There are policemen everywhere, every road has police checks every so often where they stop cars and trucks at random and sometimes check the trunks. I never quite know if this makes me feel more or less safe though. I sometimes think, if the need for these checks is so high, there must be quite a risk or danger, right? But after a while, I just got used to it and stopped worrying.
What to wear in Jordan?
Even though Jordan, and especially Amman, feels very western (at least in comparison with Oman for example) it is a good idea to dress modestly with long sleeves and long legs/skirts. You get less stared at and will feel more comfortable.
In my opinion, there is no need to cover your hair. I ended up wearing my scarf over my hair in the desert though to protect myself from the intense sun.
If you want to explore Petra and Wadi Rum, please bring proper hiking shoes or at least good trainers. Be aware though, the sand and dust will go through everything mesh and will ruin those type of shoes!
Of course in the resorts and beaches at the Dead Sea and in Aqaba and South Beach you can wear a bikini if you like. But be aware, the local women wear burkinis or similar.
How to get around in Jordan?
It is fairly easy to get from one place to the next with buses, but they leave at like 6 am. Which is not my favourite time of day. So I splurged and got a driver for all transfers (you can reach him on WhatsApp on +926796664834). In my opinion, the best thing to do, if you can afford it. Because you will hear so many great stories about the country and its people. And maybe even get invited for tea at their house and meet the wife and adorable daughter.
I met lots of people who had rented a car. It seems like another good option, but travelling alone I had decided against it. Renting a car for three weeks and then having it stand around for days at a time (in Petra and Wadi Rum you can't bring your car) just didn't sound reasonable. And driving the desert highway alone would have been no fun at all anyways. And I think I spent the same amount on drivers that I would have on a rental, it just was more comfortable this way.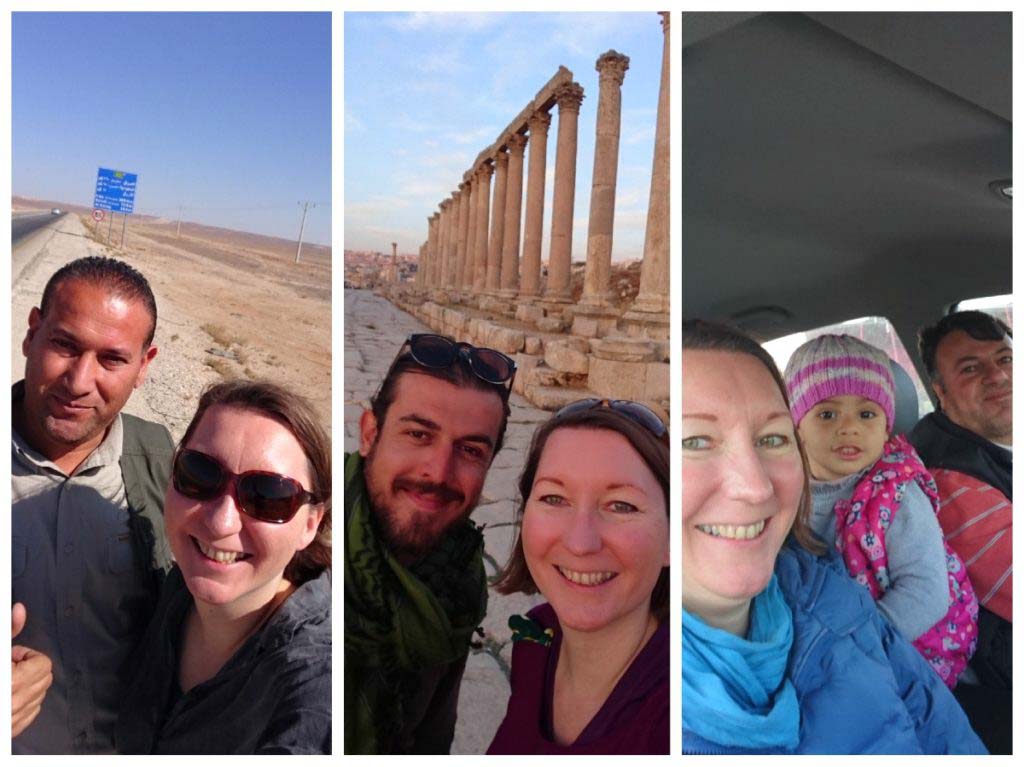 When is the best time to visit Jordan?
I went in November. The first 2.5 weeks the weather was exactly right, around 24°C, sunny, a few windy days. The last days in Dana and Madaba were pretty cold with 5-10°C, which with no heating in the houses can be pretty cold. If I ever go again, it will be either in May or October. I would really like to go canyoning in Wadi Mujib, and that was not possible in November because of the risk of flash floods.
Do people in Jordan speak English?
Yes! Most of them do, a lot even very well. Especially everyone in tourism speaks English. Only once did I end up with a guide with very limited English skills. On the day of my arrival in Wadi Rum, I took a Jeep tour. 3-4 hours of driving around to different "sights" in the desert, like the house Lawrence of Arabia stayed in for a while, or a rock bridge. The guide who drove me was new to the camp. They had apparently taught him how to say certain things in English, but when I asked him a question he was totally lost.
So when it came to my hiking trip the next day, I asked for a different guide. 4-5 hours out in nature I wanted someone I could talk with and get answers to all my questions from. Of course, this was accommodated and I ended up with a fantastic guide for my hikes.
How to save money when travelling in Jordan?
Buy the Jordan pass! It is the best tip for travelling Jordan I can give you. I saved 20 JD just by going to Petra for 3 days and including the visa fee. On top of that, I saved entrance fees to several museums, the archaeological sites of Umm Qais and Jerash, the desert castles, Ajloun castle, Wadi Rum and some more. So in total, I think I saved around 60 JD which equals about 80€. The travel board sells the Jordan pass online and you can print it and take it with you. There is also the option to use it on your phone, but in most places, they put a stamp on it, so not sure how it would work.
Also, whenever you want to buy something, haggle! Also for taxi rides. It is also possible to eat fairly cheap. In Amman, there are some decent and popular restaurants where you can have dinner for 2 for 10€. Including tea or a soft drink.
How to stay connected in Jordan?
I bought a local SIM card on my first day, unlimited calls in Jordan and 4G data for 9 JD. Beware though, they will try to charge you a lot more, I had a local couchsurfer get me mine. With this in my old phone, I just created a mobile hotspot and could use my normal phone for surfing. Having a local SIM made my life a lot easier. I could just connect with couchsurfers, drivers and the Wadi Rum camp directly whenever I needed.
What about money? Cash or credit?
Credit cards are accepted in bigger hotels. But for example taxis, drivers, most restaurants and also the camps in Wadi Rum need to be paid in cash. ATMs are limited, Amman, of course, has plenty. But there are only one or two in Wadi Musa (the entrance city to Petra) and none in Wadi Rum. So make sure to get enough cash for all you have planned. It is very advisable though to just get it at the ATMs and not change cash at home or at the exchange places. You will end up losing money.
I really hope these tips for travelling to Jordan will help you plan your trip. Did I miss anything? What else do you want to know?
Also read these posts about Jordan: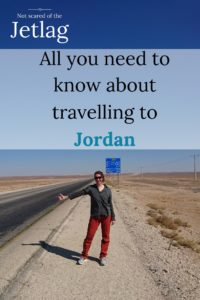 Please note that some of the links above are affiliate links and, at no additional cost to you, I earn a small commission if you make a purchase. That income goes to supporting this website and keeping it free for you and everyone else!