Most organized tours in Jordan only stay in Amman for a few hours to see the very highlights. But the city has to offer much more than that! There are so many things to do in Amman, that even though I stayed 4 days, I still haven't seen it all.
If you like to eat, you will not ever want to leave as the food is so amazing. And you can only eat so much in a day, so I would advise you to stay a bit longer!
So, if you are wondering what to do in Amman, keep on reading!
Click here for day trips from Amman, sightseeing in Jordan, and here for general travel tips for visiting Jordan.
Introduction to Amman Jordan
Amman is one of the most popular cities in the Middle East, both among tourists and international companies to set up office. It is also one of my favourite cities to visit in the area. It combines the typical Middle Eastern chaos of downtown with the modern world in the western suburbs.
Originally Amman was built on seven hills, now making up the Downtown area. These days the city has spread over a total of 19 hills. I found it rather confusing to navigate, as no road ever just goes straight. After a climb up the citadel with a view over the whole city it got a bit easier. At least I could read the map now with an image of the hills in my mind and I could anticipate how many stairs I would have to climb.
History of Amman
One of the oldest settlements in the world was discovered in the outskirts of Amman in 1974 while building a road. It dates back to 7250 BC and is where the oldest known human statues were found (s. below).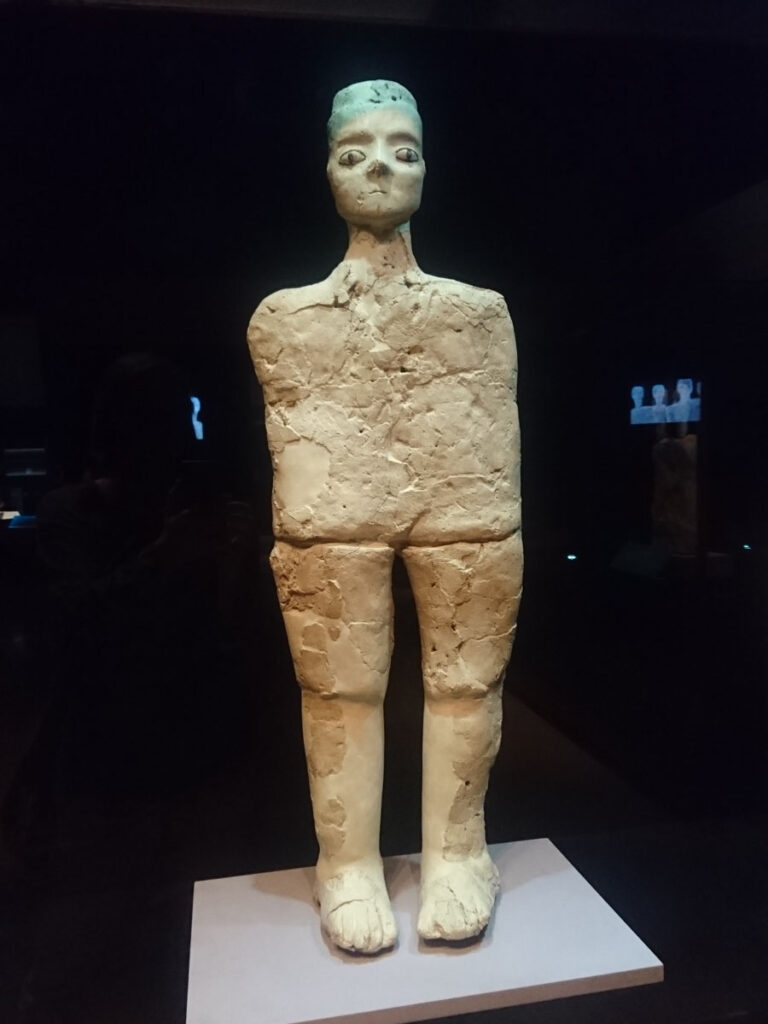 Due to Amman's location along the trade routes from Africa to the north, the city prospered. Under the Greek and Roman Empires, it was called Philadelphia. They left behind quite a few structures that you can still check out. The Temple of Hercules on the citadel, the Roman Theatre and the Nymphaeum are just a few of the best places to visit in Amman.
Later the Ummayads took over the reins of the city. They built a new palace on the citadel, parts of which you can still see. They also built the desert castles in the eastern desert, a great day-trip option.
Today, you can still find a lot of this history alive in the city. But also, Amman is a booming modern city, attracting young Jordanians as well as international businesses.
The 11 best places to visit in Amman
Things to do in Amman for history lovers
The Citadel
The Citadel stands on the highest hill in the city, Jebel Al-Qala. From here you can literally get an overview of Amman. Take some time to familiarise yourself with the surrounding hills from up here.
There are some impressive ruins here, such as columns from ancient temples and the remains of a huge statue of Hercules. It is definitely the sightseeing highlight in Amman. My favourite was the Ummayad Palace, or what is left of it. The wooden ceiling of the dome is particularly impressive, so be sure to go inside.
The Archaeological Museum is also worth a visit, with the supposedly oldest human statues on display, and many everyday objects and trinkets dating back to the Bronze Age.
The entrance fee of 2 JD is included in the Jordan Pass and I spend more than an hour here.
The Roman Theatre
Another absolute highlight in Amman is the Roman theatre. It dates back to the 2nd century AD and can seat 6000 people. Seeing it in the middle of a city like Amman is pretty impressive. Take a seat and imagine what it must have been like almost 2000 years ago watching the actors with the citadel in the background.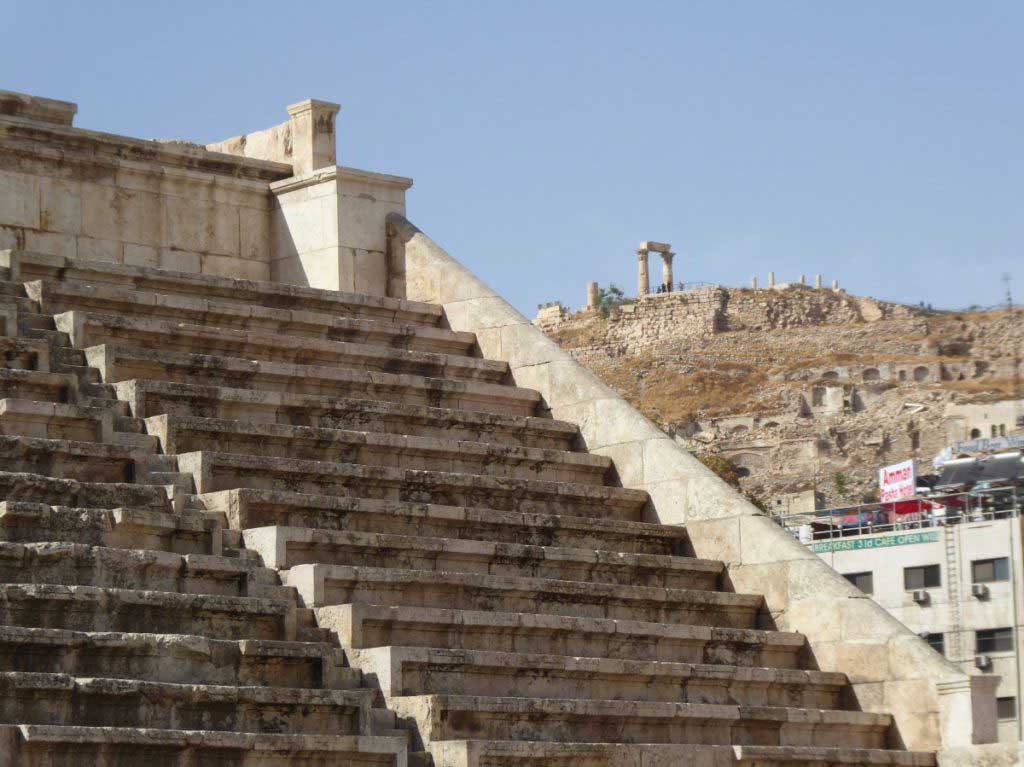 There is a small museum of popular traditions attached on the side that is worth checking out.
Free things to do in Amman
Downtown
The city centre offers some small sightseeing opportunities, some of them a little hidden. The Nymphaeum is worth a short visit. Continue walking through the city centre, take a look at the King Husseiny Mosque and just stroll through the narrow alleys and the big main streets. There are many cute café hidden in the alleyways and along the sometimes beautifully painted stairs.
Visit the souk
Visiting the souks of any Middle Eastern city is a must do. Even if you don't want to buy anything, it is so much fun to get lost in the chaos of food, clothes and other things. Maybe you want to buy some fruit or dates for a snack. It is also a great opportunity to get in touch with some of the locals. The people of Amman still prefer to buy their groceries in the souk and small shops instead of the big supermarkets.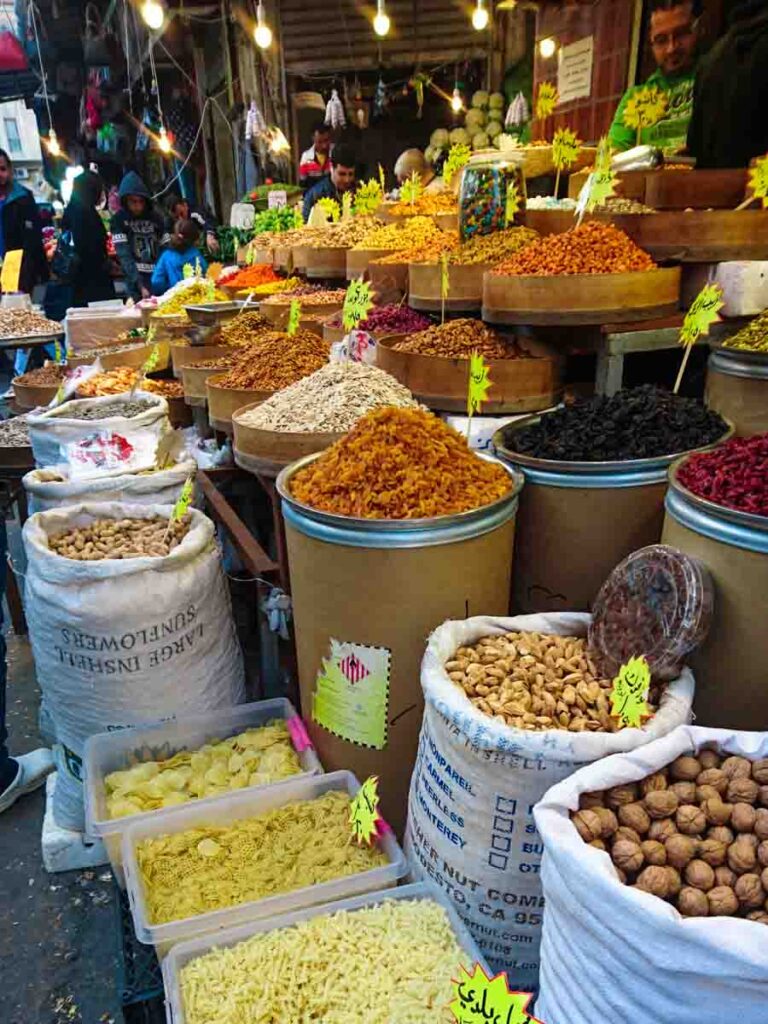 Jebel Amman
Jebel Amman is one of the 7 original hills of Amman. The street along the top is called Rainbow Street. It is full of small cafes and restaurants and there are many beautiful old houses in the adjacent streets. The Jordan River Foundation (art) and Wild Jordan (conservation) are located here. Discovering this area is one of the really fun things to do in Amman.
You can spend hours just walking around and discover all the little hidden things. Walls with beautiful graffiti, stairs either painted or covered with umbrellas and lined with tiny cafés. And an endless number of small restaurants offering the best food the Middle Eastern cuisine has to offer.
King Abdallah Mosque
To visit the blue King Abdallah Mosque, you should take a taxi as it is a bit further out. The blue roof is visible from most jebels, so you can see it from a far. It is possible to go inside, but you have to respect the dress code and put on one of the robes they offer.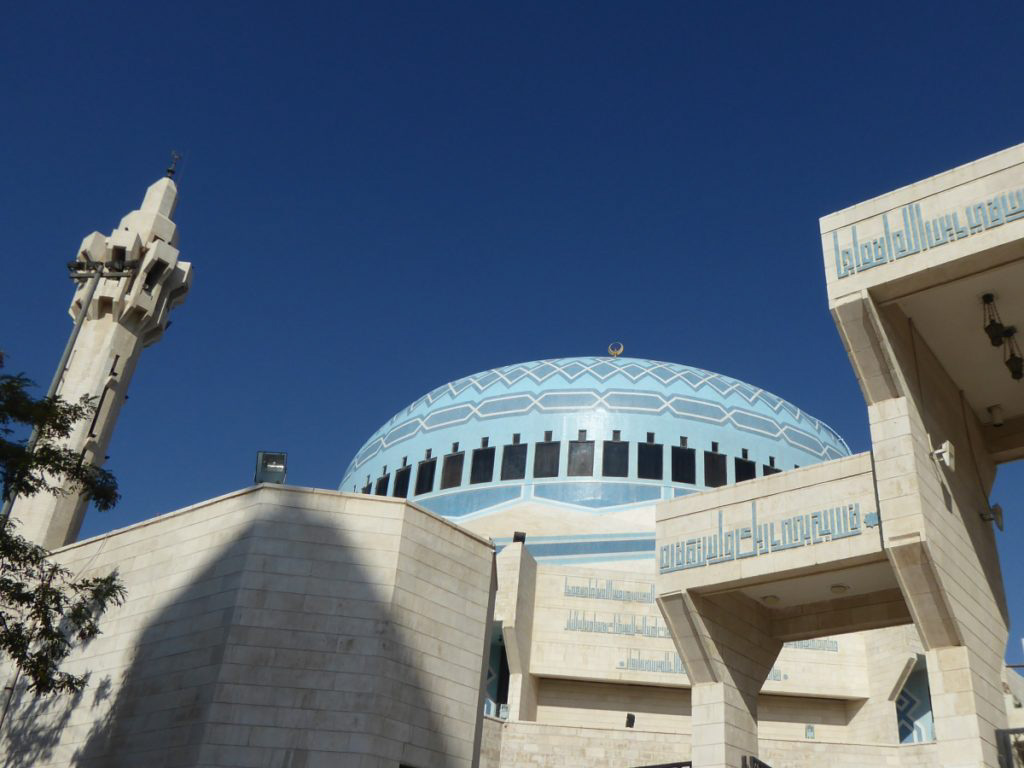 For more information about visiting mosques as a non-Muslim, check out this post.
Things to do in Amman for Foodies
Eat hummus and falafel at Hasheem's
While you are in downtown, grab lunch at Hasheem's. It is right smack in the middle of downtown, but so unassuming, it is easy to miss. But, since everyone knows it, just ask someone on the street.
And then, be prepared to have your life changed! This hummus is the best I've ever eaten. And it ruined me for life, as hummus will never be the same. Now it always leaves me slightly disappointed. Also order falafel and fat'ha. Not sure what that is made of, but it was sooo good!
For more restaurants in Amman click here.
Cook traditional Jordanian food at Beit Sitti
I absolutely recommend a cooking class at Beit Sitti, my favourite activity in Amman!
Beit Sitti translates to "my grandmother's house" and is an initiative of 3 sisters to preserve their late grandma's beautiful home. They offer cooking classes in small groups, lead by women from the area. They teach you traditional Jordanian dishes, such as Maghlube, Tabouleh and Baba Ganoush.
They also have a small shop where they sell their signature spices and a few other delicacies.
The price for the class depends on the amount of people joining. I was lucky and could join some others, so the price was very good.
Eat knafe at Habiba
Talking about traditional food, you must try knafe, the traditional dessert of the Middle East. Knafe is made from a soft cheese (similar to Mozarella in taste and feel), covered in sugary syrup and topped with sugar crust and pistachios.
So you can imagine how you'd feel about eating a full portion of it.
The best knefe shop, Habiba, is fairly easy to spot if you know what you're looking for. In the evening it has a queue from the entrance to the main street and around the corner! And there are lots of people standing and sitting around eating from plastic plates, chatting away.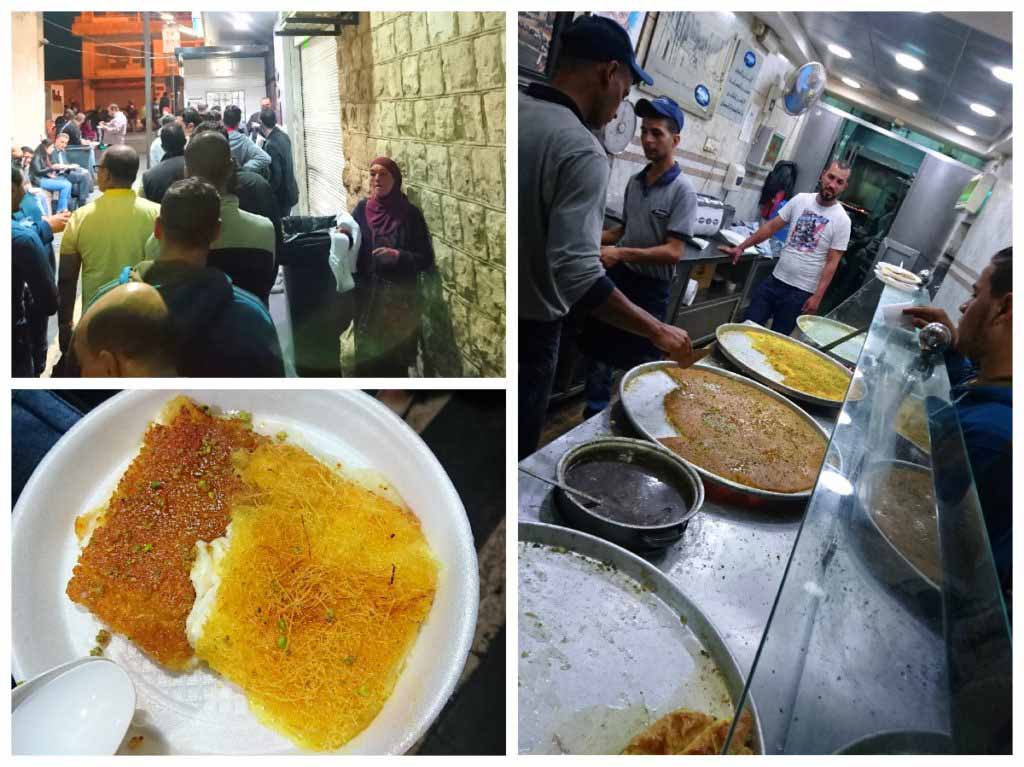 But don't let that stop you from going, they are very efficient and you won't wait more than a few minutes.
It is located in downtown next to the main branch of the Arab Bank.
Museums to visit in Amman
Jordan Museum
The Jordan Museum is relatively new and very modern. There is a permanent exhibition on historical and contemporary topics, including the famous Dead Sea Scrolls. These are papyrus rolls with parts of the text of the bible, which were discovered a few years ago close to the shores of the dead sea, hence the name. When I visited the Jordan Museum, there was also an exhibition of inventions and discoveries by Arabs. It was very modern and multimedial and you can easily spend a few hours learning.
Visiting the Jordan museum is definitely a fun thing to do with kids in Amman as there is so much to discover.
Royal Car Museum
This is the one place in this list that I haven't visited but was recommended. It is in the outskirts of the city, so you will need to drive or take a taxi there.
The Royal Car Museum was initiated by King Abdallah himself and showcases a variety of cars from old-timers from the early 20th century to new sports cars. Most of these came from the private collection of his father, the late King Hussein.
It also gave a home to the "mars rover" used in the movie The Martian which was filmed in Wadi Rum.
Tours of Amman
If you prefer a guided tour of all the things to do in Amman, check out these great private tours:
Hotels in Amman
Before choosing your hotel in Amman, think about how you will get around. If you prefer to walk everywhere, definitely book something in Downtown. From everywhere else you will need wheels, either a rental car or taxis.
Budget
The Amman Pasha Hotel is pretty basic but in the perfect location just across the street from the Roman Theatre.
Medium
Luxury
Please note that some of the links above are affiliate links and, at no additional cost to you, I earn a small commission if you make a purchase. That income goes to supporting this website and keeping it free for you and everyone else!