Europeans can enter Morocco without a visa, they simply get a stamp in their passport that allows them to stay in the country for 90 days. But what if you would like to stay longer? There are always stories (especially from pensioners) that you can just go to the tourist police to renew the stamp. But in my experience, that doesn't work.
An easy way to get a new stamp is a visa run to Tarifa. You leave the country for a few days (or even just a few hours) and then re-enter. In times of climate catastrophe, I try to fly as little as possible, and leaving the country by ferry to Spain is an easy option.
Why Tarifa?
Tarifa, along with Ceuta and Melilla, is one of the few places that can be reached very easily from Morocco without flying. There is a fast ferry connection from Tangier, the town is totally cute and there is extremely delicious food.
Ceuta and Melilla are of course also accessible without a plane, but with the refugee situation there at the border, it is also always associated with a certain risk.
How to get to Tarifa from Morocco
From Tangier to Tarifa there is a ferry every hour. There are two providers, FRS and Intershipping with no difference in journey time and price, and they alternate. I travelled with Intershipping on the way there and FRS on the way back. I found the FRS ferry a bit nicer, there were more seats on deck with a bit of shade.
As I didn't want to lose any time on the way, I didn't book a ticket in advance, but bought one at the port for the next departure. It was totally uncomplicated, there was no queue and I was on board 10 minutes later, after passport control.
In summer (July and August) you should bring more time or book in advance, as it can be very crowded.
The best way to get to Tangier is by train. Al Boraq, the fast train, runs from Casablanca via Rabat and Kenitra to Tangier. It takes just over 2 hours from Casablanca and costs about 150 DH. But of course, you can also take the regular trains or the bus to Tangier.
If you want to spend a few hours or days in Tangier, read this article about the sights in Tangier.
Sights and activities in Tarifa
Tarifa is small, at least the touristy part can be explored very well on foot. The old town is located directly at the harbour, and it makes sense to look for accommodation in this part of the city.
I spent 2 nights in Tarifa and had the feeling that I had seen everything of interest. If you fancy wind or kite surfing, it's probably worth staying longer.
Places of interest in Tarifa
Castillo de Guzman El Bueno
The Castillo is the highlight of the sights in Tarifa. It was built in 960 and was essential for the defence of the town. You can visit it, there is an exhibition about the history of the Castillo. And it's worth it just for the view from the roof and the adjacent city walls.
Admission 5€, opening hours vary, best to check google.maps.
Mirador del Estrecho
As the name suggests, you also have a good view here, especially of the Strait of Gibraltar and, depending on the view, the coast of Morocco. The Mirador is east of the Castillo de Guzman el bueno next to a tiny park with a few Moroccan-decorated benches.
San Mateo Church
San Mateo Church was built in the 16th century and is Tarifa's main church. Rather unimpressive from the outside, it is very pretty inside in white with sandstone columns. The San Mateo Church is centrally located in the old town and is easy to find.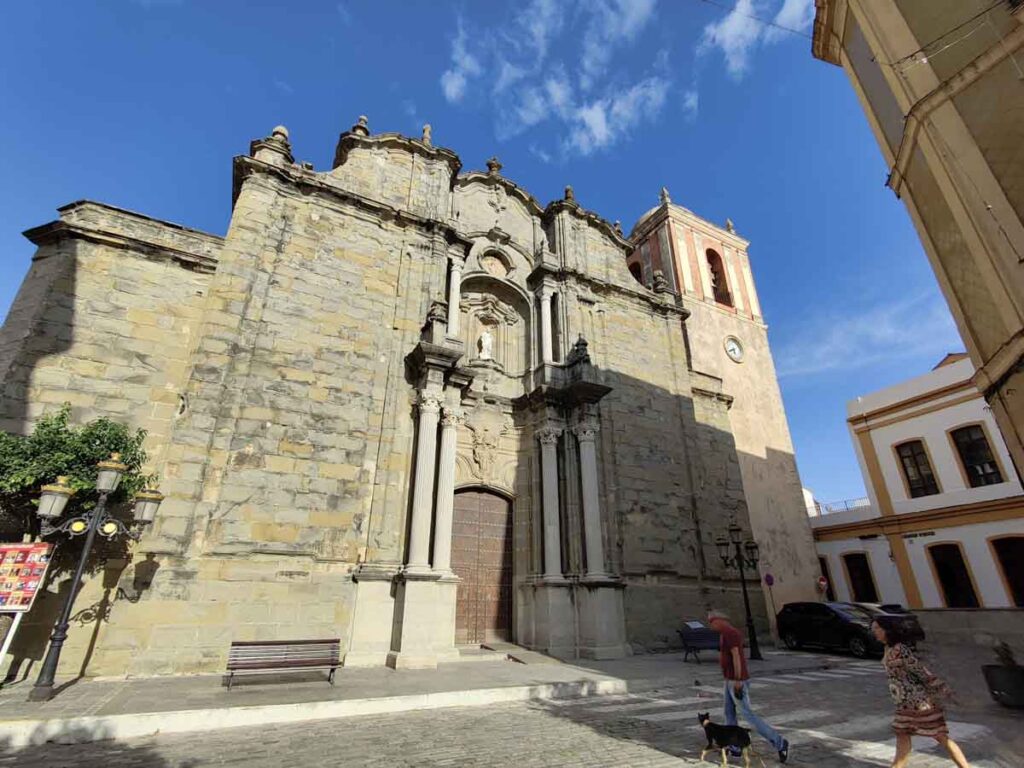 Old Town
My personal highlight in Tarifa is the old town as a whole. It is so much fun to stroll through the alleys, look in the windows of the boutiques or even do a bit of shopping. There are lots of little bars and restaurants scattered all over the place, so you can always grab a bite to eat or a drink. Towards evening, the largely car-free old town becomes a food and party mile, especially at weekends, of course.
Puerta de Jerez
On the north side of the old town is the Puerta de Jerez, the only intact city gate, dating from 1292. It is almost reminiscent of the city gates in Morocco, although it is smaller than those in Marrakech, for example.
Sunset on the beach
Tarifa's main beach, Playa de los lances, runs pretty much north-south along the Atlantic coast, which means you have a perfect view of the sunset. You can also take nice walks here or just sunbathe. However, Tarifa is known for relatively strong winds throughout the year. So, you should equip yourself accordingly.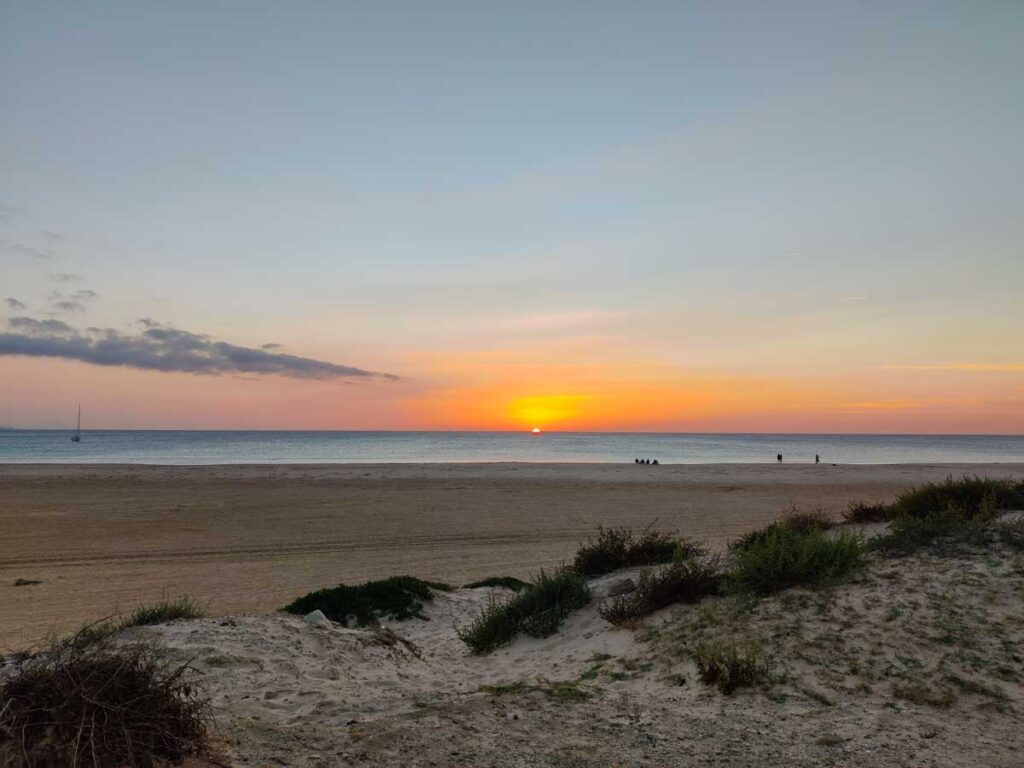 Activities in Tarifa
Windsurfing and Kitesurfing
Tarifa is the perfect place for windsurfing and kitesurfing as there is a lot of wind all year round. There are several surf schools where you can take lessons or just rent equipment.
Horse riding
I saw a notice for horseback riding in the hostel. You can also find some providers online. This one has great offers, you can even combine riding with yoga.
See dolphins and whales by boat (April to October)
You can book whale-watching tours with several providers in the harbour and the old town. However, only from April to October, and when I was there in mid-October, the offices were all already closed.
Restaurants in Tarifa
There are more restaurants in Tarifa than you can try in a few days. Here are the restaurants I ate at:
Café Azul
Since I stayed in a hostel, I had to take care of my own breakfast. Café Azul was perfect, centrally located, a huge selection of traditional and modern breakfast options. The portions were big, everything super fresh and very tasty and really not expensive. I had tostadas, toasted bread slices, with jamon (Spanish prosciutto) and tomato once and an acai bowl the next day. I also saw very good-looking omelettes at the neighbouring tables.
Misiana
On the first evening I had dinner at Misiana. The restaurant is on the main street of the old town and there were nice seats outside. I had tuna tataki, extremely tasty, but I found the portion quite small for the price (around 22€). But the service and atmosphere were very nice.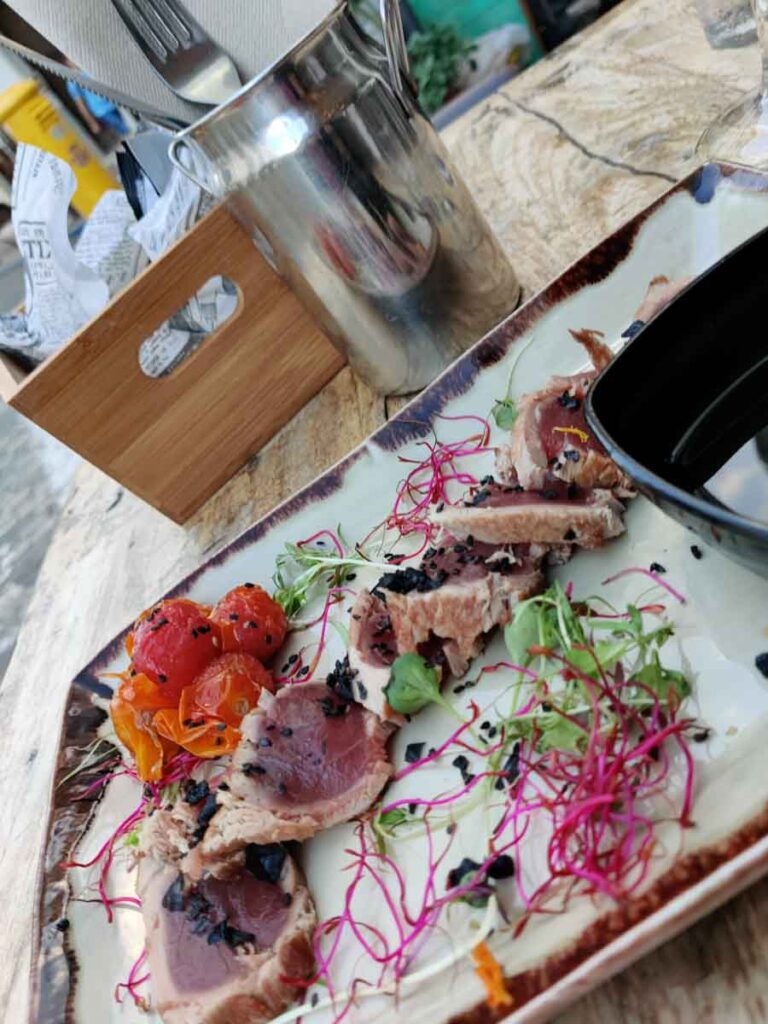 Los Mellis
For lunch on day 2, I went to Los Mellis. You have to make sure to be early to get a seat here, it was packed. And looking at the menu really didn't make it easy for me. It all sounded so delicious! In the end, I chose Albondigas de Atun (tuna balls in tomato sauce) and Croquetas (three kinds of croquettes) with black ink and squid, potato and peppers and potato and cheese.
I will definitely eat here again the next time I make a visa run to Tarifa.
El Lola
On the last evening, I had dinner at El Lola and this is another place I will come back to. I had Manchego tapas, fried prawns with aioli and for dessert an absolutely fantastic pistachio cream.
La Tarifena
For the small appetite, or some delicious biscuits and pastries to go, I recommend La Tarifena. Located right in the old town, you'll get an appetite just by looking in the window.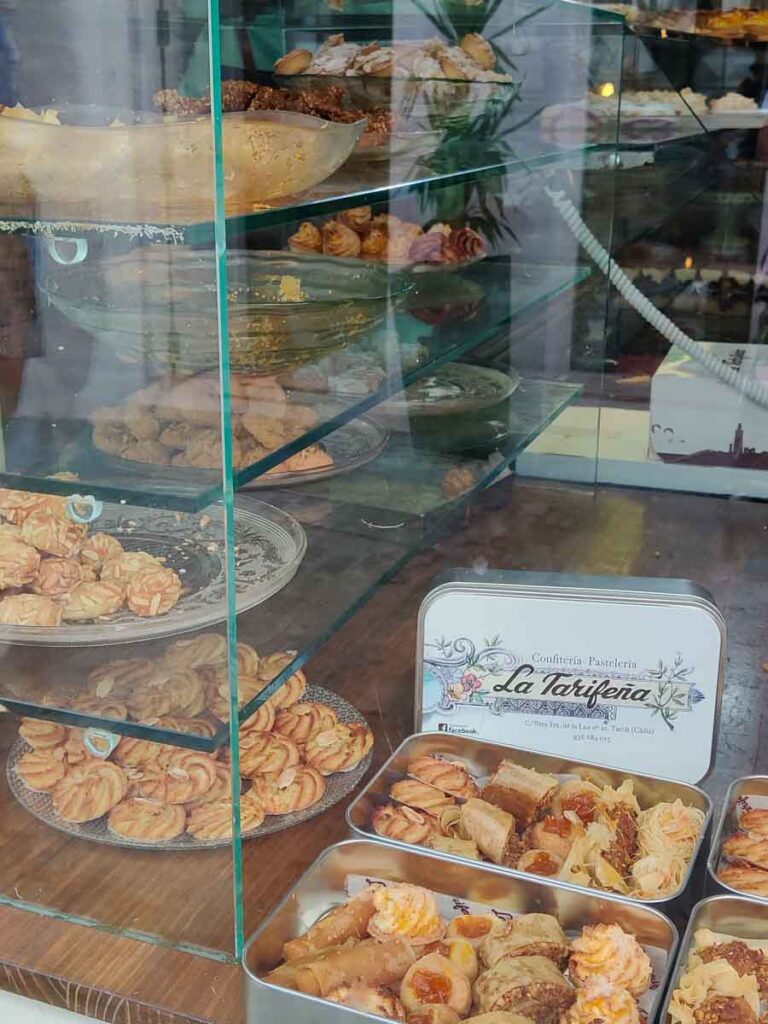 And here you can find an article with more really good restaurant recommendations.
Hotels in Tarifa
Hostels
The first time I stayed at the Rebels Tarifa Hostel. Well located, nice atmosphere, but the furnishings are not quite optimal. No blackout curtains, far too few sockets in the room (2 in a 4 bed room), relatively few toilets/showers.
Ohana Tarifa, next time I will try the Ohana. At least on Booking it looks very good and was also on the shortlist last time.
Apartment
On my last visa run, I stayed in an apartment, because the hostels were closed for winter holidays. Tarifa Castillo has several apartments and I got a free upgrade to a bigger one. It's conveniently located, just a few minutes from the port, in a nice house in the old town. My apartment had access to a small patio with seating, a fully equipped kitchen, washing machine, etc. Really recommended, especially if you are travelling as a group or family.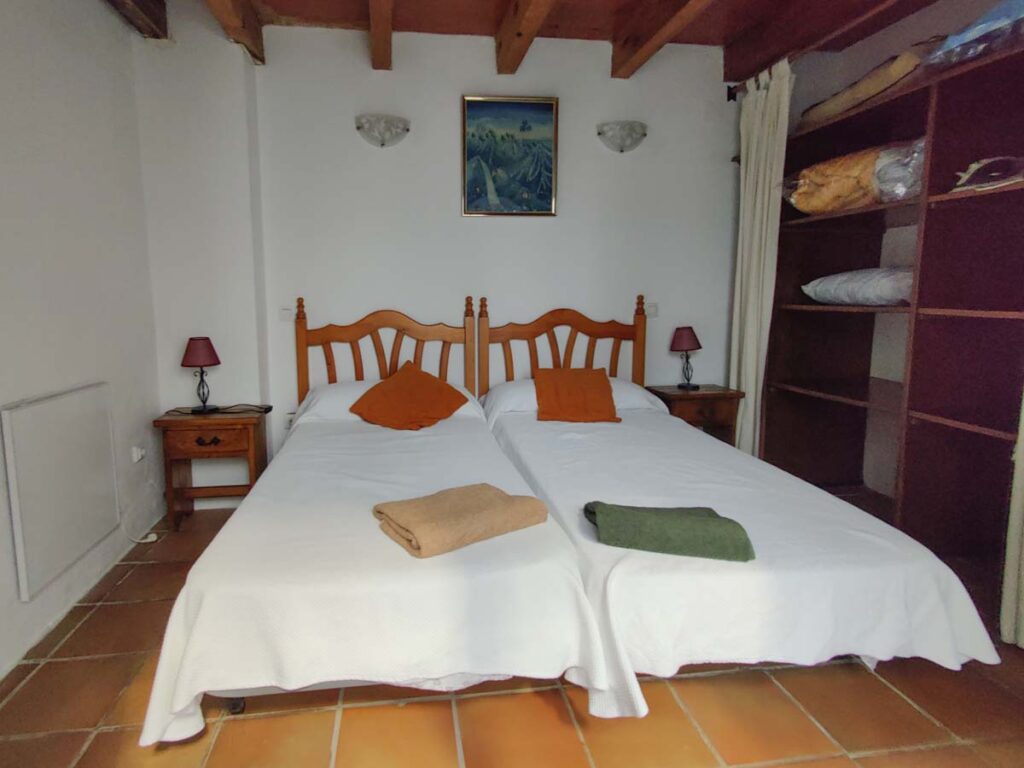 Middle price range
Misiana, in the middle of the old town
La Casa de la Favorita, also in the old town but a little quieter
Luxury
Hotel & Spa La Residencia Puerto, directly at the harbour with pool on the roof
Hotel Tarifa Lances, a little further from the old town, but more or less directly on the beach
I now offer itinerary planning for your trip to Morocco! You can check out the details here.
Please note that some of the links above are affiliate links and, at no additional cost to you, I earn a small commission if you make a purchase. That income goes to supporting this website and keeping it free for you and everyone else!