Are you planning a holiday to Morocco and are unsure of how to get around? Let me help you out! During my time here, so far a total of 15 months, I've used every available kind of public transport in Morocco there is. From planes to trains to taxis, I will tell you everything there is to know.
It can be quite adventurous to travel like the locals and not everything is advisable if you are short on time. But I promise, you will see Morocco from a different perspective!
I will talk about:
Petit Taxi in Moroccan cities
So let's start small. After arriving at the airport you are probably looking for transport to your hotel or riad. You can of course book a transfer through your accommodation, but it will most likely be cheaper to just get a petit taxi.
Depending on the city you're in, they have different colours. Red in Fez, blue in Rabat, you get the picture. For transfers from airport or train station to the medina they normally have a fixed price which is most likely visible somewhere either in the car or at the taxi station.
If you just want to get from point A to B you can find petit taxis on almost any road and you can always wave them and tell your destination. Prices depend on the number of passengers and you should discuss before getting in. Depending on the distance the price when you're sharing should be between 5 and 15 MAD, do not believe them when they want to change you much more than this!
Funny story:
When I got out of the Rabat train station and was looking for a taxi for an approximately 800 m ride (very heavy luggage), every single taxi driver told me it's 35 MAD. But I knew it should be less than 10. So I asked a local lady walking in front of me, if she could help me. She tried a few taxis with the same result. Then she told me to follow her to the other side of the road, where she just waved a taxi, told the driver where I wanted to go and got into the taxi with me. When I got out, she left with me and I paid 6 MAD for the both of us.
But in general, I advise you to just walk around in the cities! There is so much to discover that you won't see out of a taxi. And in the medinas you have to walk anyways as the alleys are much to small for cars.
If you are worried about getting lost or scammed by the locals, download the maps.me app, it's the best offline map available and it shows much more detail than google maps in the medinas of Morocco!
Grand taxis between Moroccan cities
For anything outside the city you're in, you will need to look at the grand taxis. It can actually be quite the experience to take a grand taxi in Morocco, so you should use it at least once. There are fixed stations for these in the cities and towns. Sometimes more than one! Make sure to ask your accommodation for the right station for your destination.
Once you get there, find the man in charge. He will tell you which car is leaving to your destination next and how much it costs. Before the taxi leaves (which it does when it's full), he will collect the money. Short rides to close towns cost around 15 MAD, longer trips of around 100 km around 50 MAD. The longer the ride, the higher the price.
If you are in a hurry and don't want to wait, you can always buy additional seats. But beware, they stuff the cars and buying all seats adds up! There are still some very old Mercedes around where they expect 2 people to share the passenger seat and 4 people in the back. The government is trying to shut these down and is handing out credits to drivers to buy new model Dacia's or similar which seat 6 people.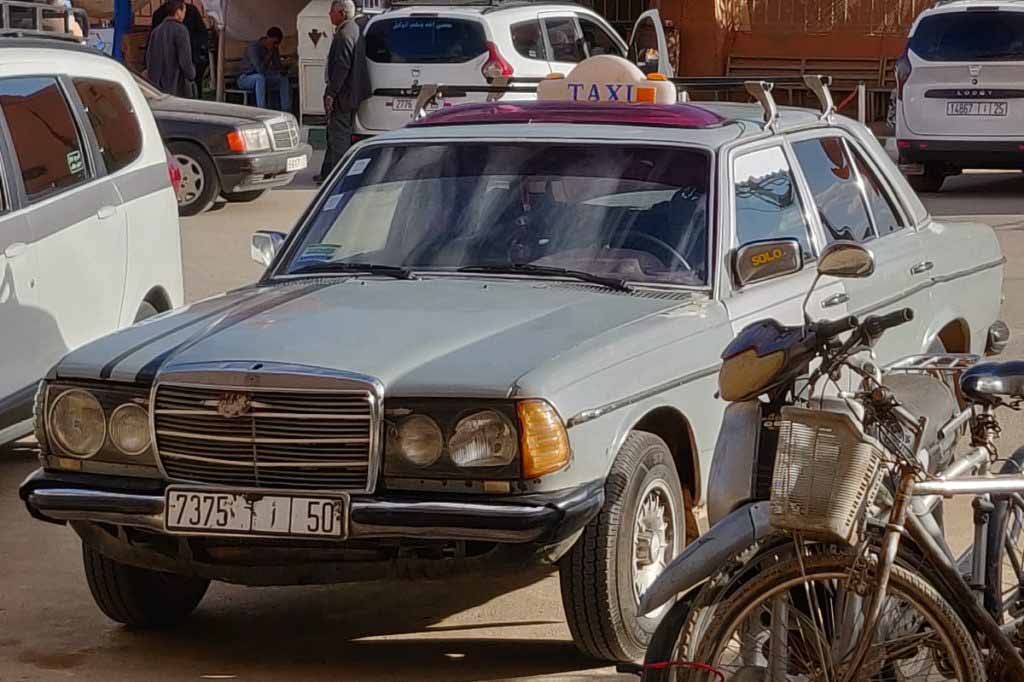 The longest I ever had to wait for a grand taxi to arrive and fill up was around 75 minutes, so you always need to calculate a little extra time.
Don't be surprised if the car stops on the way in or out of the towns. They often collect and drop off items someone is sending to their relatives or friends.
Taxis in Marrakech
Marrakech is an exception, as it has both small and big taxis within the city. Big taxis are shared with a fixed price of 6 DH (June 21) and if you are going into the suburbs you will have to change taxis at certain fixed stations.
Small taxis can be shared too at a reduced price, but normally should start the meter. Ask for the counter to be turned on and really insist, otherwise they will rip you off. Last week I wanted to go a short distance to the train station. One empty shared taxi stopped and told me 100 DH to go there. I sent him away with a curse and waited for a small taxi, which cost me 16 DH for the ride.
Buses in Morocco
I guess the most commonly used public transportation in Morocco is the bus. There are 2 good bus companies catering to tourists, CTM and Supratours. They do have websites, but at least the Supratours one doesn't ever let me book a ticket. You can just get tickets at the stations, again beware, they might not be at the regular bus station (gare rotiere) and most of the times getting the ticket a day before travel is early enough.
Regarding the prices for Supratours buses in Morocco, a ticket from Marrakech to Merzouga currently costs 220 MAD.
If you have luggage to check in, you have to be at the bus station 30 minutes before departure to get your luggage checked. Sometimes they weigh it, sometimes the price is per bag and is around 5-10 MAD.
There are other buses in Morocco too, lot's of them actually, but they are mostly used by locals. They have less space per passenger, go shorter distances, but might be an alternative if the CTM bus and Supratours don't go to your destination.
I crossed half of Morocco on Supratours buses and what I remember most, is that in the mountains the local women all vomit! The smell was so bad and also the liquid ran all over the floor of the bus. So I suggest you only take small luggage on board to make sure it fits into the overhead space.
Trains in Morocco
Train travel in Morocco is very easy. But the train system in Morocco covers only the northern part of the country, north of the Atlas Mountains. So you can take the train from Marrakech to Casablanca or Fez, but not to Agadir or Zagora for example. I found the trains to be fairly reliable in terms of punctuality. Trains between the bigger cities go every 2 hours, so there are plenty of options.
You can choose between 1st and 2nd class seats, the main difference is less people, especially less locals in first class. For me, travelling like and with the locals is half the fun of train travel, but pricewise you can easily travel first class, as it is very affordable. A train ticket from Casablanca to Marrakech for example costs 49 MAD on a non-flexible second class ticket, or 150 MAD in first class.
You can check for connections and prices at the ONCF website but I had to buy my tickets at the station as the website was down a lot when I was travelling in Morocco by train.
Planes within Morocco
There are lots of in-country flights available with Royal Air Moroc and they are very affordable. A ticket from Casablanca to Errachidia for example costs around 400 MAD and only takes just over one hour. If you compare this to taking the train from Casablanca to Marrakech (2,5 hours) and then the bus from Marrakech to Errachidia (8 hours) with a total price of around 240 MAD it is actually worth considering. From Errachidia it is only 2 hours with the bus to Merzouga, if you fancy a desert adventure.
Did my blog help you?
Maybe you want to thank me by inviting me for a coffee!
Car rentals
Even though renting a car in Morocco is not considered public transport, I will include it here, because it is a great option to get around and have more flexibility.
It might be relatively hard to find good car rental options before you get here. They are mostly limited to the airports in the bigger cities. But, you can easily find good car rentals once you are here, even in smaller cities. Just ask your accommodation and they will point you in the right direction.
Prices for rental cars start from 250 MAD per day for a small car using benzine and 330 MAD for small diesels. For bigger cars and especially 4x4s the prices are much higher and vary from company to company, so it is good to shop around a bit. The longer the period you want to rent the car for, the more likely you can discuss the price and get a discount.
If you are looking for a recommendation for a rental company let me know in the comments or shoot me an email. They are based in Errachidia but will deliver the car to your location for a small extra fee.
So, I hope this guide on how to travel around Morocco is helpful for planning your holiday in Morocco. Let me know about your experiences in the comments!
Please note that some of the links above are affiliate links and, at no additional cost to you, I earn a small commission if you make a purchase. That income goes to supporting this website and keeping it free for you and everyone else!