Morocco is a great country to travel to, it is more diverse than most people think. You can go surfing on the Atlantic coast, hiking and climbing in the Atlas Mountains, trekking in the Sahara and shopping in the cities. The culture is rich with Berber and Arabic as well as French influences. No matter what time of year you plan to travel to Morocco, you can always find an area with the perfect weather! So, to help you prepare, I put together this post with all the things you need to know before going to Morocco the first time.
And if you are wondering how I know these things, I am currently living here and have been travelling all over the country. So, I hope this post will answer all your questions, but please let me know if there is anything more you would like to know. Shoot me an email or contact me on facebook!
The topics I cover in the post are:
What about cash vs. credit cards?
So here we go:
How long should you go?
As with any country in the world, this is a really hard question. You can stay for months and still not see everything. I guess it depends mostly on what kind of traveller you are. Do you like to experience the country and culture more in-depth or are you happy just looking at the sights and moving around quickly?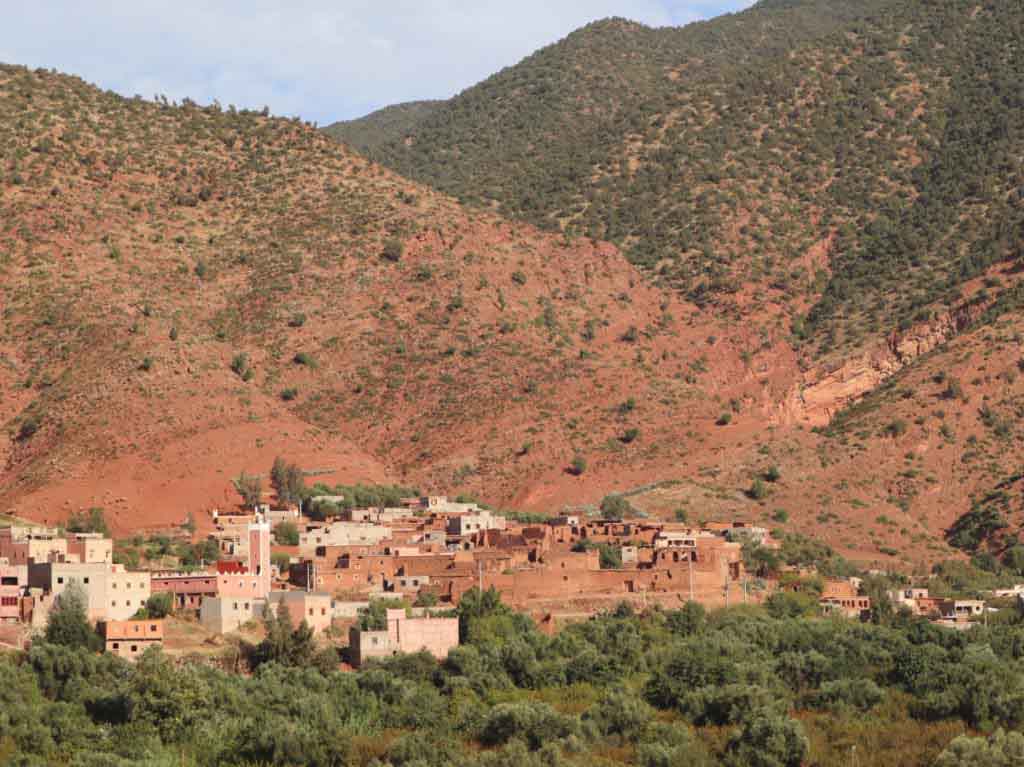 I recommend at least 2 weeks, as the country is bigger than it seems, and distances are long. But, if you only have a week, you can check out my one-week itinerary for the south of Morocco to get an idea of what you can see in that timeframe.
When is the best time to go?
That depends on your plans. For the major cities, like Marrakech and Fez, as well as a trip to the desert October, November, February and March are best. If you want to head into the mountains for some hiking, I would skip November to March, as there will be snow.
The coast is nice at any time, but even in summer places like Essaouria have temperatures around 20-25 °C max. so for some, this is too cold for swimming. Also, in summer the Moroccans go on holidays too and the coastal towns are full and accommodation is more expensive.
Here you can find more details on the weather in Morocco.
Is Morocco safe?
In my opinion, yes! Of course, there are random incidents, as there are in any place in the world these days. But there is a very low risk for terrorist attacks, no tropical diseases and snakes and scorpions are far less common than people think.
Traffic is a safety issue, especially as a lot of taxis don't have functioning seat belts.
If you decide to drive yourself, just stay cool and get outside the big cities fast. Watch out for police and gendarmerie when entering/leaving cities, they usually have a sequence of road signs telling you to slow down or to stop. If you don't stop, prepare to pay a hefty fine. But normally they just wave the tourists through.
As a solo female traveller, you will likely get annoyed by the advances of Moroccan men at some point, but they are very seldom dangerous, check out my post about this. Most want to sell you something or show you the way in exchange for a tip. I avoid this by always knowing where I'm going (I use the maps.me app which also works in the Medinas) and always wearing sunglasses. So people don't see what or who I'm looking at. I also ignore everything they say to me and if they get too close, I say "la" which means "no" in Arabic.
What to wear?
As Morocco is a Muslim country (though a fairly modern one at that), you should wear modest clothes. For men that means no shorts, for women no shorts, short skirts, sleeveless or revealing tops. The more you cover up, the more respect people will show you.
A lot of local girls wear tight fitted jeans or leggings combined with a loose, long shirt that covers their behind. So this is definitely an outfit you can rock, if you don't like long skirts.
You do not have to cover your hair, however you might want to because of the sun burning your scalp. I mostly just use a scarf for this, wearing it as a hijab or turban, depending where I am.
No matter how hot, I always wear ankle-long trousers or skirts and t-shirts or thin long-sleeved shirts. And here in Merzouga, the women like me and respect me for that.
Of course, you will see tourists dressed in much less, and while nothing bad will happen to them because of this, it doesn't mean you should do the same.
On the beaches you can of course wear a bikini, but walking there and back, please cover yourself as the local women go into the water fully dressed and you will get many uncomfortable stares and comments.
If you want to go into the desert on your first trip to Morocco, one thing to know is, that the sand will go through anything mesh shoe-wise. So most trainers, sneakers and even some hiking shoes will be ruined after this. The sand collects inside the material and starts pushing down on your toes, which is very uncomfortable. So wear either sandals or any leather shoes to avoid this.
How to get around?
There are many ways to get around without an organized tour, you can find all information on public transport in Morocco here.
The one thing to be aware of, distances are much bigger (or at least take a lot longer to cover) than it looks like in the map! Plan accordingly!
Do people speak English?
That very much depends. People who work in tourism mostly do, some better than others. Taxi drivers, local restaurant and shop owners usually don't. But they are mostly very patient and try to understand and help you even when you speak "hand-and-feet". Maybe learn some basic French, as it is widely spoken and much easier to learn than Arabic.
How do I save money?
One important thing to know before coming to Morocco the first time is, more expensive doesn't mean better here. So my advise for you on how to save money in Morocco is:
Use public transport and eat at restaurants the locals eat at. And haggle for almost anything you want to buy.
While the bus from Marrakech to Merzouga costs ca. 25€ per person, a private car for 4 people will cost you 400€ or more.
A tajine in a local restaurant will cost you around 4-5 € and is enough to share with 2 people, in touristic restaurants you will pay between 7 and 12 € easily. And believe me, taste wise you want the cheaper one!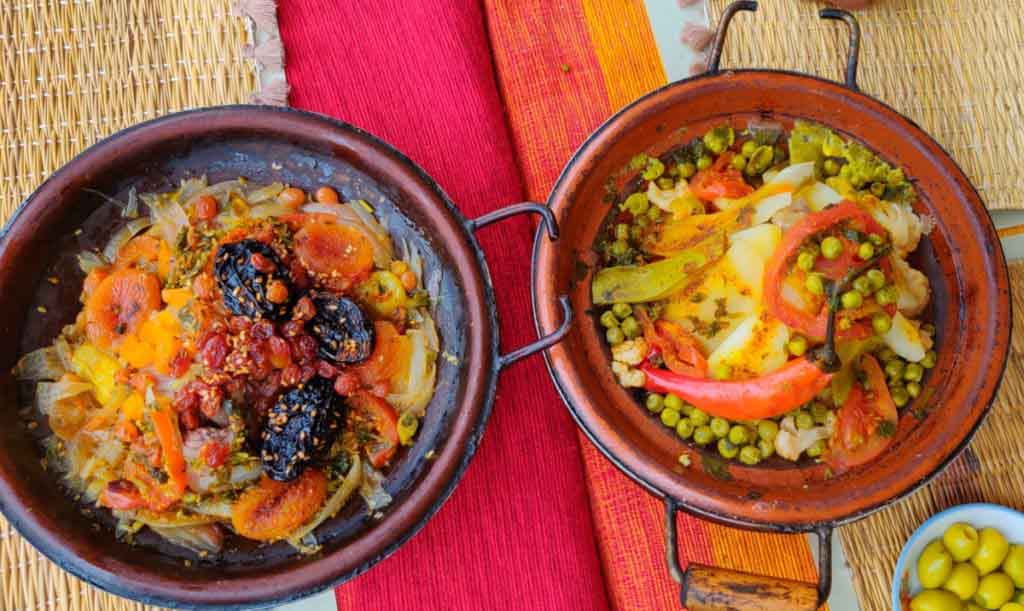 When shopping for souvenirs in the touristic parts of the souks you can normally get settled at less than 50% of the original offer, so start your price very low! Also, buying your souvenirs in smaller cities like Essaouira instead of Marrakech will save you money.
Be aware, on any organized tour (be it day trips or week-long tours), the guides will get big commissions on anything you buy, driving up the prices. I recently wanted to buy Amlou (the Moroccan Nutella) and I knew the prices for this from Essaouira, where they sell it everywhere. In one shop in the Ourika valley they wanted more than 4 times of what I paid before, so I walked out. They told my boyfriend, if he doesn't want a commission, the price would be less than 50%! So try to find a different shop, one that doesn't work with guides, and you will get decent prices.
How do I stay connected?
I recommend buying a local SIM from one of the major networks, Orange, Maroc Telecom or Inwi. You pay around 4 € for the SIM and 1€ per GB data (10 MAD = 1 GB, valid 3 days; 20 MAD = 2 GB, 7 days; 50 MAD = 5 GB, 30 days). While a lot of cafés and hotels offer free WIFI, the quality mostly doesn't allow e.g. to watch Instagram stories without interruptions.
You can find more details on my post about SIM cards in Morocco here.
What about cash vs. credit cards?
In Morocco cash is king! In some places you can't rent a car, fill up gas or pay in the restaurants with cards. Some big and expensive hotels take cards as well as chain supermarkets like Carrefour or Marjane.
I get cash at ATMs, the ones from the El Barid bank don't charge any extra fees and have a good conversion rate. Just be aware, the machines don't hand out more than 2000 MAD in one go and not more than 7000 MAD per day.
Make sure to always have some small money on hand, most shops don't have change and will go to find someone to change the money, leaving you there waiting.
Do you have any more questions I haven't covered? Let me know in the comments or send me an email!
I now offer itinerary planning for your trip to Morocco! You can check out the details here.