Almost everyone visiting Morocco wonders which souvenirs to buy here for themselves or their family and friends at home. And the inevitable second question is, how much should you pay for your typical Moroccan souvenirs. Followed by, where to buy them, as the country is big and every region is known for different goods.
But don't worry, even if you only visit a small part of the country, you will find every kind of souvenir in every part of Morocco. Just beware, there will be differences in quality and pricing.
Personally, I think shopping in the souks is one of the most fun things to do and a good reason to visit Morocco! But, the souks in Marrakech and Fez are not the only (and by far not the best) places to go shopping. Essaouira is a great place to buy souvenirs for example!
To make your life a little bit easier, I have put together this guide on where to buy souvenirs in Morocco.
If you are looking for more first-timers information check out my post with tips before travelling to Morocco.
Carpets and Rugs
Moroccan carpets and rugs are one of the most popular souvenirs, but also the hardest ones to buy. You can find good quality carpets all over the country, the more rural the area, the more sure you can be that they will be handmade. Every region, and sometimes even every family has their own style of pattern. So it might take a while to find what you are looking for. Most are made of sheep's wool, some from camel and the thinner ones are cotton or artificial silk. The sellers will likely tell you they are made from cactus, called Sabra silk, but this seems to be a lie to up the price (more info here).
The price range is huge, but before trying for a "real bargain" consider this:
If it is cheap, it is probably not real. Not wool or not handmade.
It takes weeks, if not months to make a carpet, so remember you might be paying someone's full income for the month with this (at least when buying directly or in a cooperative).
If buying in the souks of Marrakech or Fez, go for a hard bargain, they should probably be around 40% of the first offered price.
Where to buy a Moroccan carpet:
The part of the country where your type of carpet is made, fair prices at rural women's cooperatives.
Also, you can commission a carpet, I am currently having one made for a friend of mine. A woman in a small desert village is making it, my friend sent me a picture of the design she wants and the size. The price is really fair, especially in comparison with the website my friend found the design on in Germany. Even when you include shipping and customs.
Moroccan Lanterns and Lamps
Everyone knows the photos of Moroccan lanterns in the souks and most people would love to bring one home. The thing to watch out for is, what material is it made of and will it survive the transport home. If the lamp is fairly light, it is probably made from Aluminium and will not keep its form in your suitcase. So you should try to find one that is heavier and made from copper or brass. You can find variants with or without coloured glass inlays and which one to buy is a matter of taste.
Where to buy a Moroccan Lantern or lamp:
You can see them pretty much anywhere, but the good quality ones are a bit harder to find. A good place is in the Fez medina, ask a guide to bring you to the square where they are made.
Tajines
You can find the traditional tajine literally on every street corner in Morocco. On regional roads there are roadside stalls selling them and every town has them in the souk. There are basic red coloured ones with or without a metal plate on the bottom. These are used by every Moroccan family. In some more touristy spots you can find them painted in different patterns, but this is a sign of them being a tourist souvenir, not an actual authentic tajine.
Where to buy a Moroccan tajine:
Anywhere in the country, from souk to roadside stall.
Ceramics
Other ceramics, like bowls and cups can also be found anywhere in the country. The biggest selection can be found in the major souks in Fez and Marrakech. Watch out for the quality though. They all look nice with intricate patterns. But, not all of them are actually hand-made. The best way to tell in my experience if to look for some imperfections, as these are a clear sign of being hand-made. On my first trip to Morocco, my only souvenirs were a few breakfast bowls that I bought at the Marrakech souk.
Where to buy ceramics in Morocco:
You should consider buying in a smaller shop outside the big cities, as the prices might be better. And also, you will probably directly support the person making them. One place famous for green ceramics is Tamegroute, on the way from Zagora to M'Hamid.
Fossils
You can find fossils in a lot of places in Morocco, but most of them come from near Erfoud in the south-east. One of the mountains there is a fossilised coral reef where you can even find sea stars if you are lucky.
You can find things like soap dishes, jewellery boxes and pendants for necklaces made from fossils.
Prices have a wide range, depending on the size of the fossil but also on the amount of work put into polishing them into their form.
Where to buy fossils in Morocco:
The area around Erfoud is where they are found and polished, so you can expect the best prices with money going to the maker, not the shop. But you can find them anywhere.
Scarves/Turbans
You can find the typical Moroccan scarves and turbans in dozens of colours and different lengths. The traditional ones are blue though, all other colours are basically made for the tourists. It's one of the few things I really have to stop myself from buying all the time, would love to have one in every colour. But one of my goals was to minimize, so that's not happening.
The price varies with length and should be around 50-80 DH. You can of course also find the scarves the women use to cover their hair. And in the more rural areas, the Berber women sell their traditional covers. The style of those varies by region, in Merzouga they are black with neon coloured embroidery.
Where to buy scarves/turbans in Morocco:
If you book a desert tour, you will probably receive a scarf to wear as a turban included in the price. If not, and you would like to buy one, you can find them anywhere in the country. But, they are traditionally worn in the desert, so the best place to buy one is in Merzouga or Zagora/M'Hamid.
Blankets
I love the thick Moroccan wool blankets. But it is really hard to find nice ones these days, as the Moroccans tend to buy polyester blankets, so that is what's being sold everywhere. I saw a really nice camel wool one in Fez in the souk, but as that was on the second day of my trip there was no way I would buy one. After I moved to Merzouga I really wanted one though, as the winters here get cold.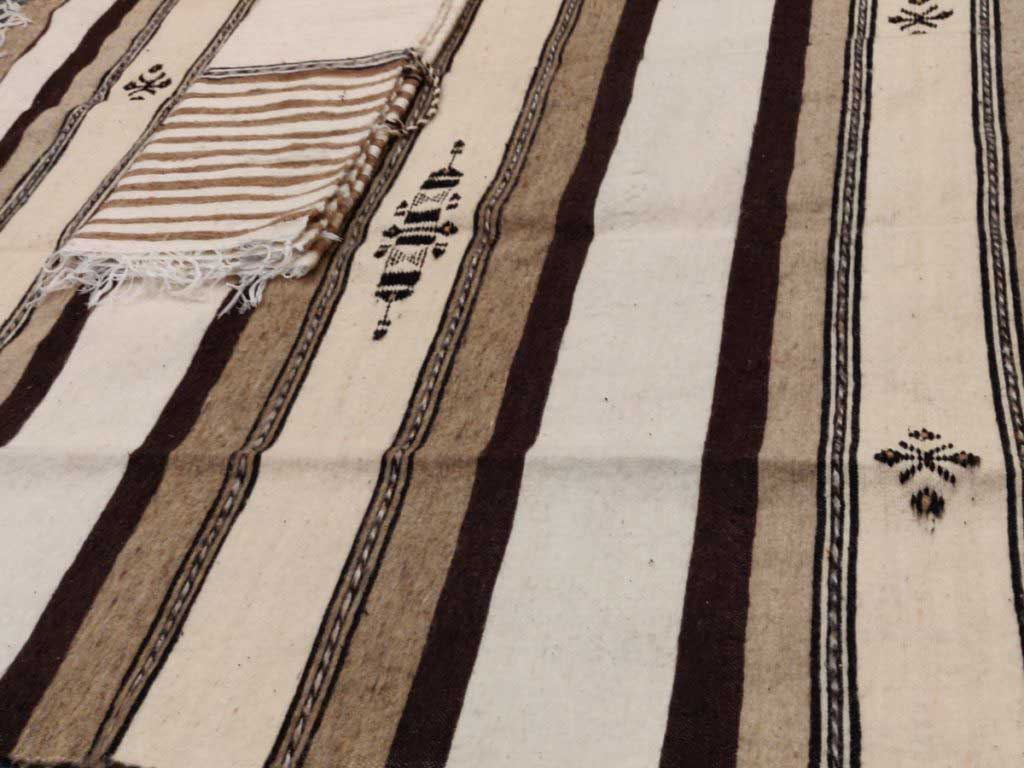 I ended up buying one in Ouezzane on the way from Meknes to Chefchaouen, in a small shop in the medina. It is hand-made from sheep wool and I still have some cleaning to do, there is some grass stuck between the wool. But I got it for a good price, it is very warm and I love it.
Of course, you can find other kinds of blankets and bed covers in a lot of places. The prices vary as much as the styles.
Where to buy blankets in Morocco:
Pretty much anywhere. Just make sure you check the quality of the material before settling on a price.
Dresses and Jellabas
Moroccan women like to dress colourful! So you can find dresses and kaftans in different styles and colours pretty much everywhere. But, most of it will not fit in at home, so make sure you buy something you will actually wear when you get there. My summer favourites are the thin and light coloured kaftans with either prints or embroidery. They are perfect for a day at the beach and mostly wide enough to allow you to change into your bikini inside them.
I was gifted a very nice traditional dress that is a bit warmer and I can't wait for the next occasion (like a wedding) to finally wear it.
I also bought a Jellaba for the cold winter evenings, but this is something I personally would not wear at home. But, if you think it's your thing, go for it. They come in different qualities, the lighter ones are usually made from synthetics while the heavier ones are made from wool. Colours range from grey to beige/brown to green and prices vary with quality.
Where to buy clothes in Morocco:
Pretty much anywhere, smaller towns usually offer better prices though.
Argan oil /Amlou
The Argan tree can only be found in a small area in Morocco, making the Argan products a unique Moroccan souvenir. The oil can be found in two varieties, for eating and for cosmetic purposes.
The food version is much more expensive, but oh so good! I use it for salad dressings and in Amlou. Amlou is a mix of ground almonds, honey and Argan oil. It is just the best with fresh warm bread for breakfast.
The cosmetic one can be found for anything really, skin and hair care, soap and shampoo, etc.
Where to buy Argan products in Morocco:
The best places to buy (equalling the best price and quality) Argan products are between Essaouira and Agadir, where the Argan trees grow. Try to find small local cooperatives where the oil is made on location for a fair deal. Cosmetic products you can really buy in lots of small shops, look out for a herbist/herborist sign.
Leather
Leather tanneries in Morocco have become very famous through Instagram, especially the ones in Fez. This has led to the leather shops now being frequented more for photos than for shopping. So, don't be surprised if they ask you for money when entering the shop. Just tell them you genuinely want to buy something and I'm sure they will let you enter for free.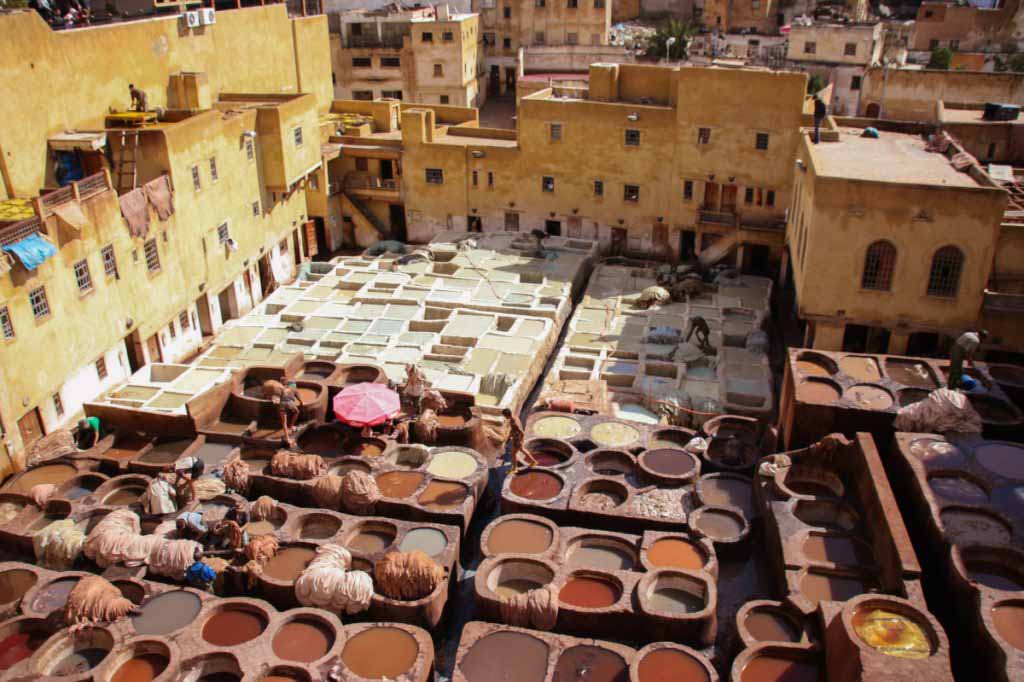 That said, it is still a good place to buy leather shoes, jackets, bags and more. Quality of course varies, you can find everything from camel to calf leather. The colours are all made from natural ingredients, e.g. bright yellow is made from saffron (or I suspect sometimes from turmeric).
Where to buy leather products in Morocco:
As the major tanneries are in Fez and Marrakech, that is where you will find the biggest choice. I also saw really nice leather works in Essaouira, and I am sure prices will be better there.
Spices and dates
Probably the most popular thing to buy in Morocco are spices. They come in every form and colour, and sometimes even in fake version. This is especially true for saffron, so make sure you really check the quality (as in feel and taste it) before you buy. The best ones you will find in the un-touristy places where the locals shop. You can ask for most things to be freshly ground if you are unsure how long a pile has been standing in the sun.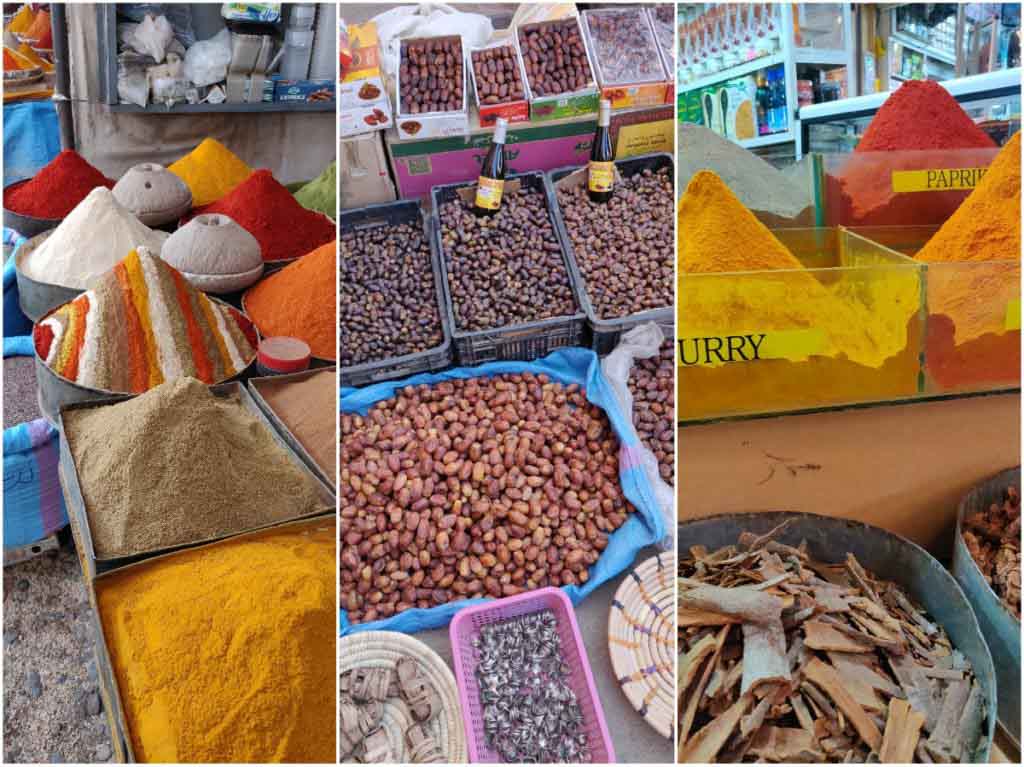 Dates are another great thing to buy in Morocco, as they grow plentiful in the big valleys. The season for fresh dates starts in October, but you can buy dried ones all year round.
Where to buy spices and dates in Morocco:
Spices can of course be found everywhere, as the locals also buy these on a very regular basis. The best places for dates are close to where they grow. Erfoud holds a date festival every year in October.
So I hope this guide to buying souvenirs in Morocco will help you to find the right things to take home. If you have questions, leave a comment or send me a message on Facebook or Instagram!
Did my blog help you?
Maybe you want to thank me by inviting me for a coffee!