I have been fascinated by the deserts of this world for a long time (I even live in one now), so the Wadi Rum desert in Jordan was at the top of my list for my trip to this amazing country.
And since I was in Jordan for 3 weeks, I planned 5 days in Wadi Rum to see and experience as much as possible.
And I didn't regret it! I hiked up two mountains, rode a camel for half a day and took a jeep tour to the most popular sights in Wadi Rum.
Most tourists only stay one night in Wadi Rum, but that doesn't do this UNESCO World Heritage Site justice. There is really a lot to discover and the only thing that bothered me after a few days was the same dinner every night in the camp. It's very tasty, but a bit repetitive.
You've probably seen Wadi Rum before, in one of the many movies that have been shot here. The classic "Lawrence of Arabia", "The Martian – Saving Mark Watney" and "Alladin" are just a few of them.
What is Wadi Rum
Wadi is generally a word for river beds that only carry water for part of the year, or even less frequently. The Wadi Rum is not a classic wadi, it is much too big for that. It measures about 100 x 60 km and is full of the famous red rock formations. The highest mountain in Jordan, Jebel Um Ad-Dami (1832m), is located in Wadi Rum, which is about 800m above sea level.
Where is Wadi Rum
The Wadi Rum desert is located in the south of Jordan, about 70 km from Aqaba.
How to get to Wadi Rum
You can either rent a car and drive yourself to the entrance of Wadi Rum, take a bus, or book a driver or tour.
From Amman it takes about 4 hours by car, if you take the rather monotonous Desert Highway. If you take the much nicer Kings Highway, however, it takes about 7 hours. This is only worthwhile if you make a few stops and spread the journey over several days.
Taxis from Amman to Wadi Rum are relatively expensive, so it is worth getting up early and taking the bus from Amman instead.
You can also get from Petra to Wadi Rum by bus, as well as from Aqaba.
Or you can book a tour to Wadi Rum from Amman, although this is only really worthwhile for very short tours in combination with Petra, for example.
Tour Tip:
I would strongly advise to book your camp in advance, otherwise you are likely to be a target of scammers at the visitor center or the Roadhouse.
Once you arrive, you will be met at the Roadhouse by a camp staff member. You have to leave the rental car here and continue with a 4×4. Even though the car park is supervised, I would not leave any valuables in the car.
How much is the entrance fee to Wadi Rum?
Entrance to Wadi Rum costs 5 JD and is included in the Jordan Pass. If you don't have a Jordan Pass, be sure to stop at the Wadi Rum Visitor Centre and buy a ticket before continuing to the Roadhouse.
Things to do in Wadi Rum
Jeep tour in Wadi Rum
It is hard to avoid a jeep tour in Wadi Rum. It is the only way to see more than the immediate surroundings of the camp. I arrived at the Roadhouse in the morning and started my stay with the jeep tour.
You'll sit on benches in the back, in the open air but covered with a sun-roof and, depending on the guide's driving style, you'll get a good shake. Since you will get a lot of sun, you should wear long-sleeved clothes and put on sun lotion beforehand.
Unfortunately, my driver could hardly speak English, so I may not have received or at least understood important information about the sights. That was a bit of a pity, and in future I would clarify this in advance. But otherwise, he really tried to show me the good stuff and made me a super tasty lunch halfway through the tour.
We visited the following sights on the jeep tour of Wadi Rum:
Lawrence House
The Lawrence House is rather unspectacular in itself, supposedly it was built by Lawrence of Arabia during the war. It is the remains of a very simple stone house. However, the rock next to it is very cool, because you can climb it relatively easily and then have a fantastic view of the valley.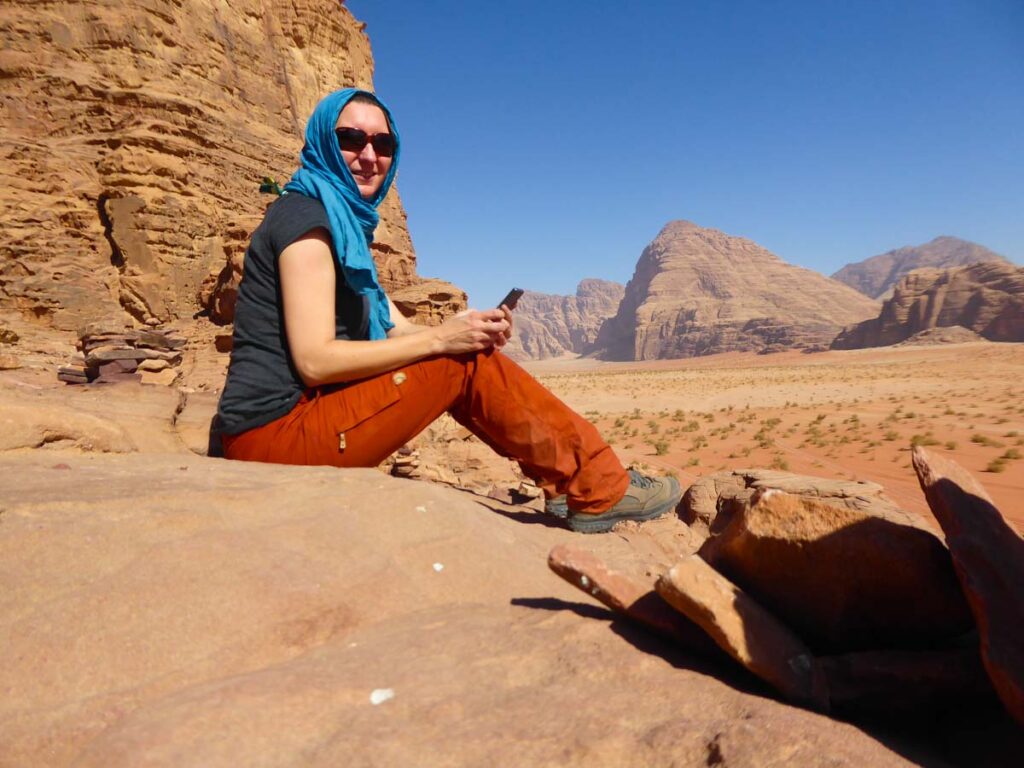 Lawrence Spring
I only saw the Lawrence Spring from a distance, as you would have had to climb up a mountain slope through a lot of loose rocks. After the days in Petra with the endless stairs, I just couldn't get myself to climb up there only to see a trickle of water coming out of the rock. There was a nomad tent set up below the spring though and I got some delicious tea, which was nice.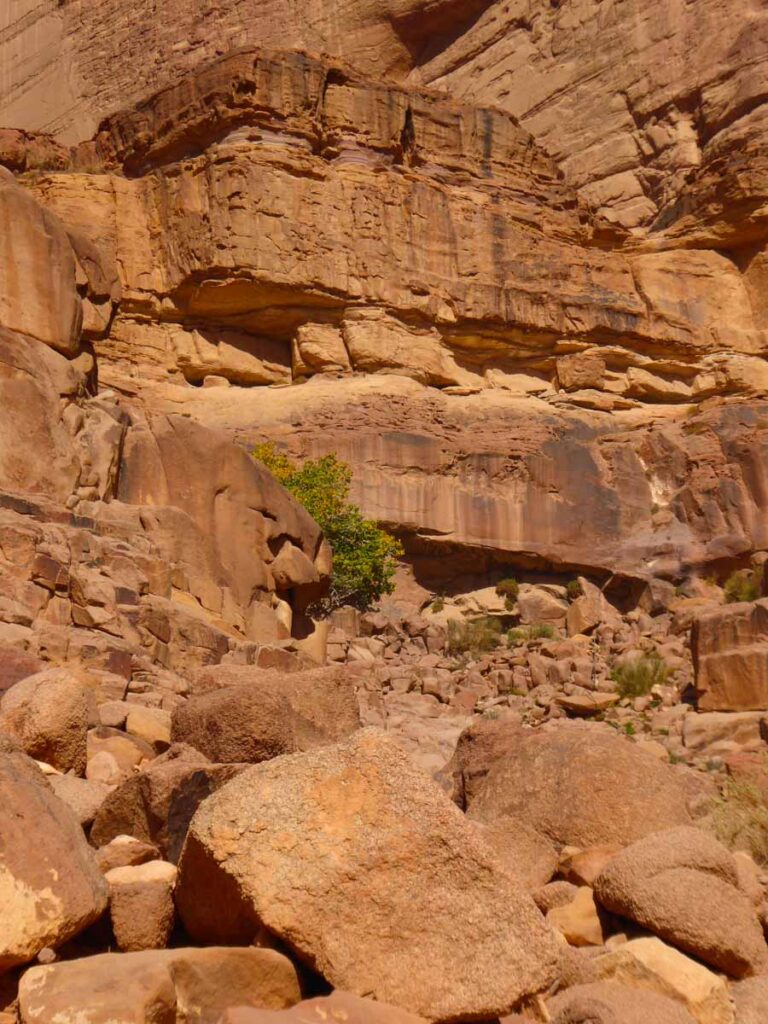 Petroglyphs
We also stopped at a wall with petroglyphs. There are several of them, unfortunately I have no idea which one I was at. But it was quite impressive, and probably a sign that Wadi Rum has not always been as dry as it is now.
Rock bridge
Another stop was the Um Fruth rock bridge. I didn't climb up here either, but it was a nice stop for photos. There was also another, smaller rock bridge, it was extremely busy, apparently all the tours stop there at the same time. Everywhere else I was relatively alone.
Red Dunes
Having been to the Rub Al Khali desert in Oman the year before, I didn't find these dunes particularly impressive. But if you've never been to a desert before, it's a great stop. You can also sandboard here if the driver has a board in the car.
Canyon
The most beautiful stop was at a canyon, which I crossed and was picked up by the driver on the other side. It was pleasantly shady, there was a lot of green, small bushes and a few trees. And you had to climb over and under rocks stuck in the canyon here and there. Maybe it was the Abu Khashaba Canyon, but I'm not quite sure.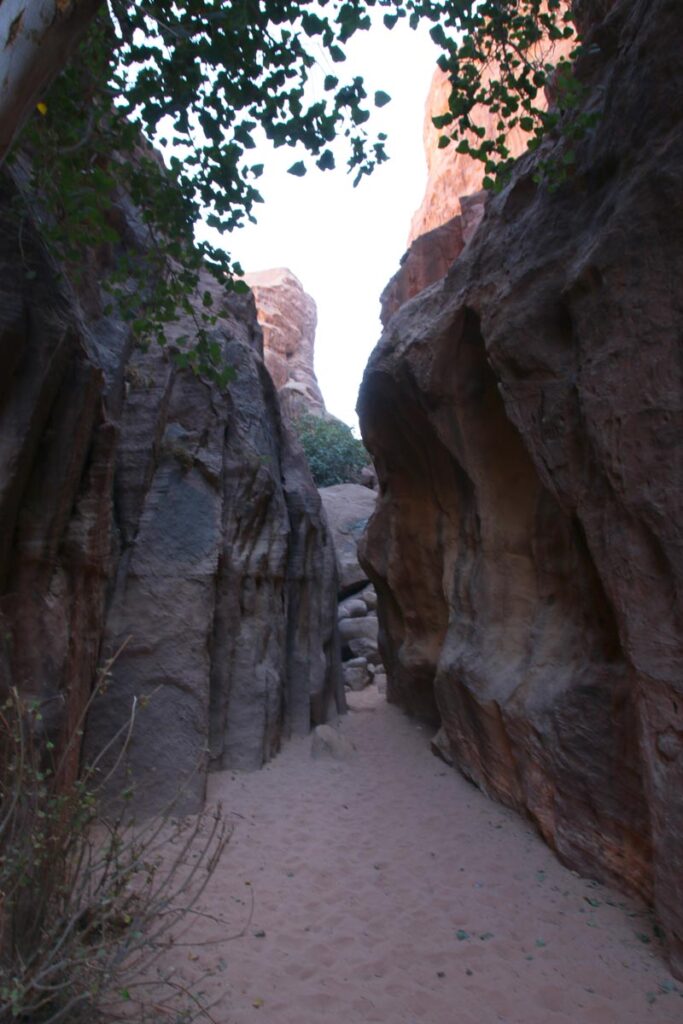 Mushroom Rock
Another quick photo stop is Mushroom Rock, a rock formation looking, surprise surprise, like a mushroom. When I was there, there was a sea of pink flowers all around it.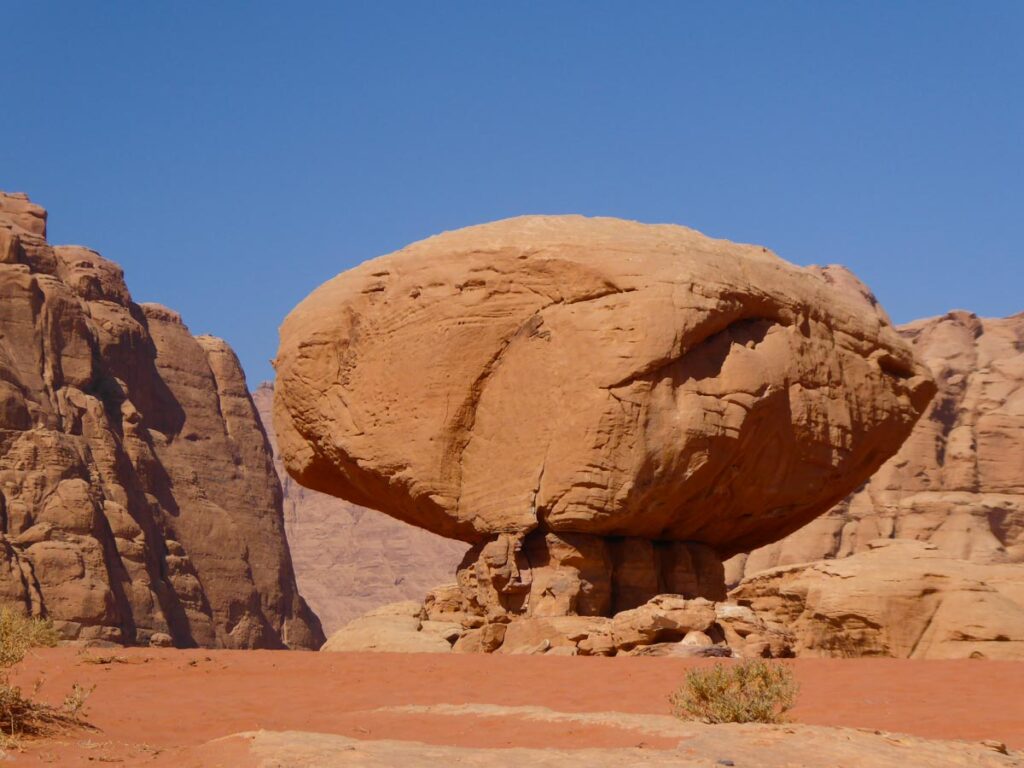 Camel ride
I think a camel ride is a must on a trip to the desert. Especially if the camels belong to nomads or Bedouins and are well looked after. Here in Wadi Rum, camels are still part of everyday life.
Most camps offer one or two hour camel rides, sometimes in the morning as transport back to the Roadhouse. Depending on how far the camp is from the village, the ride may be longer or shorter.
I booked a half-day ride (6 hours in total) because I know I like riding camels. Of course, it wasn't 6 hours on the camel, there were also many breaks. Tea, lunch, climbing rocks, seeing a few small sights.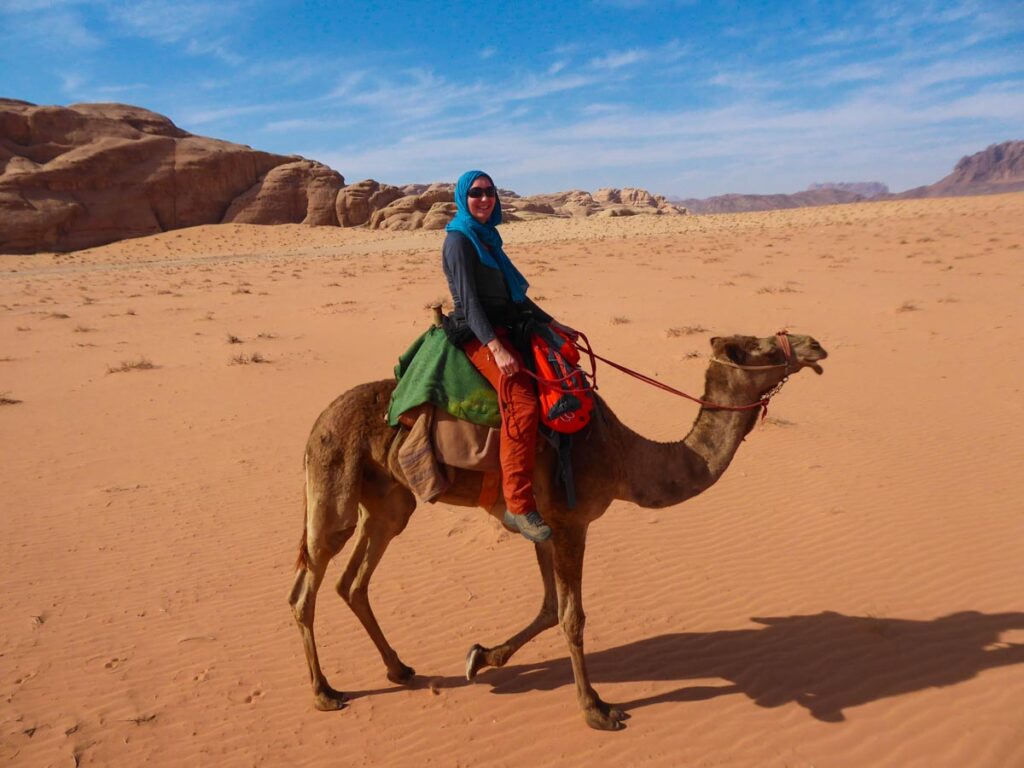 And I was allowed to ride my camel alone on the reins, not tied behind the guide. He was a young Bedouin who knew a little English and with whom I really had fun. Towards the end I persuaded him to gallop a short distance, I always wanted to try that on a camel. And the saddles there are quite suitable for that. It was really fun and more relaxed than I would have thought. However, the camp owner turned a bit pale when I told him about it later.
Sunset watching
I am firmly convinced that the most beautiful sunsets are those in the desert! And here in Wadi Rum I was not disappointed. The colours were simply a dream and I sat on the rock behind the camp and took photos and enjoyed the great atmosphere.
Stargazing in Wadi Rum at night
One of the best activities in Wadi Rum at night is of course stargazing. The air is so dry and clear, it is rarely cloudy and the nearest town is far enough away. Fans of astrophotography will also get their money's worth here.
If you value good stargazing conditions, you should take the moon phases into account when planning your trip. The week before and the days after the new moon are best. And if it suits you, you can also try to catch the meteroid showers in August for the Perseids or in December for the Geminids.
Bedouin dinner from the sand
I've only been to one camp, but from what I've heard, dinner is about the same in all the camps. There is a hole in the ground where a fire is built. When the embers are really hot, a kind of etagere with chicken, vegetables and potatoes is lowered down. Then the whole thing is covered with a metal plate and sand poured over it.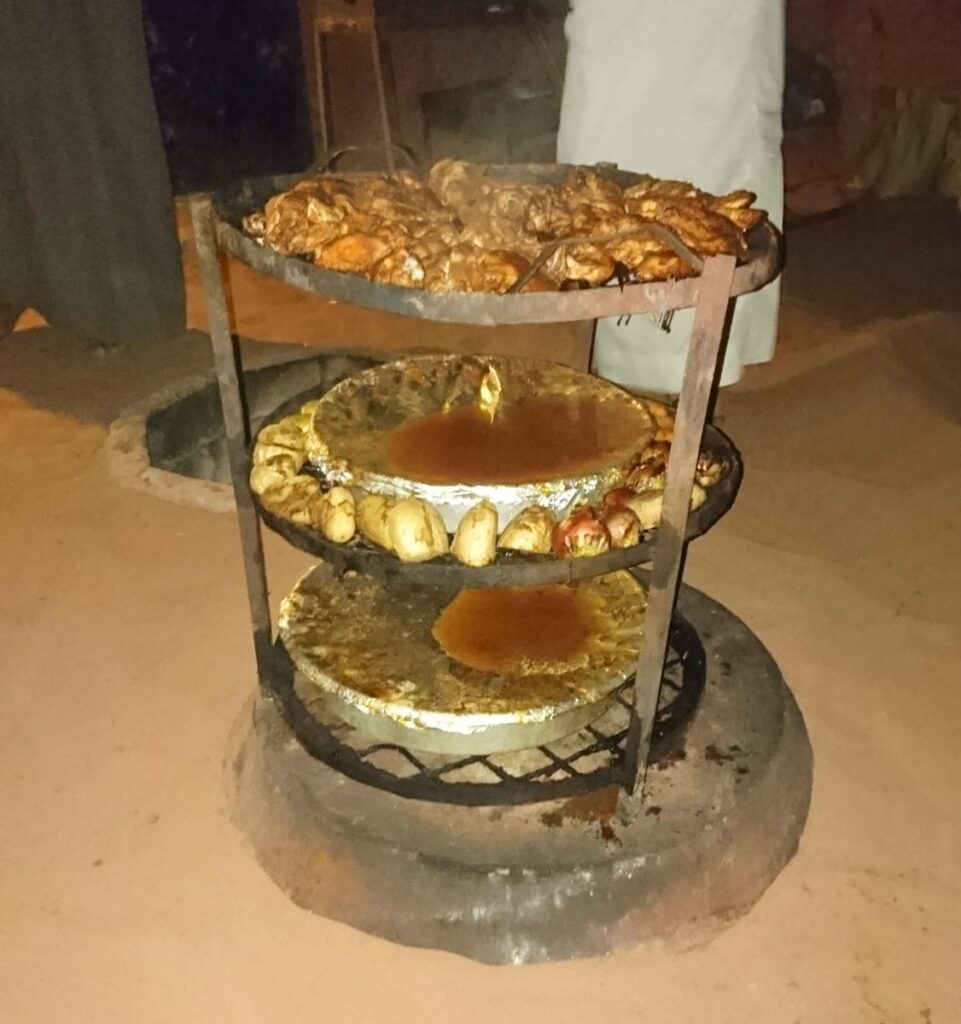 A few hours later, the hole is opened again (filmed by all the tourists) and the food is conjured up. And yes, it was the same every night. But it was also very tasty every night. In addition, there were some salads, hummus and bread.
Hiking in Wadi Rum
You can do very nice hiking tours in Wadi Rum. I booked 2 tours and this time I also asked for a good English speaking guide beforehand. I wanted to be able to talk to someone when I was already spending 5-6 hours with them.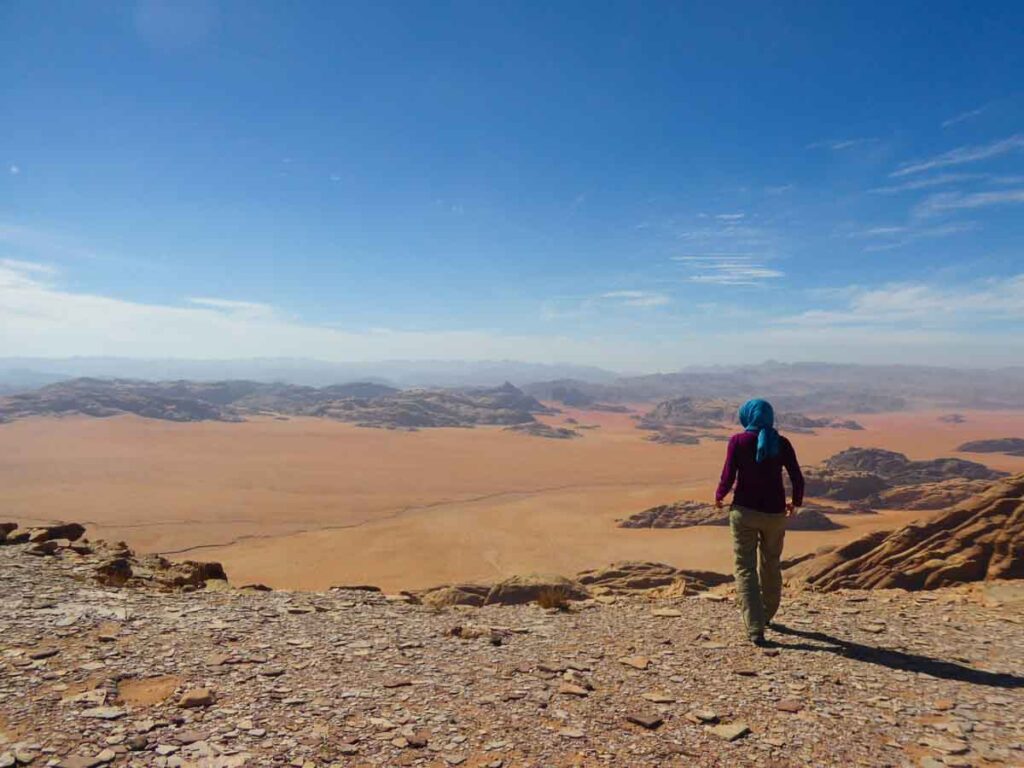 And Rashid, the guide who accompanied me, was absolutely worth his weight in gold. Funny, entertaining, knew his way around and motivated me to climb even the steepest passages.
Hike up Jebel al Hash
The first tour was up Jebel al Hash and was also the nicer and easier of the two hikes. You walk up the mountain from the back, steadily uphill but never very steep. There was a lot to see, lots of flowers and herbs, Rashid picked wild thyme for our tea at the top.
From there you had an absolutely breathtaking view of the valley and neighbouring Saudi Arabia. You are only a few kilometres from the border here.
On the way back, when we arrived back at the car, we were surrounded by a huge herd of camels. Unfortunately, they all ran away from us, which was not so nice for the camel herder. As it turned out, he was a friend of Rashid. And we helped him round up all the camels again. And then he let me test ride his riding camel.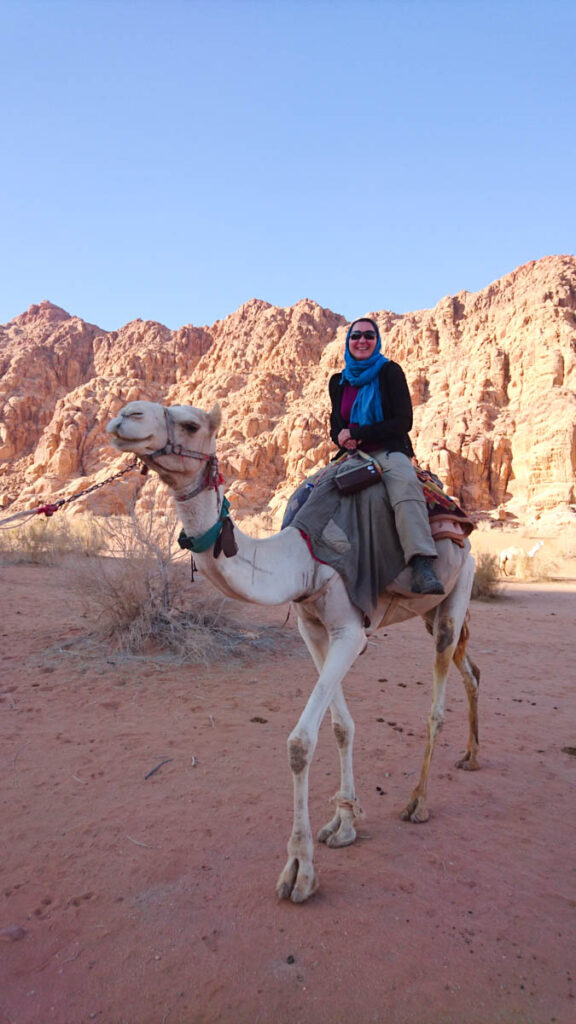 Hike up Jebel Um Ad Dami
My second hike in Wadi Rum was up the highest mountain in Jordan, Jebel Um Ad Dami. I don't know if there is only one way up, but the one we took was very steep and over lots of scree. It was super exhausting. However, it didn't take very long overall to get to the top. Unfortunately, the air was not very clear and we could not see all the way to the Red Sea.
On the summit, we met a group of hikers, the first time I saw other tourists away from the camp and jeep tour.
If you want to do a hike and don't necessarily want to climb the highest mountain, then I recommend the hike up Jebel al Hash. That was definitely the nicer tour and the view from the top was more interesting too.
Hike to the Burdah Rock Bridge
I didn't do this hike myself, but it is offered by many camps and is said to be very beautiful.
Horse Riding in the footsteps of Lawrence of Arabia
There are also some providers of horseback riding tours in Wadi Rum. But I decided against it, I preferred camel riding. I did see a few groups of riders on the way from a distance though, and the energetic Arabian horses looked like fun.
Hot air ballooning
Hot air ballooning was actually high on my list for Wadi Rum. But it's very expensive on your own and unfortunately, no one else in camp was interested. The pictures I saw on Instagram and on the internet looked great. So, if you're travelling with more people, you might want to book a balloon ride through your camp. I bet it's worth it!
How is the weather in Wadi rum
The weather in Wadi Rum is, as usual in a desert, very dry and usually warm or hot. Even at the end of November, when I was there, it was T-shirt weather during the day. However, it gets very cold at night, so you should at least have a warm fleece jacket to wear.
In the summer months, it is too hot during the day to do much exercise, so the longer walks are not recommended then.
The highest chance of rain is in January, and even if you miss the spectacular sunsets then, it is still an experience.
So, the best time to visit Wadi Rum (and the whole of Jordan) is in spring and autumn.
How long should you stay in Wadi Rum?
How long to travel to Wadi Rum depends, of course, very much on individual preferences and the overall length of the Jordan holiday. Most tourists stay only one night, and that is really too short in my opinion. It should be at least 2 full days with 2-3 nights. There is so much to experience that you will not regret it!
Where to stay in Wadi Rum
To answer this, you have to make a few basic decisions. Luxury vs. authenticity, relaxation vs. lots of action, proximity to the Village vs. peace and quiet.
Camping in the wadi rum
There are over 100 camps in Wadi Rum, ranging from simple Bedouin tents with shared bathrooms to luxury tents with air conditioning and hot showers. Personally, I think that such "luxury" is absolutely unnecessary in the desert and also not very environmentally friendly. But everyone has to check their own conscience for that decision.
In general, the further away the camp is from Wadi Rum Village, the quieter and more isolated it is. Especially if you want to do some hiking, a location in the south of Wadi Rum is advantageous, as driving distances are shorter.
Camps in Wadi Rum
I spent the night here:
Other camps that were on my shortlist:
You can find more camps on the map here:
What to wear in Wadi Rum
In general, long clothing made of thin fabrics, in the colder months many layers, so that you are prepared for all eventualities. And I recommend hiking boots, as they are the best way to walk in the sand. And if you want to hike up one of the mountains, hiking boots are a must, even if the local guides like to hop over the rocks in flip-flops.
What to pack for Wadi Rum
Sunscreen and a head covering against the sun. Also, enough batteries for all electronic devices, there is no reliable electricity in the camps. Maybe also take a headlamp in case you have to go to the toilet in the dark. And you have to pay for everything on-site with cash, but there is no ATM in Wadi Rum Village. So be sure to get money in Amman, Petra or Aqaba.
And of course, a daypack for the excursions, camera, mobile phone, water and some snacks.
Please note that some of the links above are affiliate links and, at no additional cost to you, I earn a small commission if you make a purchase. That income goes to supporting this website and keeping it free for you and everyone else!