Petra is certainly the highlight of any trip to Jordan. To help you prepare for your visit, I have put together some tips and information for visiting the lost city of Petra.
I was there for 3 full days and still haven't seen everything. But if you don't have much time, you can see the main attractions in one day. It will be a bit exhausting, though, as the distances are relatively long, and you will have to walk a lot of stairs.
For a detailed description of the best hikes in Petra, check out this article.
Introduction to Petra
The first time I saw Petra, was in my dad's book about the wonders of the world. This was years before I saw the Indiana Jones movie. And ever since, I have been wanting to visit. In my opinion the only way to visit is on foot, there is so much to explore and riding through on camels or donkeys will make you miss the details that only become visible at slow speed.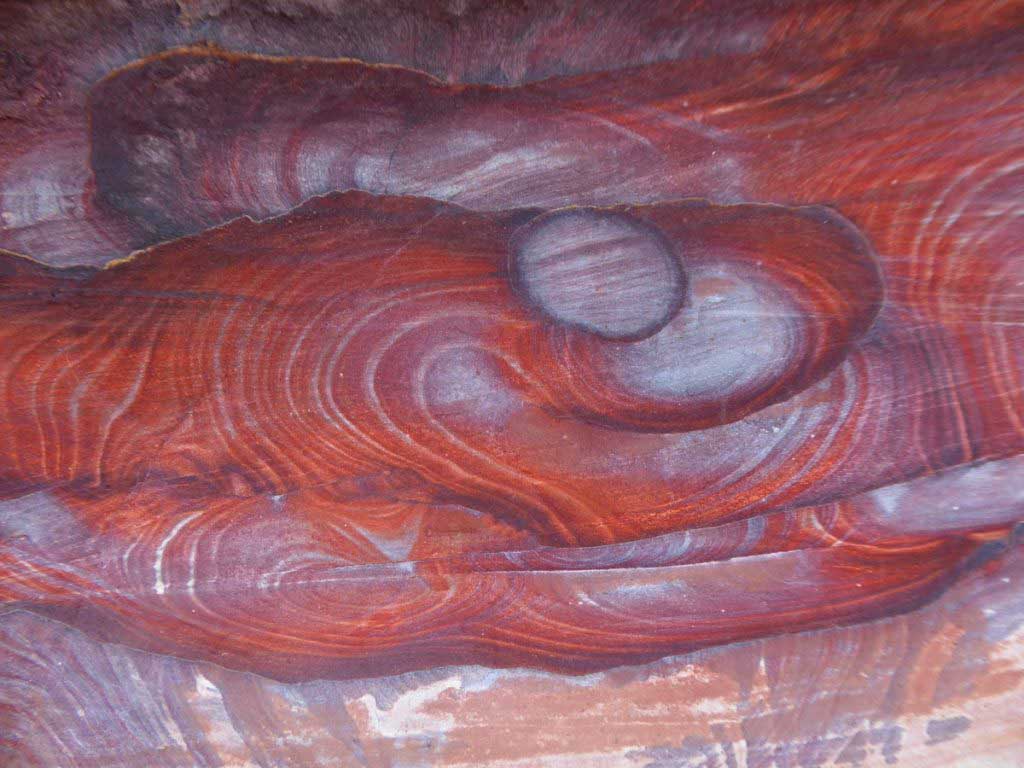 Petra, the lost city, was built by the Nabateans sometimes around 300 BC. At the height of the empire around 100 AD, Petra counted around 20.000 inhabitants. Most likely they lived in tents or other non-permanent structures, as the facades that Petra is famous for, are not houses but tombs.
Most of the city was destroyed in an earthquake in 363 AD and is still buried under rubble and dirt. It was rediscovered in 1812 and has awed people ever since.
In 2007, Petra has been voted one of the 7 "new wonders of the world", which has significantly increased its popularity with tourists. The city has been a UNESCO World Heritage Site since 1985.
Book tip: A great book that gives many insights into the world of Petra is "Married to a Bedouin" by Marguerite van Geldermalsen. She moved from New Zealand to Petra in 1979 and lived there for many years with her husband and children in one of the caves. Unfortunately, I only found the book at the airport on my return flight. After reading it, I now definitely want to go to Petra again to discover it once more with different eyes.
How much time is needed to visit Petra?
This is a difficult question to answer, as it depends on your travel style. Many people come just for a day tour, but in my opinion, you need at least 2 full days to really experience this magical place. I spent 3 days here and still haven't seen everything.
Also, the price difference for the second and third day is very small.
Tip 1: Plan more time than you think. The distances are long, and you might need some breaks, depending on the weather.
What is the best time to visit? What is the weather like in Petra?
The best time to visit Petra, and Jordan in general, is between September and May. In winter it can get quite cold in Petra due to its altitude of around 800m. In addition, heavy rains can occur at any time between December and March. Petra might be closed on short notice, as there is a risk of dangerous flash floods. In summer it is very hot, and you won't have much fun climbing the many stairs.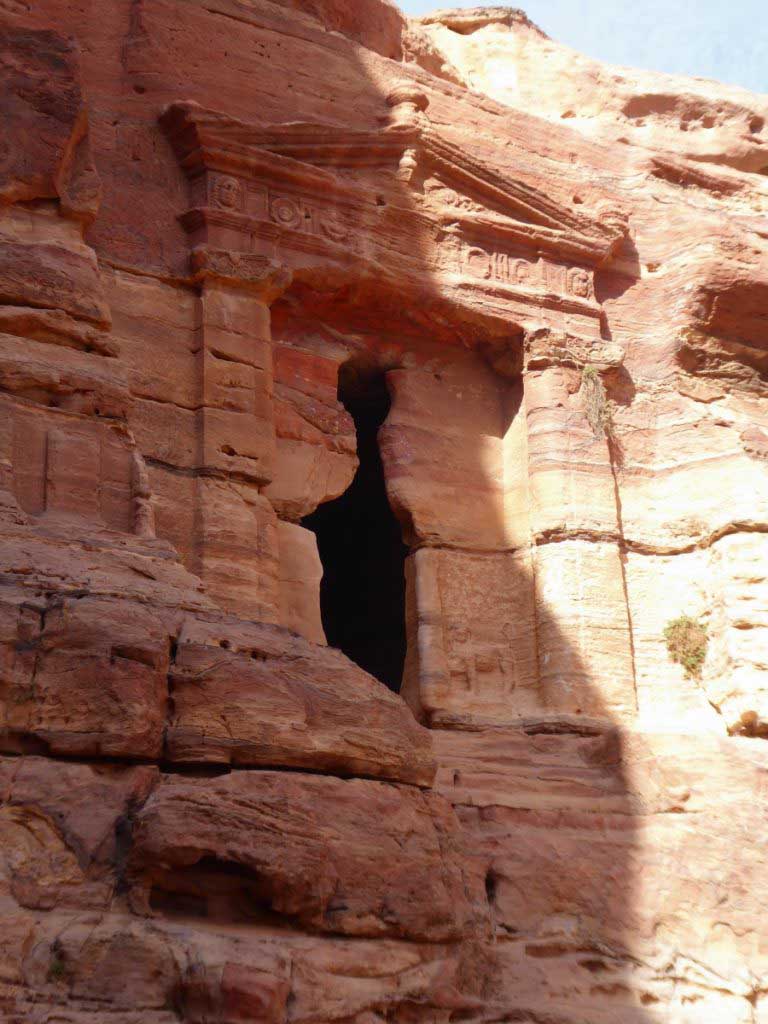 Tip 2: Be sure to bring enough sunscreen, even in winter.
How to get to Petra from Amman or Aqaba?
There are buses once a day from Amman and Aqaba to Wadi Musa, the small town just outside the entrance to Petra. You can also take a taxi from pretty much anywhere in Jordan to get there. I paid about 85€ for a taxi from the Dead Sea to Petra (4 hours drive), just to give you an idea.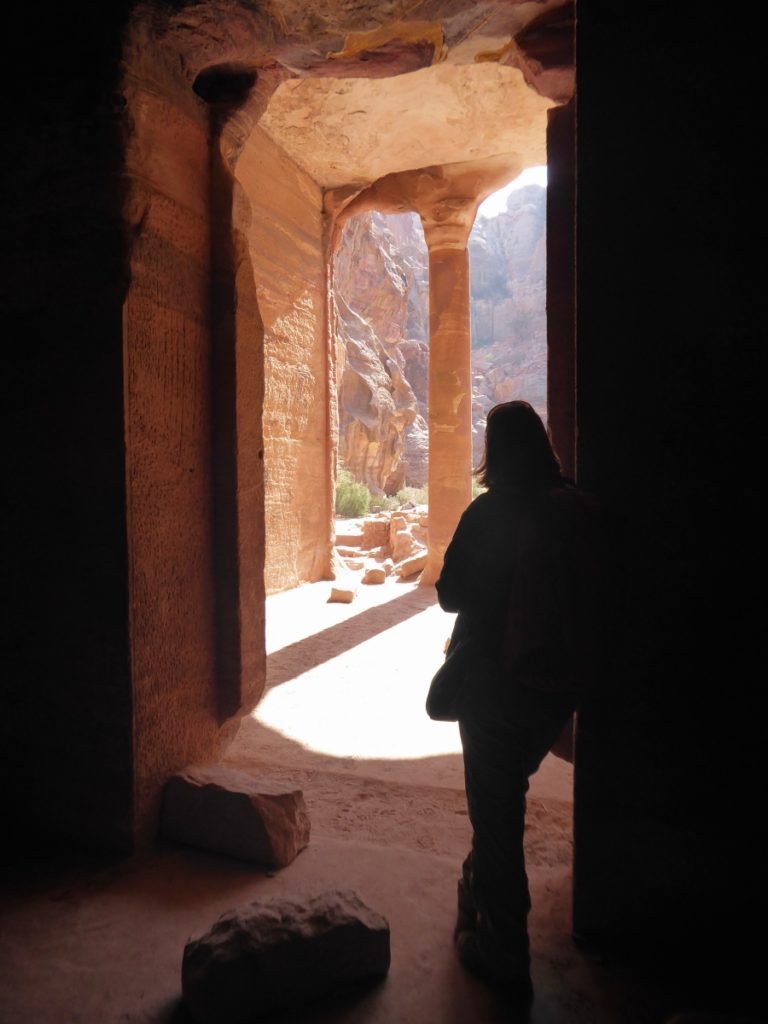 Of course, you can also hike the Jordan Trail from the north or south to Petra, but since I haven't done that yet, I can't say anything about the details.
Tip 3: In Wadi Musa, choose a hotel as close to the visitor centre as possible, you will still walk enough.
How much is the entrance fee to visit Petra?
The price for a day ticket is 50 JD, 2 days 55 JD and 3 days 60 JD (as of February 2021). However, if you travel to Jordan for one day only without staying overnight, it costs 90 JD.
Petra by night is not included in the day ticket or Jordan Pass and costs 17 JD.
Click here to find the official information.
Tip 4: Buy the Jordan Pass before you leave. It includes the entry fee to over 40 sites throughout Jordan and the visa fee. You can save money just by visiting Petra!
What are the opening hours of Petra?
In summer from 6am to 6pm and in winter from 6am to 4pm.
Tip 5: Get up early! Then you'll likely have the Siq and the Treasury to yourself. The day tourists from Amman start arriving at 8am.
What should I wear when visiting Petra?
Even if you don't want to do any major hiking/trekking, long clothing is still appropriate. You want to show some respect for the local culture, and it is also protection from the sun. So, no hot pants, tank tops, miniskirts, etc. And it's recommended to wear a sun hat or similar.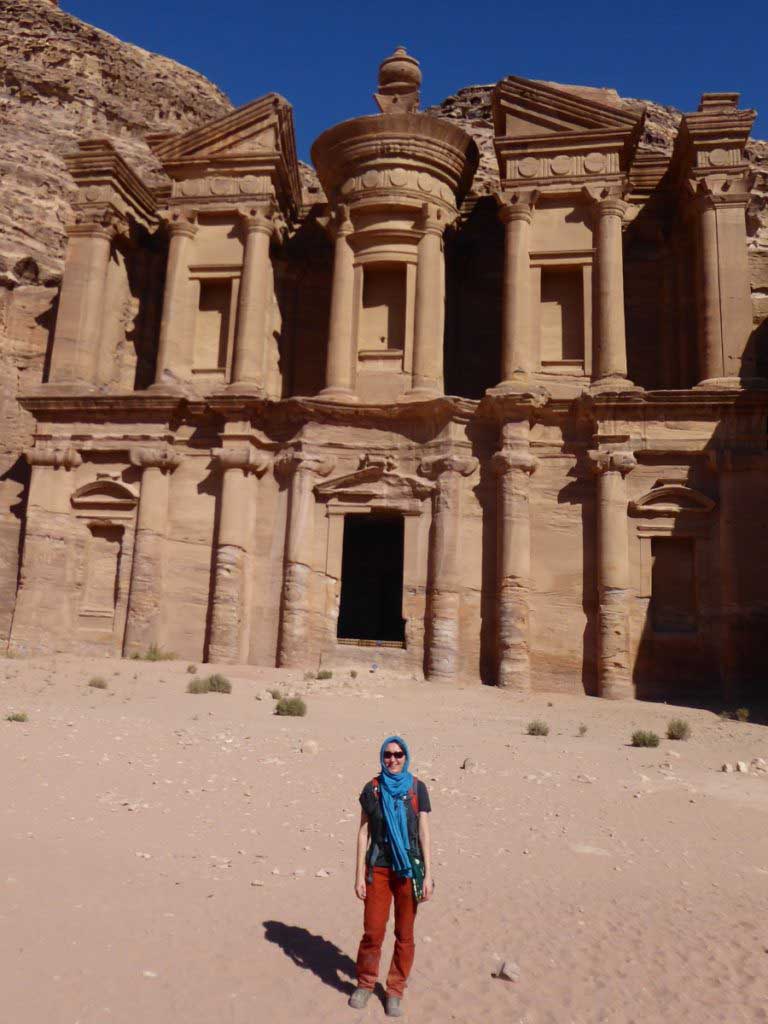 Tip 6: Wear hiking or trekking shoes if you want to explore Petra. Some of the walking trails are quite steep, with lots of stairs and gravel, and you want to avoid injury as the nearest good medical centre is in Amman.
Do you need provisions if you want to go hiking in Petra?
It is definitely a good idea to take some water with you. Of course, there are people along the way who will sell you tea or coke. And even some places that offer freshly squeezed pomegranate juice (my favourite!). There are also some restaurants for lunch or a snack, but the prices are disproportionately high. You do need the energy though, so possibly pack snacks.
Tip 7: Definitely pack 2 litres of water, you never know what will happen. And a few nuts or energy bars.
Do I have to book a tour guide or a tour for Petra?
No, definitely not! I went alone and always met people at the beginning of the routes to hike and spend the day together. Most of the time the routes are clearly marked so you can't get lost. I also enjoy walking at my own pace, so I wouldn't want to join a tour group. But that is, of course, entirely up to you.
However, there are some more difficult trails, without good signposting. For those, you should hire a guide.
Tip 8: If you are travelling alone, it is best to tell the hotel which route you will be taking. Just in case…
How accessible is Petra? Can you also visit Petra if you have limited fitness or mobility?
Yes and no. You can get through the Siq, to the treasury and to the theatre relatively easily, without stairs. After that it gets more difficult. Theoretically, it is possible to ride on horses, donkeys or camels for certain stages. But the animals are treated extremely badly. In addition, most of the paths are very steep and I personally would be afraid of falling off the donkey on the stairs. Of course, in case of injury, you can use the animals to transport you back.
I'm not sure, if you will be happy visiting with a wheelchair. It would need to be equipped for rough terrain and you need to be fit enough to go uphill a lot on the way back.
Tip 9: If you absolutely want to ride a part of the way, definitely negotiate the price beforehand. Even if it is officially included, the guides usually expect a large tip.
How safe is Petra?
I felt very safe in Petra! Of course, you should hide your valuables well, as everywhere where there are many tourists. You are often approached by children who want to sell you something. I always say no, they should go to school. The only thing I have heard is that some young guides try to invite women to spend the night in the caves. They seem to have clear ulterior motives.
Tip 10: As a woman travelling alone, wear a "wedding ring" and always mention that you are married.
The most important sights in Petra
Siq
The Siq is the narrow gorge that forms the entrance to the city of Petra. The surrounding cliffs are up to 180 m high and the Siq is about 1.2 km long in total. It was formed by a fault in the rock, probably in an earthquake.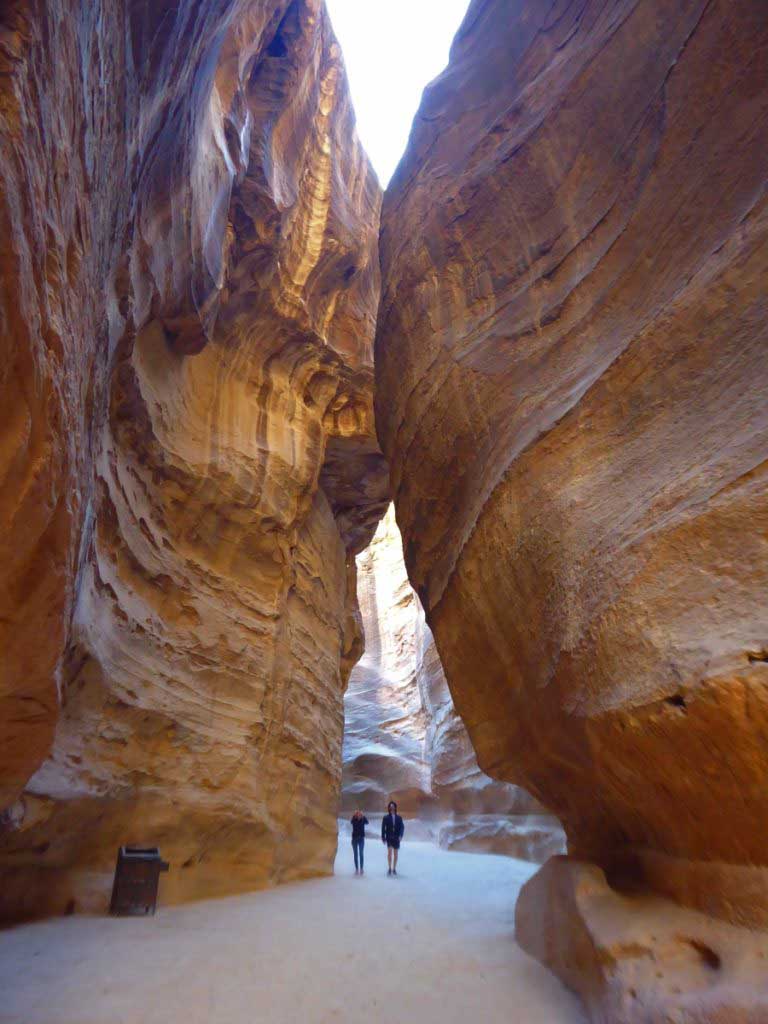 Treasury
At the end of the Siq you get your first glimpse of the Treasury, known from the movie Indiana Jones and the Last Crusade. The Treasury is probably the most famous of the tombs in Petra, but not the largest. The façade is typical Nabataean architecture, but also contains Roman and Greek elements.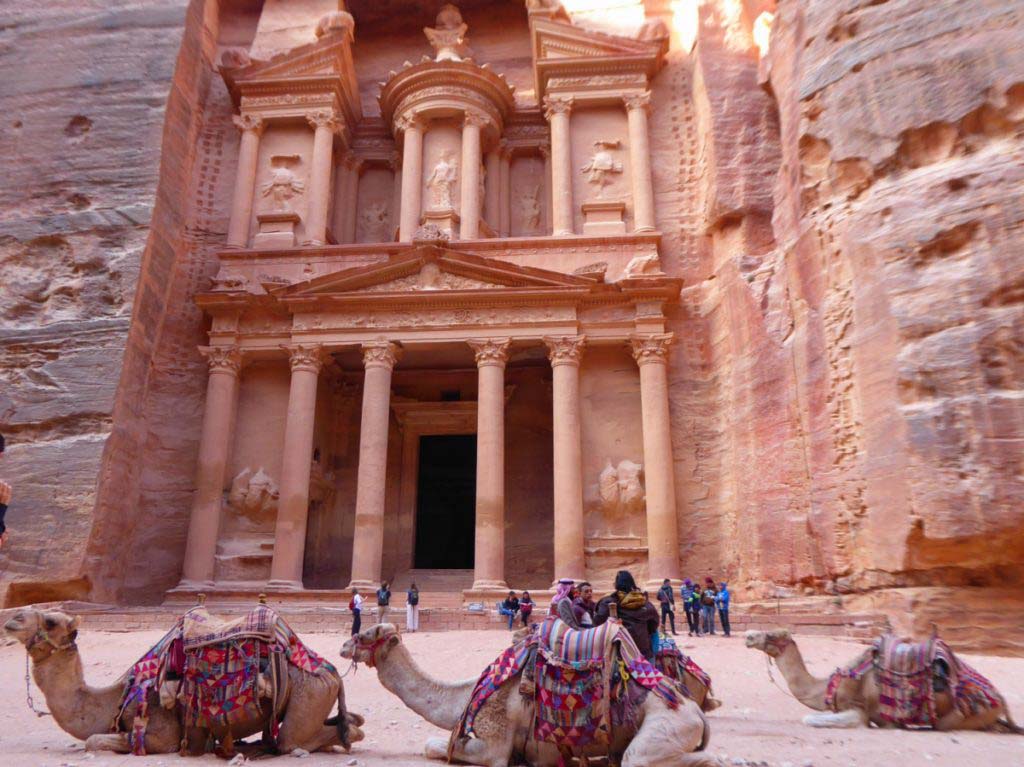 The Bedouins thought for a while that there were treasures hidden in the urn on the roof of the façade and tried to shoot holes into it. The traces of this are clearly visible.
Roman Theatre
Unlike most other Roman theatres in the world, this one is not built of stones, but carved into the rock. From here you have a great view of the street of facades.
Monastery (Ad Deir)
The Monastery is my favourite place in Petra. The way there is long and you have to climb over 700 steps. But the view of the Monastery is absolutely worth the effort. You can apparently also take a path through the mountains behind the Monastery, but I have no further information on that.
Ad Deir is the largest monument in Petra, and I think also the most beautiful.
Royal Tombs
The Royal Tombs are a series of tombs on the north side of the city. They are all very different and you should allow a little time to explore them all. My favourite is the Silk Tomb with its great colours on the façade.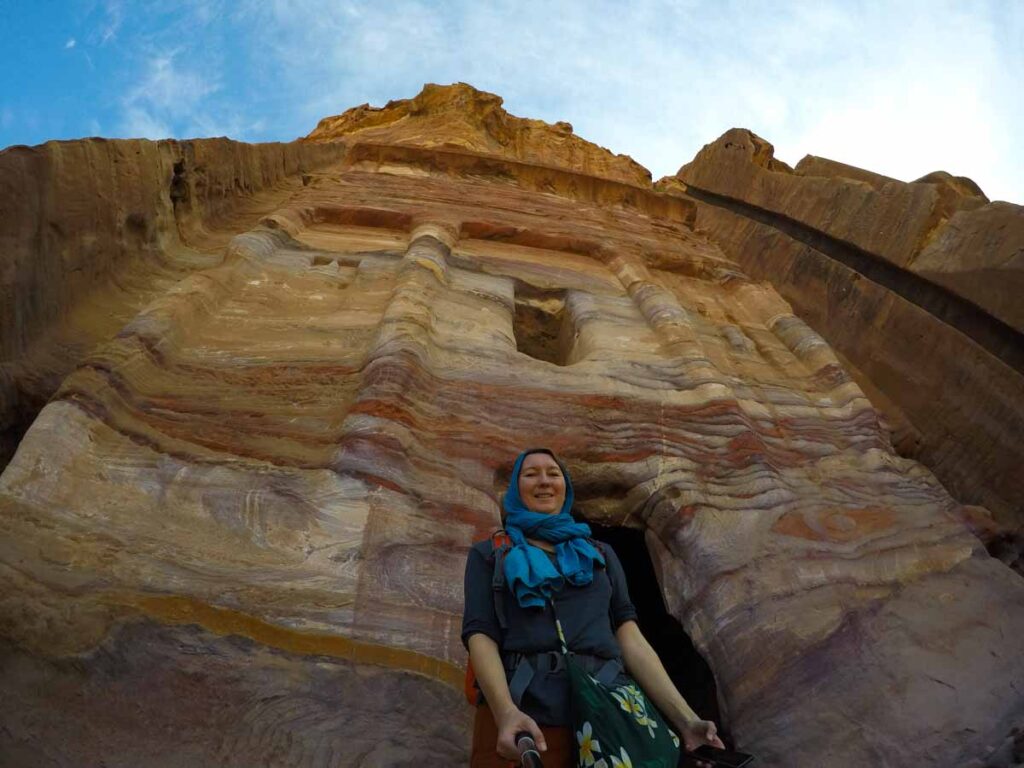 Roman ruins
At the lowest point of the valley, you will find a series of Roman ruins, temples, a theatre and lots of columns. Everything was destroyed by an earthquake, but you can still see a lot of the remains.
High Place of Sacrifice
The High Place of Sacrifice is marked by a sacrificial altar where you can still see the drainages for the blood. I hope only animals were sacrificed here. From the viewing platform a little lower down, you have a great view of the city and the facades.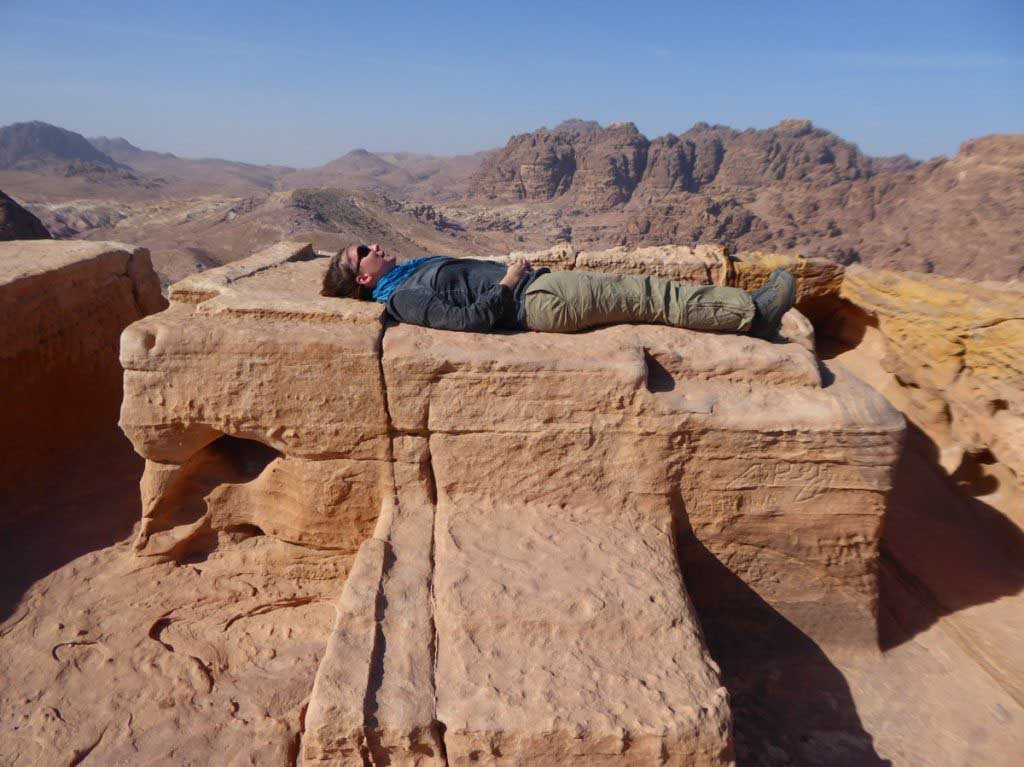 For details about the respective hiking trails, check out my article about hiking in Petra.
Can you visit Petra at night?
I really wanted to see Petra by night, even though I had read that it is too expensive and overrated. And yes, at 17 JD, it is costly, but it's one of those once in a lifetime experiences.
You walk down the Siq lit only by candles, which is already pretty special. Then you get to the Treasury, where the place in front is also lit with hundreds of candles, making it a magical setting. When everyone has found a seat, tea is passed around and the Bedouins will tell some stories and play traditional music. It is a very peaceful atmosphere and I enjoyed it very much. Also, you can take beautiful photos of the candle-lit Treasury, especially if you arrive early and find a good seat.
What I didn't like is that after the show they lit up the Treasury with bright colours, pink, blue, green, etc. It looks very wrong and sort of destroyed the mood for me.
You can read my detailed post on Petra by Night here.
Attention! Petra by Night happens only on Monday, Wednesday and Thursday.
Tip 11: It is best to plan a shorter hike for this day, as you have to walk the way to the Treasury and back again.
Hotels in Petra
Budget
The Petra Cabin Hostel has really good reviews on Booking.com, so it might be a good choice for budget travellers.
Mid-range
I stayed at the Candles Hotel, which has a perfect location. It is only a 3-minute walk from the visitor centre, which means after walking all day, you don't have to hike up the hill into Wadi Musa. The rooms are small but clean, the showers work well and breakfast and dinner are plenty, yummy and not too expensive.
Luxury
The best place, if budget is not an issue, is the Movenpick right opposite the visitor centre. They have nice views from the rooftop terrace, there is a pool, all rooms are air conditioned and they serve alcohol.
For some more luxury options, go check out Amanda's post about luxury accommodation in Petra and the rest of Jordan on Fly Stay Luxe.
Tip 12: There is an ATM in the Movenpick Hotel that is open to the public.
If you are looking for more information for your itinerary head over to my one-week itinerary, the best sightseeing in Jordan, or to my post on helpful tips for travelling Jordan.
Diese Artikel über Jordanien könntest du auch interessant finden:
Please note that some of the links above are affiliate links and, at no additional cost to you, I earn a small commission if you make a purchase. That income goes to supporting this website and keeping it free for you and everyone else!