You are going to Jordan for your holidays and want to spend a day or two in Petra? You are looking for information on when to go, how to get there and things to do in Petra? Well, you have come to the right place. I've spent 3 days exploring the lost city of Petra on my trip to Jordan and will tell you everything you need to know.
Introduction to Petra
The first time I saw Petra, was in my dad's book about the wonders of the world. This was years before I saw the Indiana Jones movie. And ever since, I have been wanting to visit. In my opinion the only way to visit is on foot, there is so much to explore and riding through on camels or donkeys will make you miss the details that only become visible at slow speed.
Petra, the lost city, was built by the Nabateans sometimes around 300 BC. At the height of the empire around 100 AD, Petra counted around 20.000 inhabitants. Most likely they lived in tents or other non-permanent structures, as the facades that Petra is famous for, are not houses but tombs.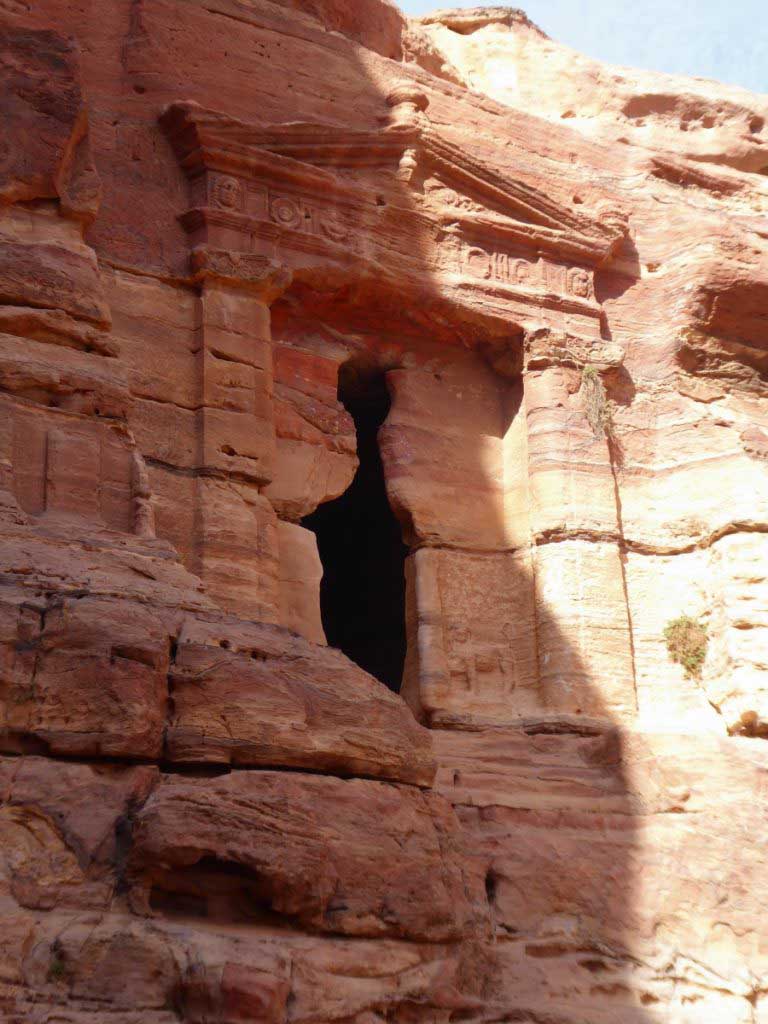 Most of the city was destroyed in an earthquake in 363 AD and is still buried under rubble and dirt. It was rediscovered in 1812 and has awed people ever since.
How to prepare for your visit to Petra
What is the best time to visit?
The best time to visit Petra, and Jordan in general, is between September and May. The winter months can get fairly cold due to the elevation of around 800 m. Beware of the possibility of rain, and therefore closure of Petra, as there is a risk of flash floods with rainfalls in the region.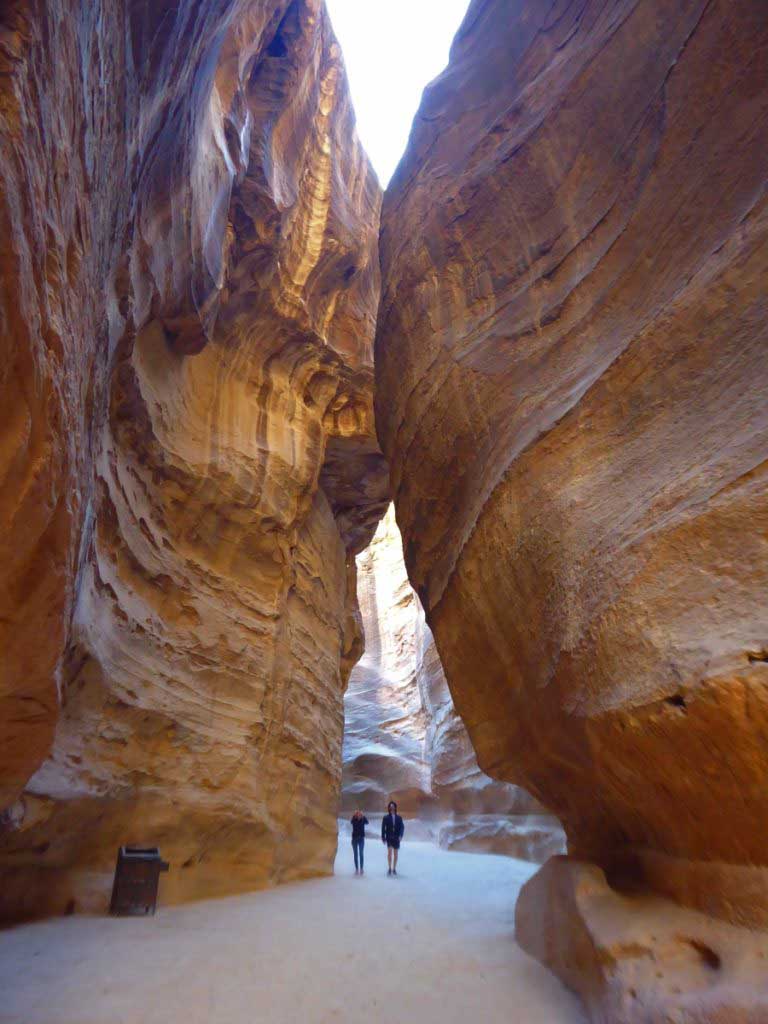 How much time is needed to visit Petra properly?
This is a hard question to answer as it depends on your style of travel. A lot of people only come for one day, but in my opinion, you need at least 2 full days to really experience this magical place. I spent 3 days there, and still haven't seen everything.
How to get to Petra from Amman or Aqaba?
There are busses from Amman and Aqaba once a day to Wadi Musa, the small town just outside the entrance to Petra. You can also take a taxi from pretty much anywhere in Jordan to get there. I paid around 85€ for a taxi from the Dead Sea to Petra (4 hour drive), just to give you an idea.
Of course, you could also choose to hike into Petra on the Jordan trail from the north or south, but as I haven't done this, I cannot comment on the details.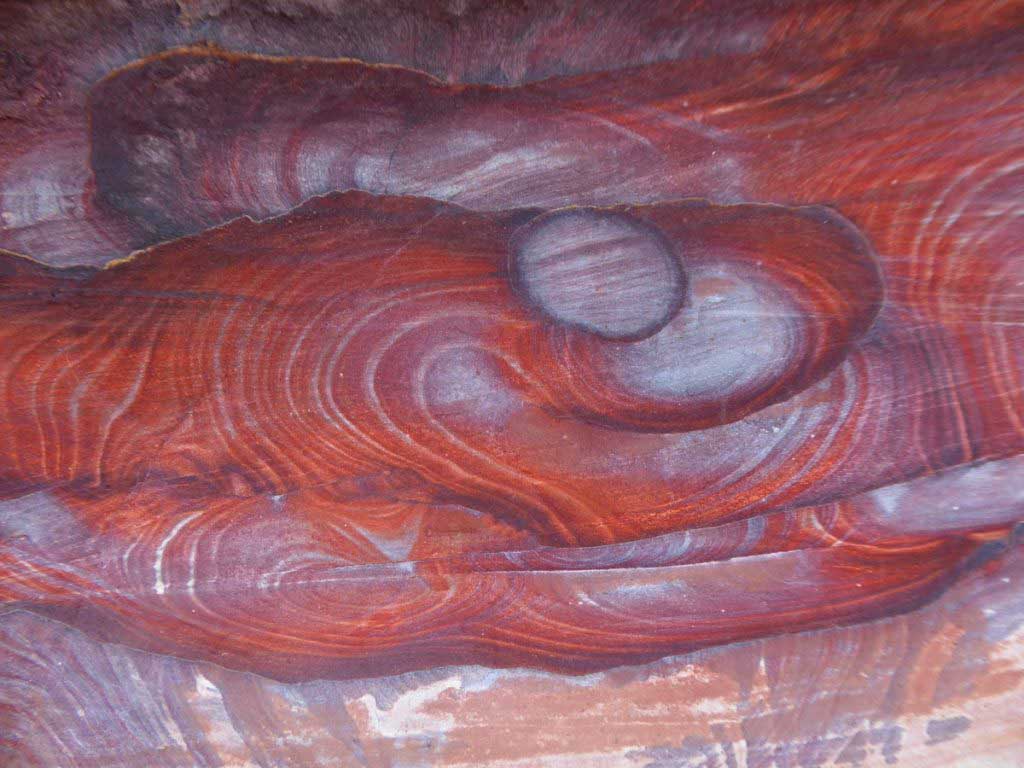 How much is the entrance fee to visit Petra?
The price for a one-day ticket is 50 JD, 2 days 55 JD and 3 days 60 JD (as of March 2019). I recommend the Jordan pass though, you can choose to have 1, 2 or 3 days of Petra included. It is only 20 JD more than Petra alone and includes the visa fee and another 40 some attractions all over Jordan.
What to wear when visiting Petra?
Even if you don't want to do any major hiking/trekking, please choose clothes that show some respect to the local culture. So, no hot pants, tank tops, miniskirts etc. You will get burned from the intense sun anyways, so make sure to cover you head and shoulders and wear pants or a skirt that covers your knees.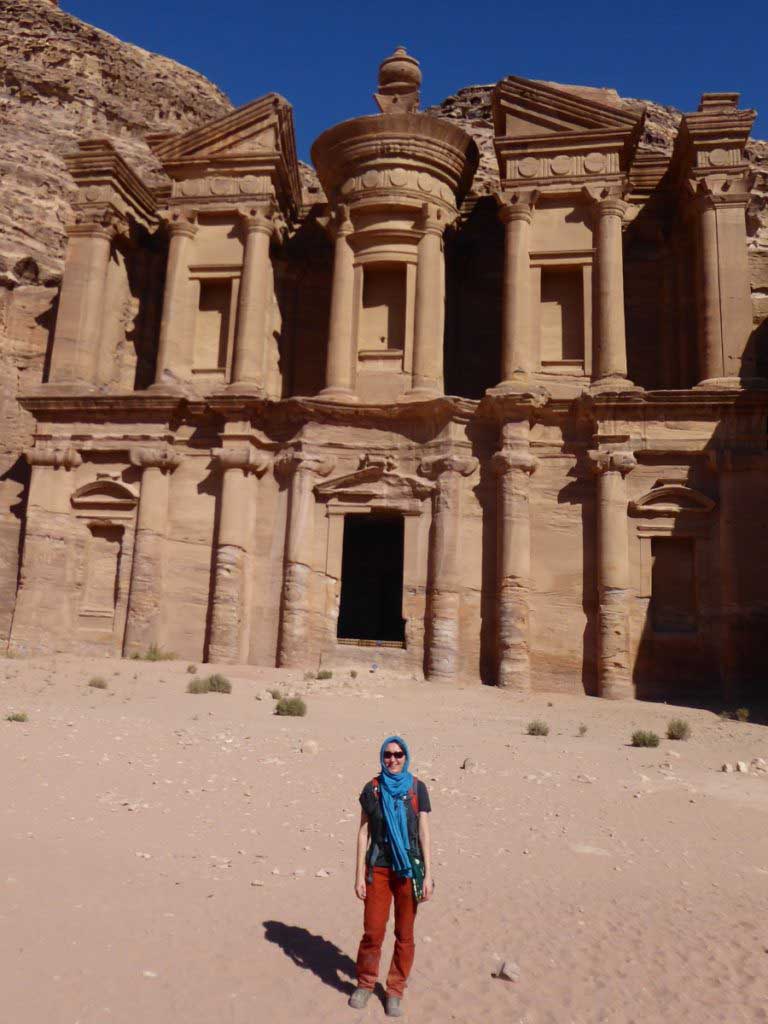 It is also a good idea to wear good hiking or trekking shoes if you want to trek Petra. Some of the hikes are pretty steep with lots of stairs and gravel and you want to avoid any injuries as the next proper medical centre is in Amman.
Do you need provisions when going for a hike in Petra?
It is definitely a good idea to bring some water with you. Of course, there are places along the way that will sell you tea or coke and even some places where you can get freshly squeezed pomegranate juice (my favourite!). But you never know what happens, so better bring at least 1-2 litres of water along. The same goes for food, choices inside Petra are limited and it might be nice to have a little picknick at one of the viewpoints during the hike.
Do you need to go with a guide or book a tour for Petra?
No, definitely not! I went by myself and always met people at the beginning of the routes to walk together and spend the day with. Most of the time the routes are clearly marked, so you won't get lost. I also enjoy going at my own pace, so I wouldn't want to join a tour group. But of course, this is up to you.
What to do in Petra? Go hiking!
The trails
Ok, now that you are all prepared, let's get into the routes! It makes sense to start your day as early as possible to avoid the crowds. When I was there it started to get busy around 8 am and the doors open around 6, so find a time that you are comfortable with.
I will start with giving you an overview about the time it took me to hike each trail. I am fairly fit, but by no means well trained. Also, it was not particularly hot when I was there. Take this into consideration when planning your itinerary.
| | |
| --- | --- |
| Visitor centre to Siq | 10 min |
| Siq to Treasury | 20 min |
| High Place of Sacrifice trail | 70 min |
| Wadi Farasa trail | 60 min |
| Monastery trail (Ad Deir Trail) | 60 min |
| Monastery to Visitor center | 110 min |
| Al Khubtha Trail | 90 min up, 60 min down |
From the visitor centre just follow the road downhill towards the Siq. There is a free option to ride down on a horse, but please don't! They are treated really badly and don't look very healthy. There are a few tombs on the way down, but compared to what you will see later, it is not worth spending much time there I think.
Map
Main trail (Visitor center to Basin Restaurant)
The just over one kilometre long Siq was formed by an earthquake, splitting open the rocks, and not by water, like for example Antilope canyon. So it is very steep and narrow with walls up to 80 m high and, when it rains in the region, prone to flash floods, so keep an eye on the weather and ask your hotel if in doubt.
The walk to the Treasury (Al Khazneh) took me around 20-30 minutes, but I walked it multiple times, and it depends on how many pictures you take. There are so many details to look out for, so maybe calculate a bit more time for this. The rock shows so many different coloured layers and in some places, where water runs down when it rains, it looks like wax or molten chocolate.
I kept expecting the Treasury to show up around every corner, so the anticipation kept rising. Once you get to that point, take your time and enjoy the moment you first lay eyes on it. I imagined what the first person to rediscover this place after centuries must have thought. I think I would have had to walk over and touch it with my hands to believe it to be real!
It is really interesting to look at all the details, there are Greek elements as well as Nabatean ones and it is hard to believe that all this, without modern techniques and tools.
The earlier you get there, the better the chances of there being no to few other people around. But, the same is true for the late afternoon.
From here to the Theatre you will walk by many tombs on the Street of Facades and many stalls with things to buy. Please refrain from buying from the kids selling postcards, they really should be in school!
The Theatre is pretty impressive. Contrary to typical Roman theatres it is cut out of the rock like the tombs and not built out of blocks, which make it unique in the world.
From here you will walk down the Colonnaded Street with the original pavement still in place in parts. There are remnants of the Nymphaeum and the Great Temple along the way and finally the Qasr al Bint, the only brick building that wasn't, by the earthquake in the 4th century AD.
At the very end of the main ,you will find a restaurant with (in my opinion overpriced) food and drinks. It is much cheaper to get a tea or cold coke around the corner towards the Monastery trail from one of the Bedouin stalls.
High place of sacrifice Trail
This was my favourite trail of the ones I did. Maybe in part because of the company I had (I had met 2 American girls at the beginning of the trail and ended up spending the whole day with them), but also because of the views you get along the way.
I recommend doing this first thing in the morning, before it gets crowded or too hot.
You need to watch out for the start of the trail on your left once you passed the Facades in the outer Siq and get to a place with lots of stalls, before you get to the Theatre.
The first hour or so you will climb up stairs after stairs, so make sure you have enough water with you and go as early as possible to avoid the heat. If you are afraid of heights, this might not be the right trail, as it is steep and requires some short climbs. Remember to turn around every now and then to enjoy the view along the way.
Once you get to the first plateau, there is a little café where you can get tea or other refreshments. There is an old obelisk here and I'm sure there is a sign showing where to go to the actual Place of Sacrifice, bit we didn't see it. We were lucky enough to meet other people for the first time today who told us where to go from here. It was a short climb up some rocks and there it was, the stone altar used for blood sacrifices in the Nabatean times.
You could see the drainage system running down from the altar, maybe something to rather not dwell on too much.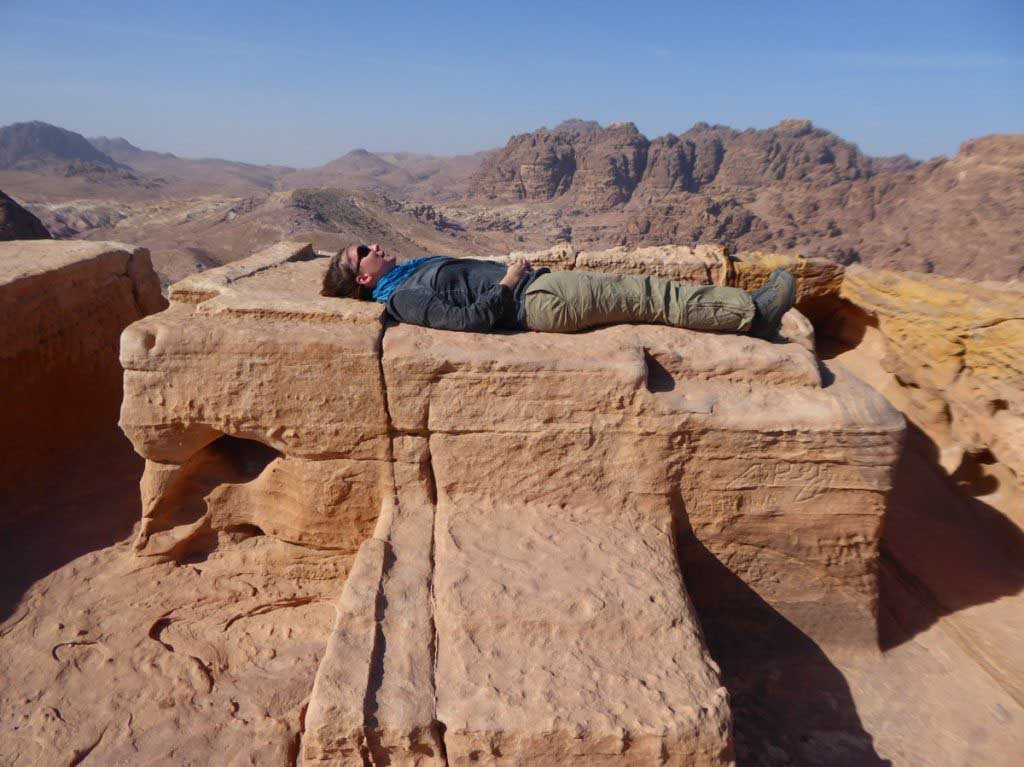 The views over the mountains are amazing from up there, so take your time to enjoy and take photos. A bit further on and a little bit down is another café next to the official view point over the Royal Tombs. There are no railings anywhere, so make sure to keep a safe distance even though it is very tempting to get close to the edge for the best views.
Wadi Farasa Trail
The best way down from the High Place of Sacrifice is via the Wadi Farasa trail. It winds down the back of the mountain and has some gorgeous views. You will pass the Garden Triclinium and the Roman Soldiers Tomb, both worth some photos and exploring. The path wasn't very clearly marked towards the bottom of the mountain, but by then you can see the Qasr al Bint and just make your way across the hills towards the main street.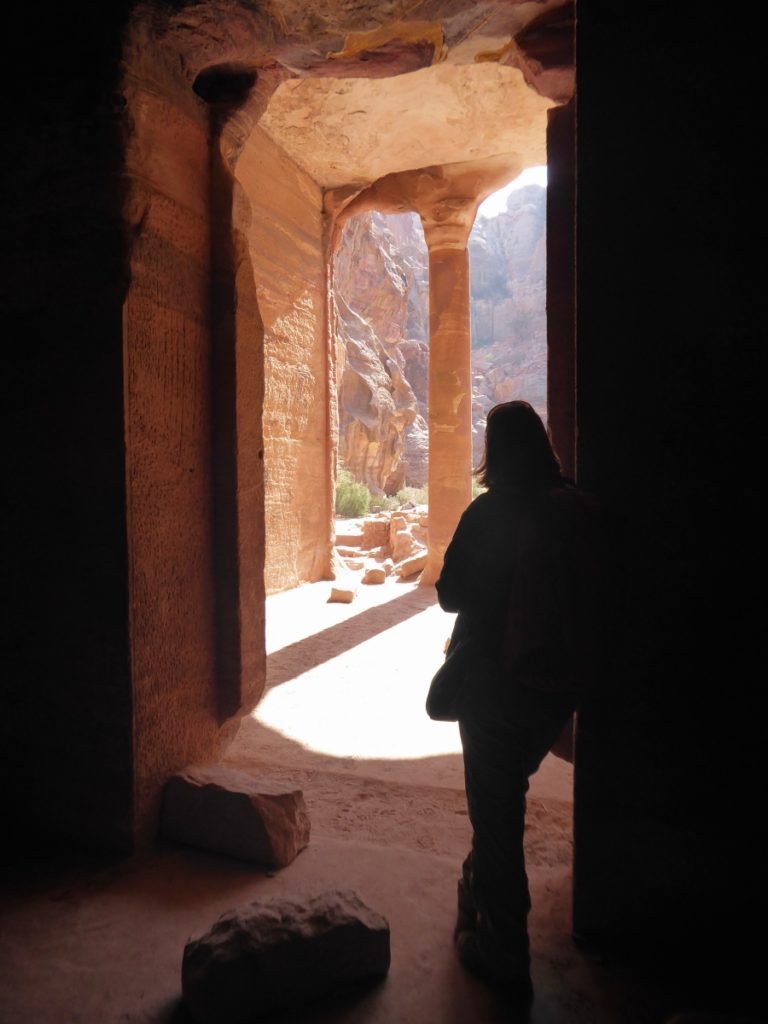 From here you can either keep going and do the Monastery Trail (Ad Deir) or head back to Wadi Musa on the Main street.
Monastery trail (Ad Deir Trail)
My very favourite place in Petra is the Monastery, or Ad Deir. There is something really special about sitting in the café opposite, drinking a pomegranate juice and just looking at it.
To get there you will have to climb about 800 stairs, but don't worry, there are short flat stretches of path in between and also some cafés along the way for a break and a tea if necessary. I actually hiked it twice in the 3 days I spent in Petra because I liked it so much.
The start of the trail is to the right behind the Basin Restaurant. After that you can't really go wrong, there is only one way to go. Watch out for the sign for the Lion Triclinium, named after the lion relief on the façade next to the entry of the tomb.
After this the stairs will feel like they keep going on forever, but please keep going, I am sure you will love it just as much as I did. And when you finally make it, have a tea or a juice and take your time observing all the details of the Monastery.
If you still have a bit of energy left, keep on a bit further for one of the "best view" cafés, where you will have a great view over the Monastery and also the valley towards the Jordan river.
Al Khubtha trail – Treasury outlook
This one is in my opinion the most overrated trail in Petra. It is stairs straight up for what feels like at least one hour, it reminded me of Frodo and Sam's hike into Mordor in the Lord of the Rings. When you get to the top you are likely going to be bothered quite a bit by the local Bedouins trying to sell you tea or a coke and wanting money for you taking pictures of the Treasury from above.
But of course, the view is great, if you are after the Instagram picture. If you only have one day, I would recommend the High place of Sacrifice Trail over this one for sure though.
Once you are back down, take some time to explore the Royal Tombs at the base of the mountain. They look best in the afternoon sun, when you can really see all the different colours. My favourite is the Silk Tomb with its blue and red rock.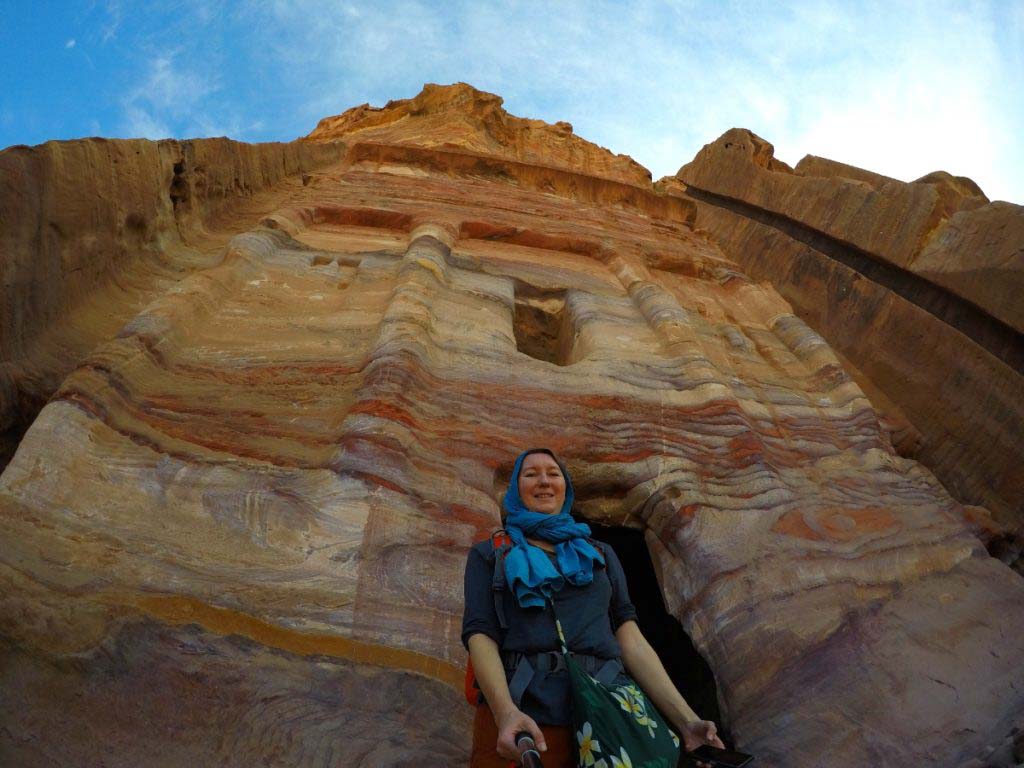 One thing I would like to as you is, please do not ride the animals! Most of them look to be in really bad shape and I've seen them being mistreated frequently. So please, use this in an emergency only.
Petra by night
I really wanted to see Petra by night, even though I had read that it is too expensive and overrated. And yes, at 17 JD, it is costly, but it's one of those once in a lifetime experiences.
You walk down the Siq lit only by candles, which is already pretty special. Then you get to the Treasury, where the place in front is also lit with hundreds of candles, making it a magical setting. When everyone has found a seat, tea is passed around and the Bedouins will tell some stories and play traditional music. It is a very peaceful atmosphere and I enjoyed it very much. Also, you can take beautiful photos of the candle-lit Treasury, especially if you arrive early and find a good seat.
What I didn't like is that after the show they lit up the Treasury with bright colours, pink, blue, green, etc. It looks very wrong and sort of destroyed the mood for me.
Be aware, it only runs 3 times a week on Monday, Wednesday and Thursday, so make sure to plan accordingly. Also, maybe plan a shorter hike for the day, because you will have to walk the path to the Treasury and back again.
Where to stay in Petra
Budget
The Rainbow Home has really good reviews on Booking.com, so it might be a good choice for budget travellers.
Mid-range
I stayed at the Candles Hotel, which has a perfect location. It is only a 3-minute walk from the visitor centre, which means after walking all day, you don't have to hike up the hill into Wadi Musa. The rooms are small but clean, the showers work well and breakfast and dinner are plenty, yummy and not too expensive.
Luxury
The best place, if budget is not an issue, is the Movenpick right opposite the visitor centre. They have nice views from the rooftop terrace, there is a pool, all rooms are air conditioned and they serve alcohol.
For some more luxury options, go check out Amanda's post about luxury accommodation in Petra and the rest of Jordan on Fly Stay Luxe.
Where to go from here
If you haven't been before, I recommend heading from Petra to Wadi Rum. It is a fairly short transfer, you can take either the bus or a taxi and have your camp pick you up at the visitor parking when you get there.
If you are heading north, go to the Dana Reserve for a few days of hiking in a protected area with beautiful canyons.
If you are looking for more information for your itinerary head over to my one-week itinerary, the complete guide to Jordan, or to my post on helpful tips for travelling Jordan.
Please note that some of the links above are affiliate links and, at no additional cost to you, I earn a small commission if you make a purchase. That income goes to supporting this website and keeping it free for you and everyone else!