Most people visiting Jordan head straight south after arriving in Amman. The world-famous sites of Petra and Wadi Rum are calling and since many people only stay a week, they focus on those.
But if you have a little more time, a great place to visit from Amman are the so-called desert castles in the east. The title is a bit misleading, as they have not been home to kings or queens. They actually all had different purposes in the past; weekend home for the wealthy, motel-type accommodation for camel caravans or fortress during the war.
How to get to the desert castles of Jordan
Basically, there are two ways to visit the desert castles of Jordan. You can either rent a car and drive yourself, or you can book a daytrip from Amman (or Jerash). There is no public transport going that direction.
If you decide to drive, make sure you are comfortable driving on narrow highways, while huge trucks speed past, maybe even overtaking you, on their way to Iraq and Saudi Arabia.
I went with a driver and really appreciated all the information he could give me along the way.
How much does it cost to visit the desert castles
A combination ticket for Qasr Al Kharanah, Al Azraq Castle, Qasr Al Mashta and Qasair Amra costs 3 JD.
Are the desert castles included in the Jordan pass
Yes, the entrance fee for the desert castles is included in the Jordan pass. You can read more about the advantages of buying the Jordan pass here.
The most famous desert castles of Jordan
Qasr Kharaneh
Qasr Kharaneh is the first desert castle along the highway from Amman. At first glance it looks smaller that you'd imagined, but this is due to the vastness of the surrounding desert. Once you get out of the car and walk over, you realize it is much bigger than it looked from the road.
The Qasr Kharaneh is most likely an old caravanserai for the traders who travelled on this route from Oman, Yemen and Saudi Arabia to the Mediterranean. It was built in the 7th century and has survived in relatively good condition. You can visit the rooms on 2 floors and marvel at the detailed decorations.
I tried to imagine what it must have been like to finally arrive here after days or weeks on camels through the desert. To sleep with a solid roof over your head. And to know that Amman is only a few days' journey away.
Qasair Amra
Next along the highway is Qasair Amra. Again, from the road it looks very small, and in a way it is. At least I would imagine castles to be bigger.
The Qasair Amra is a small but very beautiful building that was probably used as a kind of hunting lodge. There is a large hall with fantastic frescoes on the walls. When I was there, there was a team of Italians restoring the frescos to their original vivid colours.
Attached to it is a Roman bathhouse with wall paintings and probably the oldest image of the night sky with the constellations in a dome. It has been a UNESCO World Heritage Site since 1985.
There is a museum in the entrance area with some interesting information, be sure to visit this before heading into the actual castle.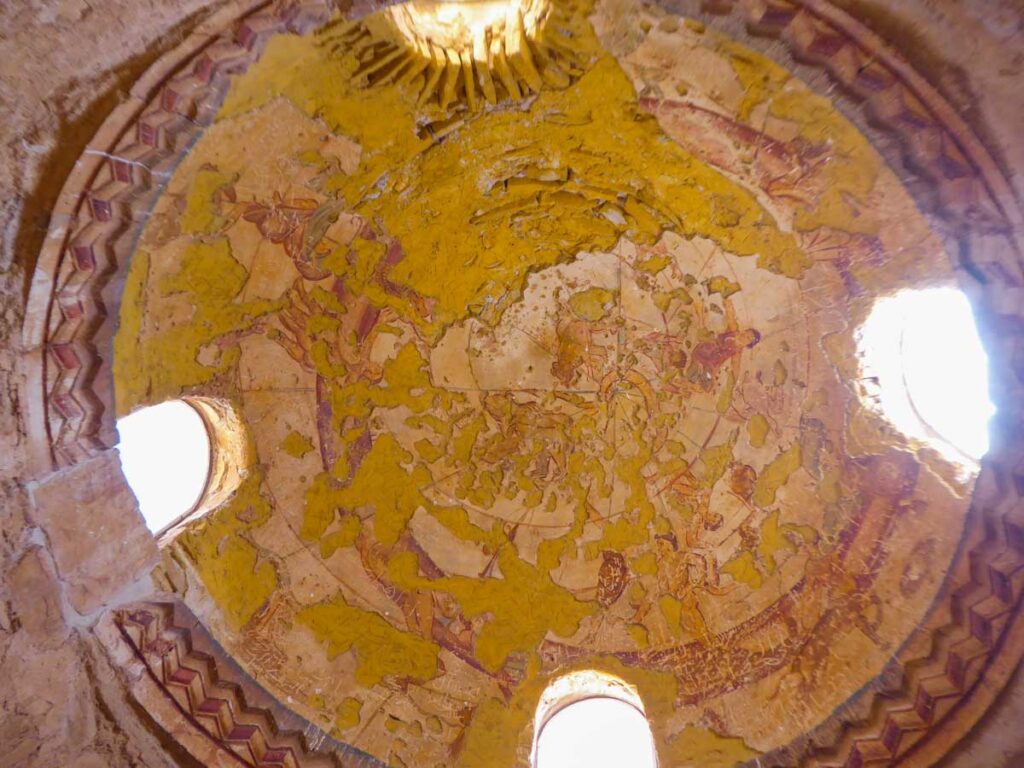 Qasr Azraq
Last but not least, you can visit Qasr Azraq in the town of the same name.
Azraq means blue in Arabic and refers to the oasis in the neighbourhood. The Qasr is an old Roman fort with interesting architecture. The arches that support the ceilings are all just stuck together without mortar or the like and have held for many centuries. In the centre of the courtyard, there is a mosque, probably built by the Ummayads.
Also interesting, Lawrence of Arabia set up his headquarters here for a while.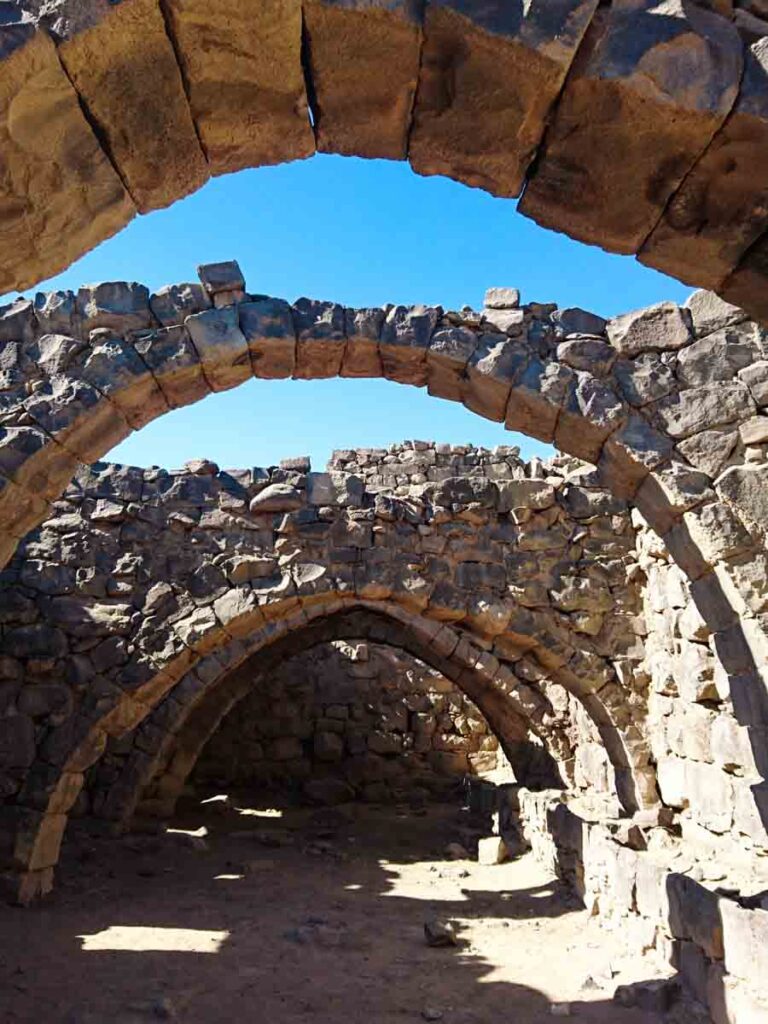 The area is pretty big, there are some interesting structures to look at. If you are interested in more details about the history, you will find guides outside the big wooden doors offering their service for a small fee.
Insider Tip:
Now that you made it this far east, visit the other tourist attraction of Azraq, the Azraq Wetlands Reserve. It is famous for bird watching, as thousands of them pass through here on their way south/north during migration. It is also possible to watch water buffalo, but I wasn't lucky enough to see any.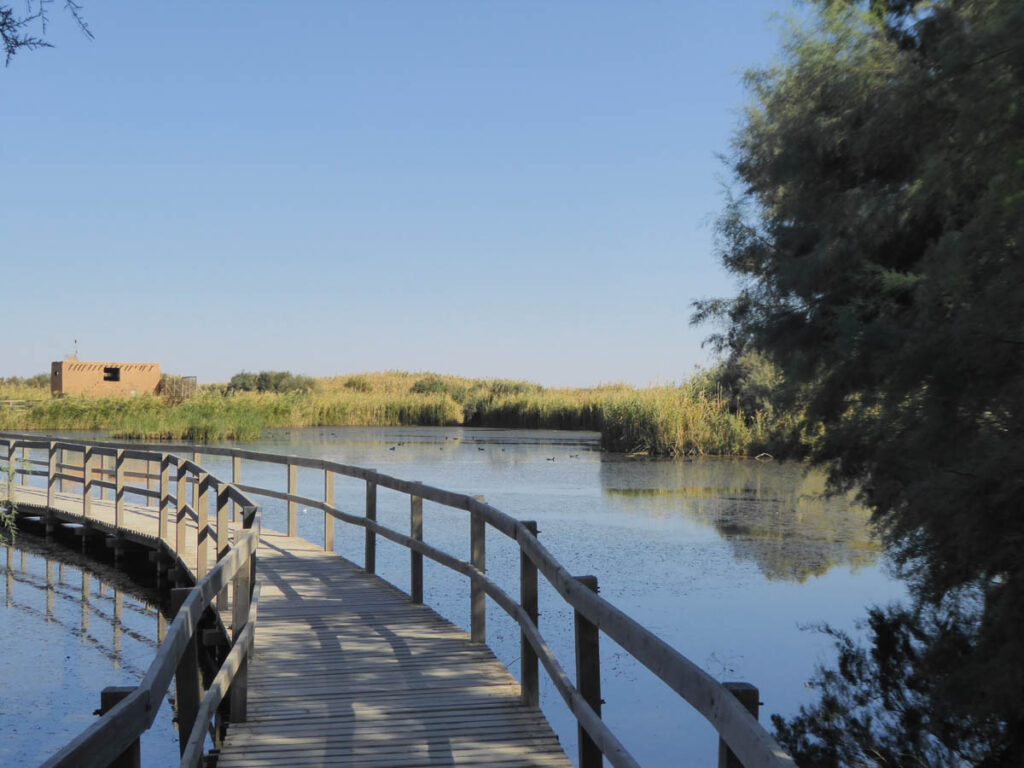 Where can you book a Jordan desert castles tour
There are many tour operators online, where you can book a Jordan desert castle tour. You can also ask your hotel in Amman to book one for you. You just have to choose if you want to go on a group tour or with a private driver. That way, you can choose how long you want to stay in each place.
I went with a private driver and that gave me the freedom to include a visit to the Azraq Wetlands Reserve.
Tour Tip:
Where are the Jordan desert castles on the map
Please note that some of the links above are affiliate links and, at no additional cost to you, I earn a small commission if you make a purchase. That income goes to supporting this website and keeping it free for you and everyone else!