For most people, Marrakech is the epitome of an exotic Northern African city. And they are not wrong, the red city is full of colours, smells and sounds hardly found in any one place anywhere else. With the city being busy, loud and (sometimes unpleasantly) smelly, it is easy to get overwhelmed. To help you avoid this, I put together this Marrakech travel guide with all the essential information you need.
It might only be Morocco's 4th biggest city, but likely the most known among foreigners and most visited by tourists. And I guess that is why you are here, because you're planning to travel to Marrakech soon.
In this post I will tell you all about:
How to get to Marrakech
What time of year and how long to visit Marrakech
Where to stay, what to eat and what to wear in Marrakech
Safety in Marrakech
Where is Marrakech located?
Marrakech is the most central of all bigger Moroccan cities, situated north of the Atlas Mountains, visible from the roof-tops when the air is clear. This convenient location ensures that almost all tourists visit the city on their trip to Morocco.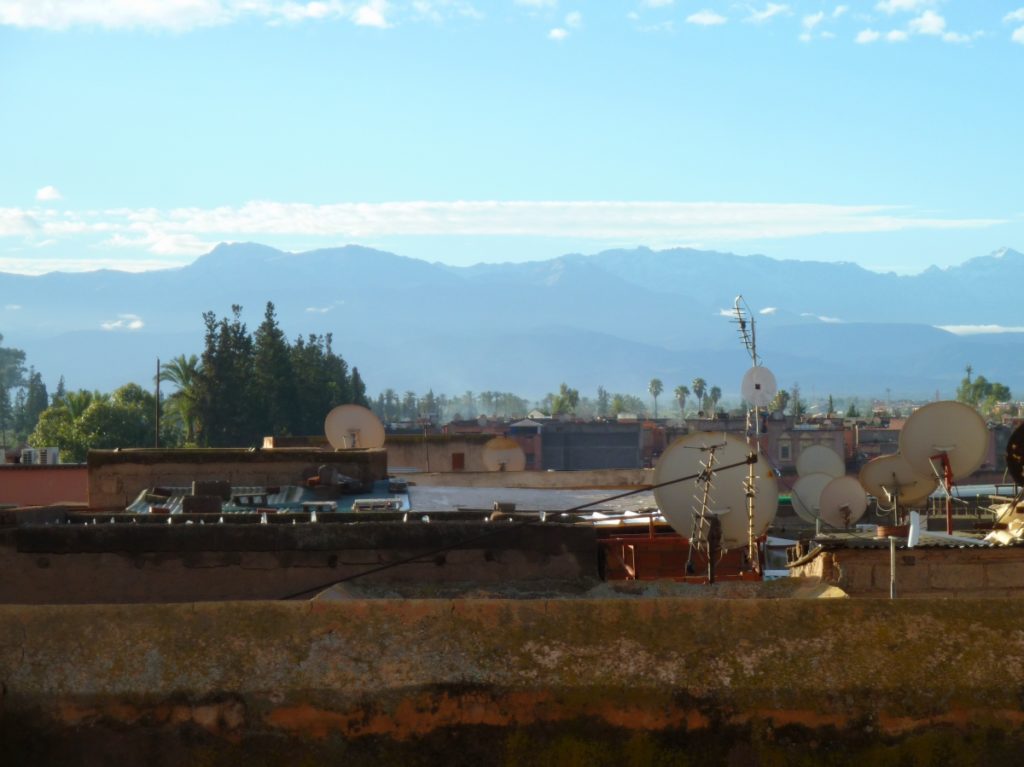 Distance to
| | |
| --- | --- |
| Casablanca | 250 km |
| Rabat | 330 km |
| Tangier | 580 km |
| Chefchaouen | 580 km |
| Fes | 530 km |
The one thing that is not conveniently close to Marrakech are the sand dunes of the Sahara in M'Hamid or Merzouga. It takes a day's drive to get there, so you need to plan a 3-day-tour at least if you want to visit. There are plenty of desert tours on offer, it can be hard to choose. If you want to go on a private tour, let me know, I'm happy to help with this.
What languages are spoken in Marrakech?
Of course, you find Darija, the Moroccan Arabic and French. People from the rural areas most likely also speak Tamazight (Berber). And of course, everyone working in tourism will speak some English and maybe Spanish.
For guided tours, almost any language can be organized, the Moroccans are talented and resourceful when it comes to leaning a foreign language. Just expect prices to be higher for any language other than French, English or Spanish.
How to get to Marrakech?
Depending on where you are travelling from, there are of course different ways of getting to Marrakech.
Plane
From Europe or overseas you will probably arrive by plane. Marrakech has a new big airport on the outskirts of the city. And personally, it never took me more than 45 min to get into or out of the airport (including luggage/security).
To get into the city from there, you can either take a taxi or have your hotel/riad arrange a pick-up. This is a bit more expensive, but if you are staying in the Medina, this makes sure you are actually dropped off in the right place and met by a hotel employee.
You might want to head to the ATM inside the airport (before exiting, walk past the doors to find the ATMs on your left), so you have cash to pay your driver/taxi.
You can also book your private transfer here.
Train
From the other big cities in Morocco, the best way to get to Marrakech is by train. The network is well connected, and frequencies are high. Also, train travel in Morocco is very cheap. I personally use the second class, a great way to meet locals. But first class is cheap also, so if you prefer comfort and quiet, this is the way to go.
Bus
If you are coming from the southern areas in Morocco, you will probably take a bus, Supratours or CTM are good options. Busses are very affordable and pretty comfortable.
For more info on public transport in Morocco, check out my post.
What time of year is the best time to visit Marrakech?
Of course, you can visit Marrakech all year round since the weather is mostly really nice. But, as unpredictable as the weather has been in recent years, it is hard to tell what to expect. I've had 44° C in the beginning of May last year and during my first visit a few years ago in November, it rained the whole day I was there.
But, I would recommend March/April and September/October for a good chance of nice weather. If you decide to visit during the summer months, you might want to pick a Riad with a pool.
How much time do you need to explore Marrakech?
I've spent a cumulative of more than 2 weeks in Marrakech and there is still so much I haven't seen or done. So, it is hard to answer this question. It depends on your travel style and how much time in total you have for your trip to Morocco.
I would say at least a full day (2 nights), but preferably 2-3 days. If you want to stay longer, you might want to include one of these fantastic day trips from Marrakech.
Where to stay in Marrakech?
While you can of course find the standard international hotels in Marrakech, I recommend you stay in one of the beautiful boutique-style Riads found all over the city. I personally prefer to stay in the medina, which is listed as a UNESCO world heritage site, so that I can walk to all the major attractions. But I have also stayed in a furnished apartment, which is cheaper especially if you go with more than two people.
Hostel
I have stayed in the formerly named Rodamon, now The Central House Marrakech in the medina. It is conveniently located close to the Madrasa. They have separate bedrooms for women/men, curtains on every bed and a pool that looks really refreshing.
I have also stayed at Equity Point and while there is nothing wrong with the hostel itself, the way there through the dark alleys was a bit scary as a solo female.
Budget
Most times I'm in Marrakech I stay at Riad Bijoux in a quiet area of the medina. They only have 6 rooms, some equipped for 3 people, making it very familial. Breakfast is included and served in the central courtyard and dinner can be booked. The team is great and happy to give local recommendations.
When my aunt and uncle came to visit me in Morocco, they stayed in two different places in Marrakech and were very happy with both, so I am happy to recommend them to you too.
One is budget friendly, Riad Simon. It is located just off Jemaa al Fna, so ideal to discover the medina on foot.
Medium
The other place they stayed at is Riad Dar Nouba. It is very centrally located in the medina, only a short walk from the souks, Jemaa al Fna and the Medersa Ben Youssef.
Luxury
This is a bit out of my personal price range, so I have no personal experience. But I looked around booking.com and I would pick one of the following:
Or, if you want to go crazy, check out La Mamounia, one of the most famous hotels in Marrakech.
You prefer to let others do the planning? I offer itinerary planning for your trip to Morocco! You can check out the details here.
What to eat in Marrakech?
Just like any big international city, the food options are endless. I guess you will have to make a choice, traditional vs. international food.
For traditional options, I would recommend sticking to the medina, there are plenty of good options around. Your best bet for a home cooked style meal is probably the Riad you are staying in.
Tajine
You should definitely eat tajine, the most iconic Moroccan dish. It comes in many variants, my favourites are lemon chicken and kofta (meat balls with tomato sauce). You can find these in every Moroccan restaurant in the city, and most places offer vegetarian options.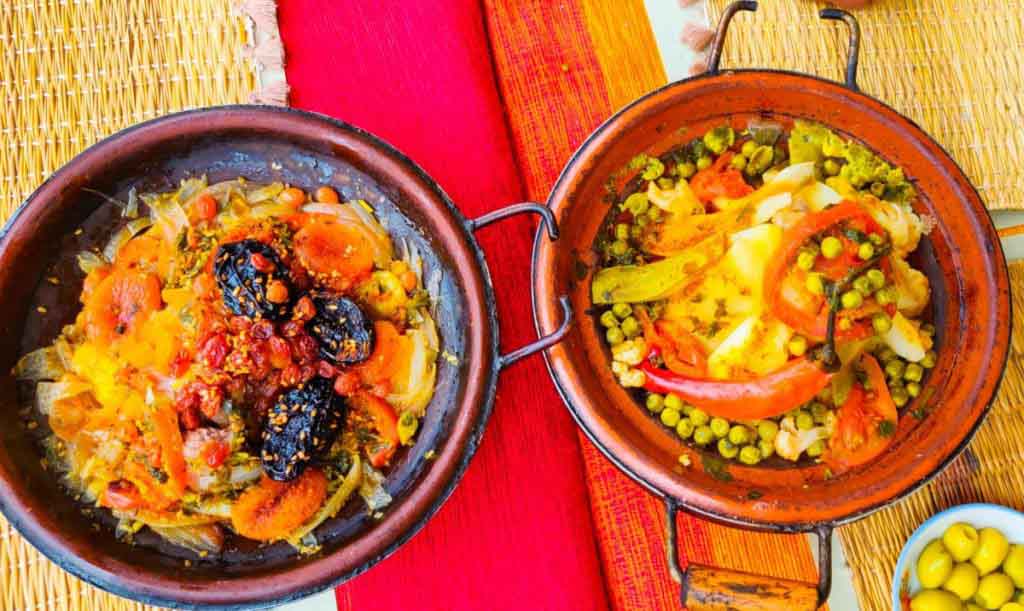 Tanjia
A local Marrakech dish is tanjia, pieces of meat slow cooked in a clay pot with spices. If you want a good local, but not fancy restaurant, check out the restaurants in Rue Bani Marine just off Jemaa al Fna.
Couscous
If it's Friday, try to get some couscous, the traditional lunch after the Friday prayer. It is normally cooked and served with meat, but you might find a few places offering vegetarian versions.
International food
If you are tired of Moroccan food, you might want to check out one of the international restaurants in Marrakech.
There are lots of options in Gueliz, the hip new part of the city. I really enjoyed the burgers at Kech Burger.
My favourite in the medina is a Lebanese restaurant called Naranj, a short walk from the main square. It's a bit pricey, but especially if you can get a table on the rooftop terrace, it is worth it.
You can also check out this amazing food tour!
What to wear in Marrakech?
In Marrakech you will see people wearing all kinds of clothes. Tourists in tank-tops and shorts or mini-skirts, locals in full coverage and everything in between. So in the end it is up to you and what you feel comfortable in. But I believe in showing respect to the culture and dressing accordingly.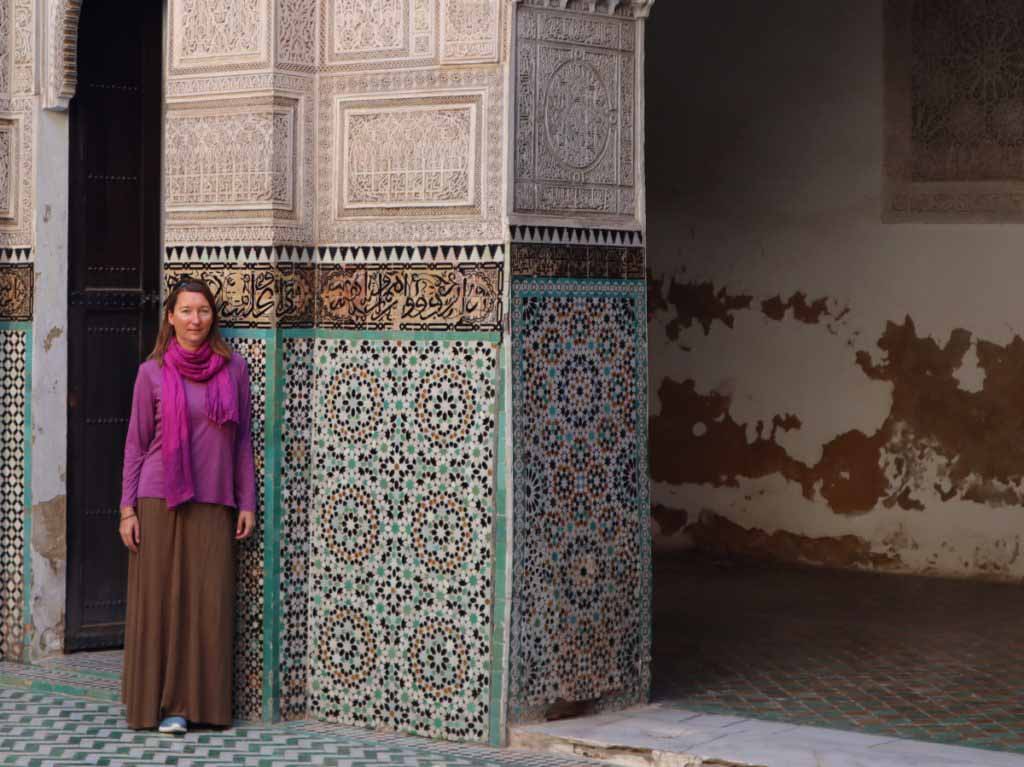 So, for me that means wearing long loose pants or maxi-skirts and at least a no-cleavage t-shirt covering my shoulders. For men, shorts are not really acceptable wear in Morocco, but most tourists ignore this. Same as for women, t-shirts that cover the shoulders are appropriate.
Is Marrakech safe?
You are probably worried about your safety after hearing about the many scams in the city. But don't worry, all you need to do is say NO. I never felt unsafe, even when walking around on my own.
Make sure to download the maps.me app to your phone, it shows all the details of the Moroccan medinas and you can use it offline. That way, you don't need to rely on strangers showing you the way.
If you prefer though, you can easily hire a guide to show you around, just ask your Riad or send me a message on facebook, I'm happy to hook you up with someone I trust.
I wrote in more details about the typical scams in my awesome things to do in Marrakech post, so head over there to check those out.
Please note that some of the links above are affiliate links and, at no additional cost to you, I earn a small commission if you make a purchase. That income goes to supporting this website and keeping it free for you and everyone else!