Introduction to Fes
Fes has been, and still is, the cultural and religious heart of Morocco. It is less popular among tourists than Marrakech, which in my opinion is totally unjustified. So, if you prefer to stay away from the big crowds, then Fes is your city. To help you plan your stay, I have put together this travel guide to Fes.
History
Fes is thought to be the oldest city of Morocco. Idriss II turned the sleepy village into a fortified city in the 9th century AD. From the beginning he took in Jewish refugees from Spain who helped turn the city into the most important trade centre of the region.
Around the same time, in 860 AD, a woman from Tunesia started building the Karaouyine mosque, for a long time the biggest mosque in Morocco. Over time it turned into the worlds first university, first teaching Islam, but soon also maths, calligraphy, astronomy and more.
Only in the 1960s the university was moved out into more modern quarters, leaving the mosque again to prayers. It is still the second biggest mosque in Morocco, after the Hassan II mosque in Casablanca.
The citizens kept adding important structures around the mosque, you can find lots of Madrasas (Quran schools), Funduqs (old hotels) and of course the huge university library.
All these insured that Fes was, and still is, the artistic, cultural and scientific centre of Morocco, as well as one of the most important Islamic centres of the world.
In this post I will tell you all about
How to get to Fes
What time of year and how long to visit Fes
Where to stay, what to eat and what to wear in Fes
Safety in Fes
Where is Fes located?
Fes is located in the north of the Middle Atlas Mountains in between and on a few hills. It is cut in two parts by a small river running through the medina. It is one of four imperial cities of Morocco, meaning at one point in time at least it was the capital of the kingdom.
Distances to
| | |
| --- | --- |
| Casablanca | 300 km |
| Rabat | 210 km |
| Tangier | 310 km |
| Chefchaouen | 210 km |
| Marrakech | 530 km |
The one thing that is not conveniently close to Fes are the sand dunes of the Sahara in M'Hamid or Merzouga. It takes a day's drive to get to Merzouga, so you need to plan a 3-day-tour at least if you want to visit. There are plenty of desert tours on offer, it can be hard to choose. If you want to go on a private tour, let me know, I'm happy to help with this.
What languages are spoken in Fes?
Of course, you find Darija, the Moroccan Arabic and French. People from the rural areas who work in Fes most likely also speak Tamazight (Berber). And of course, everyone working in tourism will speak some English and maybe Spanish.
For guided tours, almost any language can be organized, the Moroccans are talented and resourceful when it comes to leaning a foreign language. Just expect prices to be higher for any language other than French, English or Spanish.
How to get to Fes?
There are of course multiple different options of getting to Fes, depending on where you are coming from.
Plane
There are plenty of flights from cities in Europe to Fes and you can also fly here from Casablanca or Marrakech. But for environmental reasons, I never recommend flying domestically if there is a train as the alternative.
Train
Fes is connected to many cities in Morocco by train, to the east to Oujda, to the north to Tangier and to the south and west to Marrakech via Meknes, Rabat and Casablanca.
Trains in Morocco are cheap and fairly comfortable, so this is a good option of getting to Fes.
Bus
The south of Morocco is only accessible via bus or taxis, so if you plan to head into the mountains or the desert, or from there to Fes, check out Supratours buses, the have an overnight service to/from Merzouga.
The same goes for Chefchaouen, but here the frequently running CTM buses are your best bet.
For more info on public transport in Morocco, check out my post.
While the summers can get hot, the winters get pretty cold and sometimes rainy. I had 3 days of solid rain, and I don't mean a drizzle, I mean soaking wet in minutes rain. For this reason, I recommend April/May or September/October, which are the best for most of Morocco anyways.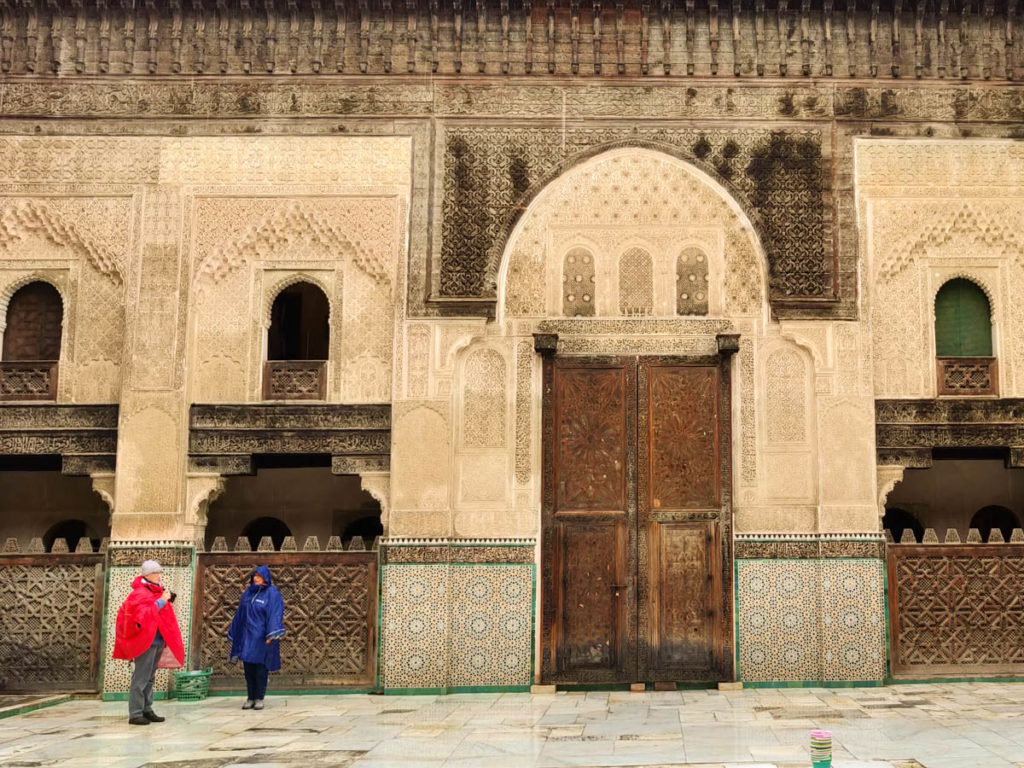 How much time do you need to explore Fes?
I spent 3 days in Fes, but I also took a day trip on one of them. Since the weather was pretty bad the whole time I was there, I didn't do as much as I could have (and had wanted to). So, I will have to go back to see the rest. I think a total of 2.5 or 3 days is enough to see all the major attractions of Fes.
Where to stay in Fes?
Since I have only stayed in one Riad in Fes, I did some online research and would recommend the following places:
Hostel
Budget
Medium
I stayed at Ryad Alya, a very beautiful Riad in the medina, close to the blue gate and not to far from the taxi drop off to walk with your luggage.
The rooms are all individually decorated, and the courtyard is very beautiful. I had dinner there on my first night, definitely recommended.
Luxury
I now offer itinerary planning for your trip to Morocco! You can check out the details here.
What to eat in Fes?
Tajine
You should definitely eat tajine, the most iconic Moroccan dish. It comes in many variants, my favourites are lemon chicken and kofta (meat balls with tomato sauce). You can find these in every Moroccan restaurant in the city, and most places offer vegetarian options.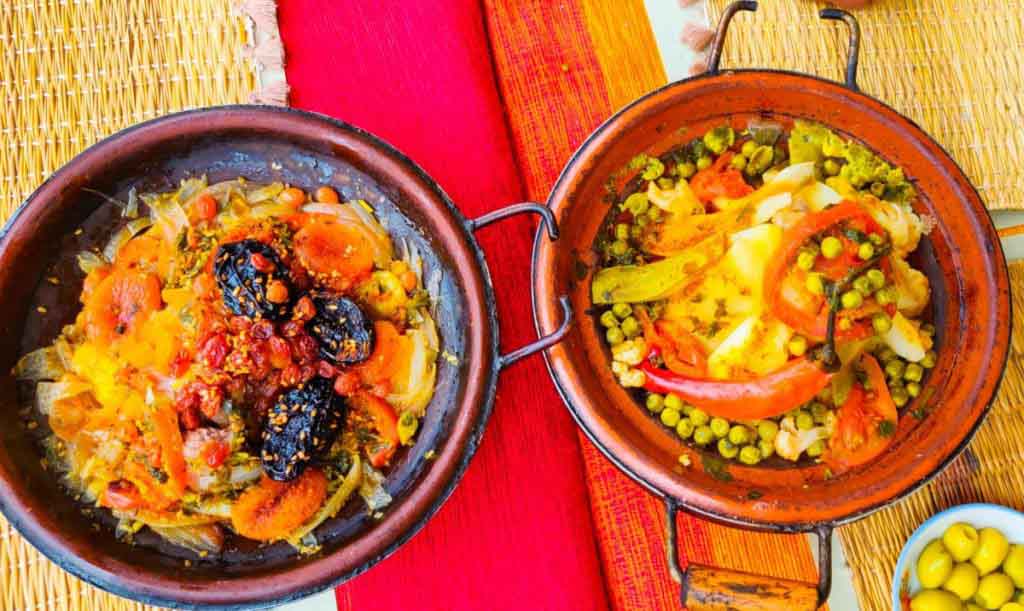 Couscous
If it's Friday, try to get some couscous, the traditional lunch after the Friday prayer. It is normally cooked and served with meat, but you might find a few places offering vegetarian versions.
A good option for homemade Moroccan food is in the Riads. Either the one you are staying at, or you can call around, most offer this to people not staying there, as long as you make a reservation.
Other options
For a different take on Moroccan food head to Café Clock, close to the Bab Boujeloud. It is famous all over the country and now has a sister restaurant in Marrakech.
A restaurant that was recommended to me, but was fully booked during my stay, is The Ruined Garden. It is well hidden, you might want to ask for someone from your Riad to accompany you there and definitely book in advance!
What to wear in Fes?
In Morocco you will see people wearing all kinds of clothes. Tourists in tank-tops and shorts or mini-skirts, locals in full coverage and everything in between. So in the end it is up to you and what you feel comfortable in. But I believe in showing respect to the culture and dressing accordingly.
So, for me that means wearing long loose pants or maxi-skirts and at least a no-cleavage t-shirt covering my shoulders. For men, shorts are not really acceptable wear in Morocco, but most tourists ignore this. Same as for women, t-shirts that cover the shoulders are appropriate.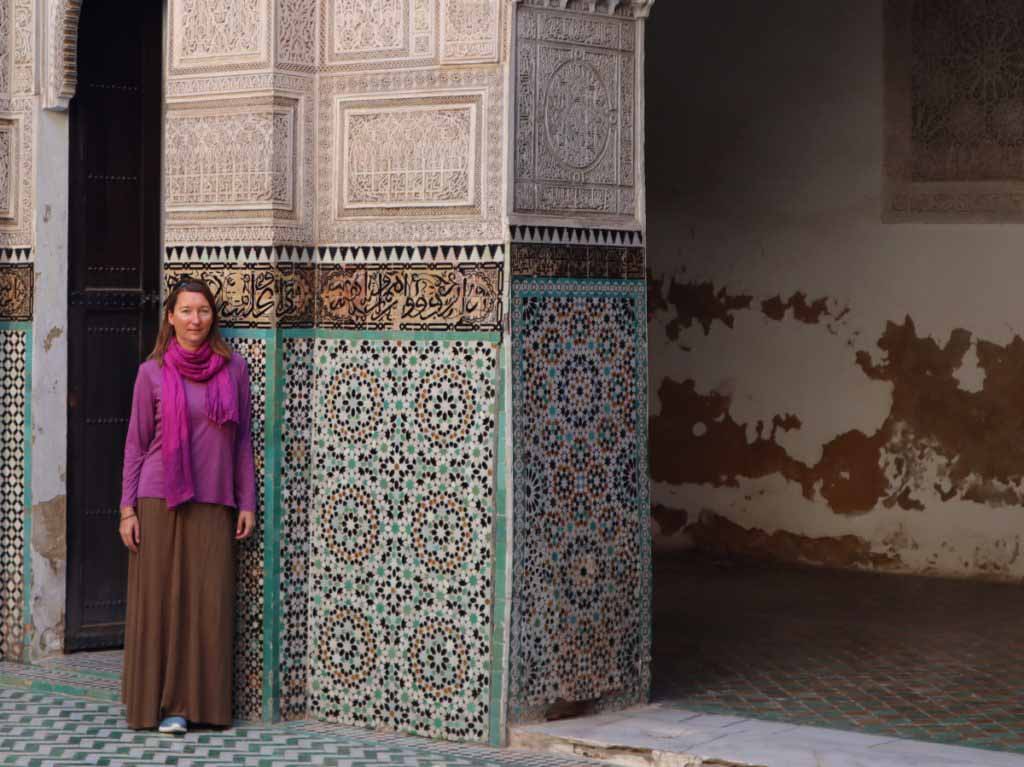 Fes is more conservative than Marrakech, where the locals got used to seeing tourists in shorts and tank tops. Please consider this when packing.
Is Fes safe?
You are probably worried about your safety after hearing about the many scams in the city. But don't worry, all you need to do is say NO. I never felt unsafe, even when walking around on my own.
Make sure to download the maps.me app to your phone, it shows all the details of the Moroccan medinas and you can use it offline. That way, you don't need to rely on strangers showing you the way. But be aware, especially in the covered parts of the Fes medina and souks, even maps.me doesn't work properly as the GPS signal just doesn't make it up to the satellites.
There are signs with directions to the major attractions on a lot of walls though, to just keep following them until you get a signal again.
If you prefer though, you can easily hire a guide to show you around, just ask your Riad or send me a message on Instagram or Facebook, I'm happy to hook you up with someone I trust.
Please note that some of the links above are affiliate links and, at no additional cost to you, I earn a small commission if you make a purchase. That income goes to supporting this website and keeping it free for you and everyone else!