Marrakech is probably the most accessible city when you're travelling to Morocco from abroad. There are many low-cost airlines offering direct flights from Europe, making it the perfect get-away for a long weekend or a maybe even a full week. And, as much as there is to see and do in the city, if time allows you should go on a few day trips from Marrakech and explore a bit more of Morocco. Especially if you are visiting in the summer, as it can get unbearably hot in the city.
For more Marrakech info also check out:
I visited almost all of these places (except Agafay) on a road trip and driving yourself gives you the most flexibility. But, if you don't fancy driving in the sometimes crazy Moroccan traffic, there are of course plenty of tours you can book. And some, like Essaouira, you can even go to on public transport.
Day trip from Marrakech to the coast
Day trip to Essaouira
In my opinion the best day trip from Marrakech is to Essaouira. It is my favourite city in Morocco and has so much to offer. There are plenty of busses if you choose not to book a tour and I am happy to help you find a local guide if you would like.
The medina of Essaouira is very easy to navigate, as it is laid out almost chessboard style. It is also really safe and you won't get harassed as you might in Marrakech or Fez. So it is the ideal place for souvenir shopping.
Head to the ramparts and to the Skala du Port for great ocean views, and if you are a fan of Game of Thrones, feel transported into Westeros.
Also, check out the beach, maybe even take a surfing lesson from one of the many surfing schools.
For lunch head to the fish market and treat yourself to a nice fresh piece of fish.
If you want to know more about Essaouira, check out my post about sightseeing in Essaouira and you can also check my post about day trips from Essaouira for more information about the area.
Day trips from Marrakech to the mountains
Day trip to Ouzoud
One of the most popular destinations for a daytrip from Marrakech are the Ouzoud waterfalls. Just be aware, it is actually quite a long drive, around 3 hours one way. But especially in the summer this is worth it for an escape from the heat.
Also, the drive is really pretty, you get to see the Atlas Mountains all along the way.
Depending on your time of arrival you can enjoy lunch in the village, on your way down to the falls, or on your way back up. There are plenty of little restaurants, some even with spectacular views of the waterfalls.
At the bottom you can hop onto one of the little boats for a close up view and possibly a shower, and you can also go for a swim. So remember to bring your swim suits.
If you feel adventurous, follow one of the paths for a hike along the river, either at the bottom of the valley or up top.
If you don't want to rent a car, you can of course book this as an organized tour!
Day trip to Ourika
The Ourika valley is the closest day trip destination from Marrakech. Especially in summer this also means, it will be the busiest. But if you go in spring or autumn, chances are you will find a spot where you are almost on your own.
The river is lined by small restaurants, most with tables along, or in, the water. It is a nice place to enjoy a tagine or just some traditional Moroccan mint tea.
If you keep following the river, you will reach the village of Setti Fatma from where you can start a hike to see the seven waterfalls that give the village its name.
Tour Tip: Check out this full day trip to Ourika.
Day trip to Imlil
Imlil is the starting point for most adventurers aiming to summit North Africa's highest mountain, Jebel Toubkal (4167 m). Of course this is not possible on a day trip from Marrakech. But, the village is beautifully located and the views are great.
There are many hiking paths taking you to smaller villages, where you can enjoy lunch or tea with a Berber family. If you don't have a rental car it is probably best to book an organised tour including a hiking guide.
Tour Tip: Check out this full day trip to Imlil.
Zipline and other activities
A really fun place to visit is the Terres d'Amanar adventure park in the Atlas foothills. They offer zip-lining, an acro-park suited for children, mountain biking and horse back riding, all in the spectacular canyons surrounding their eco lodge.
I've done the zip-line park, which is really good value for money. You get 2 rope bridges and 4 zip-lines in the packet with initial safety instructions. It is definitely one of the most fun day trips from Marrakech!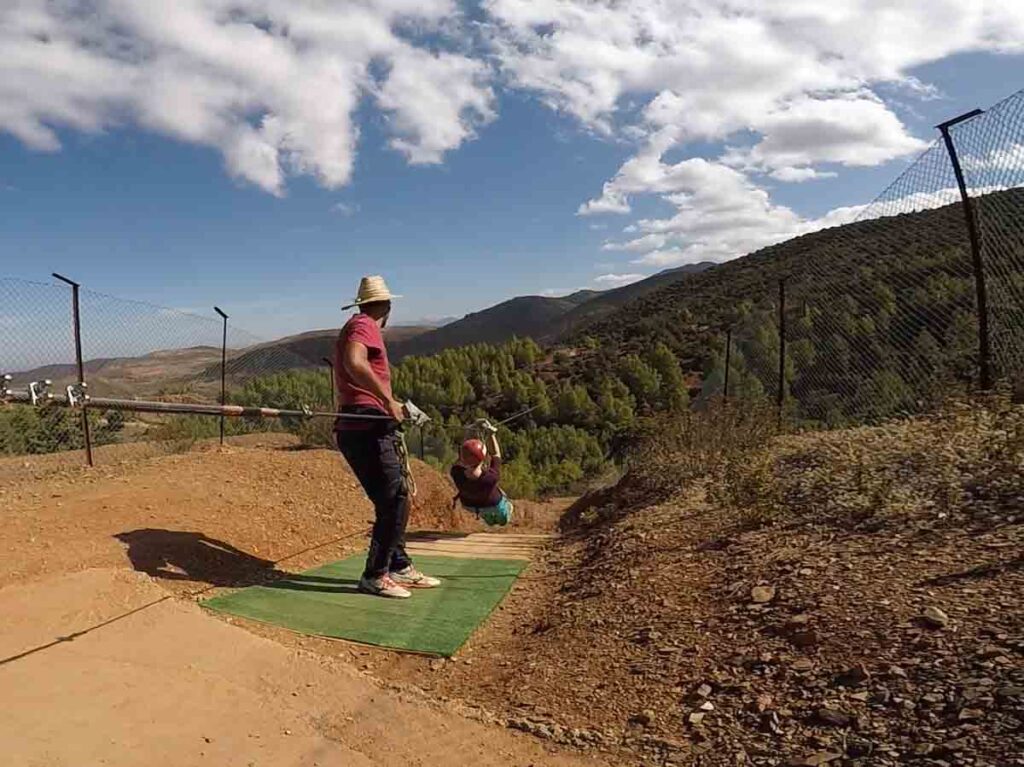 If you only go for the zip-lining it will not fill a whole day, so you might want to either drive on to Asni in the mountains or maybe head to Lake Lalla Takerkoust. This water reservoir is Marrakech's main fresh water supply.
Day trips from Marrakech to the desert
Day trip to Agafay desert
Most people dream of visiting the Sahara when they come to Morocco, but it is definitely too far away from Marrakech to manage in a day trip. The best alternative is visiting the Agafay desert where you can go for a camel ride, drive around on a quad and enjoy the silence and emptiness that is so unique to the desert.
Here you can read more about the different deserts in Morocco.
And if you would like to extend your stay here, there are a few camps around and you could go on a hot air balloon ride for sunrise.
Tour tip: check out this day trip to the Agafay desert.
Day trip to Ait Ben Haddou
This is the longest drive feasible for a day trip from Marrakech. You need to completely cross the Atlas Mountains, so if you are not a confident driver, you might want to hire a driver or book a tour. I recommend driving via Telouet, a beautiful village with one of the most renowned Kasbahs in Morocco.
Ait Ben Haddou is famous as a filming location for movies such as Gladiator, The Mummy and also Game of Thrones. Also it is a UNESCO world heritage site and definitely worth a visit.
Later you can visit Ouarzazate and its famous film studios, it is only a 20 minutes drive from Ait Ben Haddou.
Tour Tip: Check out this full day trip to Ait Ben Haddou.
Please note that some of the links above are affiliate links and, at no additional cost to you, I earn a small commission if you make a purchase. That income goes to supporting this website and keeping it free for you and everyone else!