Chefchaouen is a good example of how Instagram has caused over-tourism. Before the app was full of photos of "influencers" in the blue alleys and on the blue stairs, hardly any tourists found their way here. Not that the medina isn't pretty to look at, but there aren't really that many things to do in Chefchaouen. It used to be just young guys in search of some hashish that made the trip here.
Also, Chefchaouen is quite remote and too far away for a day trip (e.g. from Fes or Marrakech). In my opinion, it is only worthwhile if you visit other places in the north, for example, Tangier and Tetouan. Check out this post for an itinerary around the north of Morocco.
The advantage of staying overnight in Chefchaouen is that you almost have the town to yourself in the evening and in the morning, as most tourists are only passing through or on a day trip.
History of Chefchaouen
The town was founded around 1470 by the Berbers as a base in the Rif mountains to defend the region against the Spanish and Portuguese who were trying to conquer northern Morocco at the time. It owes its name to the Arabic word "Chaouen", which means horns and refers to the two mountains that rise behind Chefchaouen. Chef comes from "shoof = look".
No one really knows why the whole medina is painted blue. There are several stories about it, either the Jews brought the colour with them from Spain, or blue is good against mosquitoes. Either way, the colour is very photogenic and has become a real tourist magnet.
Where is Chefchaouen?
The town is in the middle of the Rif mountains in northern Morocco, on a small river. The roads leading there are narrow and winding, and the driving times long.
Fes 210 km, driving time approx. 4 hours
Tangier 110 km, driving time approx. 2.5 hours
Casablanca 340 km, driving time approx. 5-6 hours
Rabat 250 km, driving time approx. 4-4.5 hours
Is it worth visiting Chefchaouen?
That is very much in the eye of the beholder. If you are planning a trip, preferably with a rental car, to the north of Morocco, the answer is yes. You can spend half a day in Chefchaouen taking photos and then explore the beauty of the Rif Mountains. As a day trip, spending a total of 4-8 hours in the car, I would have been disappointed. After all, apart from the blue walls, Chefchaouen has nothing to offer that other Moroccan cities don't.
Things to do in Chefchaouen
Get lost in the medina
The medina in Chefchaouen is probably the city's main attraction. Most of the houses here are painted blue and the hillside location makes for lots of stairs and narrow streets. Be aware, this makes the medina rather inaccessible if you have trouble walking or a small child in a pram. On the upside, the whole medina is car free. You can just drift around here, the medina is too small to get seriously lost.
There are a few very pretty squares in the medina that invite you to take a break and drink a Moroccan mint tea. I liked Place al Haouta, with its mosaic-adorned fountain, best. In my opinion, walking around the medina is the best thing to do in Chefchaouen.
Take some Instagram-worthy photos
For many tourists, one of the main things to do in Chefchaouen is to take photos on the Instagram-famous blue steps. At the most popular corners, you have to queue to get the photo you want. But you can also just look a bit off the main street for great photo locations that you don't have to queue for. If you stay overnight in Chefchaouen, you can also take photos early in the morning without queuing, as most day tourists arrive later in the day.
Buy a carpet from the region
Many carpets and also woollen blankets are made in the mountains around Chefchaouen. Generally, I would recommend buying directly from the producer, as the middlemen earn a lot of money, while the women who weave the carpets only receive a fraction. Nevertheless, there are many beautiful carpets in Chefchaouen. And if you are not travelling by car, it will be difficult to look for cooperatives in the surrounding villages.
Visit the Kasbah
The Kasbah is the fortified castle complex in the main square, Place Uta al Hammam. There is a garden in the courtyard and a museum inside. It is worth the entrance fee just for the view from the castle tower.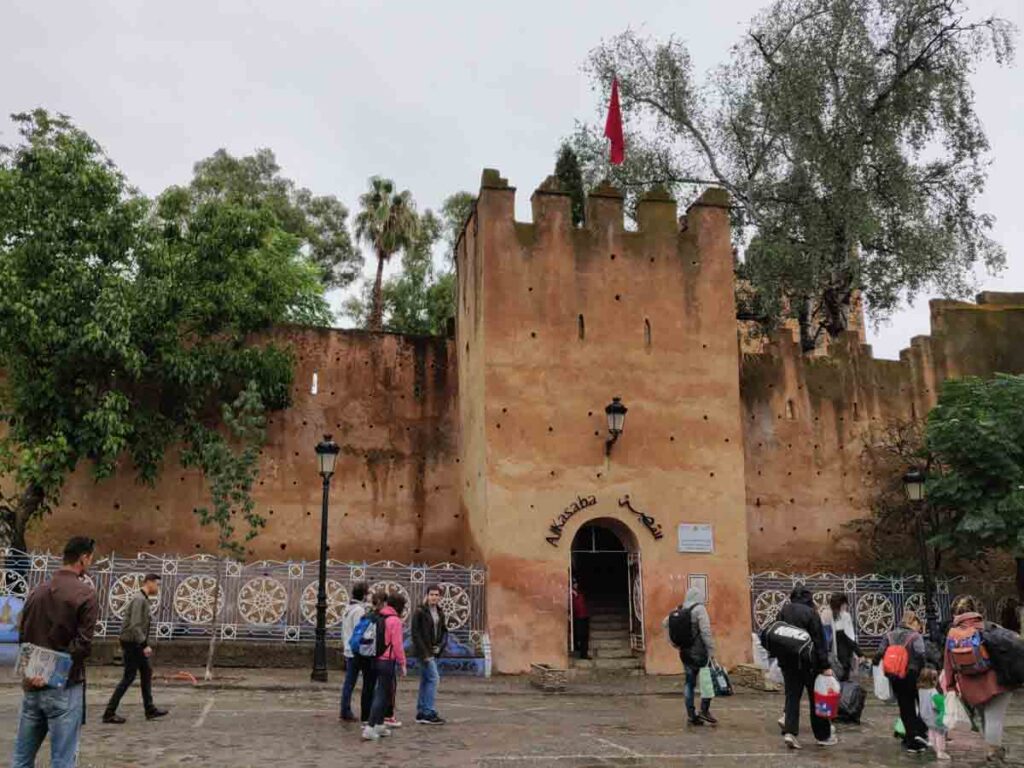 Breakfast at Place Uta al Hammam
While I would definitely recommend restaurants away from the main square for lunch and dinner, breakfast here is totally ok (if a bit more expensive). You can have a good traditional Moroccan breakfast here, with msmen, omelette and tea, while watching the hustle and bustle of the square.
Camel burger at Café Clock
Café Clock is an institution in Morocco, now with 3 branches (original in Fes, another in the Mellah in Marrakech). Here you can eat camel burgers and listen to storytellers and musicians a few times a week.
Ras el Maa Waterfalls
Just outside the medina to the east of the city are the Ras el Maa waterfalls. I recommend a walk here, as the parking situation on-site is quite a disaster. Downstream, you can still occasionally see women washing clothes in the river.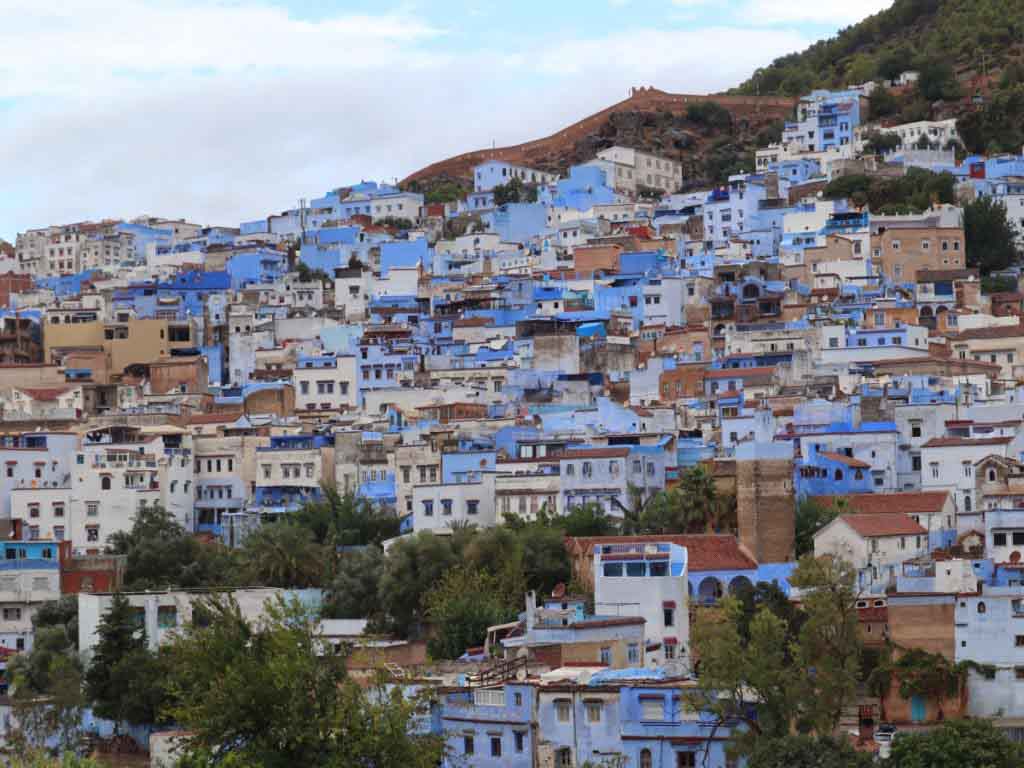 Sunset at the Spanish Mosque
From the waterfall, it is only a short walk to the Spanish Mosque, from where you have a great view over the city. This is one of the most popular things to do in Chefchaouen. Especially at sunset, a lot of tourists make the pilgrimage there.
Go hiking e.g. on Jebel El Kelaa
If you are looking for more exercise, a hike up Jebel El Kelaa might be something for you. However, this is more of a day trip and only possible in a relaxed way if you plan an overnight stay. It might be a good idea to hire a guide for the hike, as the route is a bit more challenging. It is marked in the Maps.me app though if you prefer to walk alone.
In the surrounding area
A really worthwhile excursion in the area is a hike to the Akchour Waterfalls. If you don't have a rental car, you can negotiate with one of the local taxi drivers to drive you there and wait.
There are 2 routes, one to the falls and one to God's Bridge (also both marked on Maps.me). There are a couple of restaurants at the car park and plenty of juice stands along the first part of the route that cool their drinks in the water of the stream.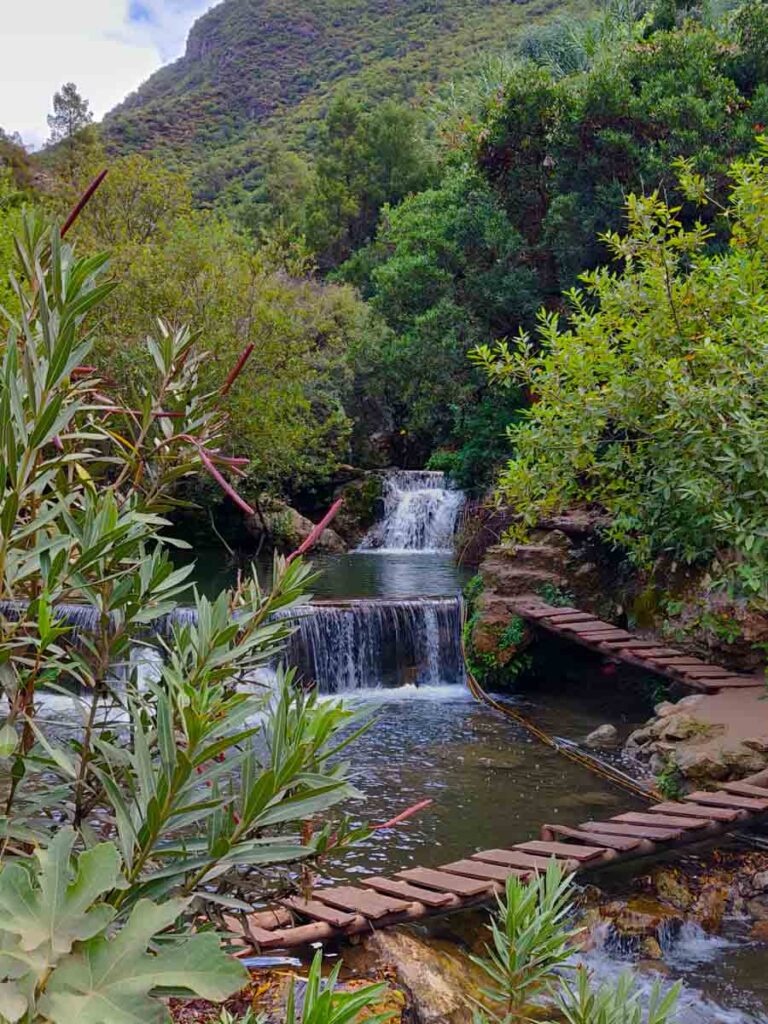 Did my blog help you?
Maybe you want to thank me by inviting me for a coffee!
Photogenic alternatives to Chefchaouen
If Chefchaouen is not on your route, or you don't fancy the tourist crowds, there are some equally photogenic alternatives in Morocco.
The Kasbah des Oudayas in Rabat is decorated in blue and white, and also has narrow streets and beautifully decorated house entrances.
And Ouezzane, between Fes, Tangier and Chefchaouen, has a very pretty, green medina. Here you can also buy carpets and woollen goods more easily, as the prices are not so much geared to tourists.
Where to stay in Chefchaouen
Hotels in Chefchaouen
Budget
Medium
Luxury
Dar Jasmine – just outside the city, close to the waterfalls, with great views
How to get to Chefchaouen?
How do I get from Fes to Chefchaouen?
You can take the CTM bus from Fes, take Grande Taxis, rent a car or book a day tour. In my opinion, the trip is only worthwhile if you also plan to stay overnight or are passing through on your way further north.
How do I get from Tangier to Chefchaouen?
You can take the CTM bus from Tangier, take Grande Taxis via Tetouan, rent a car or book a day tour. Tangier is the only city from which a day trip is really worthwhile and you spend more time in Chefchaouen than in the car.
How do I get from Tetouan to Chefchaouen?
The best way to get to Chefchaouen from Tetouan is to take a Grande Taxi. It's cheap and flexible. You can read detailed information about travelling by public transport in Morocco here.
How do I get from Casablanca to Chefchaouen?
You can take the fast train to Tangier and from there continue as described above. Or you can book a rental car or driver. But with a journey time of 5-6 hours, this is only worthwhile if you can plan more than one day for it.
Please note that some of the links above are affiliate links and, at no additional cost to you, I earn a small commission if you make a purchase. That income goes to supporting this website and keeping it free for you and everyone else!
You prefer to let others do the planning? I offer itinerary planning for your trip to Morocco! You can check out the details here.