One of my favourite cities in Morocco, Meknes is seriously underrated. There are so many things to do in Meknes with hidden sights in the medina and around without the noise and long walking distances of Marrakech or Fes. Also, there is much less hassle from the locals while you are out exploring.
So, plan your visit with this sightseeing guide to Meknes!
Meknes is the smallest of the four Imperial Cities in Morocco. Lonely Planet named Meknes one of the cities to visit in 2019, and of course that still holds true in 2020 and beyond.
Introduction to Meknes
Let's start with a little bit of history. First settlements of the Meknassa Berber tribe (hence the name) date back to the 10th century and in 1063 turned into a fortified small city. Meknes came to fame as the capital of Morocco under Sultan Moulay Ismail who ruled for 55 years from 1672-1727.
He moved the capital away from Fes apparently because he distrusted its inhabitants. His aim was a capital city comparable to Versailles in France. And since Meknes didn't have any fancy buildings, he just started moving things from Marrakech. He is the reason why the El Badi Palace in Marrakech is pretty empty these days.
Of course, he didn't build his Ville Imperiale all by himself, but "employed" an army of slaves (up to 30.000). It seems he had some megalomaniac tendencies, visible in the design and size of his "monuments".
Some of these places have been partly destroyed in a big earthquake in 1755, but you can visit what is left of them.
Today, Meknes is made up of medina and mellah, Ville Imperiale and Ville Nouvelle and it is surrounded by plenty of picturesque vineyards and olive groves. It is also listed as one of Moroccos 9 UNESCO world heritage sites.
Things to do in Meknes
Things to do in the medina of Meknes
Medina
The medina in Meknes is wonderful: small, safe and quiet. Just wander around, it is hard to get lost, and have a look at all the beautiful doors, the small shops and workshops.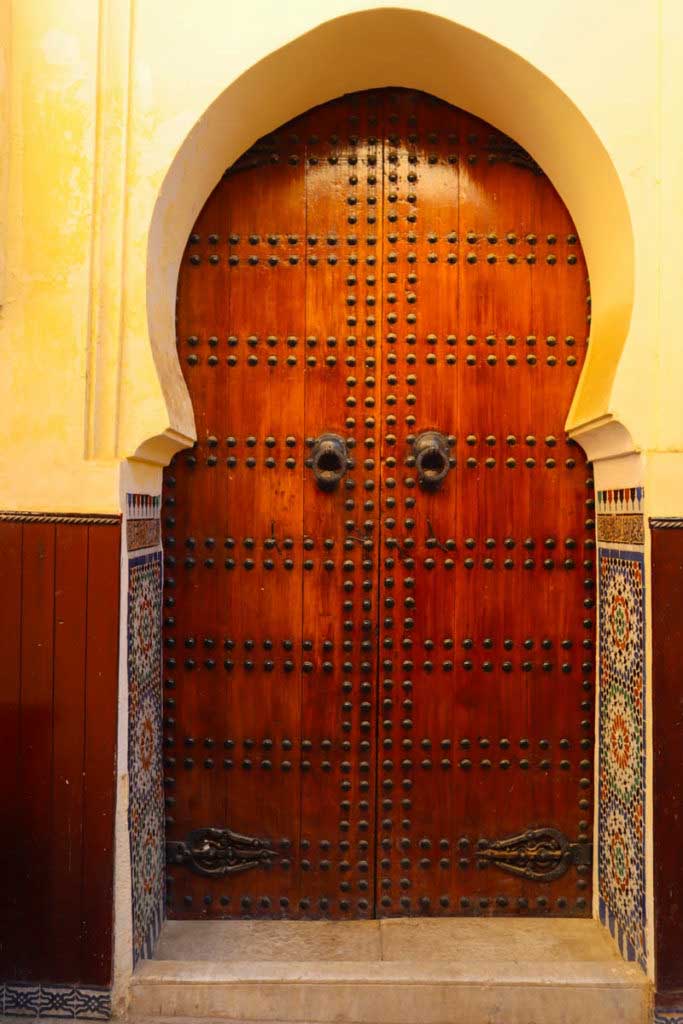 Medersa Bou Inania
This beautiful Quran school dates back to the 14th century and is definitely worth the 70 DH entrance fee. It is definitely the highlight of all the things to do in Meknes!
The medersa has the typical layout with a central courtyard surrounded by school rooms, while the upstairs area consists of small bed chambers for the students.
The design of the walls surrounding the courtyard can be found in other schools and palaces as well. The bottom part is made of colourful mosaics, the middle part beautifully designed stucco and the top is made from carved cedar wood.
Don't miss climbing the stairs to the rooftop, from here you have great views over the whole medina.
Souk
Part of the medina is considered the souk, here most of the alleys have a roof and you find more shops than in the other areas.
What you don't find is the hassling of the shop owners of Marrakech or Fes.
So enjoy your visit and keep your eyes open for a special souvenir.
Place el Hedim
This square is to Meknes what the Jemaa el Fna is to Marrakech. Obviously on a different scale, as everything in Meknes is smaller, but in my opinion much nicer, than in Marrakech. During the day it might be a bit empty, but in the late afternoons, the square comes to life with music, street vendors and people just enjoying the atmosphere.
Bab Mansour
The Bab Mansour is technically part of and entrance to the Ville Imperiale, but as the nice facade faces the medina, I include it here. The Bab Mansour is said to be the most beautiful city gate in all of Morocco. And from what I have seen, I have to agree. It is not only huge, it is also intricately decorated and features a few columns taken from Volubilis by Moulay Ismail.
It is best admired from the Place el Hedim, or one of the surrounding rooftop cafes, in the late afternoon, when the sun shines on it.
Even though the actual door is mostly closed, there is a small art gallery behind it that was definitely worth the time when I visited, but I assume they change the art quite frequently.
Ville Imperiale
The imperial city is bigger than the medina and most of it is not accessible to visitors. But there are a few places worth visiting.
Take a horse carriage
Maybe the best way to explore this part of Meknes is via horse carriage, as distances are quite long and it might be too hot to comfortably walk. Make sure to prepare yourself for the extraordinary experience of riding a proper fairy-tale princess carriage! And as always, discuss and fix a price before getting on.
Heri as Souani
A mostly underrated place is the Heri as Souani, the former city granaries and horse stables. The granary is massive, and it is hard to imagine it filled up to the brim with grains for the army of horses that Moulay Ismail owned. It is said that he had up to 25.000 of them in the stables right behind the granary.
And maybe he did, as the stables are huge. You can visit only parts of it though, as it was destroyed in an earthquake in 1755 and not all is stable enough or restored.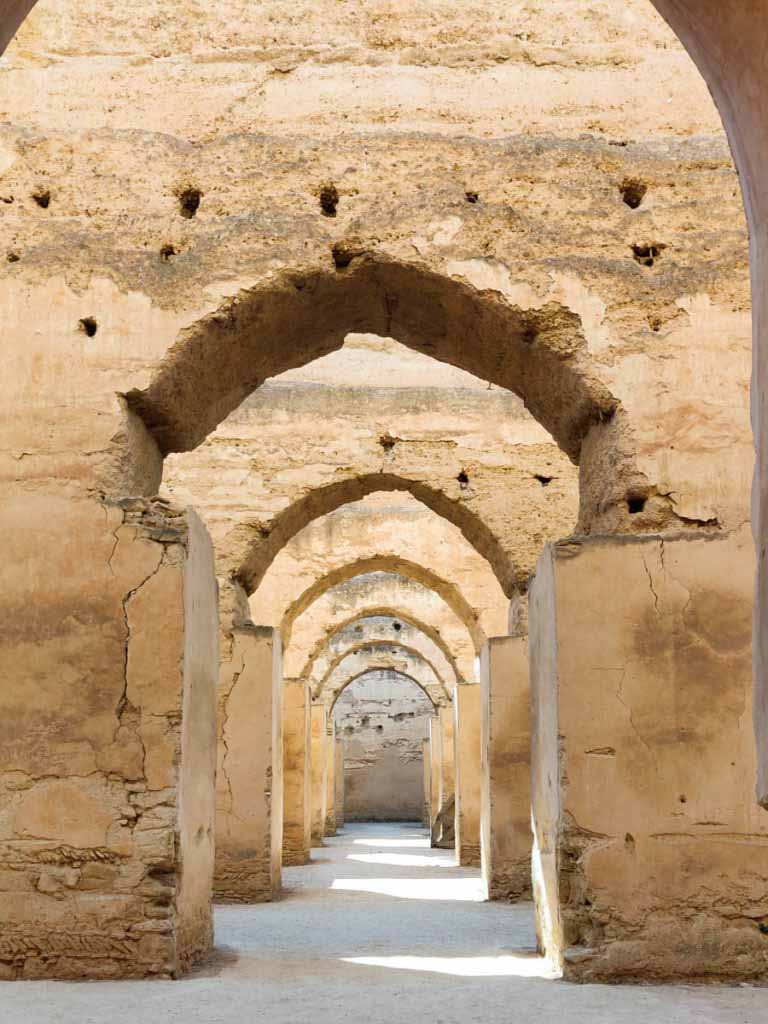 Bassin d'Agdal
This water basin is not very attractive despite its fountain and the surrounding trees. But its sheer size and the short distance to the granary and stables make it interesting for a short visit.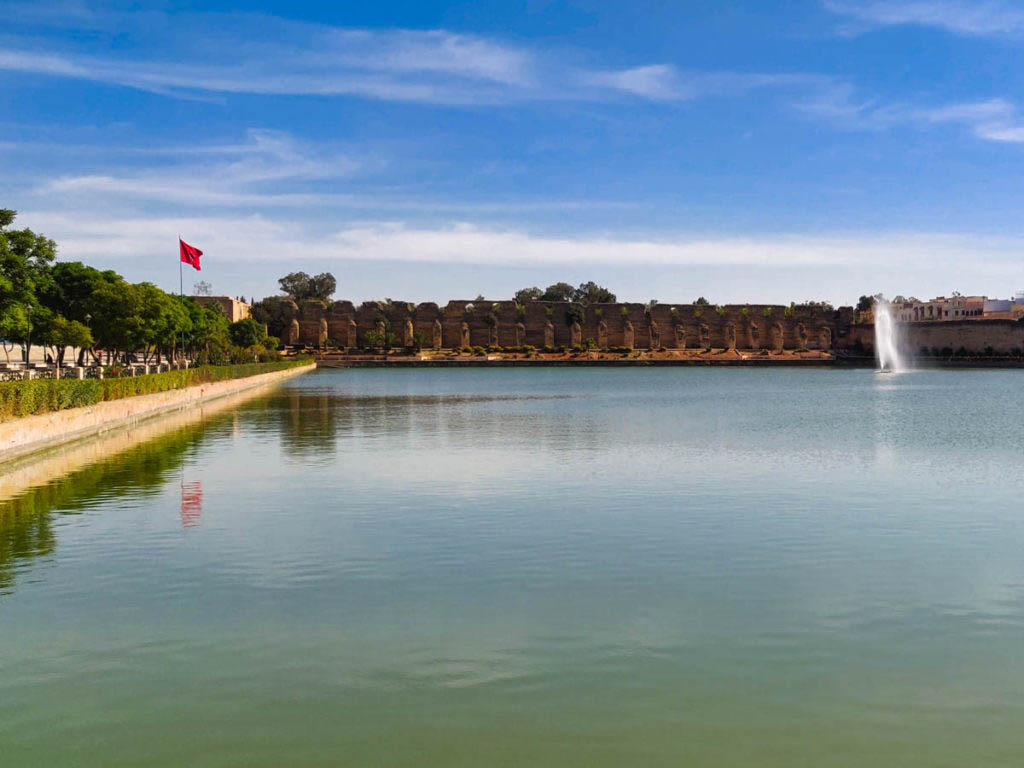 Apparently, it was used to water the thousands of horses in the nearby stables.
Mausoleum Moulay Ismail
The mausoleum was closed when I visited, but apparently you can see the tomb of Moulay Ismail and a beautifully decorated courtyard.
Day trips from Meknes
Vineyards and Wineries
Since Meknes is surrounded by vineyards it is only logical to go on a wine tour. But being in a muslim country, it is not as widely advertised as it would be in Europe.
It is best to ask your Riad to arrange this for you if you are interested.
Day trip to Fes
If Fes is not on your itinerary for a few days anyways, make sure to visit at least for a day. As the medina is very confusing and big, it might be best to hire a guide for the day, to explore with a bit more structure. I recommend visiting at least:
Madrasa Bou Inania
Bab Bou jeloud
Medersa Al Attarine
Funduq al Najjarine
The tanneries
For more details, check out my post on the best things to do in Fes.
You can easily travel to Fes by train, it is only a short ride away and trains go very frequently.
Volubilis and Moulay Idriss
If you are a fan of Roman ruins and mosaics this is the place to go! Volubilis is believed to have been the capital of the former empire of Mauretania, before the Romans took over around 50 AD. It grew to have between 10.000 and 20.000 inhabitants, so it was quite a significant size.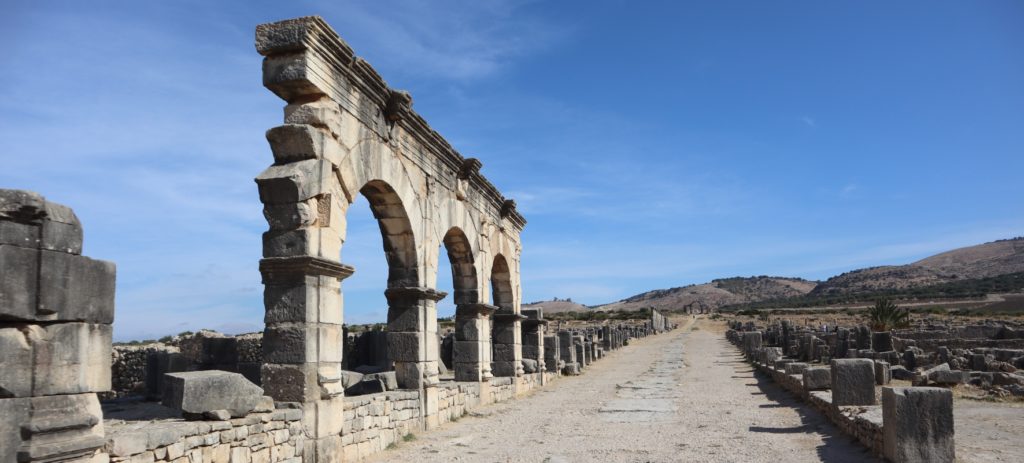 But, the locals fought against the Romans and managed to take the city back at the end of the 3rd century AD. They slowly started to take the Roman structures apart and Moulay Ismail took lots of marble for his new capital Meknes.
Finally, an earthquake destroyed the leftovers to the current state in the 18th century. These days it is listed as a UNESCO world heritage site, one of nine in Morocco.
You can see the old bathhouses, oil mills and quite a few mosaics. The most impressive structure is the Triumph Arch at the end of one of the main roads.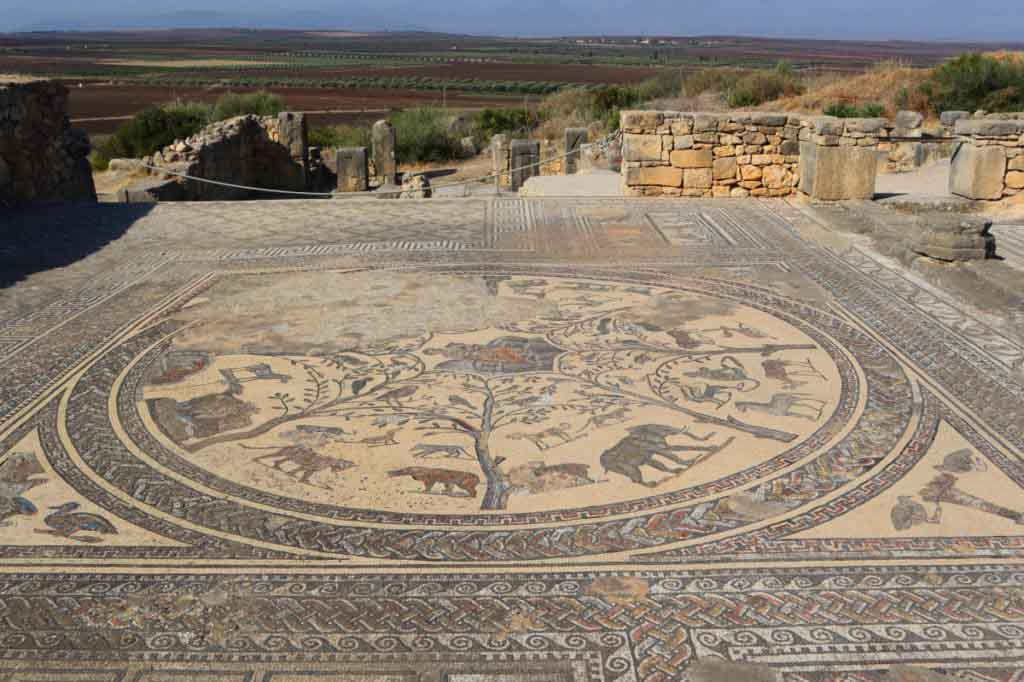 Moulay Idriss is a small town not very far away and for a long time, access for non-muslims was forbidden. Moulay Idriss was a direct descendant of Mohammed, founder of Islam, and the one who brought the religion to Morocco. So his tomb is the most important pilgrimage site for Moroccans and is of course, off-limits for tourists.
This trip is best done with a rental car, or you can hire a driver.
Ifrane and Azrou cedar forest
If you want to get out into nature, consider going up into the Middle Atlas for a day. Around Azrou you can visit the cedar forests with their native Barbary monkeys. If you like you can buy some peanuts from the locals to feed to them.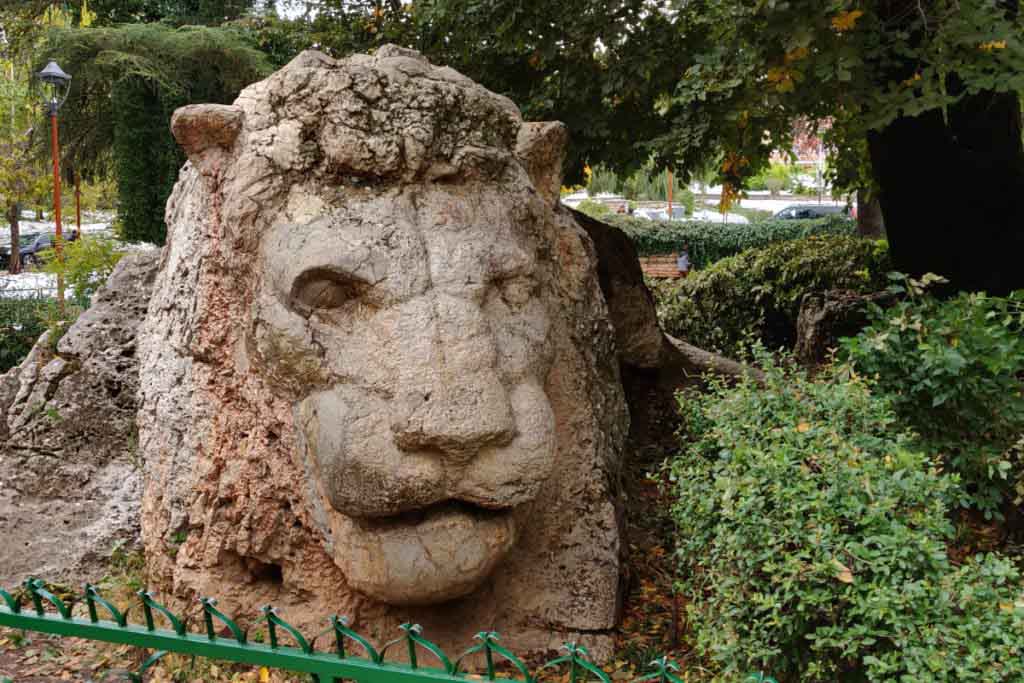 Close by is the town of Ifrane, a skiing resort with resemblance of Switzerland. Take a walk around and visit the Lion that was carved from stone by a German prisoner of war in the 1930s.
Again, this trip is best done with a rental car, or you can hire a driver or book a tour.
Hotels in Meknes
Budget
Medium
Luxury
Chateau Roslane Boutique Hotel (a little out of town and marked wrong in google maps!)
How to get to Meknes
Unless you have rented a car or hired a driver, it is easy to get around Morocco on public transport.
Train
Meknes is a stop on the train line from Marrakech via Rabat to Fes and further east, with a fairly high frequency of trains. In general trains in Morocco are cheap and pretty comfortable.
Bus
Of course, there are plenty of busses to and from Meknes, the more upscale ones are CTM and Supratours. Just beware, they all have different stations in the cities, so if you arrange transfer to your Riad, make sure to let them know the bus company you are travelling with.
Taxi
If you come from somewhere close by, you can choose to go to Meknes with a shared taxi. These always leave from a certain place in every city and have a fixed price.
Plane
The closest airport is Fes, so if you want to visit only Meknes, or start your trip here, this is your best bet.
You prefer to let others do the planning? I offer itinerary planning for your trip to Morocco! You can check out the details here.
Please note that some of the links above are affiliate links and, at no additional cost to you, I earn a small commission if you make a purchase. That income goes to supporting this website and keeping it free for you and everyone else!