Opinions are divided when it comes to visiting Petra By Night. Some find it magical and beautiful, others a complete waste of money. I found my visit to Petra at night very beautiful, but you should remain realistic about your own expectations.
It is an event completely designed for tourists, which drifts a bit into kitsch, especially towards the end. And during the high season it's also very crowded and noisy, which can destroy the magic a bit.
More articles about Petra for you:
First, a few basics:
What do you experience at Petra By Night
Petra By Night is, of course, a purely touristy event. You walk from the visitor centre through the candlelit Siq to the Treasury. There you sit in narrow rows on pillows on the ground, are served a warm tea and then listen to a mixture of stories (told in Arabic, so you won't really understand anything) and music.
Afterwards, the treasury is lit up in bright colours, which ruined the atmosphere a bit for me. Then you walk back through the Siq. It doesn't sound that impressive, but I really liked it.
Please don't be one of those people who ruin the atmosphere with a torch. And if you do, go through the Siq last so that you don't disturb anyone else.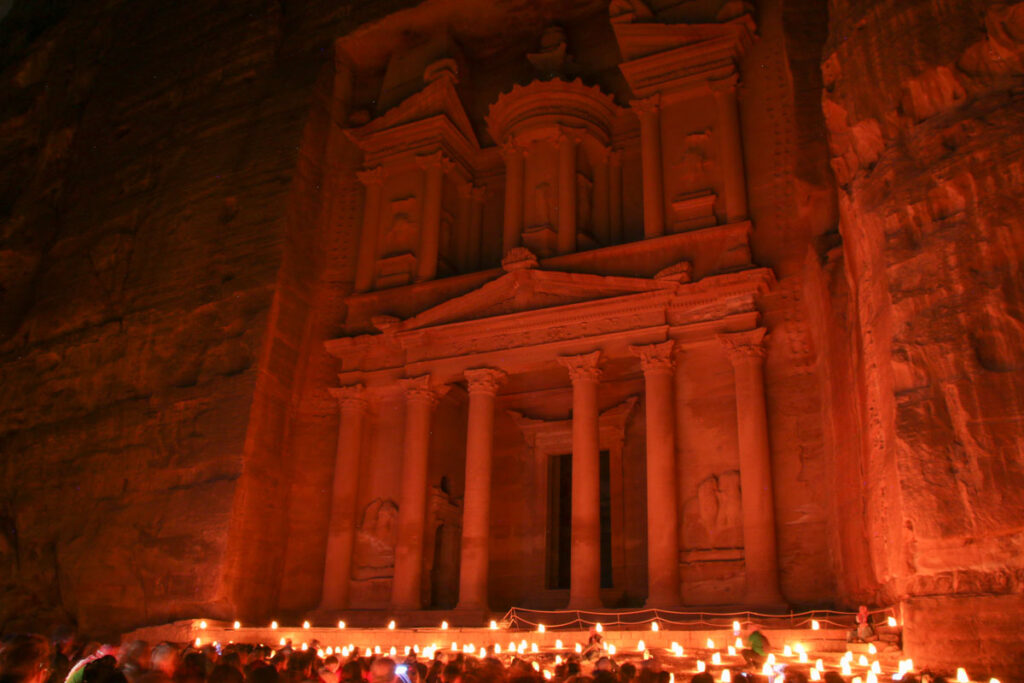 Which days does Petra By Night take place
Petra By Night takes place three times a week, on Mondays, Wednesdays and Thursdays. I have planned my entire Jordan itinerary around this, so that I can be in Petra on one of those nights. Admission is at 20:30 and it lasts about 2 hours. So, you have time to have dinner in Wadi Musa before it starts.
How much does the Petra By Night ticket cost
The Petra By Night ticket costs 17 JD. That's quite a lot of money, especially as the show only lasts 2 hours in total. The entrance fee is not included in the normal ticket, you have to pay it additionally.
Is Petra By Night included in the Jordan Pass
No, Petra By Night is not included in the Jordan Pass. So if you have a Jordan Pass and can just go to the entrance during the day, you have to buy the ticket for Petra By Night at the ticket office beforehand. As tickets are limited, don't wait until the evening to buy them in high season. Here you can find out what is included in the Jordan Pass.
Here are some tips on how to make Petra By Night a great experience despite all the possible obstacles.
Come in low season
In general, it is always advisable to travel in the low season. It's usually cheaper, not as crowded, even if the weather may not be quite perfect.
In Petra, a few weeks can make the difference between 400 and 4000 visitors a day. And since only a fraction of these go to Petra By Night, in low season you feel almost alone.
Line up late
If you want to have the Siq with its many candles more or less to yourself, you should be last in the queue. Most people try to get to the treasury as quickly as possible and are in a hurry in the Siq.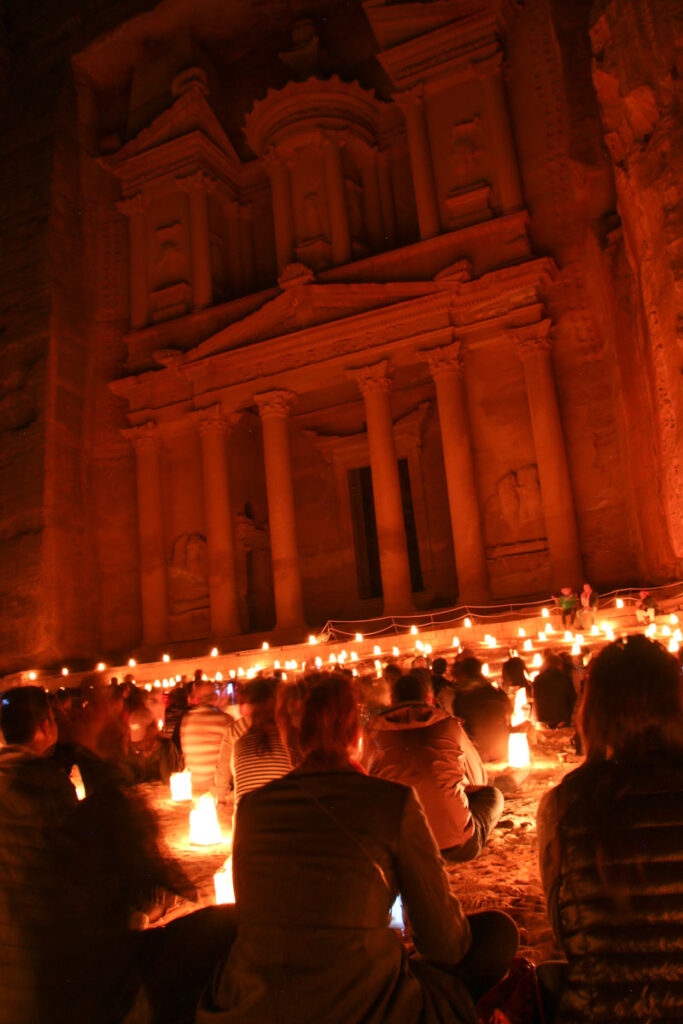 When I visited the treasury, the first people to arrive were seated at the back and then the rows were filled up towards the front. So this way you end up at the front if that is what you want. If you want to take nice photos of the Treasury, however, you should stay at the back, behind everyone else (see also photo tips below).
Take a relaxed approach to the day
As you have to walk all the way down and back up the Siq at night, you should not have walked 20 km through Petra beforehand. If you are staying for several days, it is best to do only a short hike on this day. I spent the afternoon taking photos of the royal tombs, for example. That way I still had enough energy in the evening.
See Petra By Night on your last evening
If you see Petra By Night on your last evening, you end your stay with a very special experience to remember it by. Definitely don't go on your first evening in Petra, it's better if you've seen the path through the Siq before and can judge whether you'll like walking it in the dark. Personally, I didn't find the path particularly challenging.
Photo tips for Petra at night
If you want to take beautiful photos of the treasury by candlelight, you can't do without a good camera and a tripod. Ideally, you should also have a remote control.
The first thought is usually to sit as far at the front as possible so that no people are in the photos of the treasury. But that would be a mistake. The further forward you sit, the less of the treasury you will have in the picture.
In fact, it's best to set up your tripod a few metres behind the last official seats. Maybe you can already check during the day which perspective gives you a good shot.
I also tested and adjusted the camera settings beforehand in the hotel. I set the aperture to open as far as possible, the autofocus worked well for me, and I set the exposure time so that I pressed the shutter button on the remote control as long as I wanted to expose. And then I varied that and tested how it looked best.
At the end of the show, unfortunately, the Treasury is lit up in very bright colours, purple, green, etc.. I didn't like that, and if you want to have the candlelight photos, you need to hurry a bit.
If you are one of the last to walk back through the Siq, you can also take very nice photos with the lanterns that are set up there.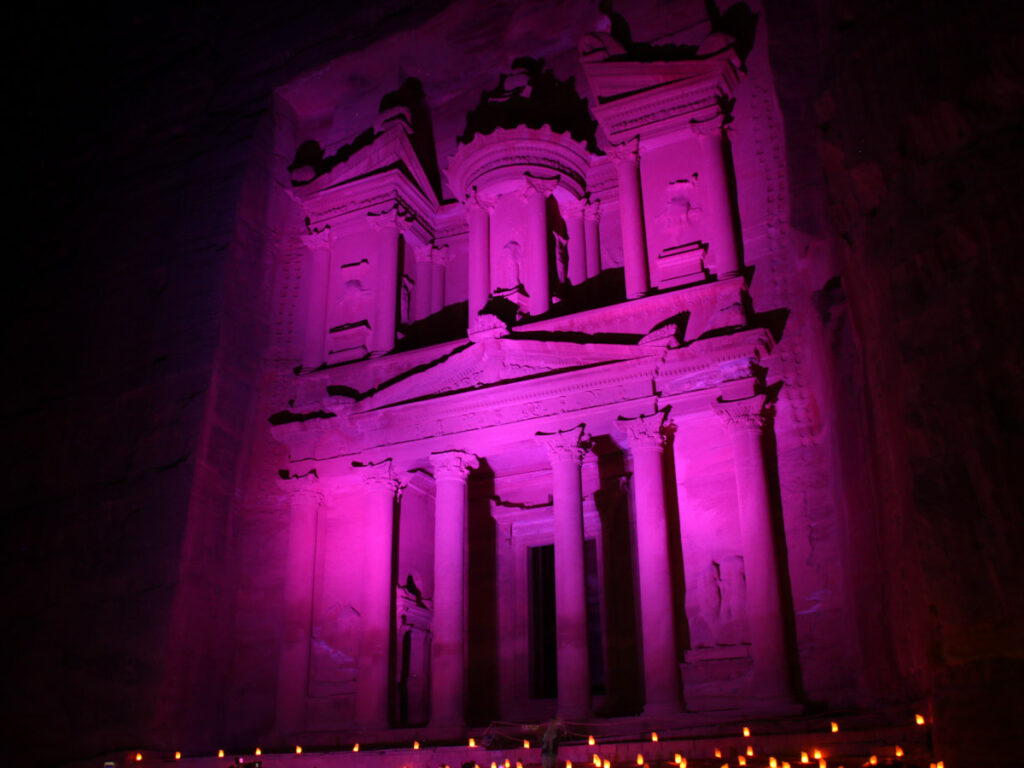 Did my blog help you?
Maybe you want to thank me by inviting me for a coffee!
How to get to Petra By Night
You can get to Petra (Wadi Musa) by bus from Amman or Aqaba, by taxi or a rental car. And then you have to walk from the visitor centre, where the next car park is, through the Siq to the Treasury. In the evening, there is also no alternative of taking a carriage or horseback riding.
Hotels in Petra
Budget
The Petra Cabin Hostel has really good reviews on Booking.com, so it might be a good choice for budget travellers.
Mid-range
I stayed at the Candles Hotel, which has a perfect location. It is only a 3-minute walk from the visitor centre, which means after walking all day, you don't have to hike up the hill into Wadi Musa. The rooms are small but clean, the showers work well and breakfast and dinner are plenty, yummy and not too expensive.
Luxury
The best place, if budget is not an issue, is the Movenpick right opposite the visitor centre. They have nice views from the rooftop terrace, there is a pool, all rooms are air conditioned and they serve alcohol.
If you are looking for more information for your itinerary head over to my one-week itinerary, the best sightseeing in Jordan, or to my post on helpful tips for travelling Jordan.
These articles about Jordan are also interesting for you:
Please note that some of the links above are affiliate links and, at no additional cost to you, I earn a small commission if you make a purchase. That income goes to supporting this website and keeping it free for you and everyone else!