I recommend that everyone who comes here during their stay in Morocco buys their souvenirs from Essaouira.
Why? Simple. Unlike Marrakech and Fes, you'll be left alone to look around, the selection is almost as large, and you'll get fair prices right from the start of the bargaining.
Still, don't forget to bargain! In Essaouira, I always try to end up with about 75-85% of the stated price.
In addition, there are a few things in Essaouira that are hard to find elsewhere, such as thuya wood and amlou.
So, you should consider putting your stay in Essaouira at the end of your Morocco trip, so you don't have to lug everything around for the rest of your trip.
More general tips for souvenirs from Morocco you can find here.
Souvenirs from Thuya wood
Woodwork made from the thuya tree is a speciality of Essaouira. The rest of Morocco uses mainly cedar wood. The thuya wood is beautiful, reddish-brown and very interestingly grained.
You can find jewellery boxes, chess sets, bowls, salad servers and much more. Tables are also often decorated with thuya wood and mother-of-pearl.
The wood has a very pleasant scent and still smells after years, especially if you wipe it with a damp cloth.
If you search a bit, you will also find the odd craftsman at work.
Souvenirs from Essaouira with Argan oil
Argan trees are endemic to the region around Essaouira, which means you won't find them anywhere else. The argan nuts are still processed by hand. They are roasted and ground, and the oil is used in the kitchen or for cosmetics.
The manual work and the fact that argan is only available here make for relatively high prices. So, watch out, if you are offered cheap argan products, there is probably little or no real argan oil in them.
Oil for the kitchen costs at least 200-250 DH per litre. Hair oil etc. is much cheaper because it is less expensive to produce.
Amlou
Amlou is a great souvenir from Essaouira, as it will definitely not gather dust on the shelf. It is also called Morocco's Nutella and is a mixture of almond paste, argan oil and honey. Orange blossom honey is often used, and I personally like this variant best. Very tasty on fresh, still warm bread.
The best place to buy amlou is in one of the small shops in the medina, I always go to the one with number 27 in the alley coming from Bab Marrakech, just after the intersection with the main street, on the left.
Since the amlou is made by hand, the price is correspondingly high. You pay about 200-240 DH for a litre, there are plastic tins in different sizes, and you can also decide for yourself how much honey you want. I don't like it super sweet.
Beware: in the supermarket, Amlou is often sold cheaply, but it's made from peanut butter instead of almonds. It tastes only half as good and is not really worth it. And in the tourist traps, e.g. in the Ourika Valley, they try to sell you a 400g jar for 500 DH.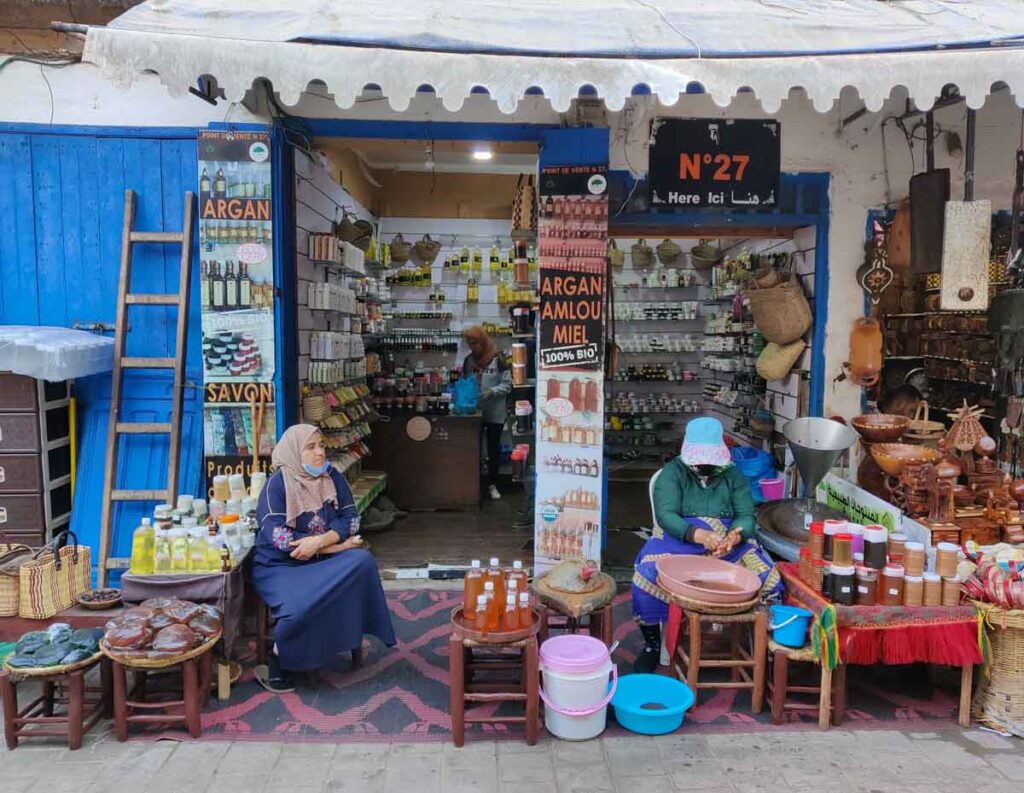 Leather shoes and bags from Essaouira
The medina is full of small shops selling leather products: shoes, handbags, travel bags, etc. Here you sometimes have to search a bit to find really good quality, and it's not dirt cheap either. But of course, it's still much cheaper than at home.
You have to be careful not to be tricked when the goods are advertised as handmade. You can usually tell if the stitches at the seams are not perfectly regular, it is handmade. And therefore, much more expensive. But you are also directly supporting a craftsman and ensuring that this art does not die out.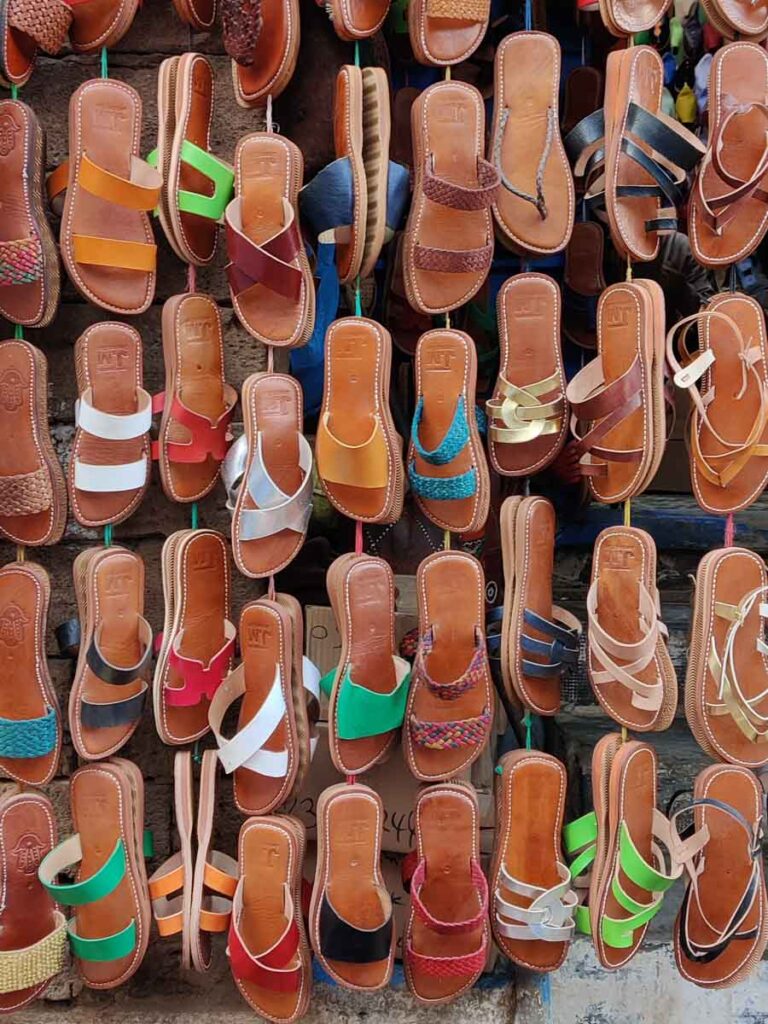 Ceramics
Even though most of the ceramics are not made in Essaouira, you can still buy them here. Most of it comes from Safi, just up the coast. But Safi is not necessarily worth a visit if you are only in the country for a few weeks.
Again, everything is handmade and therefore not perfect. So, if you want to buy several matching pieces, you have to invest a bit of time to make sure they actually match.
On the bottom of plates, bowls, etc., you can usually find the city and sometimes the manufacturer's name.
You should also bargain here, and the more you buy, the bigger the discount. So, if you want several bowls for example, it is a good idea to buy them all from the same seller.
Paintings by Rashida, exclusive souvenirs in Essaouira
A somewhat different souvenir is one (or even several) paintings by Rashida. Rashida is from Essaouira and has been painting scenes from the city for over 20 years. She has been on television here and her style is often copied by other artists.
She also sells paintings that her husband has made, but they are similar enough that you can buy mixed.
You can find Rashida almost every day at the Skala at the end of the ramp. The paintings cost between 130 and 200 DH, depending on the size.
Carpets
And of course, you can also buy carpets in Essaouira. There is a large selection from all regions of Morocco. The thick, fluffy carpets come from the mountains, the thin and often heavily patterned ones from the desert.
Almost all carpet sellers also ship the carpets directly to your home, so you don't have to worry about transport.
A great alternative to buying a rug that doesn't involve paying a middleman is The Anou. It is an association of cooperatives all over Morocco that have their own internet platform through which they sell. You can also have your customized measurements and/or designs made here and the shipping is of course also well organised.
Did my blog help you?
Maybe you want to thank me by inviting me for a coffee!
Please note that some of the links above are affiliate links and, at no additional cost to you, I earn a small commission if you make a purchase. That income goes to supporting this website and keeping it free for you and everyone else!
You prefer to let others do the planning? I offer itinerary planning for your trip to Morocco! You can check out the details here.