I recently spent 3 weeks in Jordan. Preparing for this holiday I searched for blogs on what to do and where to go, and I was surprised to find that no one seems to stay longer than a week. So it was really hard to figure out how to plan my itinerary, as there was no information on what to do in places for more than a day. To prevent you from running into the same issue, I have put together this ultimate guide to Jordan!
If you plan to only stay a week, check out my perfect one-week itinerary. To find out what to wear, how to get around etc. head over to the post with general tips on travelling to Jordan.
You can follow this 3-week itinerary either as a self-drive tour around Jordan if you want to rent a car or, like I did, by hiring drivers to get from A to B. Some, but not all places can also be reached by public transport. But this means early mornings and less flexibility.
The ultimate guide to Jordan – The North
I decided to base myself in Downtown Amman for the first 5 nights and discover the city as well as the surroundings from there.
Amman
Amman has a lot to offer, from ancient Roman ruins to a modern museum, from local markets to awesome restaurants.
The Citadel
For the first day, I would advise heading up to the Citadel to get a literal overview of the city. Take some time to familiarize yourself with the surrounding hills from up here. I found it easier to read the map after seeing the city's layout from above. There are some impressive ruins up here, so make sure you have time to have a good look around and bring your camera too. My favourite was the Ummayad palace, or what is left of it. Make sure to step inside the old entrance and have a look at the ceiling.
Also, check out the Archaeological Museum, they have the apparently oldest human statues on display there and lots of everyday items and jewellery dating back to the bronze age.
The Roman theatre
Next, make your way down the winding roads or take some stairs as a shortcut to visit the Roman Theatre. It dates back to the 2nd century AD and can fit 6000 people. To see it in the middle of a city like Amman is quite impressive. Have a seat and imagine what it would have been like 2000 years ago, watching the actors perform with the citadel as a backdrop.
Downtown
From here walk to the Nymphaeum and then through the food souk. Get lost in the chaos of fruit, veggies, spices and meat, maybe buy some dates for a snack. Afterwards, keep walking around downtown, have a look at the King Husseiny Mosque. And, just stroll through the narrow roads and the big main streets.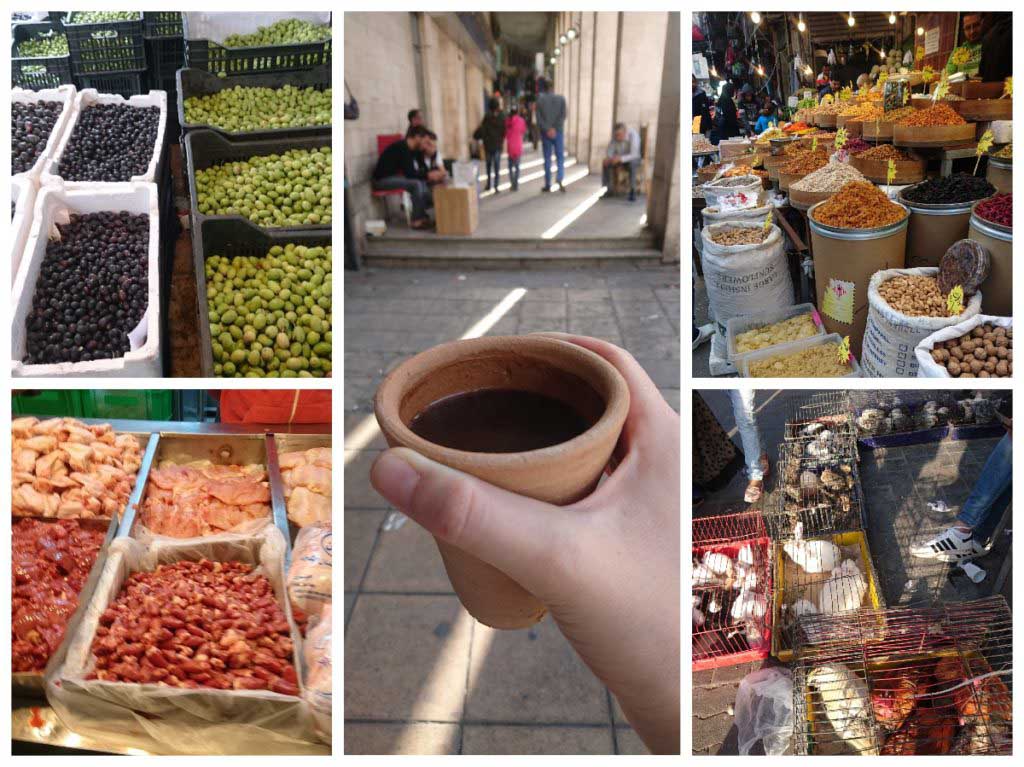 Jebel Amman
For the afternoon you should head up Jebel Amman. The road along the top is called Rainbow Street. It is full of little cafés and restaurants and the neighbouring streets host lots of beautiful old houses. The Jordan River Foundation (arts) and Wild Jordan (nature conservation) are located here.
Jordan Museum
On day 2 you should head to the Jordan Museum. They have a permanent exhibition on historical and contemporary topics, including the famous Dead Sea Scrolls. When I went in November 2017, they also had an exhibition featuring inventions and discoveries by Arabs. It was very modern and multi-medial and you can easily spend a few hours learning.
In the afternoon take a taxi and visit the blue King Abdallah Mosque. It is possible to go inside, just make sure to dress modestly. Afterwards, head to the Islamic Museum next door.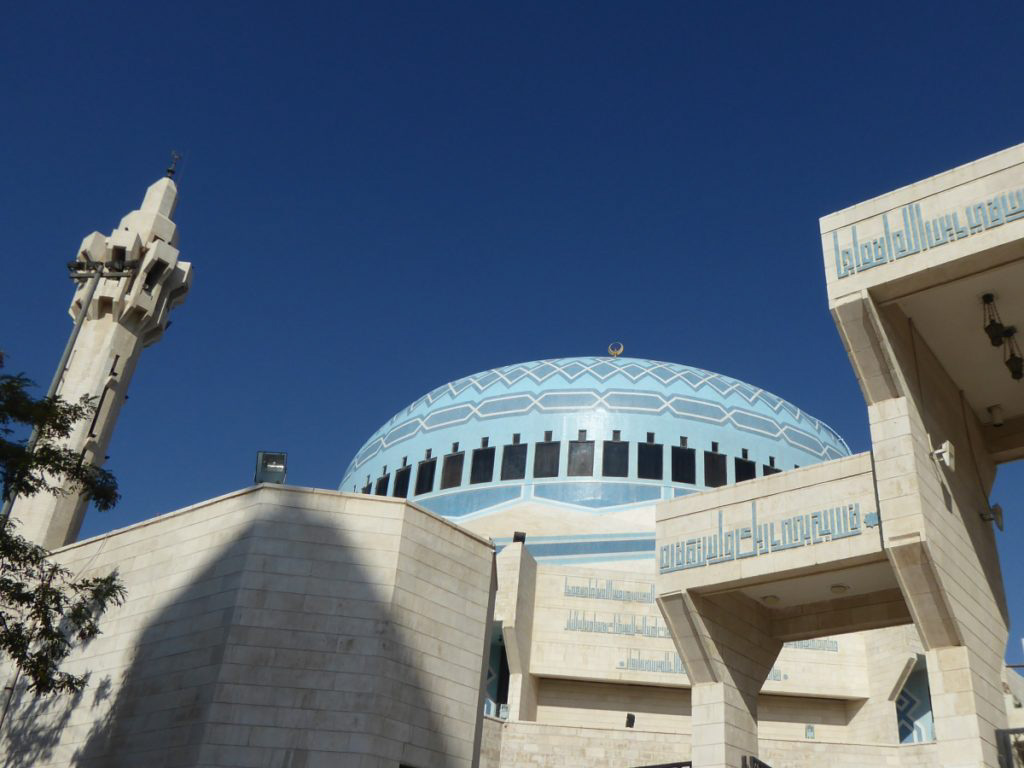 I took a cooking class at Beit Sitti on one of the evenings and this turned out to be one of my favourite activities of the whole trip!
For more food tips, check out my post on my favourite restaurants in Amman.
Umm Qais, Ajloun and Jerash
Take a day trip to Umm Qais and Jerash to get an overdose of ancient Roman ruins. It is totally worth it, as the ruins are much more intact than the ones in Rome.
I went to Umm Qais in the morning and Jerash in the afternoon and also stopped at Ajloun castle as it is on the way. From Umm Qais you can see Israel and Syria, and if the weather is good all the way to Lebanon as well. The ruins are spread out across a huge area, bring good walking shoes!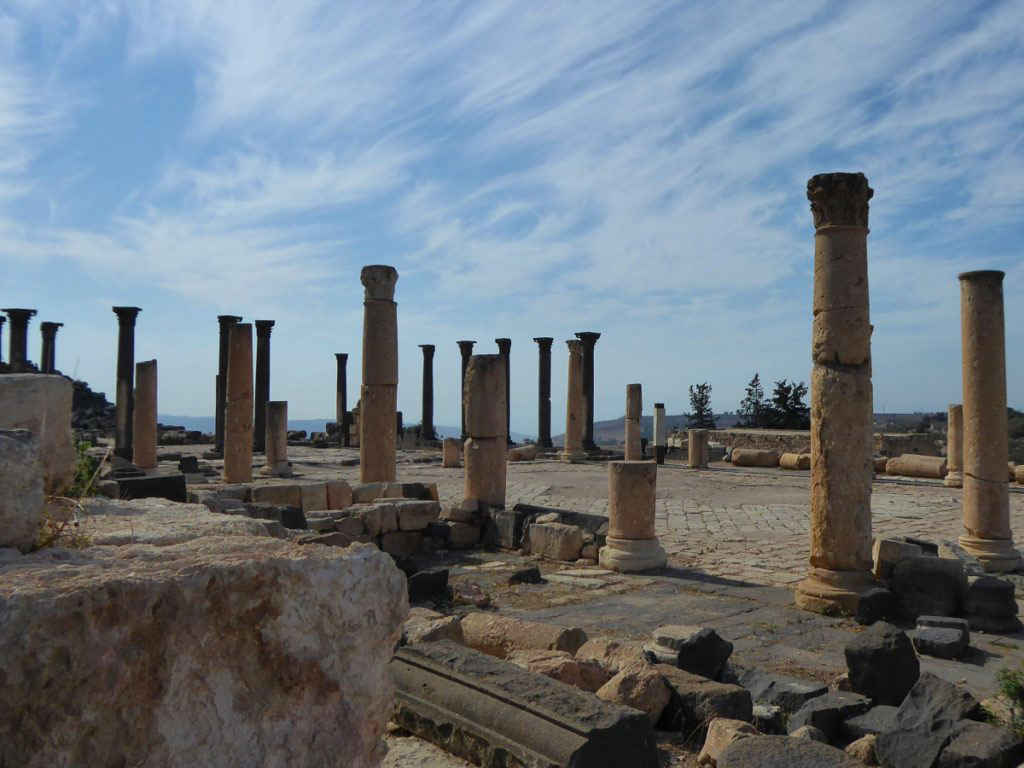 Ajloun castle dates back to crusader times but was built by their Jordan enemies. It overlooks beautiful mountains and valleys and is totally worth the stop.
Jerash is actually one of my favourite places in Jordan! I was lucky to be there during a gorgeous sunset, but even without that perfect light, I would have loved it just the same. You really get a feel for the city it used to be, as many of the ruins are in good shape and the modern city was built on the other side of the river. The Nymphaeum and the temple of Artemis are my favourite buildings. For inspiration, check out my photo post.
Desert Castles
Another day trip to go on is out east to the desert castles. Castles might be misleading, there are a bath-house and a Caravansary among them. But it makes for an interesting trip non-the less. I also stopped at the Azraq Wetland Reserve, a nature conservation project with lots of bird viewing opportunities. And, if you are really lucky, you might get to see water buffalo (I didn't ☹).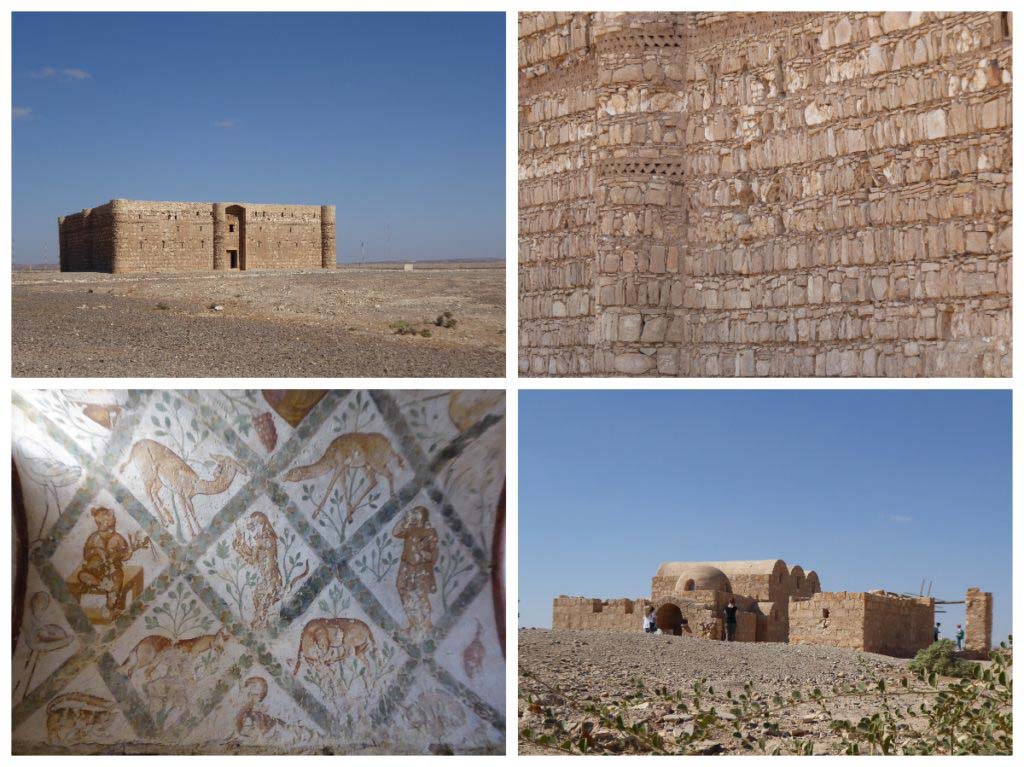 Salt, Mt. Nebo and the Dead Sea
I was really curious about the Dead Sea and also thought I might want some luxury before heading to Petra and Wadi Rum for hiking. So I had booked 2 nights at the Crown Plaza Hotel at the Dead Sea. In hindsight, I probably wouldn't stay 2 nights again, but you might enjoy a day at the beach or by the pool more than I do. I planned a "travel day" to get there via Salt and Mt. Nebo (and Madaba, but I advise to leave that for the last day).
Salt is a cute little town with a long history dating back to the Iron Age. These days it is a very un-touristy town with good museums and a nice heritage walk that takes you around the sights.
Mt. Nebo is supposedly the place where Moses saw the holy country for the first time and also died. There is a church with great mosaics and the view across the Jordan valley is amazing. For a bit of a surreal experience visit the La Storia Museum down the road. They have dioramas displaying everyday life from past to present.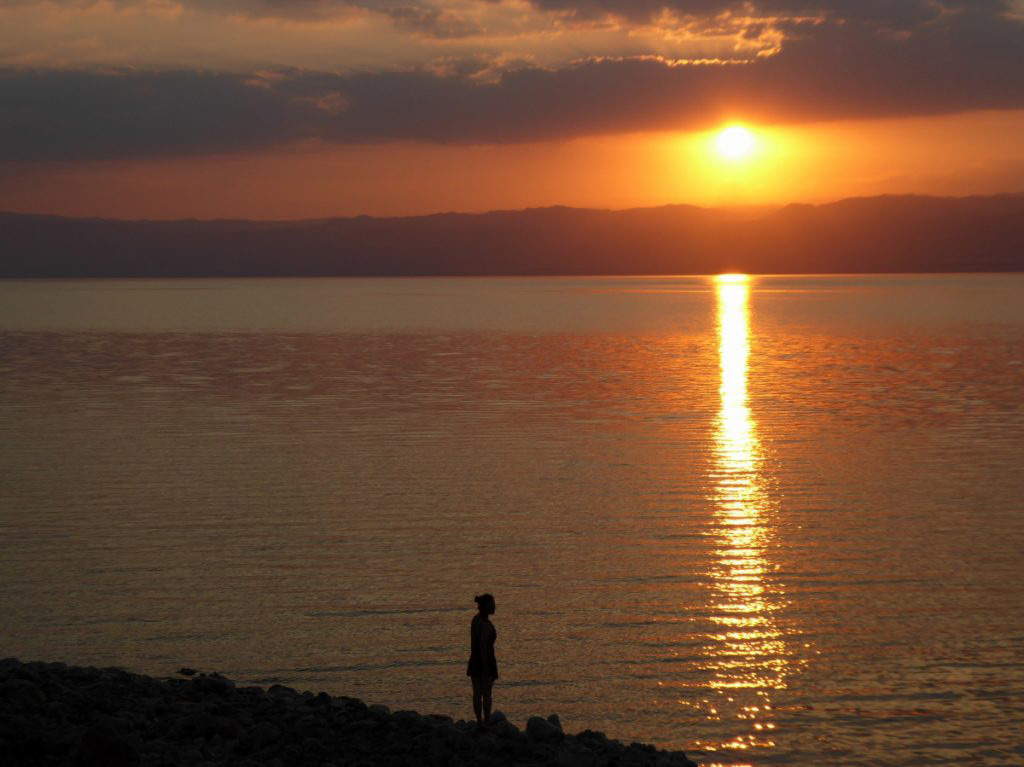 At the Dead Sea, go for a float and rub black mud all over you. It is actually a pretty cool experience. But, that is actually all there is to do. Well, I got bored pretty fast with just lying by the pool, but if you are into that, the hotels are all really nice. Mine had great food options, a spa and a great pool area.
The ultimate guide to Jordan – The desert
Petra
Petra was my highlight of the whole trip! I've been wanting to go since I was a child. Not sure, why I put it off for so long, but finally the time had come. To make sure I would get to see everything I wanted and also experience Petra by night I went for 3 days/4 nights. And I did not get bored! I hiked to the High Place of Sacrifice, the Monastery, the Al-Khubtha Trail and everything in between. Of course, the Treasury is a highlight, as it is the most famous building in Petra, but my favourite was the Monastery. So however long you plan on staying in Jordan, make sure you travel to Petra! To make your planning easier, I wrote a detailed guide to Petra.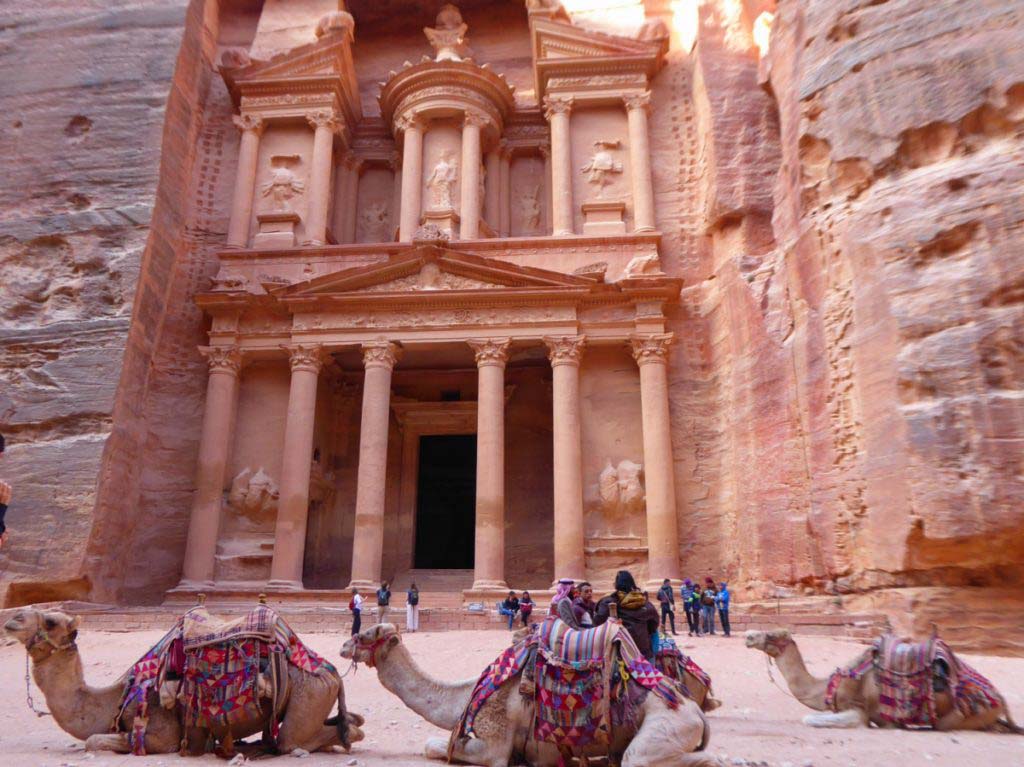 Wadi Rum
For some reason, most people seem to only stay overnight in Wadi Rum. And they don't have a clue what they are missing! Just seeing the sunsets is worth staying a few days longer. I went on 2 long hikes, up on Jebel Hash and Jebel Umm Ad Dami, Jordan's highest mountain. The views over the desert are fantastic and definitely worth the hike/climb. You can also see the border to Saudi Arabia from the top of Jebel Umm Ad Dami as it is only a couple of kilometres away. On the day between the hikes, I went on a 5-hour camel ride. Luckily I didn't actually have to ride 5 hours but had tea, lunch, sightseeing and some climbing included.
The only downside to staying in the camp for 4 nights is, they serve the same food every night. But since it is really tasty, it could have been worse.
As a side note, be aware if you have a rental car, you won't be able to bring it into Wadi Rum. You will have to leave it at the visitor parking and will be picked up by staff from the camp you're staying at.
The ultimate guide to Jordan – The South
Aqaba
After almost 10 days in the desert (Petra is pretty dry and dusty too!) I wanted to get my feet into some nice warm water. So off to Aqaba I went, to go diving for 2 days. No matter if you like diving and snorkelling or not, you will have a great time exploring Aqaba and going for a swim at South Beach. The coral and fish are amazing. And they also cater for divers by way of the sunk wreck of a huge freighter, a tank and a recently drowned aeroplane. I stayed with Red Sea Dive Center in South Beach. The hotel is a bit further up the street, but this makes it very quiet at night.
And back
Dana
On my way back north I had planned a 2 day stop in Dana, a huge nature reserve with great hiking. I ended up cutting that short, as the temperatures had dropped to single digits and there was no heating in the hotel, not even in the common rooms. I figured staying a second night might give me pneumonia. So after a nice long hike down and back up the canyon in the morning, I had my driver pick me up and drive me to Madaba. But, if you go at a different time of year, I am sure staying 2 days is absolutely worth it.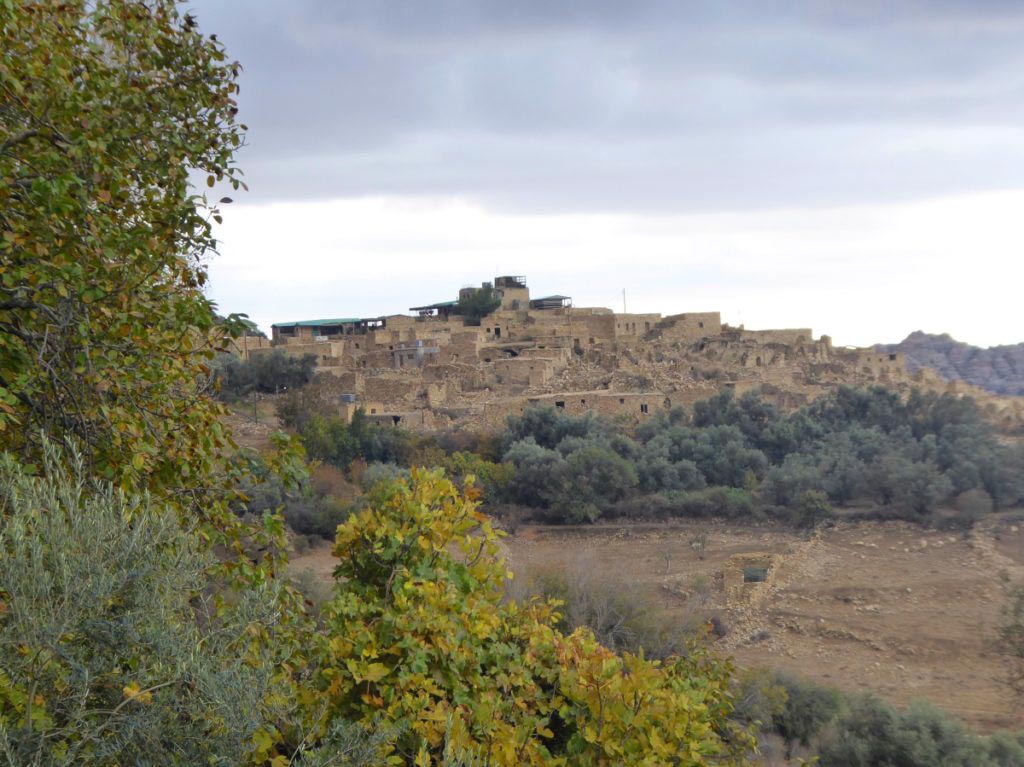 Madaba
My last day I spent in Madaba, a lovely little town, conveniently located a 30 min drive from the airport. Madaba has a ton of mosaics, including the most famous one showing a map of the Middle East from Lebanon to the Nile delta and from the Mediterranean Sea to the eastern desert. Madaba is small enough to just walk around and get a little lost. There are plenty of little shops to buy some souvenirs from and have tea and a chat with the owners.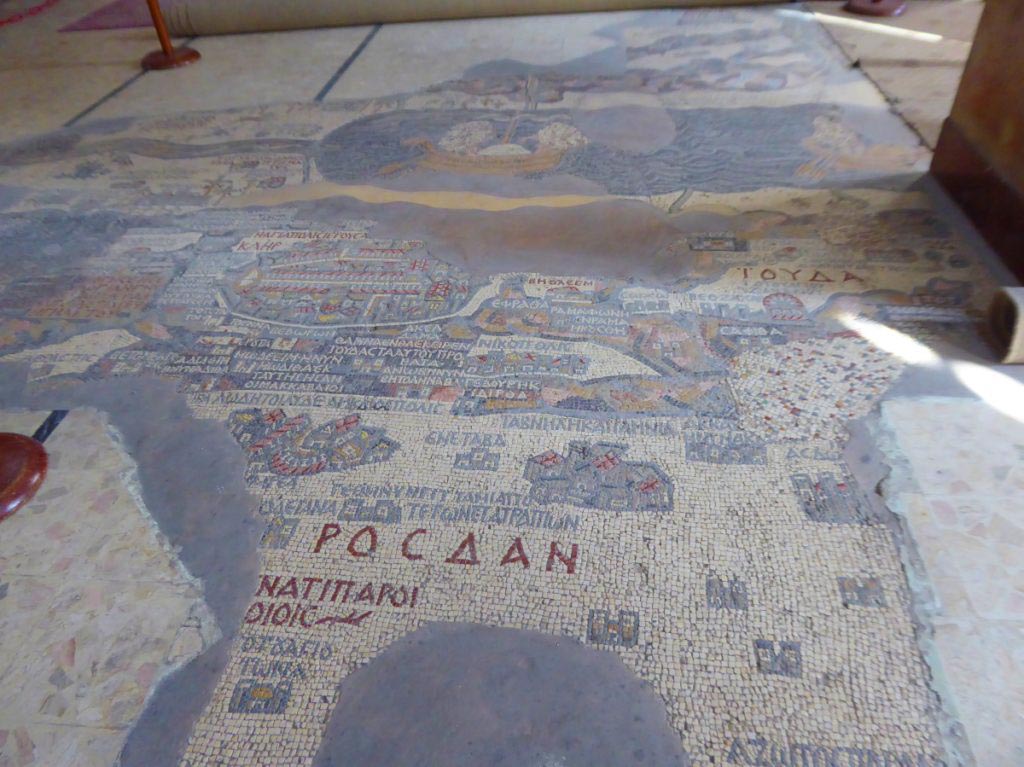 For your last night, I recommend having dinner at Haret Jdoudna in Madaba. It is a traditional Jordanian restaurant with awesome food. A bit pricey, but who knows, maybe you have to get rid of your last cash anyway (I sure did…).
The taxi ride from Madaba to the Airport is about 30 min and should cost around 12 JD. The hotels in Madaba are happy to book this for you.
So, I hope this helps you put together an itinerary for your trip to Jordan. Please let me know in the comments if you have questions or other recommendations that I should include in this ultimate guide to Jordan!