Morocco is a paradise for adventurous travellers! Most of the country is still rugged, untouched terrain, offering many off the beaten path experiences. From the Atlantic to the Atlas Mountains all the way down to the Sahara Desert you can find adventurous things to do. Which ones you choose might depend on the time of year you are visiting Morocco, the summer is too hot for the desert, in winter there is too much snow in the mountains. But the coast is great all year round.
Long-distance hiking in the Sahara
To me this is the ultimate adventure in Morocco, and I know what I'm talking about, because I have hiked many times in the Sahara. The first time for 9 days in and around Erg Chigaga, the second time for 16 days from Zagora to Merzouga. On that second trip I went with just one other woman and of course a local crew. On foot, with a few camels to carry our things. No internet, no phone reception, just nature, fantastic views, great food and the hospitality of the Berber people of Morocco.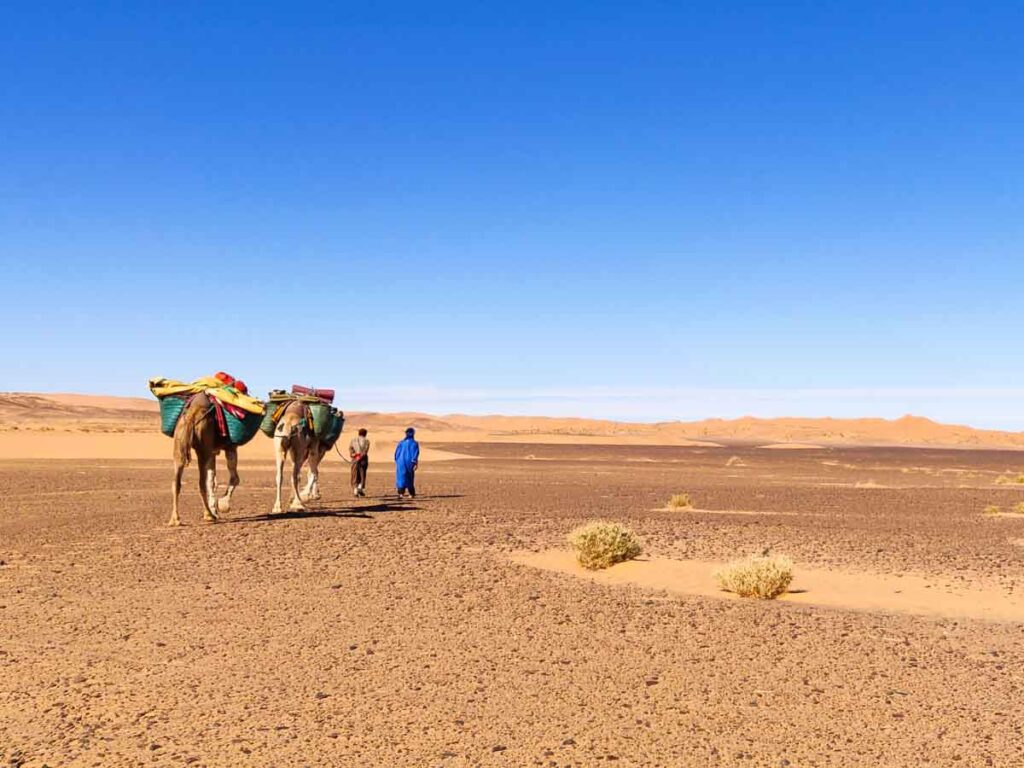 It was a real adventure, as there was no one who had walked that whole distance before, at least no one still around. The guide and the camel man each knew part of it, but they also couldn't say how long it would take. Flexibility was definitely necessary. They had to find good campsites, with shadow and out of the wind. They had to find wells, so that we had water for the camels, dishes, and sometimes even to wash out hair. They had to find spots where we could bake bread in the sand for breakfast.
Check this posts about the deserts in Morocco for more general information.
Now that I am living in Morocco, we are offering these kinds of adventure hikes for everyone. We did one small group hike before the pandemic shut down the world, and we are hoping to start again soon. So, if you and your friends are up for an adventure of a lifetime, get in touch. Or check out our website Berber Adventure Tours here. You can see photos and videos of the trip in my Instagram stories highlights.
Trekking Jebel Toubkal
Another epic adventure in Morocco is summiting Jebel Toubkal, the highest mountain in Northern Africa at 4167 metres. It is fairly easily accessible, from Imlil, a small mountain town just over an hour's drive from Marrakech. You can hike to the top from Imlil in 2 or 3 days, depending on your fitness and ambition. There is some snow or ice at the top almost all year, but no special equipment is needed outside of the winter months. Especially in the warmer months this is one of the best adventures to have in Morocco as it lets you escape the heat.
You need to book a guide, and you can choose to book a donkey to carry part of your equipment.
If you decide to trek Mount Toubkal while you are already in Morocco, you can rent or buy the necessary things in Imlil. There are plenty of small shops selling mostly used clothes, shoes and other equipment for reasonable prices.
If you are not quite ambitious enough to want to summit Jebel Toubkal, there are many other treks around Imlil that you can choose from. Just talk to one of the local guides to find one that fits your fitness level and number of days you'd like to hike.
Tour Tip: You can also book group tours that include trekking in the Atlas and summiting Mt. Toubkal. Here is one with G Adventures.
Paragliding in Dakhla
I haven't been to Dakhla yet, but I went paragliding in the Dolomites in Italy. It is one of the most exciting things I have ever done, and I imagine going paragliding in Dakhla will be similar. Just instead of mountain tops, you get to enjoy views over the endless sand dunes, the lagoon and the Atlantic Ocean.
It is a great feeling to glide almost soundlessly through the air and, if the conditions allow, climb higher and higher into the sky.
If you prefer to stay closer to the ground, or water for that matter, you can also go kite surfing in the lagoon.
Climbing Todra Gorge
If you like climbing, the Todra gorge is the best place to have your adventure in Morocco. Especially in the last part of the gorge, before the river reaches Tinghir, the walls are steep and high, up to 160 m. Here you can find around 150 climbing routes for all levels of experience.
It is probably best to plan your climbing adventure around dry season, otherwise the gorge might transform into a raging river and the climbing sites could be inaccessible.
Check out this company for your climbing adventures in Morocco.
Kite Surfing Essaouira
Essaouira is also called the windy city, which should be a hint at the conditions you will find for kite surfing here. The city itself is really nice, my favourite in all of Morocco. And the beach starts just outside the medina walls, making it a very accessible adventure.
Whether you are experienced and just want to rent equipment or a complete beginner looking for classes, there are plenty of surf schools around with all this on offer.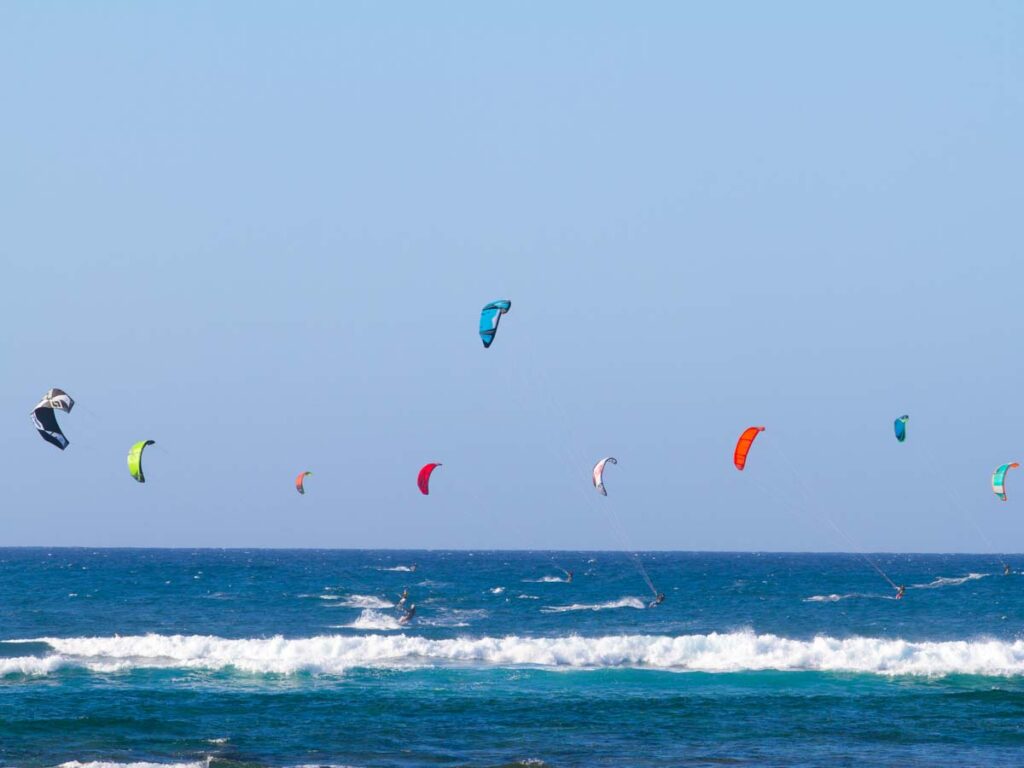 You can even book this as a day or overnight trip from Marrakech.
And if you want a few adventures in one place, you can also book camel rides, horseback riding and quad tours in Essaouira.
Horse riding at Terres d'Amanar (bonus zip lining)
If you are into horseback riding and amazing landscapes, you have to come to Terres d'Amanar in the foothills of the Atlas just outside of Marrakech. The canyons here are spectacular and the horses are very surefooted Arabs. It is probably best to book in advance, and you can choose from 30 min to full day rides.
Enjoy riding through the trees along the canyons, maybe even down into the shadow of the ridgeline. For full day rides you will bring a picnic lunch to eat under a pine tree with awesome views.
Bonus adventure here is the zipline park with 4 ziplines and a couple of suspension bridges.
Canyoning
If you are a water lover, maybe try canyoning in the Atlas. Hiking downstream, climbing, abseiling and jumping from cliffs, all included in this fun excursion. It is definitely one of the most exciting adventures in Morocco. All equipment is provided, as is of course a guide to make sure you'll enjoy the trip.
This is an experience for the real thrill lovers. Canyoning gets your adrenalin pumping, depending on water levels there is hardly a place for a proper break. But, when it is hot, it is the perfect adventure activity to cool down.
Just make sure to inquire before, as availability varies with seasons and water levels.
You prefer to let others do the planning? I offer itinerary planning for your trip to Morocco! You can check out the details here.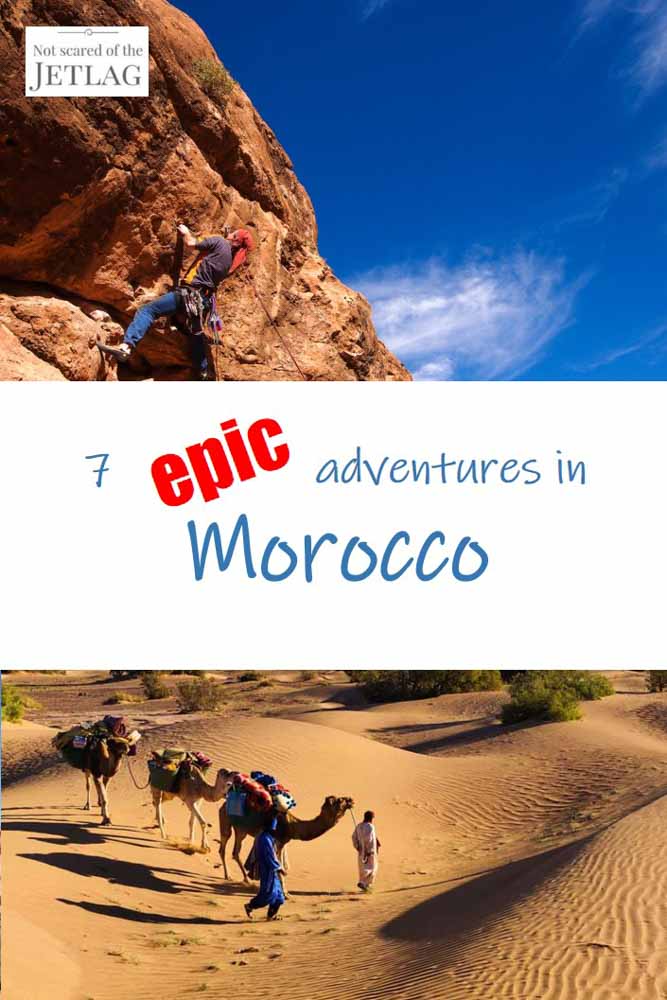 Please note that some of the links above are affiliate links and, at no additional cost to you, I earn a small commission if you make a purchase. That income goes to supporting this website and keeping it free for you and everyone else!