Fes (or Fez) is a great city, but if you have the time, you should definitely also discover more of its surroundings. There are a few obvious choices for day trips from Fes as you can read below. Most Riads or hotels will organize these for you, with a driver that also functions as a guide.
This is a great way to experience a local perspective and get a lot of information about the places without having to stick your face into your guidebook or phone. I only did the first one as a day trip from Fez, the others I went to independently during a road trip.
The Middle Atlas Mountains: Sefrou, Azrou and Ifrane
If you are interested in nature more than in culture and cities, than I would suggest you go on this trip. The Middle Atlas Mountains are beautiful with cedar forests and great views. I went on this trip in November and there was lots of snow in the mountains, which made for a very unique Moroccan experience.
Sefrou
The first stop of the trip was Sefrou, a really cute and colourful little town in the foothills. It is said, that Sefrou is actually older than Fes and used to be very prosperous due to its location on one of the big, important caravan routes of the old times. It was the last possible stop before heading into the higher mountains on the way to the Tafilalet and from there across the Sahara.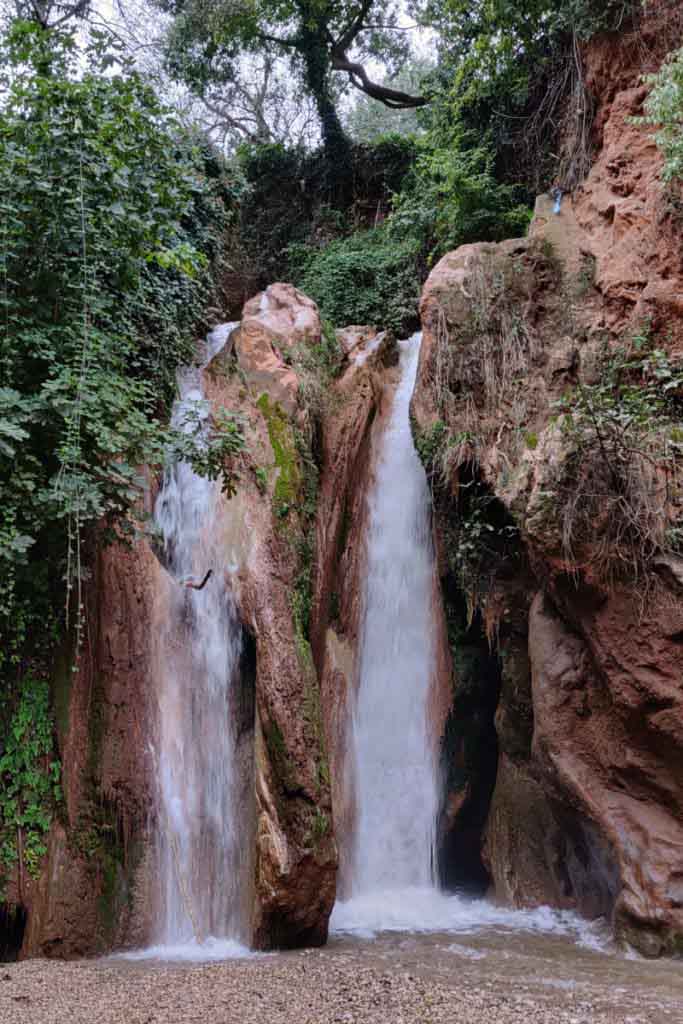 We visited a waterfall before heading into town for a walk around the medina and the market. It is an awesome place to get insights into the Moroccan life, as there is no tourist infrastructure. There are no hotels, no touristy restaurants, just unbiased, everyday life. Right by the city gate there is a little square where you can sit and drink the famous Moroccan mint tea and enjoy some people watching.
The medina is cut in half by a small river, the one that we visited earlier by the waterfall. The lower half of the medina is mainly made of the Mellah, the Jewish quarter. There used to be a big Jewish population in Sefrou until the mid-60s.
Azrou
From here we went higher into the mountains, passing lakes and ski slopes. We stopped in the cedar forest of Azrou, where we got to see the Barbary Macaques, native to this region. The locals will provide you with peanuts to feed them, but it is not healthy for them, so you should consider just watching.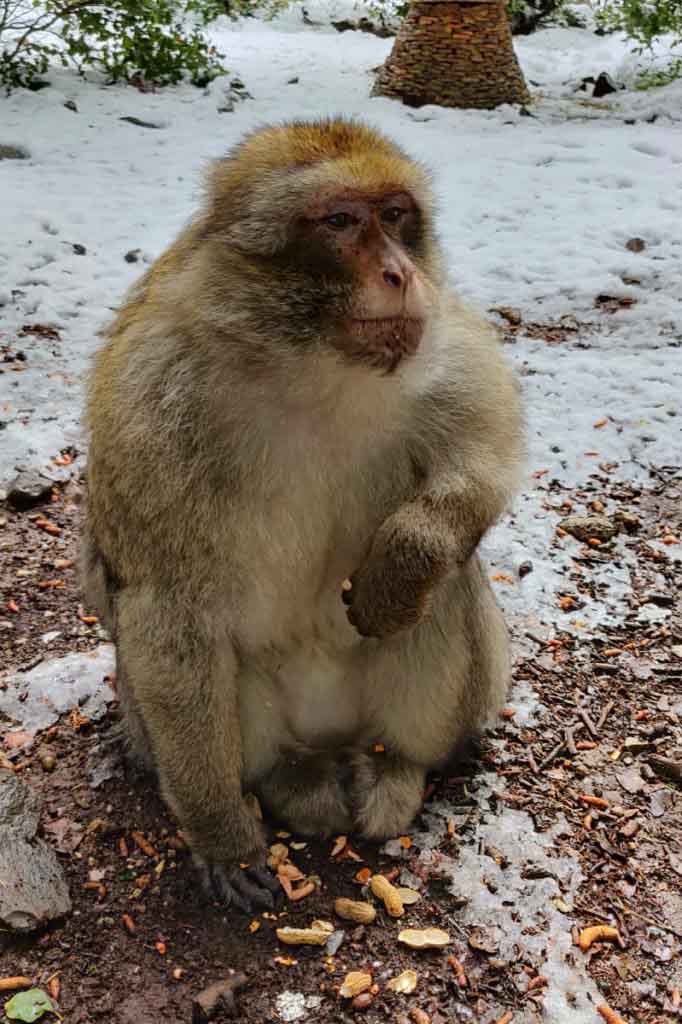 Ifrane
We had lunch in Ifrane, before heading out and exploring this cute little skiing town. At around 1650 m above sea level, you do get snow in the winter and a nice cool climate in the summer. People say it looks like Switzerland, I'm not sure I agree, but it definitely does not look like Morocco. So, you will have to make your own decision about this.
The most famous sight in Ifrane is a lion carved out of rock by a German prisoner of war. Apparently, it is a memorial to the Atlas lions that used to roam the mountains until the 1920s, when the last one was shot.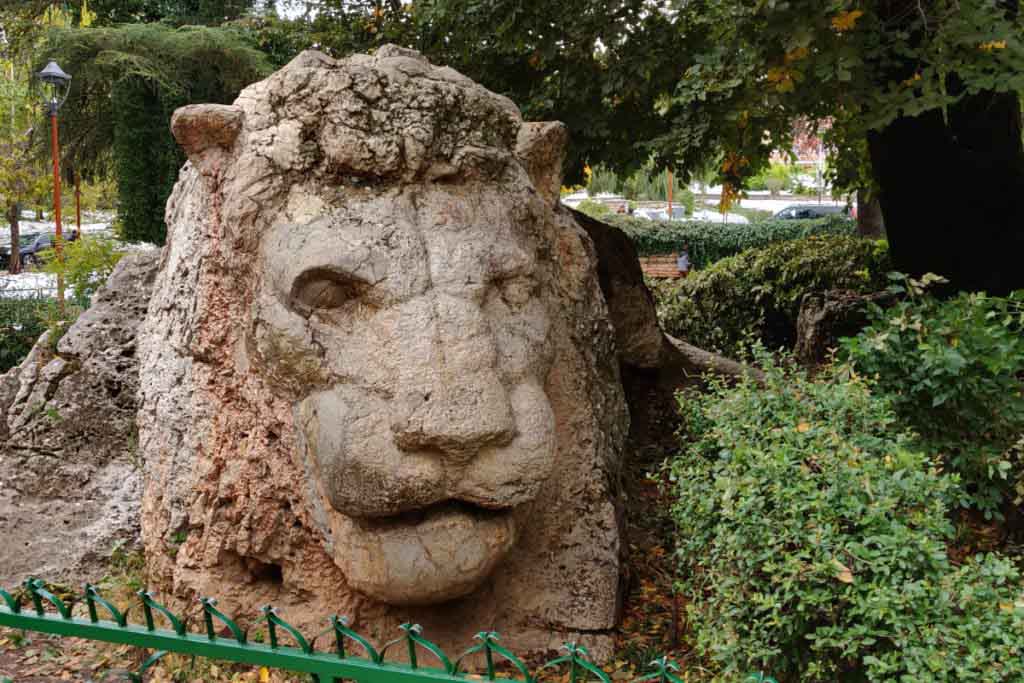 When I was in Ifrane last October, the whole town was full of autumn coloured trees, a really beautiful sight.
Tour Tip: Check out this tour to the Middle Atlas.
Day trip from Fes to Meknes (+Volubilis)
If you book this as an organized trip, you will most likely go to Meknes and Volubilis on the same day. In my opinion, Meknes is worth more time than that, as you can read in my City guide to Meknes. But, if you are short of time, both places are great, so go for it!
Meknes
In Meknes, make sure to visit the Medersa Bou Inania, one of the most beautiful Quran schools in Morocco. It is located centrally in the medina and really easy to find. Make sure to climb up all the way to the rooftop for great views over the city. Other places not to miss are
Bab Mansour, opposite the main square of Meknes, Place al Hedim
Mausoleum Moulay Ismail
The Royal Stables and Granary
If you decide to only visit Meknes and go by yourself, the best way is going by train. The service is frequent, the trains are clean, and it only takes around half an hour. Within Meknes, if you don't want to walk to the medina, you can just take a small taxi for a few Dirhams.
Volubilis
The drive to Volubilis is really pretty with olive groves along the way.
Volubilis itself used to be a Roman city that was abandoned by the Romans around 300 AD as the Berber pushed back against the occupation. Later an earthquake destroyed the ruins even further. These days you can find many interesting things in the ruins and Volubilis is listed as a UNESCO world heritage site. There are lots of mosaics, bath houses, oil mills and of course religious and pompous buildings, like the triumphal arch.
Compared to other Roman ruins that I visited (mainly Rome and Jerash, Jordan), Volubilis might be small, but you can discover more details and better preserved mosaics.
It might make sense to hire a guide for the walk around, as many of the mosaics are easy to miss, and you won't have that much time to explore when combining the visit with a trip to Meknes.
Tour Tip: Check out this tour to Meknes and Volubilis.
Day trip from Fes to Chefchaouen
I personally would not recommend going to Chefchaouen as a day trip, as you will likely spend a total of more than 8 hours in the car. But, if you can't make it an overnight trip and you really want to go, it certainly is doable. To have a bit of flexibility I recommend hiring a driver and not using public transport though.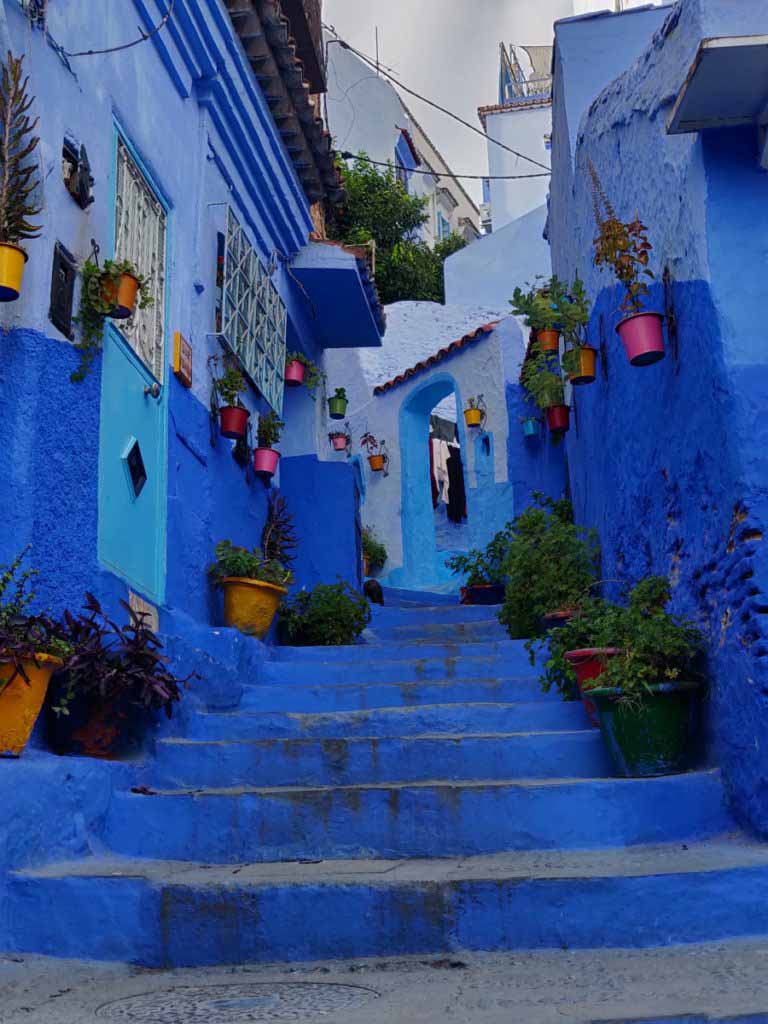 The interesting part of Chefchaouen is its blue medina. It is really hard to point out single "sights" as almost every corner is photogenic. So just walk around, get lost, and take as many photos as your heart desires. As the medina is really small, you don't have to worry, you will always find your way back.
If you have time, you might want to check out the Ras el Ma, part of the river where the women wash their clothes in the water.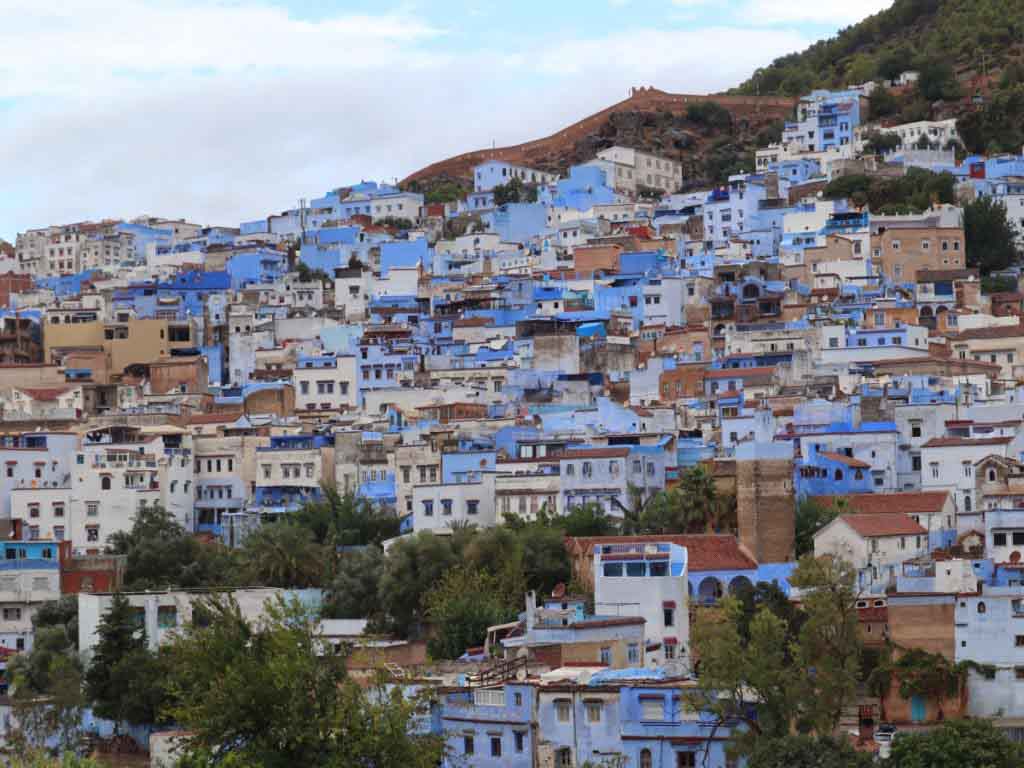 And if you decide to stay the night, the place to be for sunset is the Bouzaafar Mosque, a little up the mountain with a great view of the city.
Tour Tip: Check out this tour to Chefchaouen.
Desert tour from Fes
If you are looking for a desert tour from Fes, you should know that you cannot do these as a day trip. It is just too far. There are many agencies that offer tours to the Sahara Desert from Fes, either returning or going on to Marrakech. They all start at 3 days, but you can find offers for 4 day trips also.
If you want to go independently, check out my post on Merzouga for all the information you might need.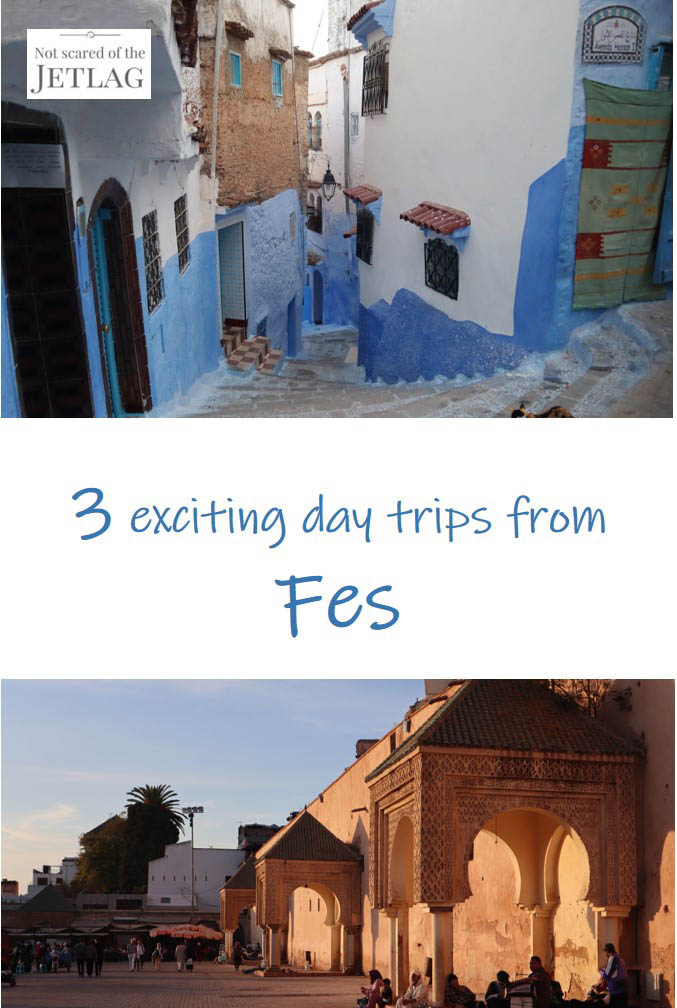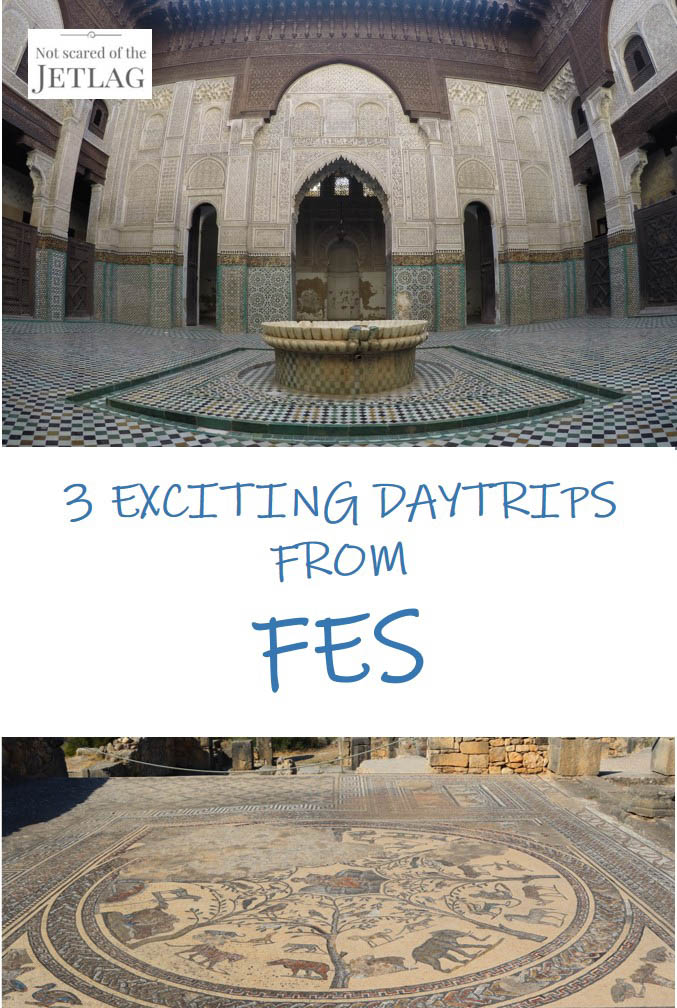 Please note that some of the links above are affiliate links and, at no additional cost to you, I earn a small commission if you make a purchase. That income goes to supporting this website and keeping it free for you and everyone else!