Morocco has a lot to offer when it comes to interesting cities. They come in old, older and also relatively young. With a lot of culture or a little. By the sea or near the Atlas Mountains. More traditional or quite modern. There is one for every taste. The historically most important cities are the so-called Imperial Cities.
Four in total, Rabat, Marrakech, Fes and Meknes, are the cities that have been home to the rulers at least once in the course of history. When a new ruling family came to power, they moved to another city to build an even more magnificent palace and make the city more beautiful and richer than the last one.
So of course, there is a lot to see here, because at least in the past these were once rich cities. There are palaces, Koranic schools, and lots of great riads, most of which are now used as accommodation for tourists. All 4 imperial cities are on the UNESCO world heritage list for their unique history.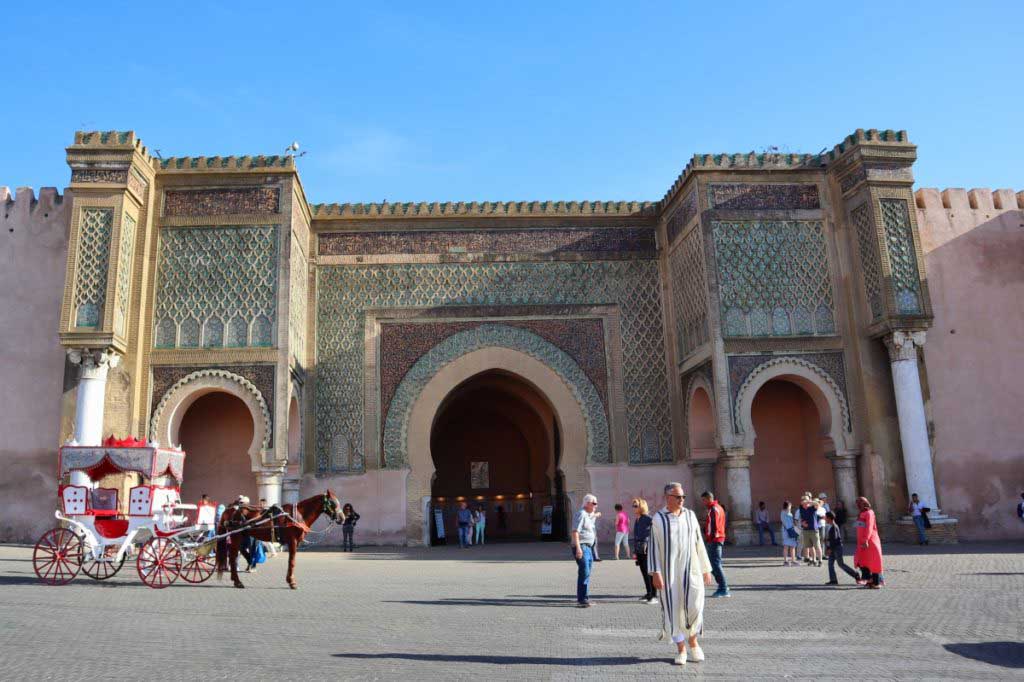 Fes and Marrakech were capital three times in total each, Meknes and Rabat only once.
There are also royal palaces in many other cities, but they only serve as temporary accommodation for the royal family, e.g. the summer palace in Ifrane.
You can book a round trip through the royal cities with almost any tour operator, but it is also very easy to tour them on your own by train.
The 4 Imperial Cities of Morocco
The Imperial City of Fes
Fes is considered the oldest city in Morocco. Idriss II transformed the sleepy village into a fortified city in the 9th century AD. From the beginning, he took in Jewish refugees from Spain, who helped make the city the most important trading centre in the region.
Around the same time, in 860 AD, a woman from Tunisia began building the Karaouyine Mosque, for a long time the largest mosque in Morocco. In the course of time, it developed into the world's first university, teaching first Islam, but soon also mathematics, calligraphy, astronomy and more.
Fes was and still is the cultural and religious heart of Morocco. The medina is completely car-free and thus much more relaxed to visit than the medina of Marrakech.
The most important attractions in Fes:
Madrasa Bou Inania
Bab Bou Jeloud
Funduq al Najjarine
The tanneries
You can also look at and take pictures of the golden gates of the Royal Palace, but unfortunately the inside of the palace is inaccessible to tourists.
You can find more information about Fes here and my sightseeing guide here.
The Imperial City of Marrakech
Most people have Marrakech in mind when they think of Morocco and the city is by far the touristic centre of the country.
Marrakech is almost 1000 years old and was founded as a trading centre for people from both sides of the Atlas Mountains. Soon after, it became the capital of the country, but it only retained this status for 50 years at that time. Marrakech experienced its best days, again as the capital of Morocco, around 1600, when most of the beautiful palaces were built under Saadian rule.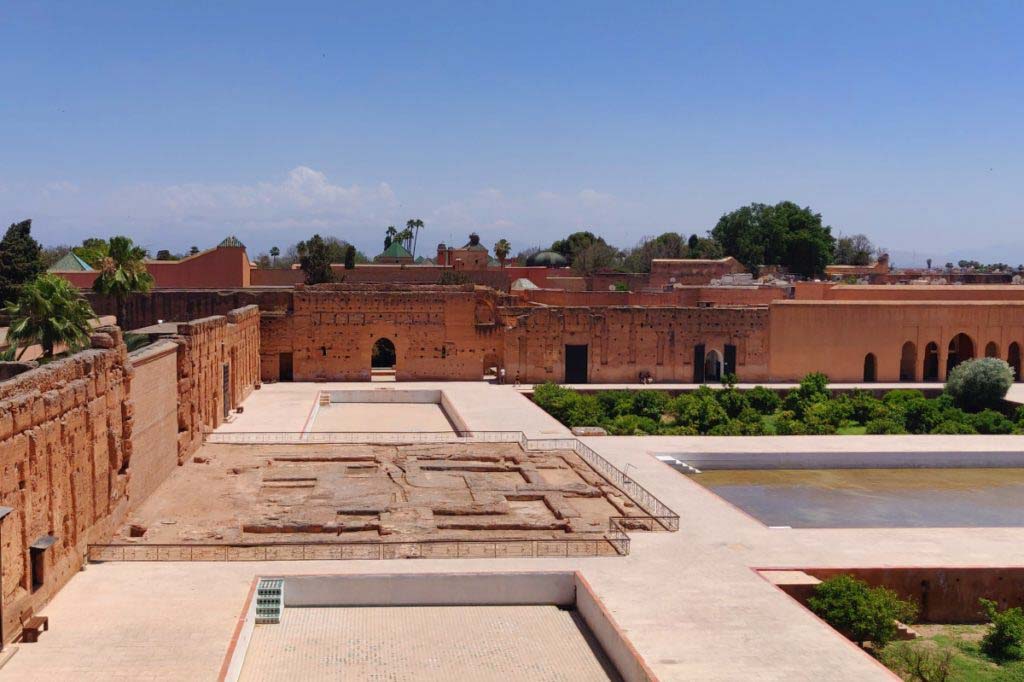 In Marrakech, be sure to stay in one of the beautiful riads that the medina is full of.
The most popular sights in Marrakech:
Bahia Palace
El Badi Palace
Je Jardin Secret
Saadian Tombs
Jmaa el Fna
Here you can find more information about Marrakech and here my sightseeing guide.
The Imperial City of Meknes
Meknes became famous as the capital of Morocco under Sultan Moulay Ismail, who ruled for 55 years from 1672-1727.
He moved the capital away from Fes, apparently because he distrusted its inhabitants. His vision was a capital comparable to Versailles in France. And since Meknes had no fancy buildings, he just started building and bringing things from Marrakech. He is the reason why the El Badi Palace in Marrakech is pretty much empty these days.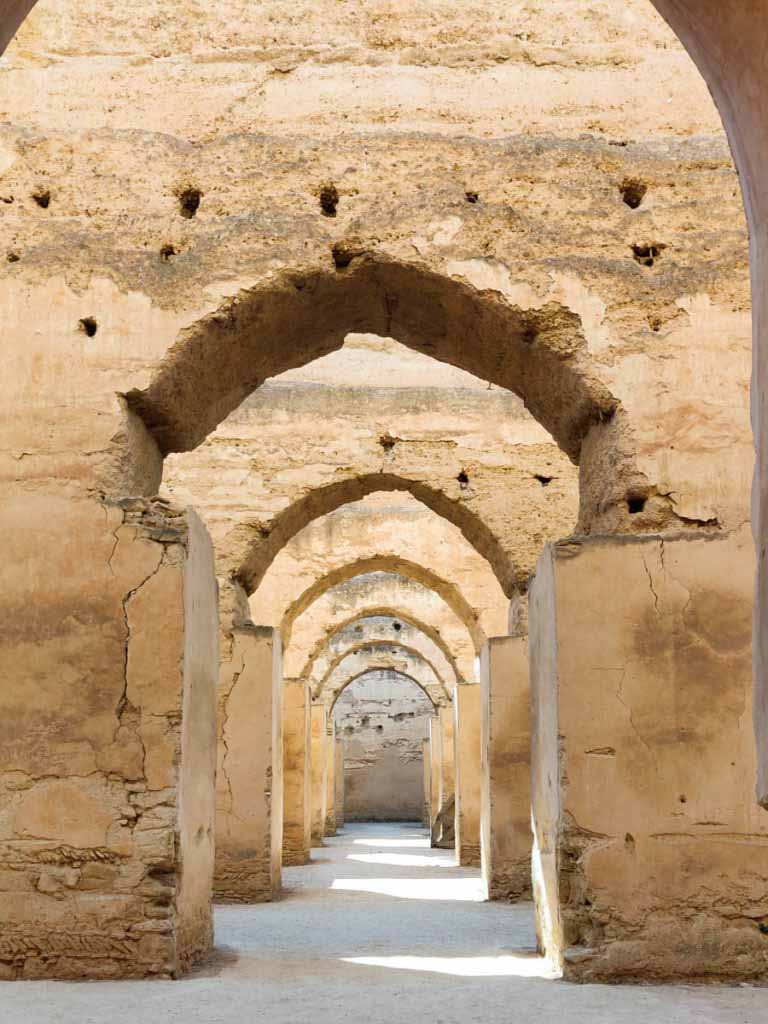 Of course, he didn't build his Ville Imperiale all by himself, but "employed" an army of slaves (up to 30,000). It seems that he had some megalomaniac tendencies, which are visible in the design and size of his "monuments".
The most important monuments in Meknes:
Bab Mansour
Medersa Bou Inania
Moulay Ismail Mausoleum
Heri As Souani
Read more about Meknes here.
The Imperial City of Rabat
Rabat, the present capital of Morocco and home of the royal residence, was once the capital in the 12th century. But only for a very short period of time. One of Rabat's main attractions, the Hassan Tower, dates from this time.
More recently, the French made Rabat their capital during the occupation, and it remains so today.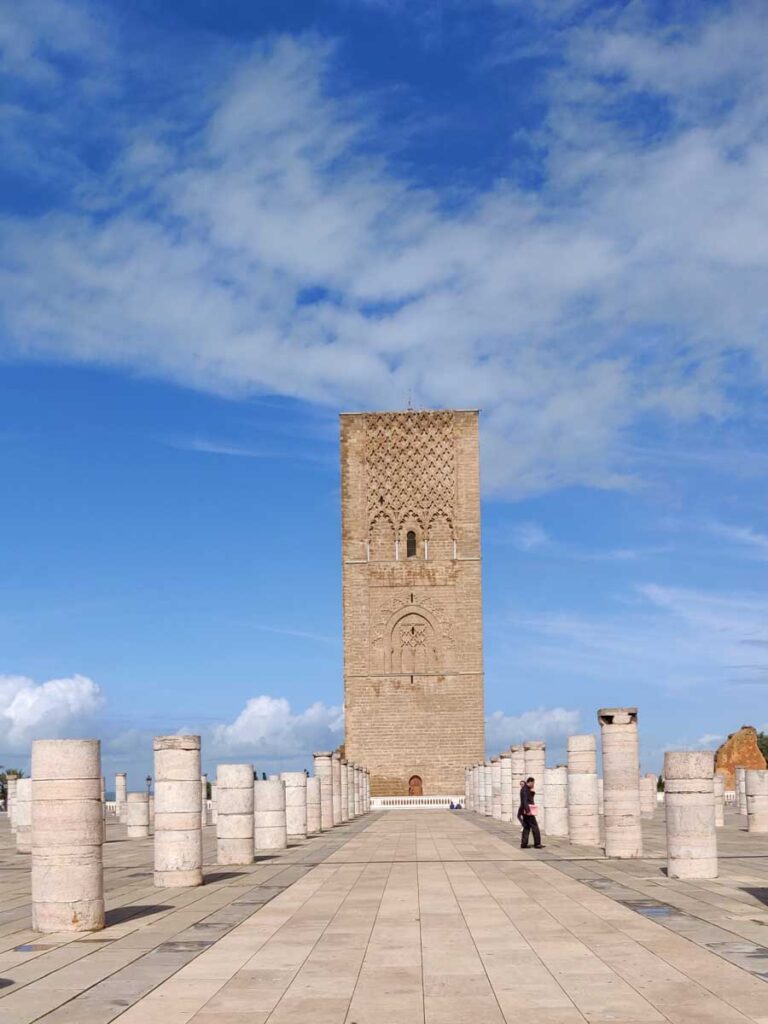 Rabat has a beautiful, well laid-out medina and an even older kasbah, which is definitely worth a visit. Another highlight is the Mausoleum of Mohammed V, which you can visit even if you're not Muslim.
Find all sightseeing tips for Rabat here.
What is the best way to visit the 4 Imperial Cities?
The 4 imperial cities are connected by a convenient train network. It is very easy to travel from Marrakech to Rabat and from there to Meknes. From there it is less than an hour to Fes.
From the train station, you can easily take a taxi to your hotel in all cities, but not all riads in the medina are accessible by car. Sometimes you have to walk a little. If you have a lot of luggage, it might make sense to book a transfer via the riad, then you will be picked up accordingly with a handcart.
Here you can read all about using public transport in Morocco.
What tours are available for the Imperial Cities
In general, it makes sense to book a guide for at least half a day in all 4 cities to learn as much as possible about the history.
I can put you in touch with someone if you like.
You prefer to let others do the planning? I offer itinerary planning for your trip to Morocco! You can check out the details here.
Please note that some of the links above are affiliate links and, at no additional cost to you, I earn a small commission if you make a purchase. That income goes to supporting this website and keeping it free for you and everyone else!