You are planning to spend one week in Morocco between October and March? Then I recommend you visit the south of Morocco for a week! Of course, a week is not enough to see everything Morocco has to offer. But I put together an itinerary that will let you see a bit of everything, from mountains to the desert and the cities.
If you plan to travel in the summer, you might want to check out this itinerary for the north and the Atlantic Coast.
You don't need to join a tour group to see all the best places to visit in Morocco, you can easily either rent a car or use public transport to get around. But, as buses are limited and shared taxis require more time, you will have to limit the places you can see within one week in Morocco.
So there will be two versions of this itinerary, one for driving and one taking public transport. To accommodate the bus schedules, this one will go the opposite direction.
I actually really recommend the driving version and you don't have to be afraid, traffic outside the big cities is not as crazy as people make you believe.
One week road trip in Morocco
This one week itinerary for Morocco will start from Marrakech, but of course you can start it from Casablanca or Fez just as well.
Day 1 & 2 Marrakech
Day 3 Ait Ben Haddou & Dades Gorge
Day 4 Merzouga
Day 5 & 6 Fez
Day 7 Rabat/Casablanca
Day 8 Marrakech
Day 1 & 2 Marrakech
After arriving in Marrakech and checking in at your Riad or hotel I recommend a walk through the medina, the old part of town. It is actually quite nice to get yourself lost a little, and if you download the maps.me app to your phone you will be sure to find your way back, even offline.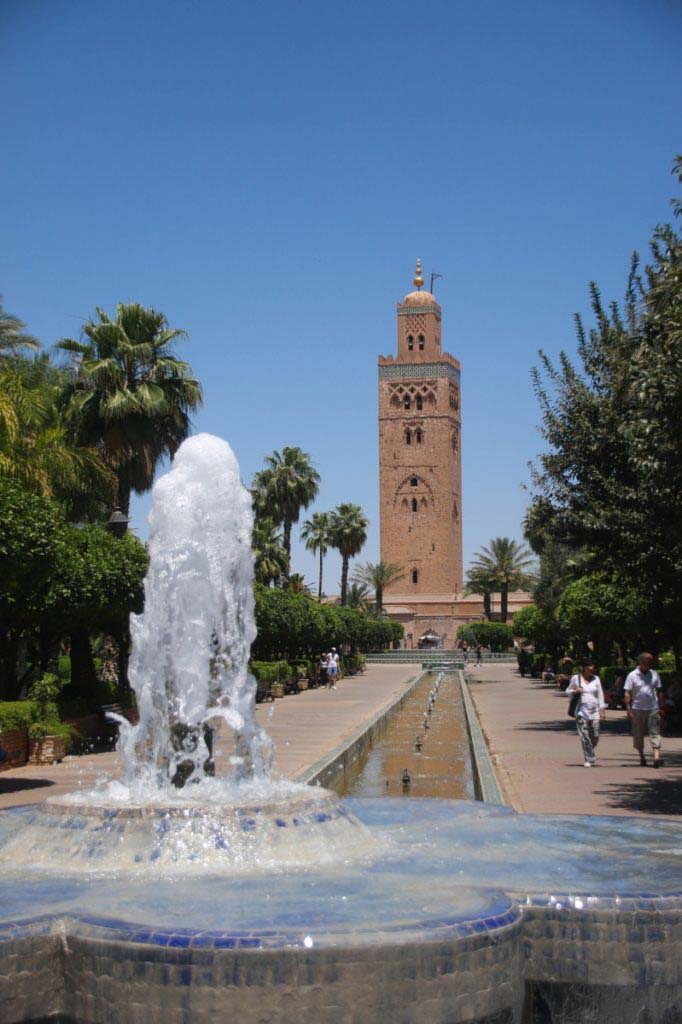 Just enjoy the hustle and bustle of locals and tourists making their way through the narrow alleys with the occasional horse cart or motorbike noisily demanding right of way.
A few of the top places to see in Marrakech during these two days are, in no particular order:
El Badi Palace
The Jewish cemetery
Koutoubia Mosque (outside only)
Jardin de la Mamounia
Saadian tombs
And the evenings, you should spend at the Place Jmaa el fna, the central square in Marrakech that comes to life in the evenings. You can enjoy some traditional street style food and fresh squeezed juices, hear local music and listen to storytellers (even though you won't understand a word the experience is worth it).
One thing to avoid though are the men with monkeys or snakes trying to get your money for a photo with those animals. They are definitely not treated the right way and as long as people take photos, they will keep them locked up.
If you want to start your souvenir shopping here, check out my post on the best souvenirs to by in Morocco!
Day 3 Ait Ben Haddou & Dades gorge
On day 3 of your week in Morocco you drive from Marrakech through the spectacular Atlas Mountains towards Ouarzazate. Make sure not to miss the turnoff towards Ait Ben Haddou before you reach the city. Take some time to explore this traditional Kasbah with its mud buildings and enjoy the view from the hill.
It is one of the most popular places to go in Morocco and you might recognise Ait Ben Haddou from movies like Babel, Gladiator and lately the Game of Thrones series. Also, Ait Ben Haddou is part of Moroccos UNESCO world heritage.
From Ouarzazate drive through the valley of the Kasbahs to Boumalne Dades in the Rose valley. From here you can explore the Dades Gorge and spend the night in town.
Day 4 Todra Gorge and Merzouga
On day 4 continue to Tinghir, which is just a short drive away. If you like, you can take the little detour to the Todra gorge, a spectacular canyon, but crowded with tourist groups.
From Tinghir take the road via Alnif and Rissani to get to Merzouga. For this night you will switch your ride from car to camel (or you could walk or go by 4×4/quad) and spend the night in a camp behind the dunes. You can enjoy traditional food and music as well as the best view of the milky way. As a night in the dunes is one of the top things to do in Morocco, make sure to not miss this one on your road trip through the south. For more info, go to my post about things to do in Merzouga.
Day 5 & 6 Fez
On day 5 you will drive north again, towards Fez. Depending on the stops you take along the way, you will have more or less time to explore Fez during daylight hours. You might want to spend the night in a Riad that offers dinner, they are often the best homemade dinners you can find. Fez is high up on my list of favourite cities in Morocco, partly because there is hardly any motorized traffic in the Medina, making it easy to walk around.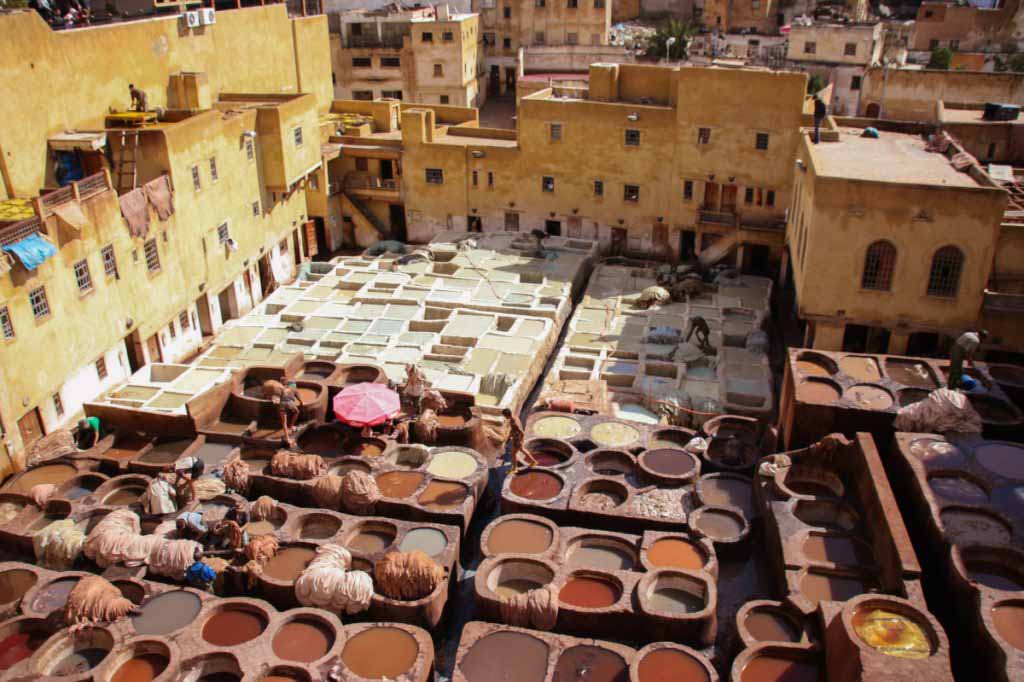 Sights to visit in Fez include:
Bab Boujeloud (Blue Gate)
Bou Inania Madrasa
Mausoleum Moulay Idriss II
Mosque al Qarawiyin
The souk
The tanneries
If you are afraid of getting lost or ripped off by the locals sending you the wrong way just to bring you back for money, it might be an idea to hire a guide via the Riad/hotel as they have so much useful information about the city.
Day 7 Rabat/Casablanca
To interrupt the long drive back to Marrakech you should stop in Rabat and have a wander around this beautiful, and for some reason fairly untouristy, city. It is one of my favourite places in Morocco! I recommend especially going to the Kasbah des Oudayas with its blue and white walls. If you want to spend a bit more time explore the medina and stop by the Hassan Tower and Mausoleum of Mohammed V.
If you're interested in visiting the only Moroccon mosque that is open to non-muslims, take another stop in Casablanca at the Mosque Hassan II. Just be aware that it you will not be able to visit during Friday prayer.
Day 8 Marrakech
Today is for everything you didn't get around to at the beginning or to revisit your favourite places. Or you might want to visit a local Hammam for a bit of a treat after all that sitting in the car.
One week in Morocco using public transport
If you are using public transport to get around, I would recommend going the opposite direction, as the buses to Merzouga are limited and schedules work out better this way around.
Day 1 & 2 Marrakech
Day 3 Rabat
Day 4 & 5 Fez
Day 6 Merzouga
Day 7 Dades Gorge
Day 8 Marrakesh
From Marrakech you can take the train, or if you prefer a bus, to Rabat. Same goes for the trip from Rabat to Fez. There is a good connection with the train from Marrakech to Fez, so this is really easy. Check out the ONCF website for schedules and prices.
From Fez take the overnight bus to Merzouga. For things to do during the day, check out my post on things to do in Merzouga. After a night in the desert you can catch the morning bus to Marrakech. If you like, you can get off the bus in Boumalne Dades and find a local taxi to drive you through the gorge. Alternatively go for a short hike or just enjoy the town. Then catch the bus to Marrakech the next day.
Ideas for stays longer than one week in Morocco
If you have 10 days in Morocco, I would recommend a trip to Essaouira from Marrakech. It is a beautiful little seaside town with a fish market, a traditional Medina and locations from Game of thrones. And, it is the perfect place to buy your souvenirs, as prices are much more reasonable than in Marrakech or Fez. There is also lots to do in the area, especially if you have a car, so check out my post on day trips from Essaouira to find out more.
Alternatively add a day or 2 in Fez and go on a daytrip into the mountains or to Meknes and Volubilis, if you are interested in historical, cultural and archaeological sites.